Traeger pellet smoker fans, or other pellet smoker users, know all about the amazing flavors that come from cooking outside on a smoker. You can do everything on a Traeger! From appetizers and hearty cuts of meat to desserts, there's nothing this wonder smoker can't do! And, you'll find the 58 Best Traeger Recipes right here!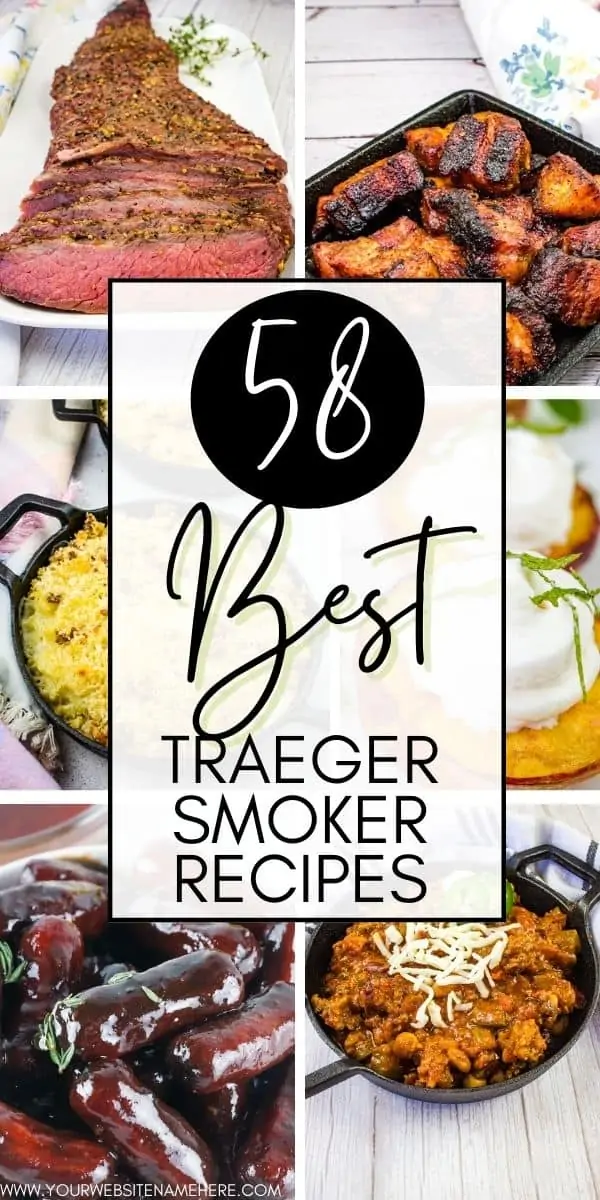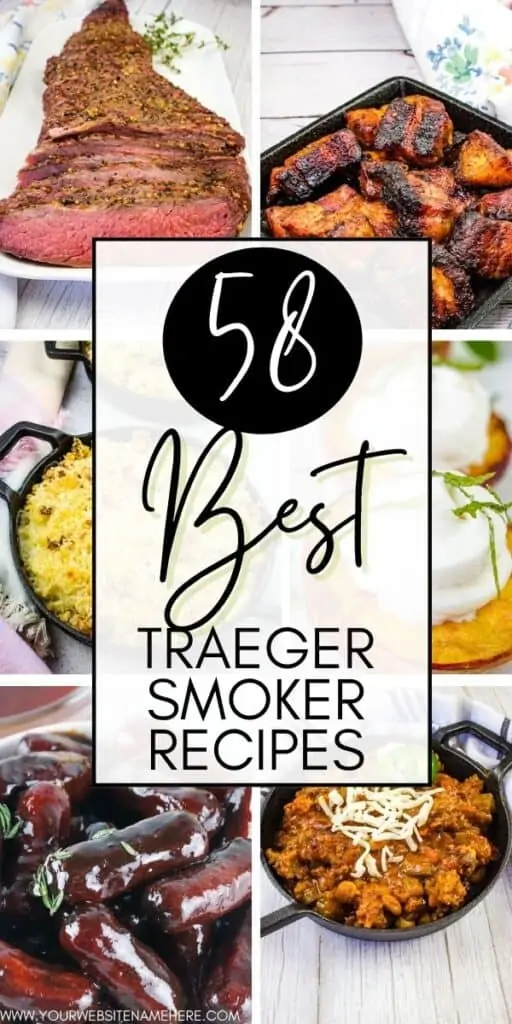 This post may contain affiliate link(s). As an Amazon Associate, I earn from qualifying purchases. See Disclosure.
And, I've rounded up some of BEST Traeger Recipes on the planet! There's something for everyone in this list of Trager pellet grill recipes with a focus on smoked recipes.
New to pellet smoking? No problem – there are plenty of novice recipes in this list. And if you're a smoke-master, you'll be inspired, too!
Is Traeger the Best Pellet Grill?
I sure happen to think so! The Traeger Pellet Grill & Smoker is a workhorse machine that has sturdy construction and quality parts. Plus, with tried-and-true auger technology, the Traeger will keep a steady stream of pellets fed into the machine to keep your temperature consistent.
Temperature is Key When Making the 58 Best Traeger Recipes!
Whether you're smoking, grilling, or using your Traeger like an oven, accurate temperature control is key. That's why I love Traeger's digital temperature setting and control. You can crank the heat up high to grill much like a BBQ, keep it at a moderate heat for baking and cooking, or go low-and-slow around 180-F for the very best smoke flavor.
Pellets VS Wood in your Smoker
I will admit that the flavor of real wood when smoking is unparalleled. However, for most of us, wood-burning smokers are not practical. They're also not easy as easy to use, and require consistent vigilance. Pellet smokers, on the other hand, use wood pellets that you can buy in most hardware stores. These pellets come in a variety of "flavors" to give the smoke character. You can experiment with all of them!
What Smoker Pellet Flavors Should I Use to Make These Easy Traeger Recipes?
That all depends on what you're cooking. I'll break it down for you:
How Many Pellets Does a Pellet Smoker Use?
That's going to depend largely on the model and size of your Traeger, but a good rule of thumb is to count on 1/2-pound to 2 1/2 pounds of pellets per hour, depending on how high the setting. Cooking low at 180-F will use the fewest pellets while searing at 450-F will churn through them more quickly.
Read on for the 58 Best Traeger Recipes!
50 Best Traeger Recipes 2021
By