Cooked low and slow, Smoked Pulled Pork is a labor of love, but if you can master this recipe, then you're in for a world of flavor! This Traeger pulled pork recipe is easy enough for anyone to master! Hungry? Read on and I, Chef Jenn, will show you all my chef tips and tricks to make this smoked pork shoulder turn out perfectly every time!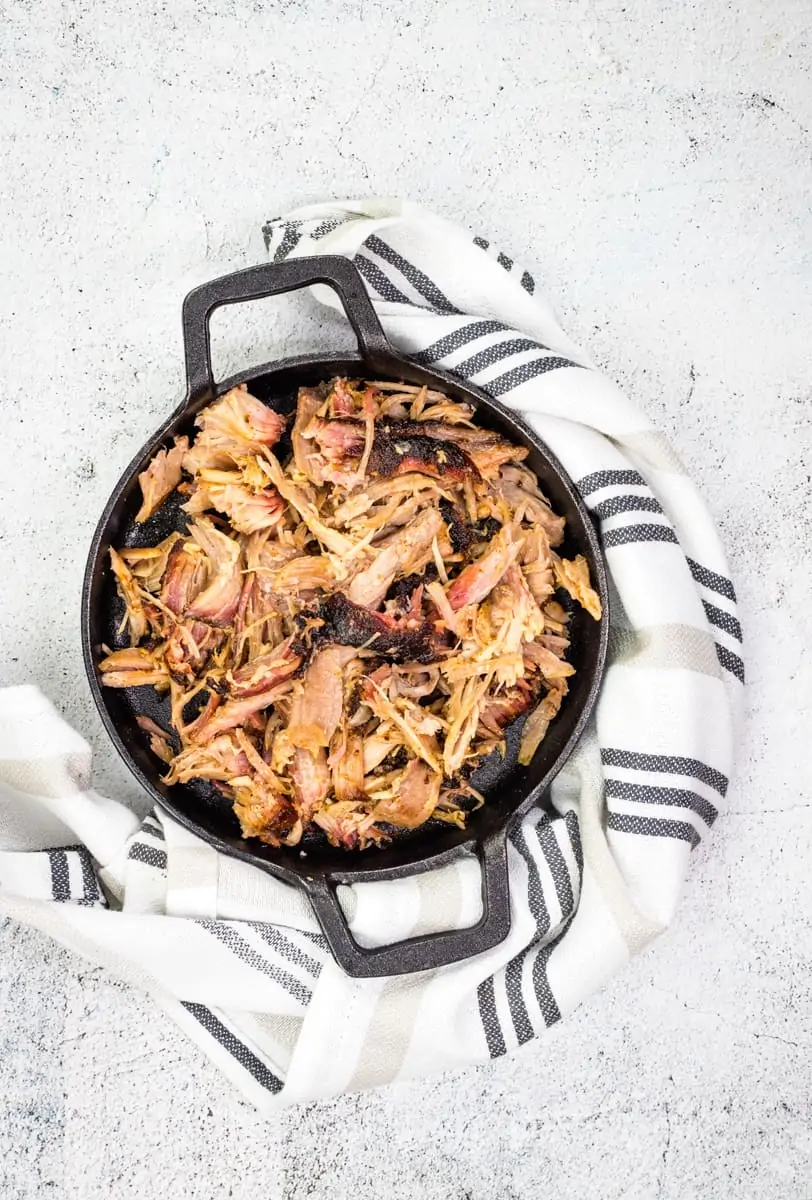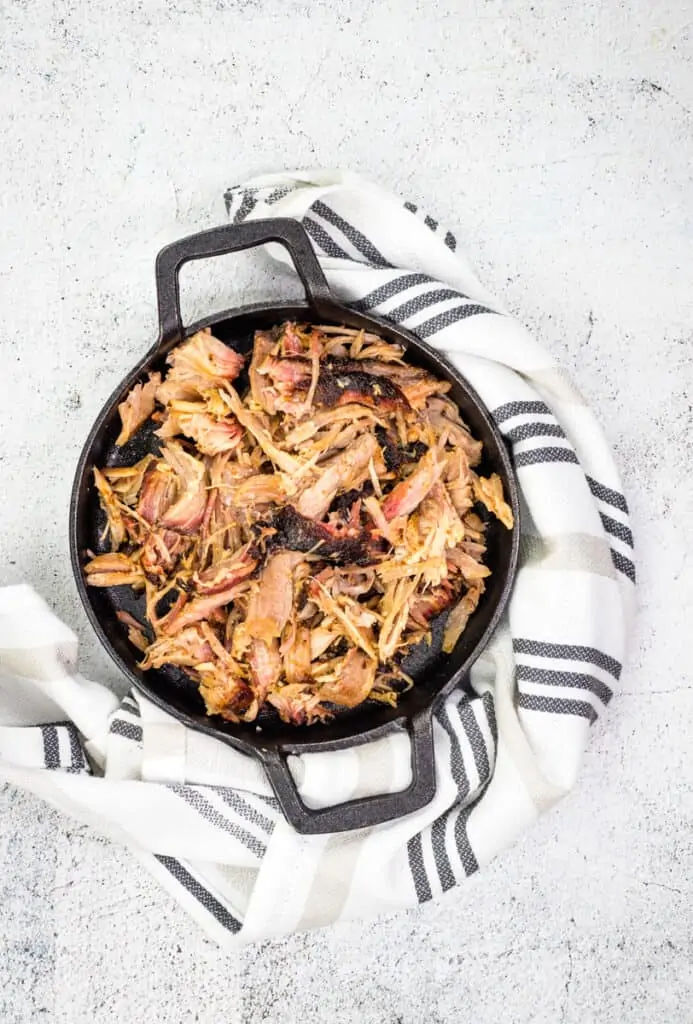 This post may contain affiliate link(s). As an Amazon Associate, I earn from qualifying purchases. See Disclosure.
Smoking is an art, and every artist has their own way of doing things. Smoking big cuts of meat like pork butt and brisket take hours and hours, so don't rush it! But, done right, the flavor and tenderness is so very worth the wait!
I've been smoking for years, and this is a great starter recipe for Traeger pork butt that can be pulled for the most flavorful pulled pork you can imagine!
What You Need To Make Smoked Pulled Pork
Meat claws – for pulling the meat
Pork shoulder – boneless or bone-in, your choice
Yellow mustard
Paprika
Brown sugar – dark brown sugar will yield the best flavor
Garlic powder
Chili powder
Cayenne
Apple juice
Salt and pepper
That's it!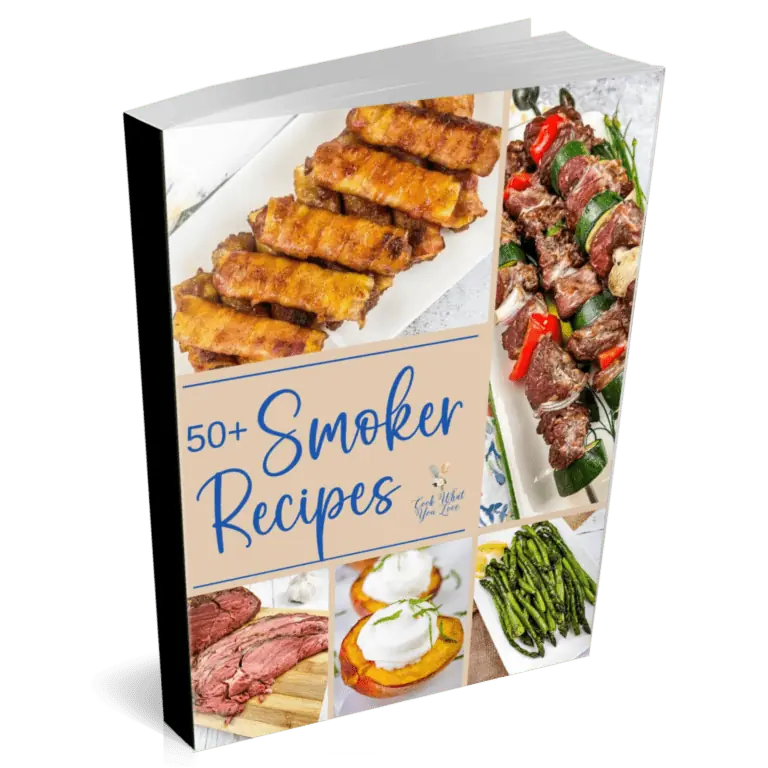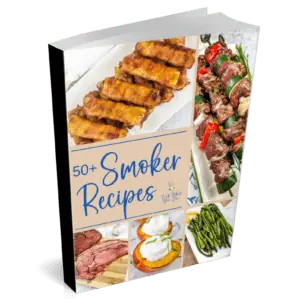 Love your pellet smoker? Get your hands on Chef Jenn's newest eBook: 50+ Smoker Recipes, and become the pitboss of your backyard!
Use coupon code VIPSMOKE for $5 off the already low price! Don't miss out – master your smoker today!
GET IT NOW!
What is the Best Cut of Meat for Pulled Pork?
My favorite cut of meat for smoking pulled pork on the Traeger pellet grill is hands down, pork butt (aka Boston butt). Pork shoulder (aka picnic shoulder; picnic roast) is another good choice. They are both thick enough cuts to take a good smoking without drying out. The key is to find a heavily-fatted cut of pork. Some cuts marked for carnitas have a lot of the fat trimmed away. You want a big, solid cut of pork with lots of visible fat.
What's The Difference Between Pork Shoulder & Pork Butt?
There's a lot of confusion between these two cuts of meat, and some people even think they are the same. They are NOT the same:
Pork shoulder comes from the shoulder of the pig, but is a cut that is taken from lower on the shoulder
Pork butt is ALSO from the shoulder, but is taken from higher up on the shoulder
Pork butt typically has more fat throughout the meat, and the uniform shape makes it a great choice for low-and-slow cooking.
However, smoked pork butt and smoked pork shoulder are both delicious.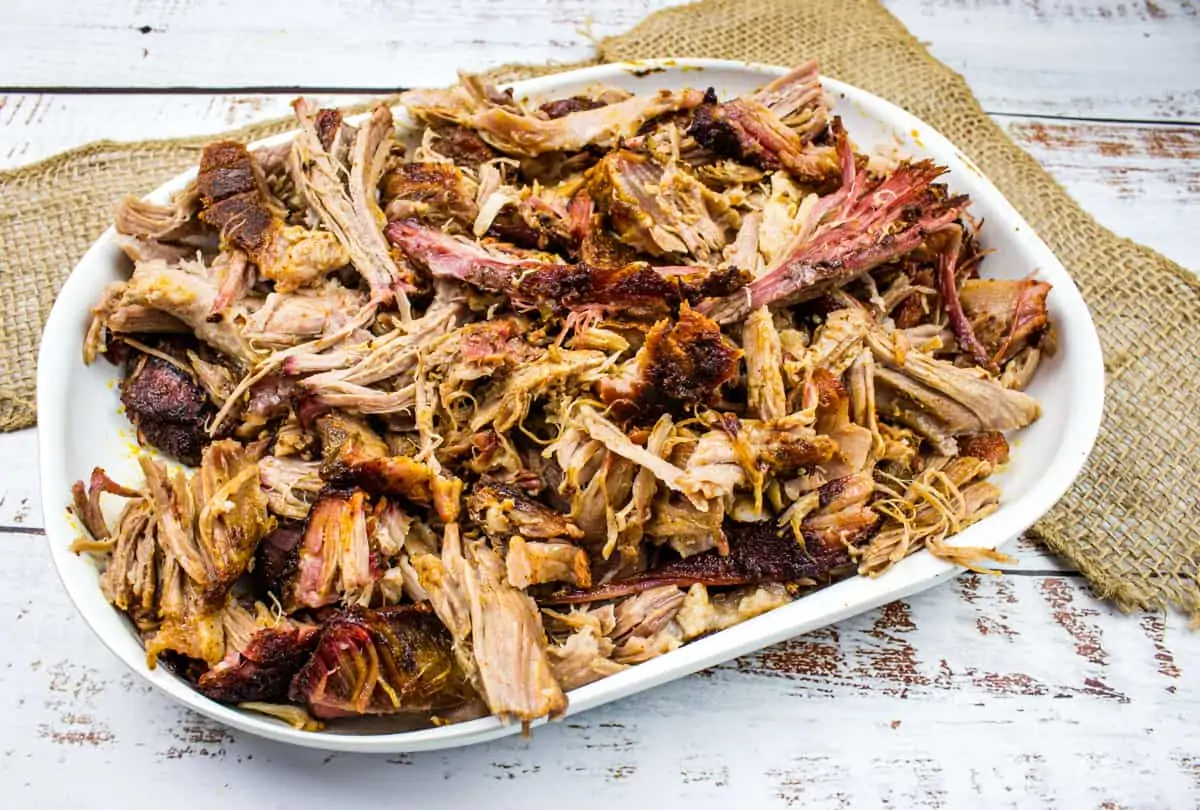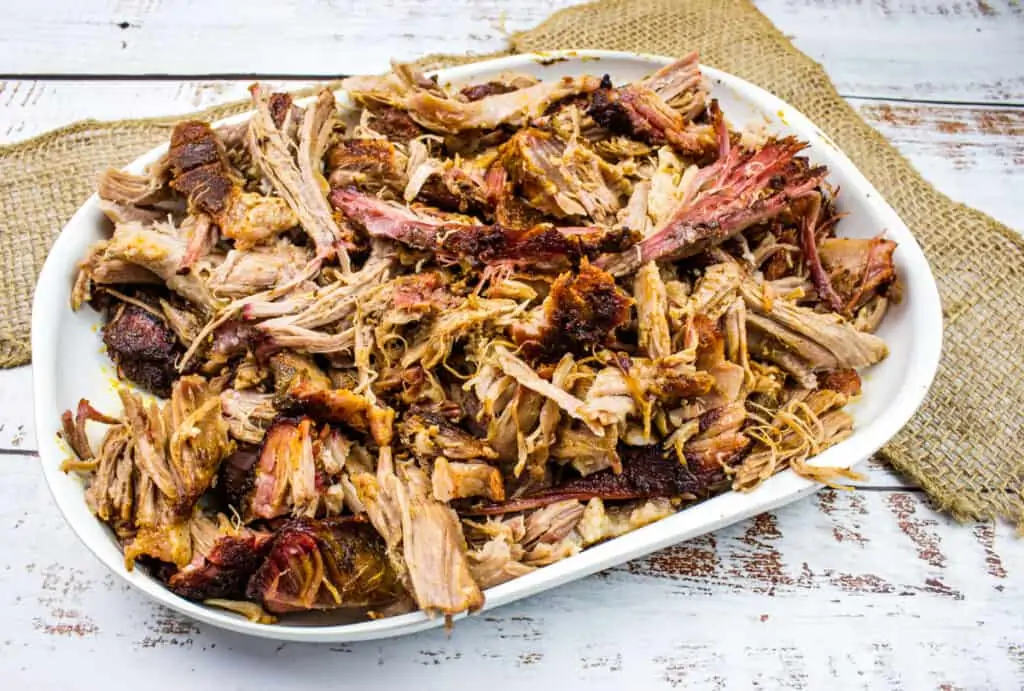 How To Make Smoked Traeger Pork Butt (Pulled Pork)
Take the meat out of the fridge at least an hour before smoking. This will reduce some of the time it needs on the smoker.
Rub the pork butt or pork shoulder all over with mustard – yellow mustard is just fine.
Mix the rub ingredients and then liberally pat it all over the pork. You want a nice even layer of rub. That's flavor!
Preheat the smoker as per the manufacturer's directions to 225-F.
Put the pork into a disposable foil pan – see my notes below about using foil pans, and put it in the pre-heated smoker.
Smoke the pork butt spritzing it with apple juice, every hour for the first 4 hours.
When the internal temperature reaches about 160-F, wrap the pork butt in foil and put it back on the smoker until it reaches 205-F. That's my sweet spot for perfect pulled pork. If you're using a foil pan, I'll often just lift the pork out of the pan and put it into a clean pan. As the pulled pork internal temp rises, the fat will render and seep out. I'll mix in some of that pure fat with the pulled pork for extra flavor and moistness.
Let the meat rest for at least 45 minutes. Keep it covered with foil. Some people will even cover the foil with a towel and put it into a cooler to keep the temperature up while still allowing it to rest.
Pans on the Smoker
Smoked pork shoulder or butt will make a LOT of juice. Many people just pop the meat down on the rack and let it go, with all the juice dripping down into the outside bucket.
I don't like making that much of a mess, so I use foil pans. These are a life-saver! They're recyclable, and make cleanup so much easier. I invest in a big stack of them, and use them whenever I'm making juicy this smoked Boston butt recipe.
How do you PULL Smoked Pulled Pork?
Pulling pulled pork isn't tricky, and there are some gizmos to help make the job easier. The biggest thing you want to do is to remove chunks of excess fat. My sister will disagree with me, but biting into a big hunk of fat when you're expecting juicy pulled pork isn't pleasant.
These meat claws will make short work of your pork butt, but you can also use a fork or your hands.
Chef Jenn's Tips To Make Perfect Smoked Pulled Pork
This is a labor of love and can easily take 12 hours or more. Please set aside enough time and don't rush it! I'll get up at the crack of dawn to start the smoker – and some even start the smoker going the night before – to allow it ample time to cook low and slow.
Every smoker has their favorite rub. The rub I've included is a standard rub but you can jazz it up however you like. Look for sweet, salty, and spicy ingredients and spices to get the very best flavor.
Resting time is important! Not only is it really hot when it comes out of the smoker, but you need to let the meat rest so that it's juicy and not too hot to pull. See my notes on Resting Traeger Pulled Pork
Using a spray bottle makes spritzing the pork really easy – but you can also use a basting brush. They kids always steal my spritzing bottles so I end up using a basting brush more often than not!
If you don't have a thermometer, you can go for what's called "probe tender." This simply means that when you insert a probe (metal skewer works just fine) the meat feels very tender. If you do this throughout the cooking time, you'll feel it get more and more tender.
What To Serve With This Smoked Pulled Pork Recipe
Just gimme a bun, some sauce, and coleslaw and I'm a happy camper! While the most traditional way to serve pulled pork is on a bun, you can also eat it in a taco, just on a plate, or on a sandwich. Some of my favorite sides to go with smoked Boston butt are Mexican Street Corn Salad, coleslaw, or this Chilled Asparagus with Parmesan & Lemon dish.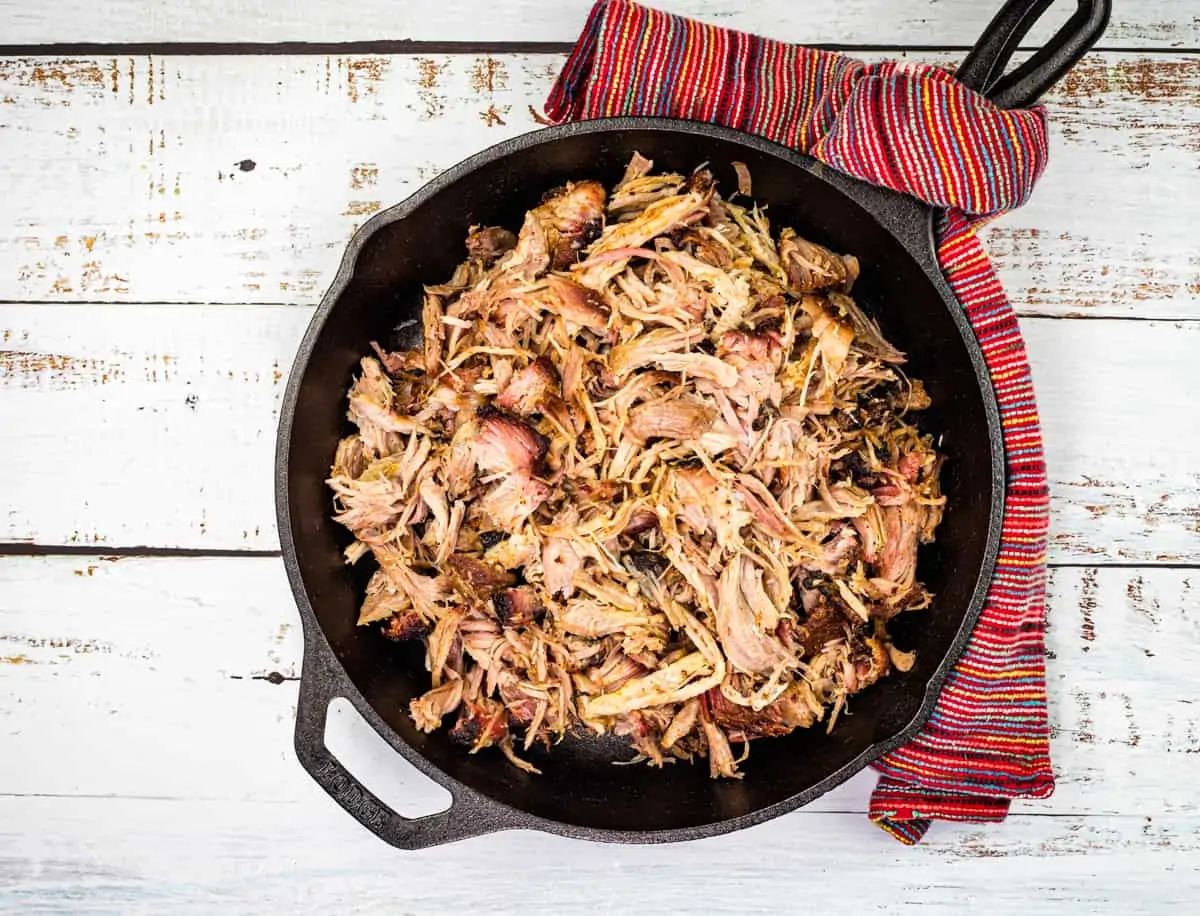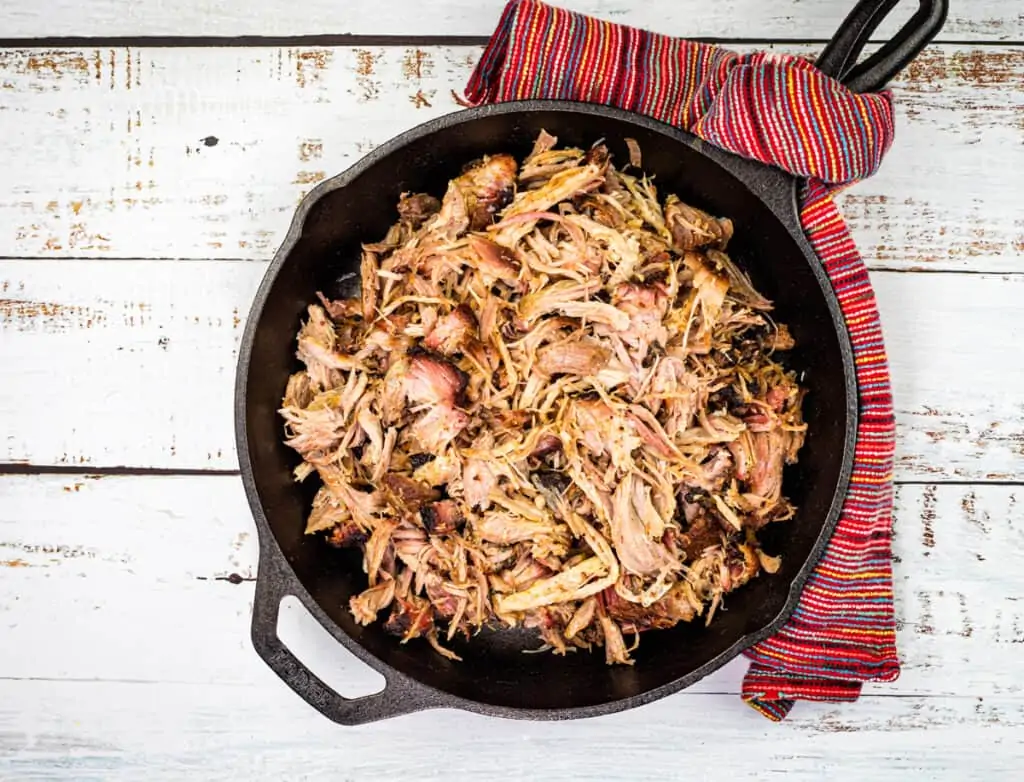 Is Smoked Boston Butt Freezer-Friendly?
Oh baby, yes! In fact, When I do pulled pork on the Traeger, I'll load that sucker up! It takes as much time to do 2-3 smoked pork butts as it does one. I pull it and then freeze it in portions so that we can enjoy big summer flavors all winter long.
Simply chill it thoroughly, then load it into freezer-safe plastic zipper-top bags or containers. Freeze it for up to three months. To reheat, simply cover it and heat it in a low oven, or microwave it on medium power until it is warm. Delish!
Frequently Asked Questions
What's the best pulled pork temperature?
I like cooking my Boston butt to 205. I find that this temp has the most rendered fat and the meat is still moist and juicy. This is a personal choice – anything from 195-205-F will be just fine.
Why is my smoked pulled pork tough?
You probably didn't let it smoke long enough. Smoked pulled pork can take HOURS. A 5-pound pork butt takes me about 12 hours. I can shave off an hour or so by cooking it a wee bit higher, but honestly, low and slow is this Traeger smoked pork recipe's best friend!
When to wrap smoked pulled pork?
I wrap the pork butt or pork shoulder when it reaches about 160-165-F. This gives it plenty of time to get a nice flavorful bark. Stop spritzing with apple juice once you've wrapped the pork.
Like this? ALso Try:
Step By Step Process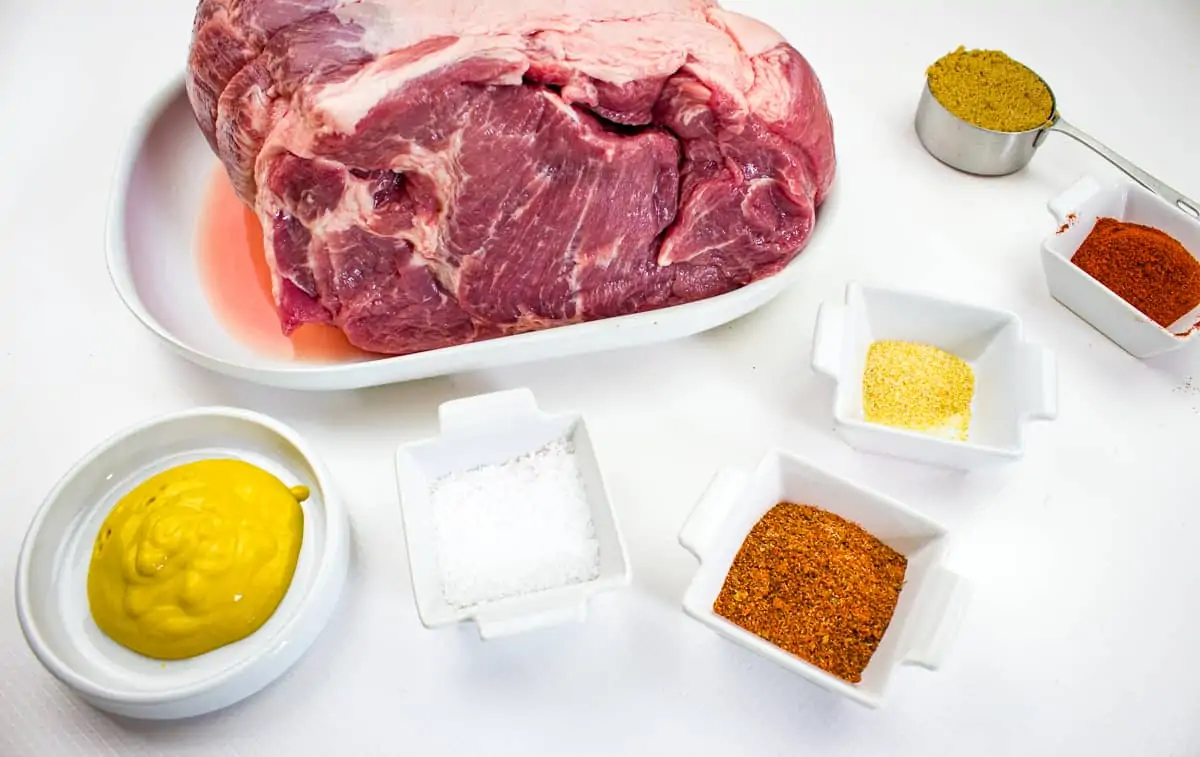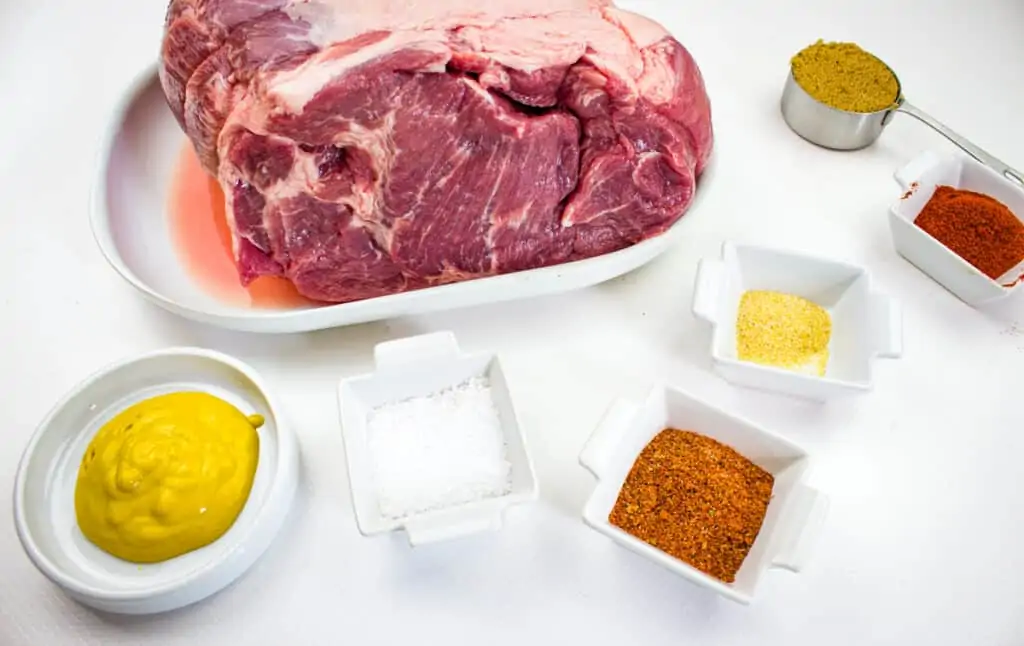 Smoked Pulled Pork
So moist and juicy and packed with flavor, there's nothing quite like smoked pulled pork!
Ingredients
5

lb

pork butt

1/2

cup

yellow mustard

1/4

cup

dark brown sugar

2

tbsp

paprika

2

tbsp

chili powder

1

tsp

garlic powder

1

tsp

onion powder

1

tsp

cayenne powder

2

tbsp

salt

1

tsp

black pepper

1

cup

apple juice
Instructions
Let the meat rest at room temperature for about an hour so it's not going into the smoker too cold.

Preheat your Traeger pellet grill to 225-F as per the manufacturer's instructions.

Rub the pork shoulder all over with the mustard.

Mix the brown sugar, paprika, chili powder, garlic and onion powder, cayenne, salt and pepper in a small bowl.

Rub the pork all over with the dry rub. Make sure it's an even layer on all sides.

Put the pork into a foil pan and smoke it at 225-F for about 4-5 hours, or until the temperature reaches 160-F. Spritz the top and sides of the pork with apple juice every hour.

When the pork reaches 160-F, lift the pork into a clean foil pan or drain the liquid out of the pan. Wrap the pan tightly in foil and continue to smoke for another 5-6 hours or until the internal temperature reaches 200-205-F.

Remove the pork from the Treager pellet grill and let it rest, covered in foil, for about an hour.

Remove the top bark layer and chop it up to add it to your pulled pork. Pull the pork, removing large chunks of fat as you go.

Serve it as is or with your favorite sauce!
Nutrition
Serving:
1
cup
|
Calories:
289
kcal
|
Carbohydrates:
9
g
|
Protein:
36
g
|
Fat:
11
g
|
Saturated Fat:
4
g
|
Polyunsaturated Fat:
1
g
|
Monounsaturated Fat:
5
g
|
Trans Fat:
1
g
|
Cholesterol:
113
mg
|
Sodium:
1428
mg
|
Potassium:
718
mg
|
Fiber:
1
g
|
Sugar:
7
g
|
Vitamin A:
452
IU
|
Vitamin C:
2
mg
|
Calcium:
45
mg
|
Iron:
3
mg
A Note on Nutritional Information
Nutritional information for this recipe is provided as a courtesy and is calculated based on available online ingredient information. It is only an approximate value. The accuracy of the nutritional information for any recipe on this site cannot be guaranteed.
Want Even MOre Easy Family Recipes?
Here are some other recipes that your family is sure to love:

By