Say what? Smoked Cream Cheese? You bet! Creamy, smoky, and PACKED with flavor, smoking cream cheese on your Traeger or pellet smoker is easy and delish! Perfect for gatherings, you can smoke several blocks at a time and nibble on something amazing! Hungry? Read on and I, Chef Jenn, will show you all my tips and tricks to make Traeger Smoked Cream Cheese turn out perfectly every time!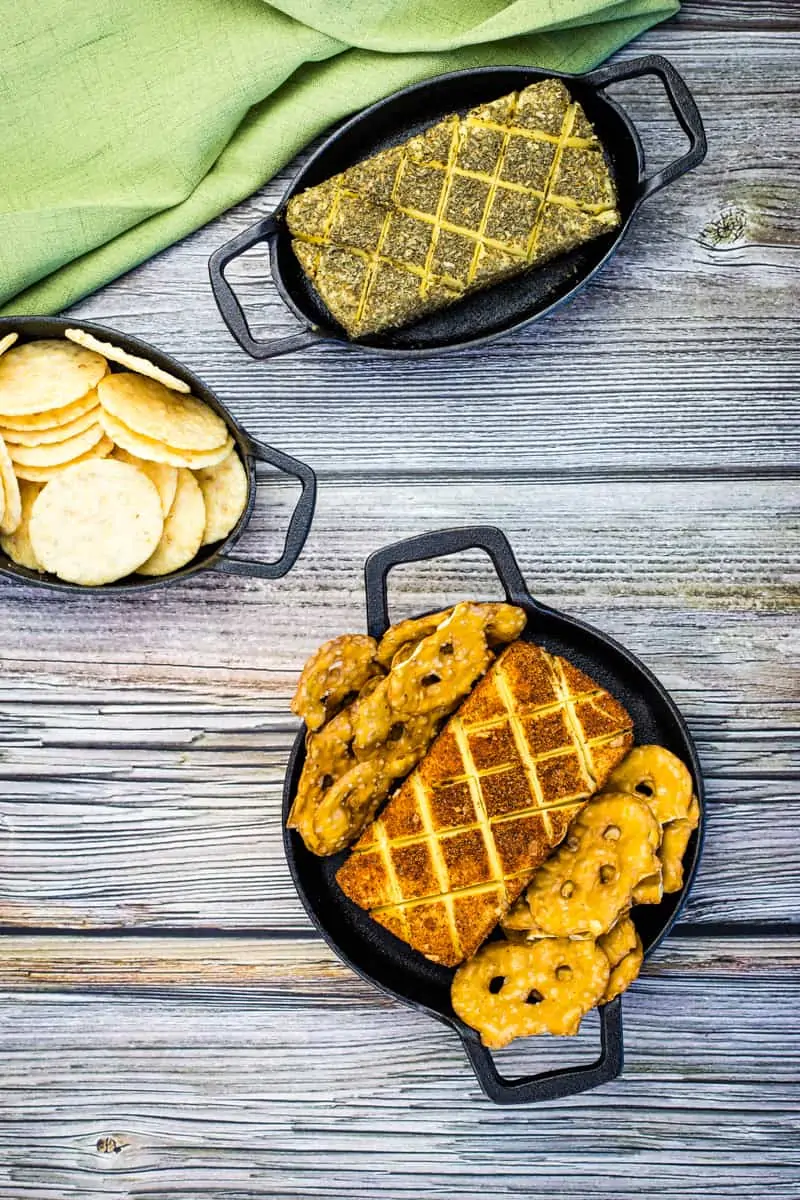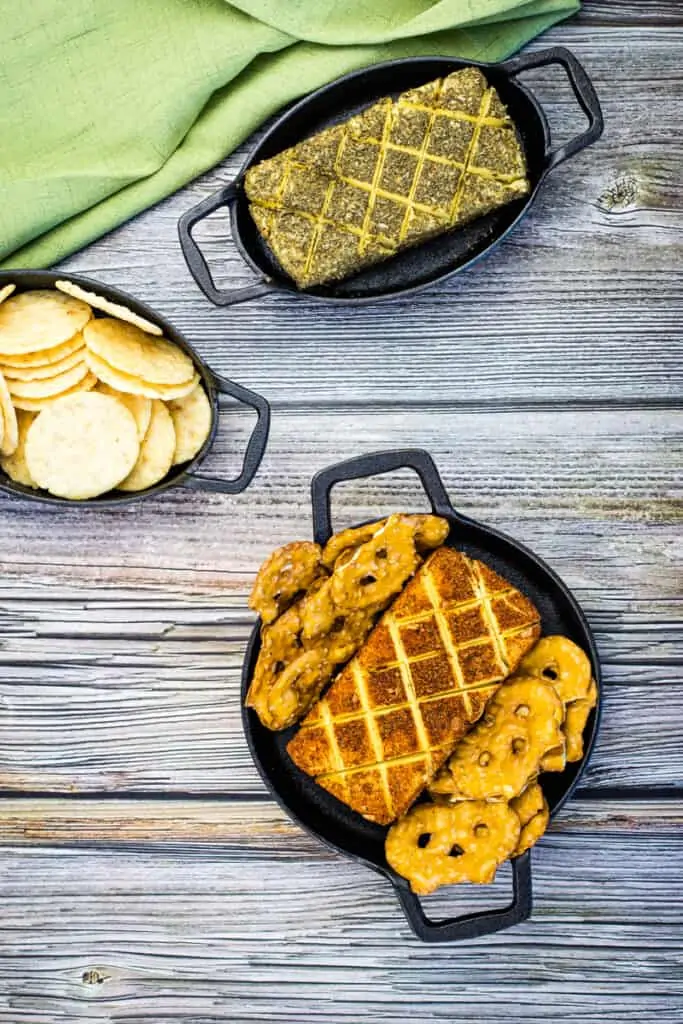 This post may contain affiliate link(s). As an Amazon Associate, I earn from qualifying purchases. See Disclosure.
Smoked Cream Cheese is more about technique than a specific recipe. The beauty of this easy Traeger recipe is that you can change up the flavors easily with whatever is in your spice cupboard!
People have been smoking cheese for years, but smoking cream cheese is a slightly different process. If cooked at the right temperature, it won't melt into a puddle of goo. Read on to see just how to make Traeger Smoked Cream Cheese!
What You Need to Make Smoked Cream Cheese
Hardwood pellets or your favorite pellets
Disposable foil pan – see my notes below
Philadelphia Cream Cheese – it's important to use this brand. Generic brands won't behave the same in the smoker
Seasonings – look for low salt blends – see my notes below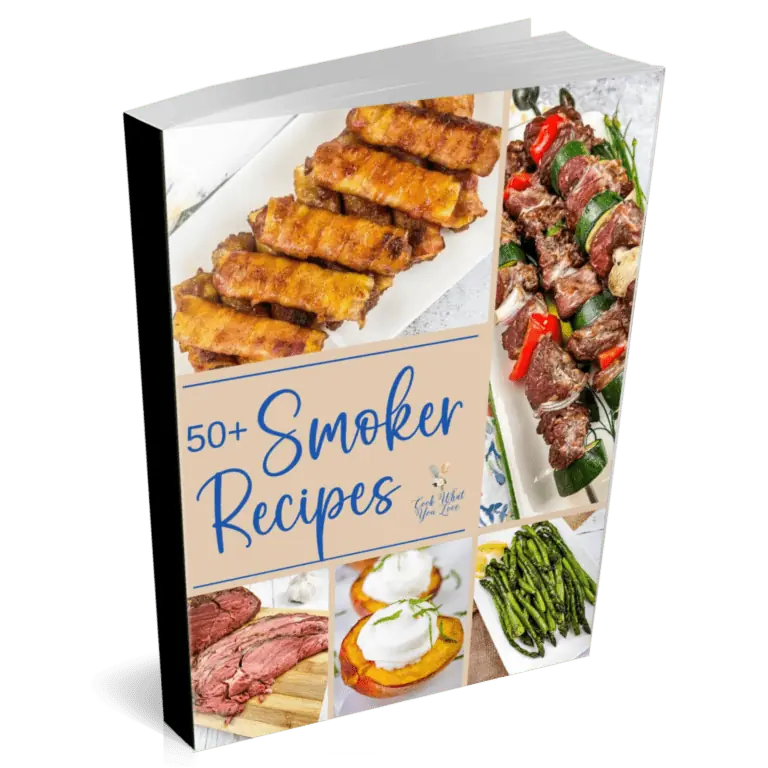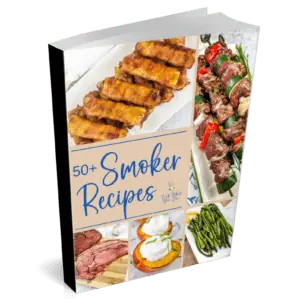 Love your pellet smoker? Get your hands on Chef Jenn's newest eBook: 50+ Smoker Recipes, and become the pitboss of your backyard!
Use coupon code VIPSMOKE for $5 off the already low price! Don't miss out – master your smoker today!
GET IT NOW!
How To Make Smoke cream Cheese on a Traeger
Preheat your Traeger pellet smoker or smoker, as per the manufacturer's directions.
Unwrap your cream cheese and sprinkle your seasoning onto a plate large enough to hold the cream cheese.
Roll the block of cream cheese around in the seasoning, coating it on all sides.
Transfer the block of cheese to a disposable foil pan and using a sharp paring knife, make cross hatches by cutting into the cream cheese.
Smoke the cream cheese low and slow at 225-F for about 2 hours.
Dig in!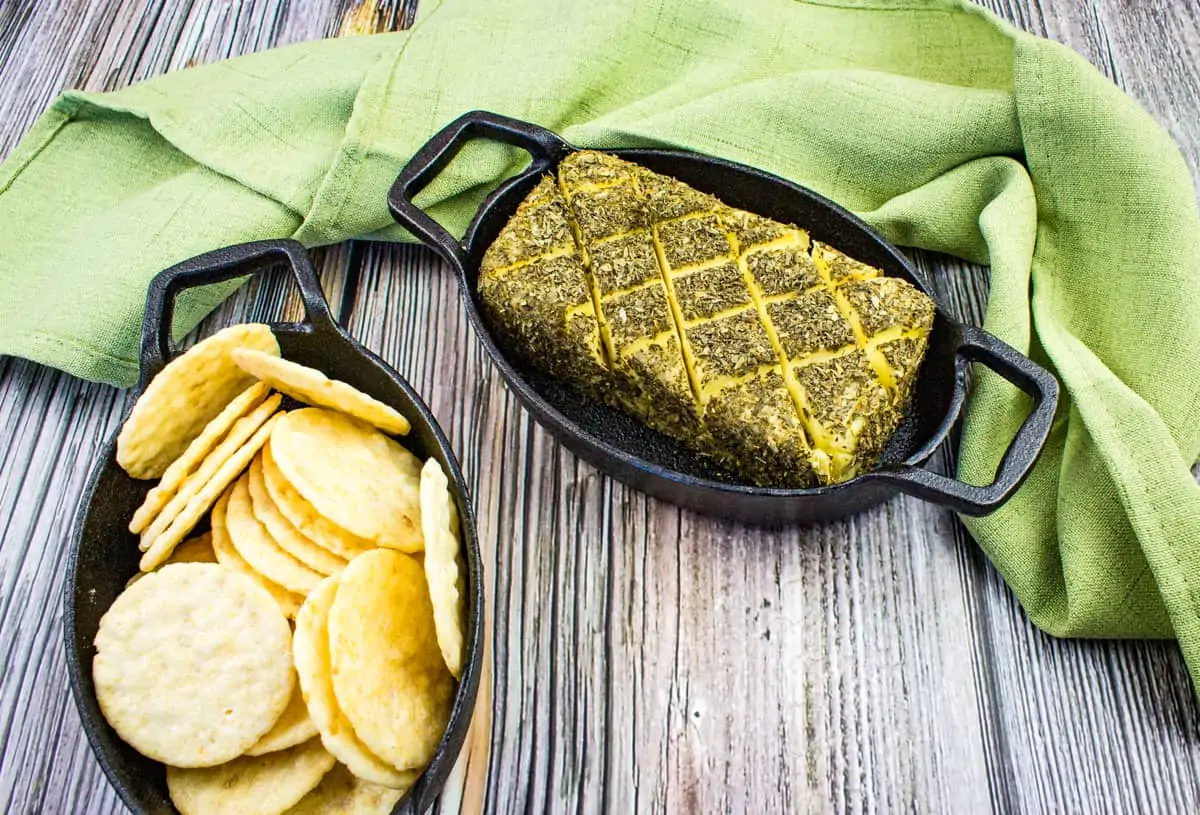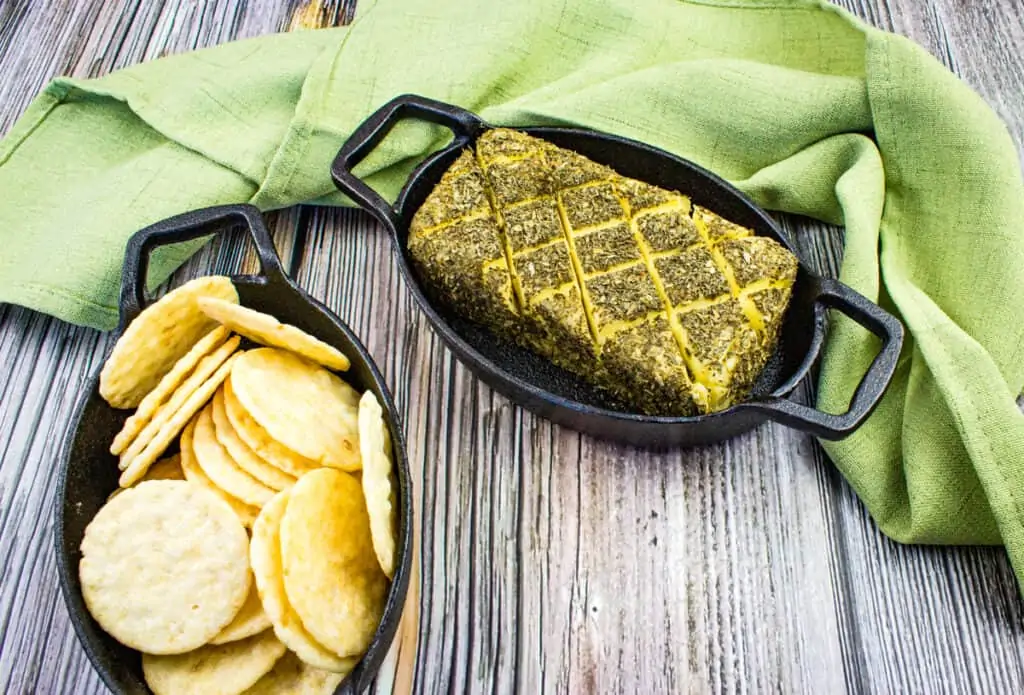 Chef Jenn's Tips
Use the name brand Philadelphia cream cheese for this recipe for the very best results.
Don't use a salty spice blend or your cream cheese will be too salty to enjoy!
This smoked cream cheese recipe can hold up to big flavors, so feel free to go as bold and spicy as you like!
Share if you dare! Make lots because it'll get gobbled up quickly!
What Seasonings To Use for Smoked Cream Cheese
In the picture above, I used a home-made Tex-Mex spice blend as well as an herby Green Goddess blend I had in the cupboard. The big takeaway with how to season your cream cheese is NOT to pick a blend that's salty. So many rubs and blends are loaded with salt and this will then just become a huge salt bomb. Add salty crackers and watch your blood pressure go up.
However, if you use a salt-free or low-salt blend, your smoked cream cheese will turn out perfectly wonderful!
A Word On Using Pans on In The Smoker
Be careful what dishes you use in the smoker because the smoke will ruin the bottom of your pan. If you're lucky, you can remove the smoke residue with steel wool and an abrasive cleaning powder. I've also had some luck with putting down a sheet of parchment paper between the grill and the pan, but this doesn't seem to help much for long smokes.
I keep an assortment of recyclable foil containers on hand for dishes like this. That way I can just give the empty container a rinse and recycle it with no worries about trying to get the bottom clean.
How To Serve Smoked Cream Cheese
Crackers are my first pick with this tasty smoked appetizer recipe, but I also love it with pita crisps, apple slices, and my kids love smearing it on toasted bagels for breakfast.
Can I Freeze Smoked Cream Cheese?
No, but the good news is that it will keep in your fridge, tightly covered, for up to a week.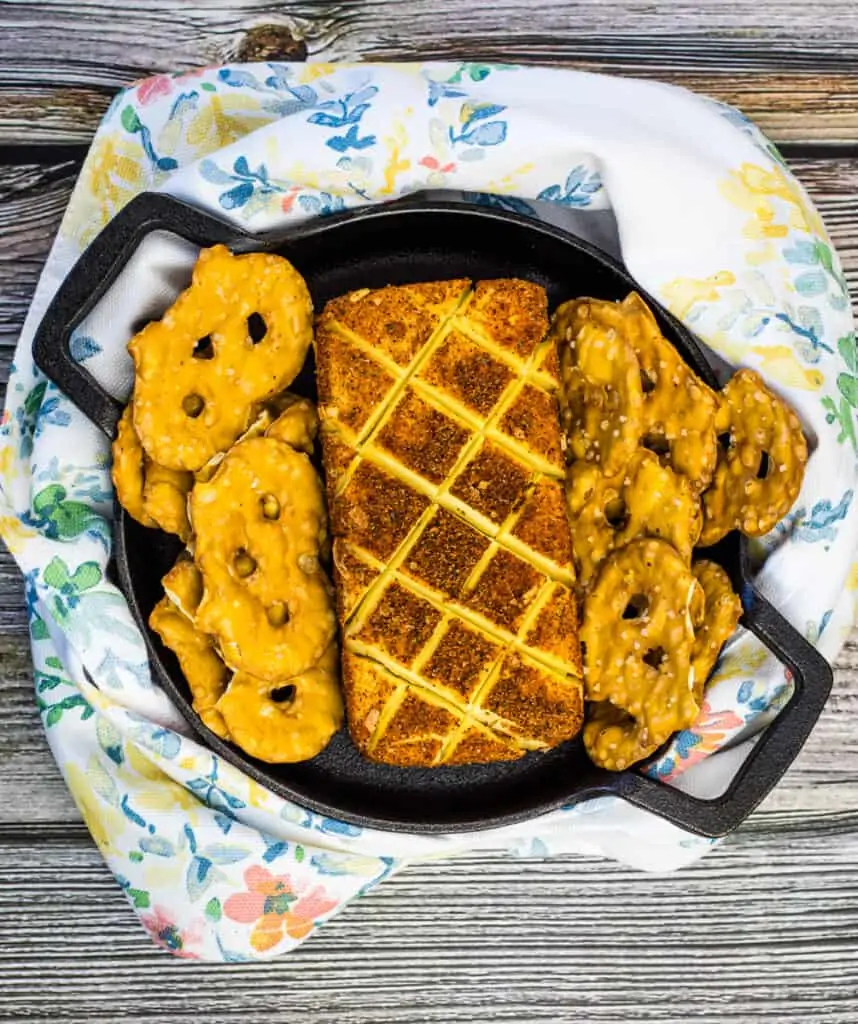 Frequently Asked Questions
How long to smoke cream cheese?
Cream cheese should smoke low-and-slow at 225-F. The process takes about 2 hours to infuse your cream cheese with a wonderful smoky flavor.
What are other smoked cream cheese flavors?
Coat your cream cheese block in Everything Bagel seasoning, cinnamon and sugar, smoke it plain than brush it with Raspberry Chipotle Sauce halfway through cooking, or all your favorite spice blends! Just make sure that the flavors you put on top aren't too salty. Smoked cream cheese with bacon jam is also delish!
Is smoked cream cheese healthy?
Well that depends on your definition of healthy! All things in moderation! Watch the salt content of your spice blend and enjoying this treat once in a while should be fine.
Like This? Also Try:
Step By Step Process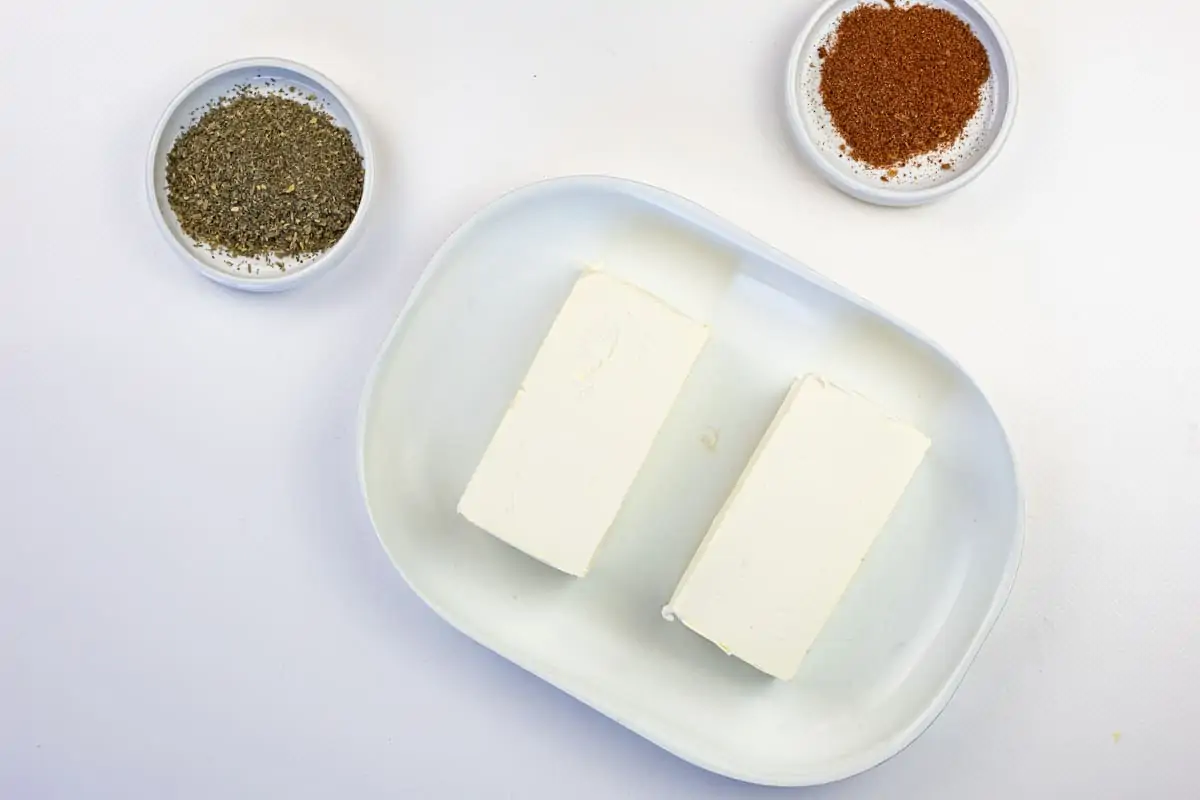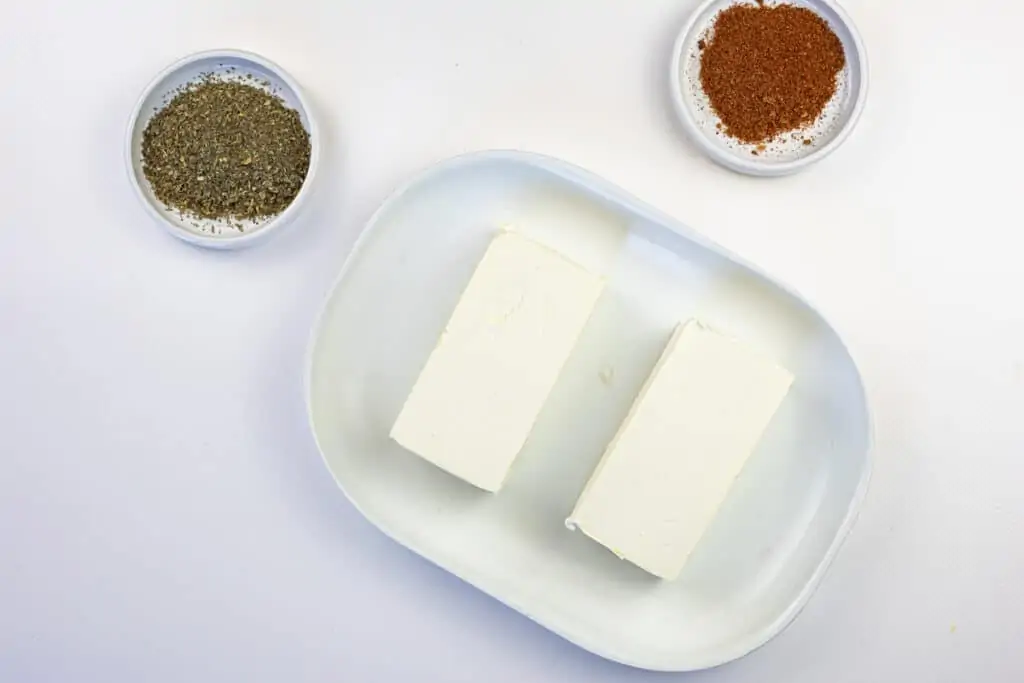 Smoked Cream Cheese
Smoky, creamy, and packed with flavor, Smoked Cream Cheese is everything you could ask for! Paired with your favorite crackers, this is perfect for sharing with friends and family!
Ingredients
8

ounce

Philadelphia cream cheese

2

tbsp

spice blend
Instructions
Sprinkle your favorite spice rub on a plate large enough to hold the cream cheese.

Roll the unwrapped block of cream cheese around in the spice blend, to coat it evenly on all sides.

Put the cream cheese block into a disposable foil pan and using a small, sharp knife, cut cross-hatches into the top of the cream cheese.

Smoke the cream cheese at 225-F for about 2 hours.

Serve it with your favorite crackers and enjoy!
Notes
The nutritional values will vary based on what kind of spice blend you use. These are just approximate guidelines.
Nutrition
Serving:
4
tbsp
|
Calories:
214
kcal
|
Carbohydrates:
7
g
|
Protein:
4
g
|
Fat:
20
g
|
Saturated Fat:
11
g
|
Polyunsaturated Fat:
1
g
|
Monounsaturated Fat:
5
g
|
Cholesterol:
62
mg
|
Sodium:
184
mg
|
Potassium:
171
mg
|
Fiber:
3
g
|
Sugar:
2
g
|
Vitamin A:
887
IU
|
Vitamin C:
1
mg
|
Calcium:
174
mg
|
Iron:
3
mg
A Note on Nutritional Information
Nutritional information for this recipe is provided as a courtesy and is calculated based on available online ingredient information. It is only an approximate value. The accuracy of the nutritional information for any recipe on this site cannot be guaranteed.
Want Even More Easy Smoker Recipes?
By