Call me crazy, but I smoke EVERYTHING! Some ingredients turn out not so great, but some, like this Smoked Asparagus, are amazing! This delicious dish is a set-it-and-forget-it dish that pairs so well with, well, just about anything! Hungry? Read on and I, Chef Jenn, will show you all my tips and tricks to make this amazing asparagus side dish!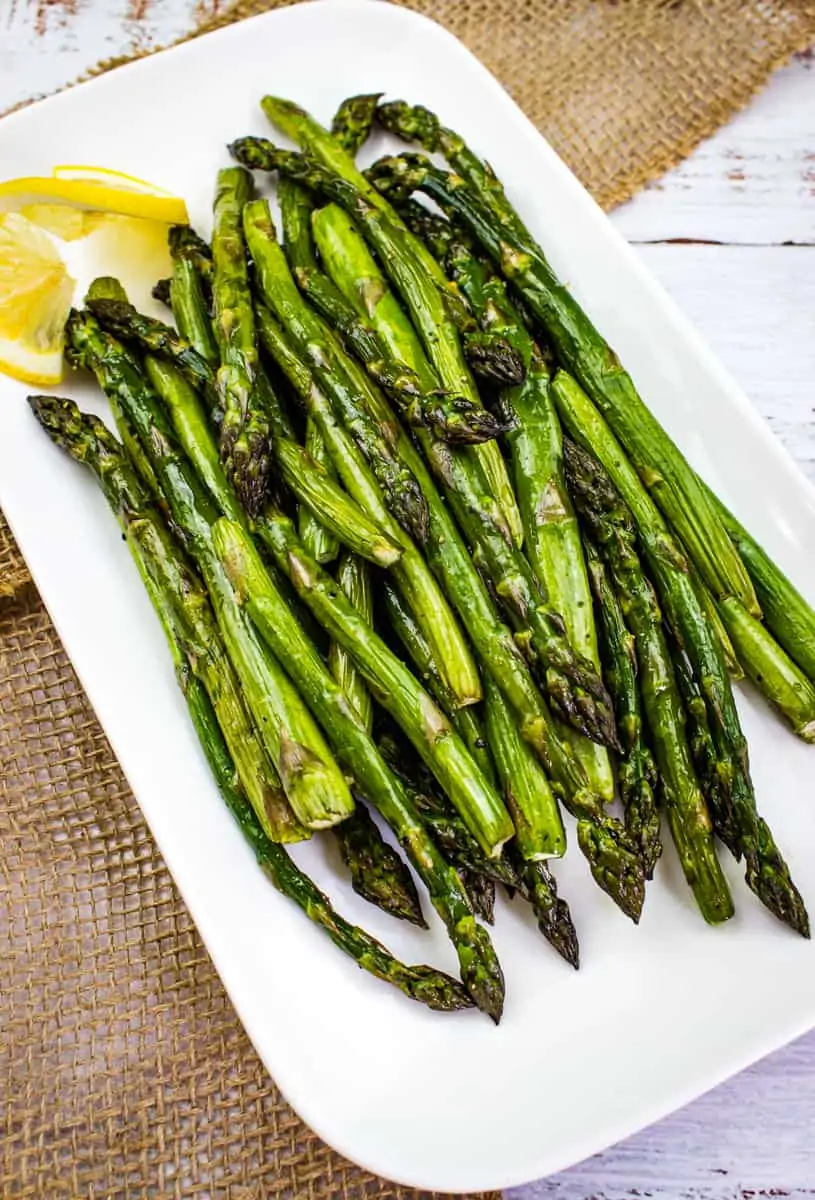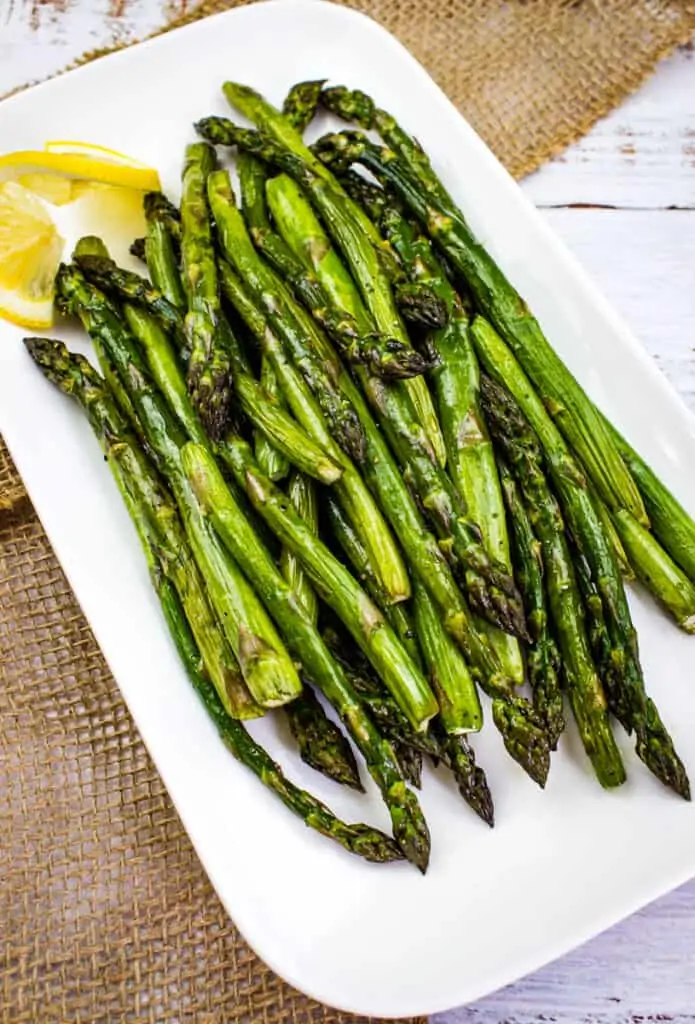 This post may contain affiliate link(s). As an Amazon Associate, I earn from qualifying purchases. See Disclosure.
One of my biggest pet peeves with my Traeger pellet smoker is all the wasted space. So, if I'm just smoking a few chicken thighs or some beef for dinner, I usually fill up the extra space on the smoker with other things. I've smoked everything from sweet potatoes to Brussels sprouts just so all that delicious smoke isn't going to waste.
That's how this recipe came to be. Smoking asparagus is quick and easy and look at the color! Such a vibrant green and the kiss of smoke doesn't overwhelm the delicate flavor of the asparagus.
What You Need To Make Smoked Asparagus
Smoker – I make my smoker recipes on a Traeger pellet smoker but you can use whatever smoker you have
Asparagus – see my tips below about prepping asparagus
Olive oil
Salt and pepper
That's it!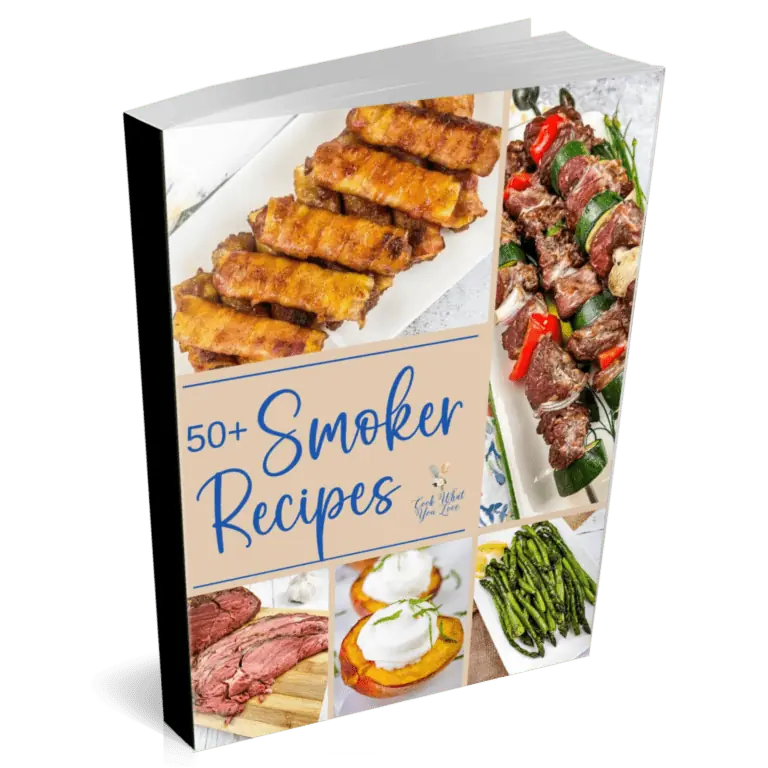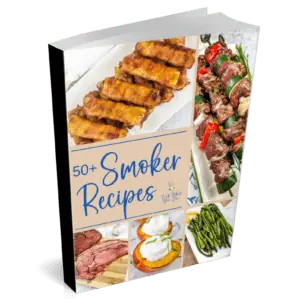 Love your pellet smoker? Get your hands on Chef Jenn's newest eBook: 50+ Smoker Recipes, and become the pitboss of your backyard!
Use coupon code VIPSMOKE for $5 off the already low price! Don't miss out – master your smoker today!
GET IT NOW!
A Word On Asparagus
Asparagus is one of my favorite vegetables, and this asparagus Traeger recipe is particularly good. I love how versatile it is, and I love how the delicate flavor pairs so well as an ingredient in other dishes or stands out as the main attraction. Here are some tips on how to get the most out of your asparagus:
Buying Asparagus
Look for bundles of asparagus that are roughly the same length and diameter. Thinner or thicker, it doesn't really matter. Thinner asparagus doesn't mean it is younger asparagus. Asparagus comes in all sorts of diameters – just make sure you get them about the same thickness for even cooking.
Also check that the asparagus is unwrinkled and that the brushy tops are firm and closed. Here's another tip: the ends of the asparagus – the more white/grey on the ends, the more you're going to discard. You're paying for unusable asparagus because that part is woody and inedible. Good for soups and stocks, but not for eating. So look for bundles that are as green as possible, from end to end.
Preparing Asparagus
Asparagus grows in fine, sandy soil. So it is REALLY important that you wash it well. I usually hold the brushy tips of the asparagus under running water to dislodge any dirt. I do them one or two asparagus spears at a time. Then, working with a handful at a time, I'll fill a large bowl with water and put the asparagus into the water, swishing it around quite strongly to get rid of any last dirt.
Let the water settle and check the bottom of the bowl for any sediment. If you feel grit at the bottom of the bowl, you should probably repeat the process.
You don't want to bite into gritty asparagus. There's nothing that'll ruin your delicious dish faster than gritty asparagus.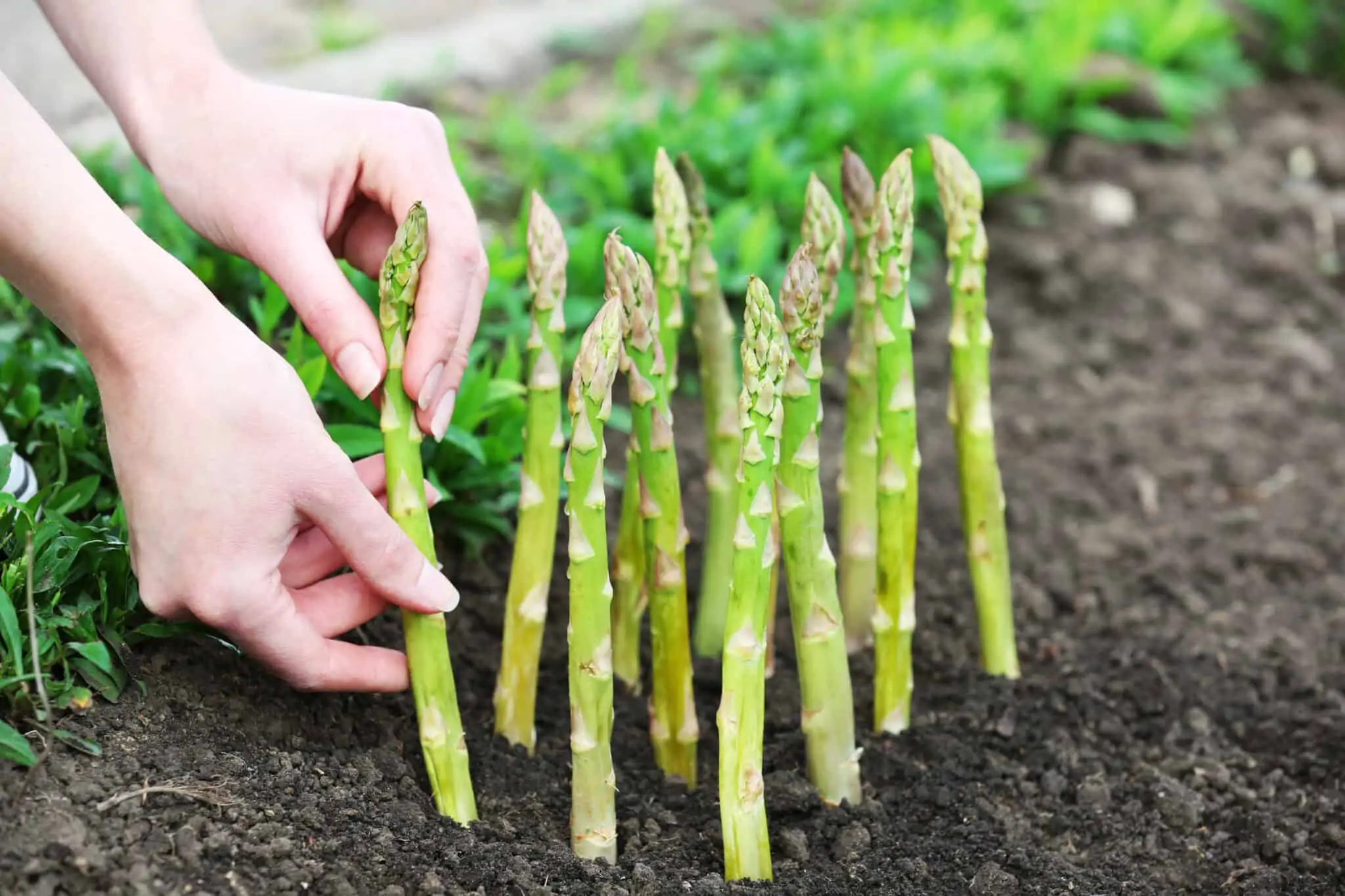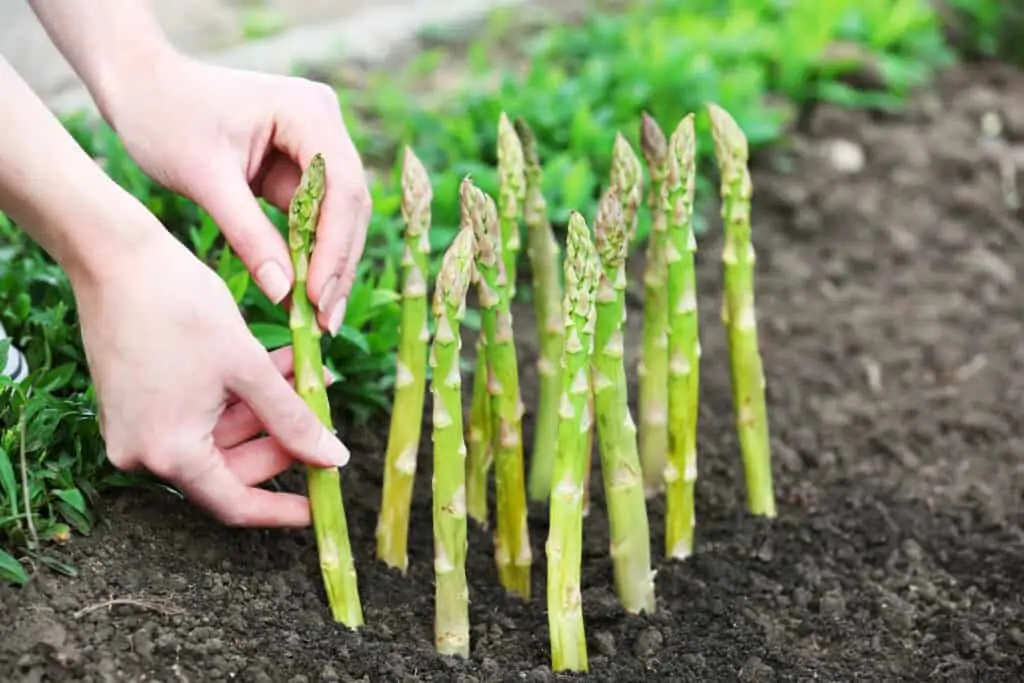 How To Smoke Asparagus
Follow the manufacturer's guidelines to preheat your smoker.
Wash the asparagus, toss it with the olive oil, and add the salt and pepper.
Put the asparagus into a grilling basket or a grill grid so that you don't lose it down under the grates.
How long to smoke asparagus? Smoke at 225-F for about an hour. Toss after 30 minutes.
How To Tell When Asparagus Is Cooked
Cooked asparagus should be a bright, vibrant green. If you hold both ends of the asparagus between your hands and bend it, it should have some bend but still a bit of a snap if you break it in half.
Asparagus should be served tender-crisp – that is, it should still have a bit of crunch when you bite into it. For the best smoked asparagus, make sure it is tender-crisp!
Chef Jenn's Tips To Make Perfect Smoked Asparagus
Use a milder flavored pellet like applewood or cherry when making asparagus on the Traeger. I also like the Signature Blend. Hardwood pellets could be a little strong for the asparagus.
For maximum flavor, smoke the asparagus in a single layer.
Add a pinch of red chili flakes if you like it a bit spicier, or toss the asparagus with a minced garlic clove.
Don't overcook the asparagus! See the notes above above about how to tell when asparagus is properly cooked.
What To Serve With This Smoked Asparagus Recipe
Smoked Asparagus goes great with fish, shrimp or shellfish, chicken, beef…heck, just about anything! A few of my favorites include: Smoked Chicken Thighs (and make use of the extra smoker room), Pork Chops with Green Onion & Tomato Relish, and Garlic Shrimp Scampi. Another tasty pick is this easy Salisbury Steak recipe.
How To Store Cooked Asparagus
This is one of my favorite Traeger asparagus recipes, but asparagus doesn't freeze well. You can freeze it, but it'll go watery and mushy. This is one of those veggies that's best eaten fresh.
It will, however, keep well in the fridge for up to a week. Keep it tightly covered and enjoy!
Frequently Asked Questions
Can I smoke white asparagus?
Yes! You can. White asparagus can be treated the same as green asparagus. You may need to adjust the cooking time as white asparagus tends to be a bit thicker than green asparagus.
Is smoked asparagus good?
Yes! I sure think so! I think the right kind of smoke is important – too heavy a smoke and it'll end up too strongly flavored. The key to this recipe is a kiss of smoke.
Is it easy to make smoked asparagus on a pellet grill?
Yes! It's as simple as setting the temperature, seasoning the asparagus, and then letting the smoker work its magic!
Like this? ALso Try:
Step By Step Process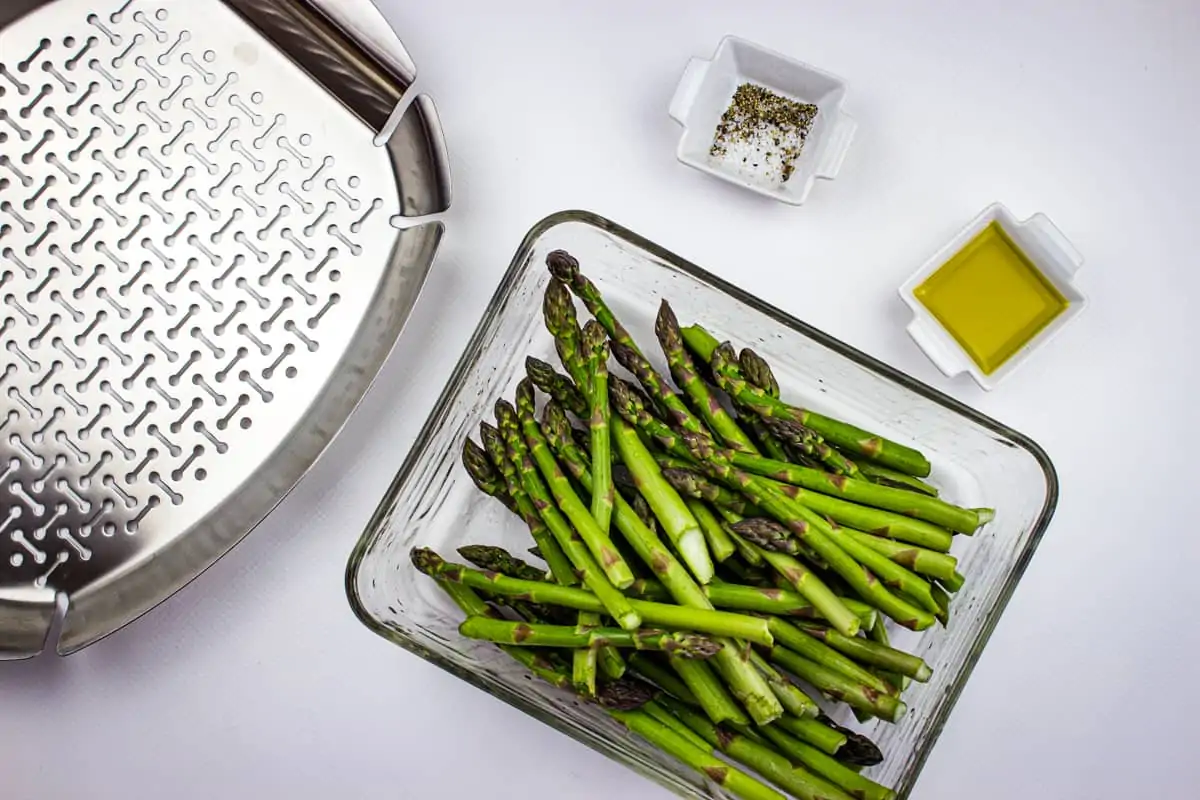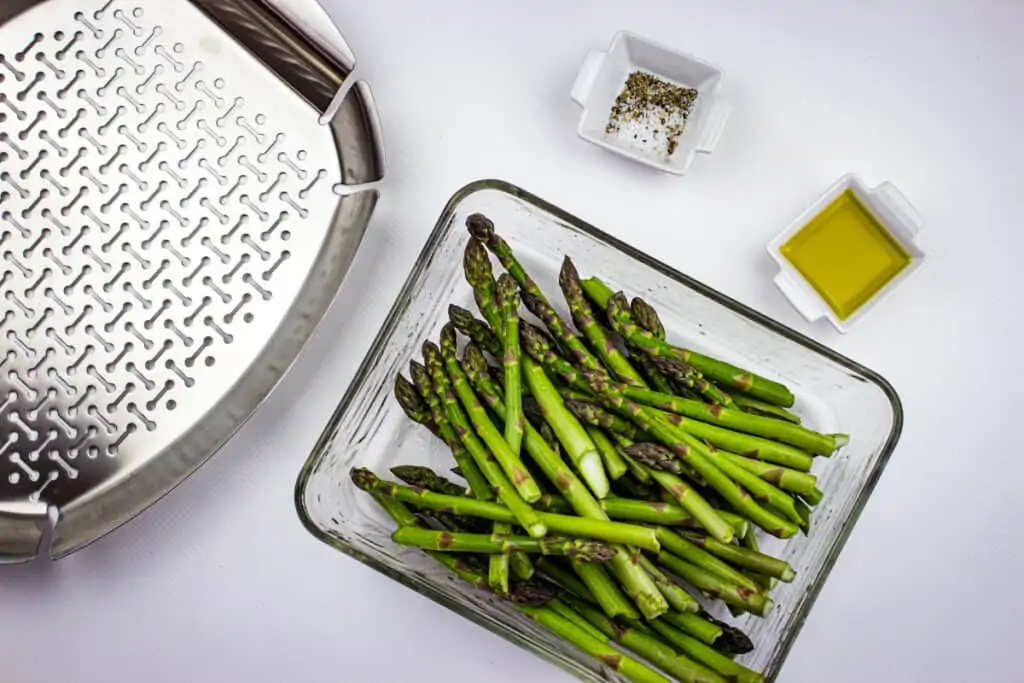 Smoked Asparagus
Smoked Asparagus is easy, delicious, and the perfect side to so many dishes. A kiss of smoke makes this dish a dinner winner!
Ingredients
2

pounds

asparagus

trimmed and washed

2

tbsp

olive oil

1

tsp

salt

1/2

tsp

freshly ground pepper
Instructions
Preheat the grill as per manufacturer's instructions. Set it to 225-F.

Toss the washed and trimmed asparagus with the oil, salt, and pepper.

Smoke the asparagus for about an hour until it is tender-crisp.
Nutrition
Calories:

107

kcal

|

Carbohydrates:

9

g

|

Protein:

5

g

|

Fat:

7

g

|

Saturated Fat:

1

g

|

Polyunsaturated Fat:

1

g

|

Monounsaturated Fat:

5

g

|

Sodium:

586

mg

|

Potassium:

458

mg

|

Fiber:

5

g

|

Sugar:

4

g

|

Vitamin A:

1715

IU

|

Vitamin C:

13

mg

|

Calcium:

55

mg

|

Iron:

5

mg

A Note on Nutritional Information

Nutritional information for this recipe is provided as a courtesy and is calculated based on available online ingredient information. It is only an approximate value. The accuracy of the nutritional information for any recipe on this site cannot be guaranteed.

By