Meaty, flavorful, and tender, Smoked Tri Tip is a meaty dish that's going to get gobbled up fast! Giving it a kiss of smoke and cooking it low and slow turns this moderately priced cut of meat into something that's good enough to rival filet mignon. Hungry for beefy goodness? Read on and I, Chef Jenn, will show you how to make an amazing smoked tri tip perfectly every time!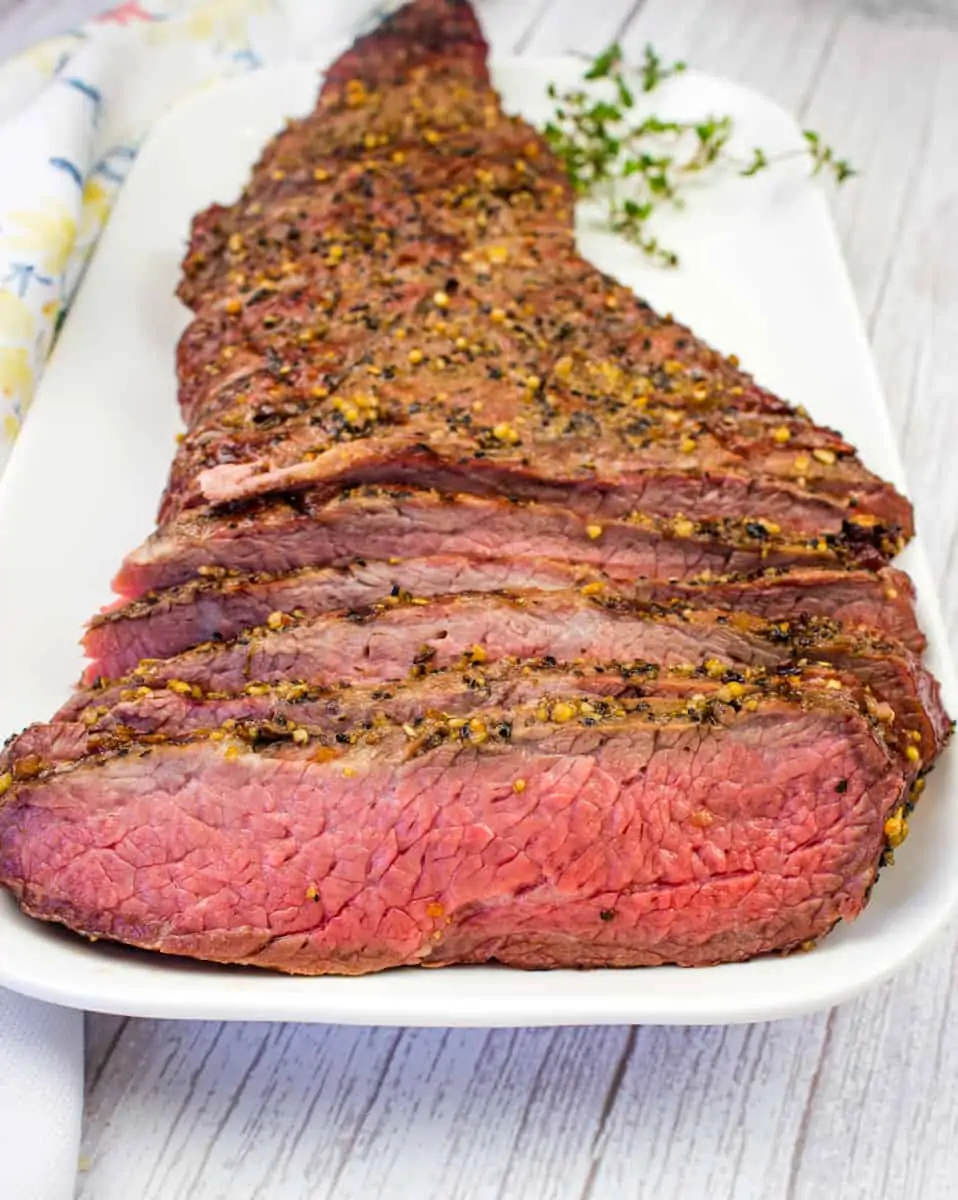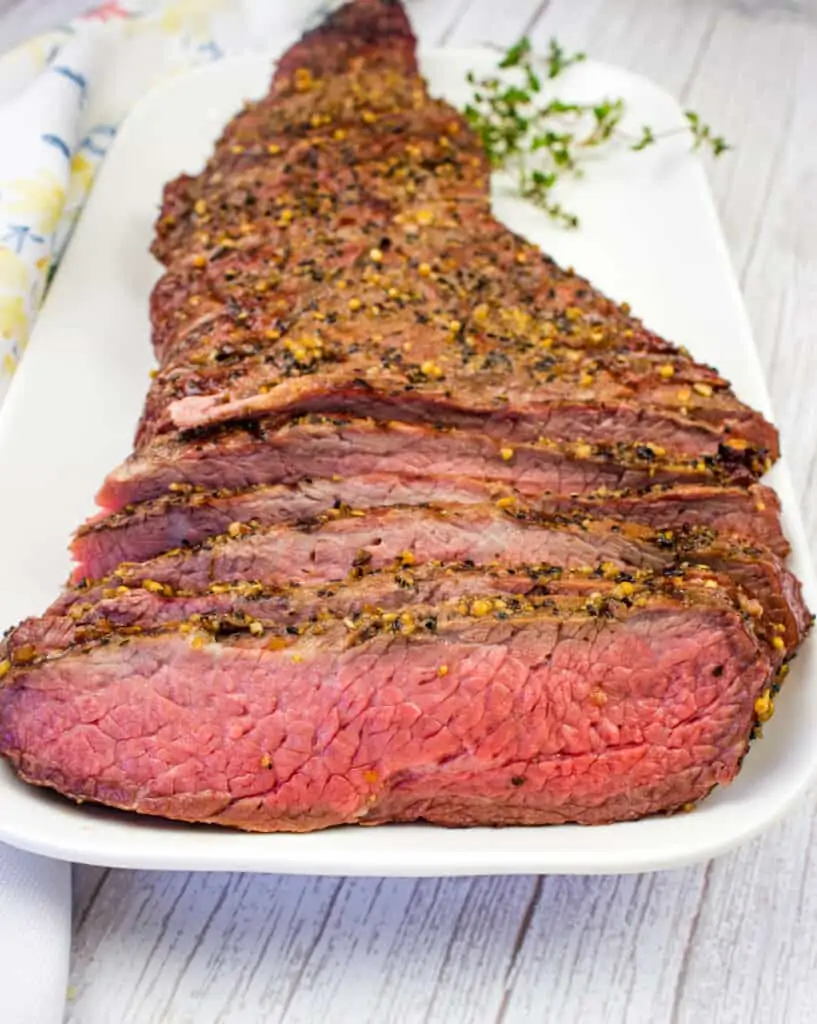 This post may contain affiliate link(s). As an Amazon Associate, I earn from qualifying purchases. See Disclosure.
Tri tip is a funny shaped cut of beef that's taken off the bottom part of a whole sirloin. It's immensely flavorful and tender, but in some parts of the country, it is relatively unknown. Somewhere between a steak and a roast, it's perfect on the smoker because when it cooks low and slow, it comes out so tender and flavorful. A tri trip roast in the oven, on the other hand, can overcook easily.
If you don't see this cut of meat at your grocery store, ask for it at the meat counter or visit your local butcher to get it. It's well worth the extra effort of finding them!
What You Need To Make Smoked Tri Tip
I do all my smoking on a Traeger pellet smoker/grill, and this dish is no exception. I love that I can accurately control the temperature, and there's lots of room for all my favorites inside. This Traeger tri tip recipe doesn't need much – just grab your favorite pellets and seasoning and you're ready to go!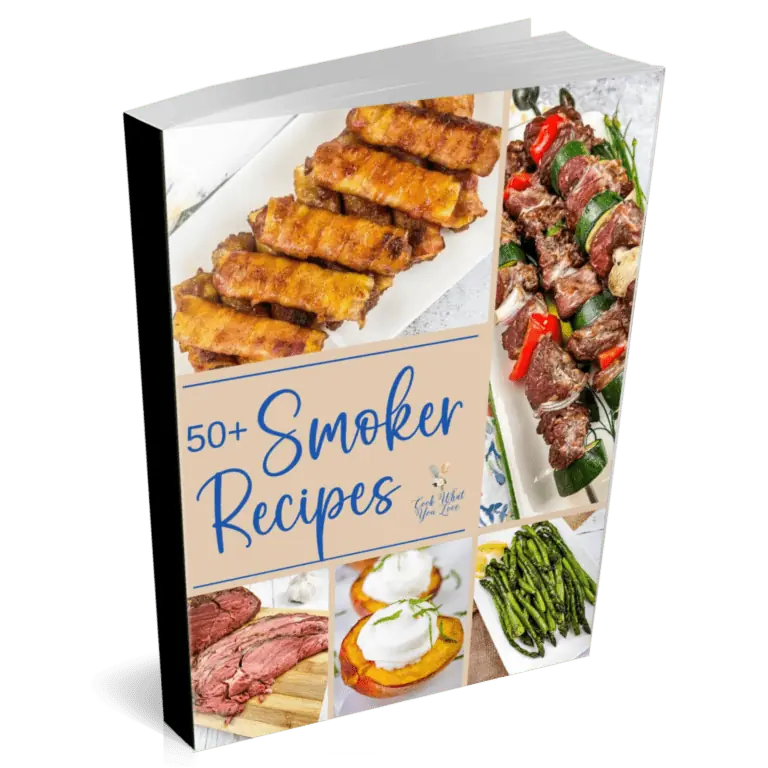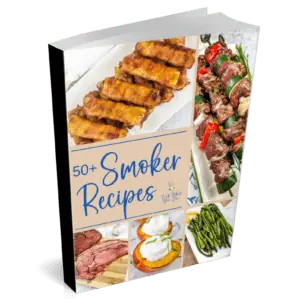 Love your pellet smoker? Get your hands on Chef Jenn's newest eBook: 50+ Smoker Recipes, and become the pitboss of your backyard!
Use coupon code VIPSMOKE for $5 off the already low price! Don't miss out – master your smoker today!
GET IT NOW!
What Is A Tri Tip?
Named for the long tapered end, tri tip is a flavorful and tender cut of meat that's cut from the bottom part of the sirloin. It has a few other names, like Newport steak, triangle tip, triangle steak, and Santa Maria steak.
It's not quite big enough to be a roast but also too big to be a steak, but it's the perfect cut of meat for a family or small gathering. Trimmed, they usually come around 2-3 pounds which makes it a great choice on the smoker.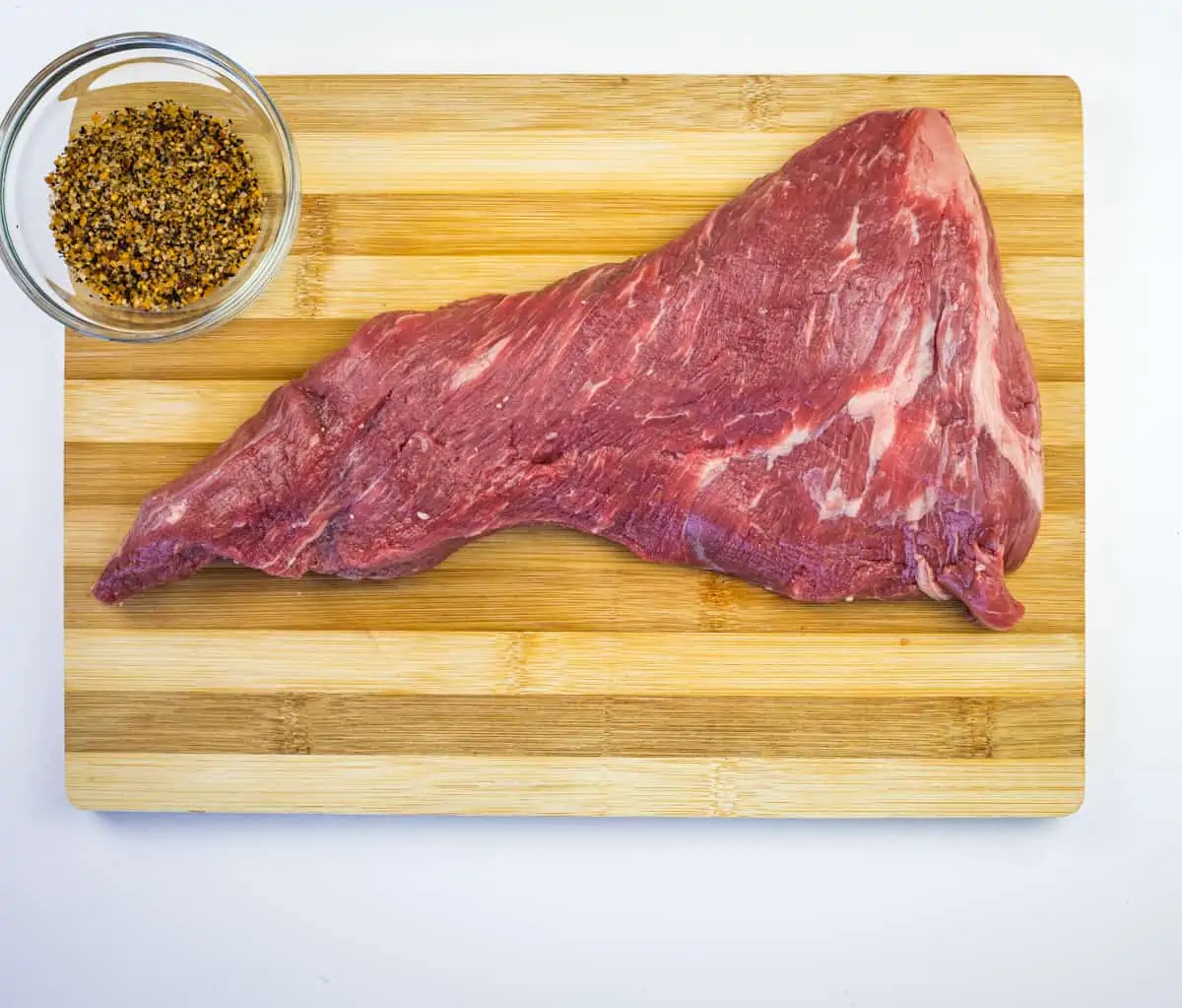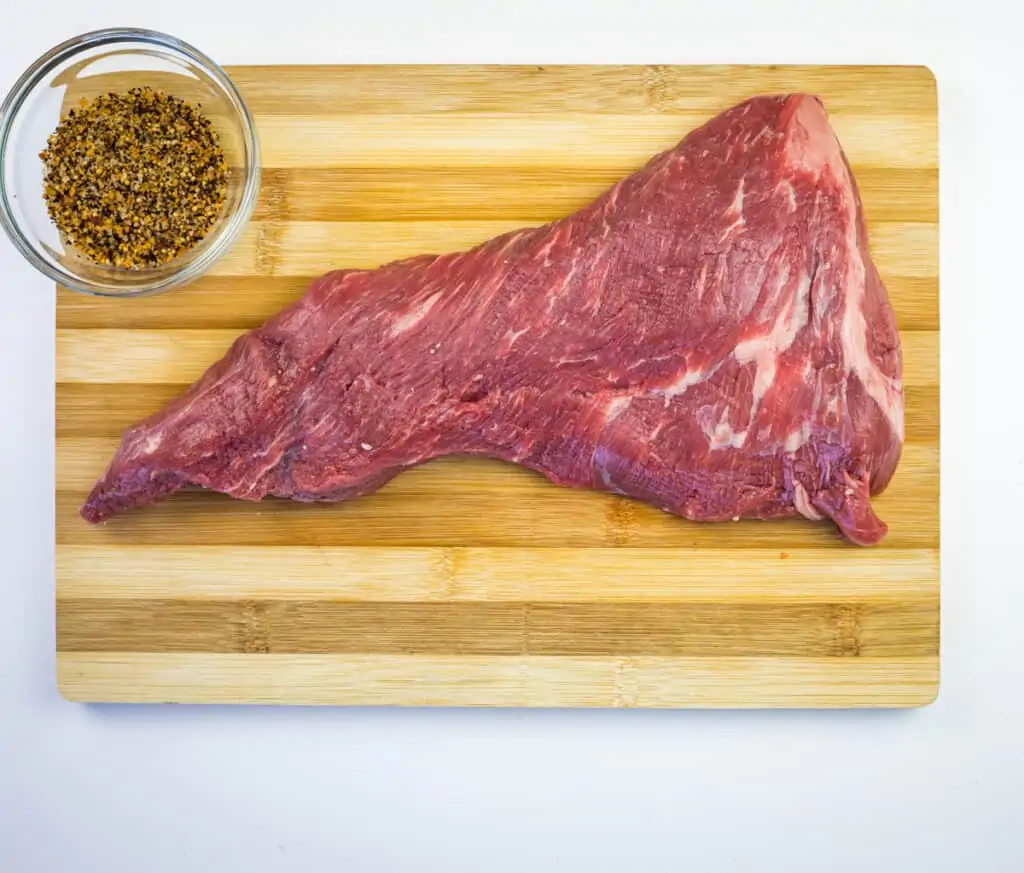 How to Smoke Tri Tip
It really couldn't be easier, and this beginner smoked roast recipe can be made start-to-finish in under 2 hours.
Preheat your Traeger pellet smoker or electronic smoker according to the manufacturer's instructions
`Season the meat. I love using Montreal Steak Seasoning. It's easy, it's tasty, and it's got a good balance of salt, pepper, and garlic.
Smoke this pellet grill tri tip for 20 minutes at 180-F to give it a bit of smoke, then turn the temp up to 225-F and let it go until it reaches your desired temp. See the chart below.
Take it off the smoker and heat a cast iron or heavy-bottomed skillet with a bit of oil. Reverse sear the tri tip, giving it some nice color and caramelization.
Let it rest for 10 minutes before slicing.
How Long to Smoke a Tri Tip
The amount of time it takes to smoke a tri tip depends on a variety of factors, including:
the size of the cut
the temperature of the meat when it goes into the smoker
the size of your smoker
how accurate the smoker temperature is
The best way to ensure you get a perfect cook is to use a digital meat thermometer and my meat cooking guide below. Don't forget that it'll go up a few degrees during the reverse sear and resting stages.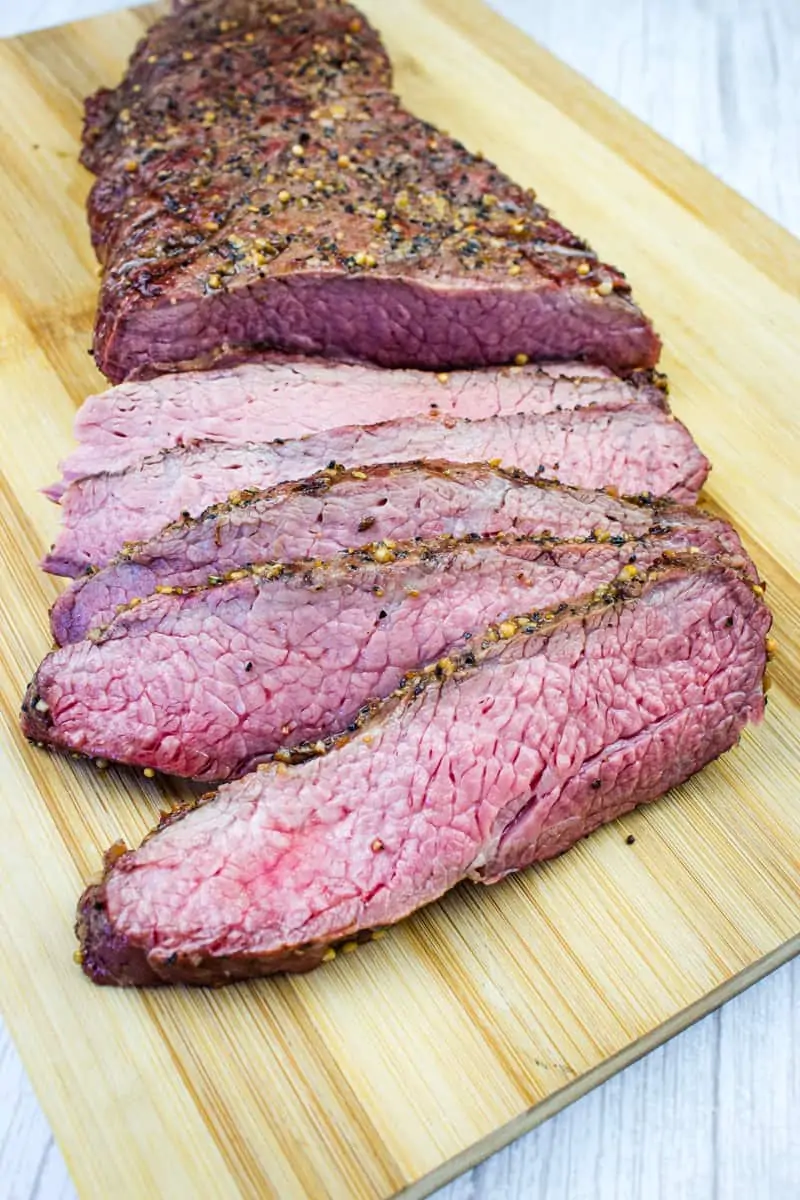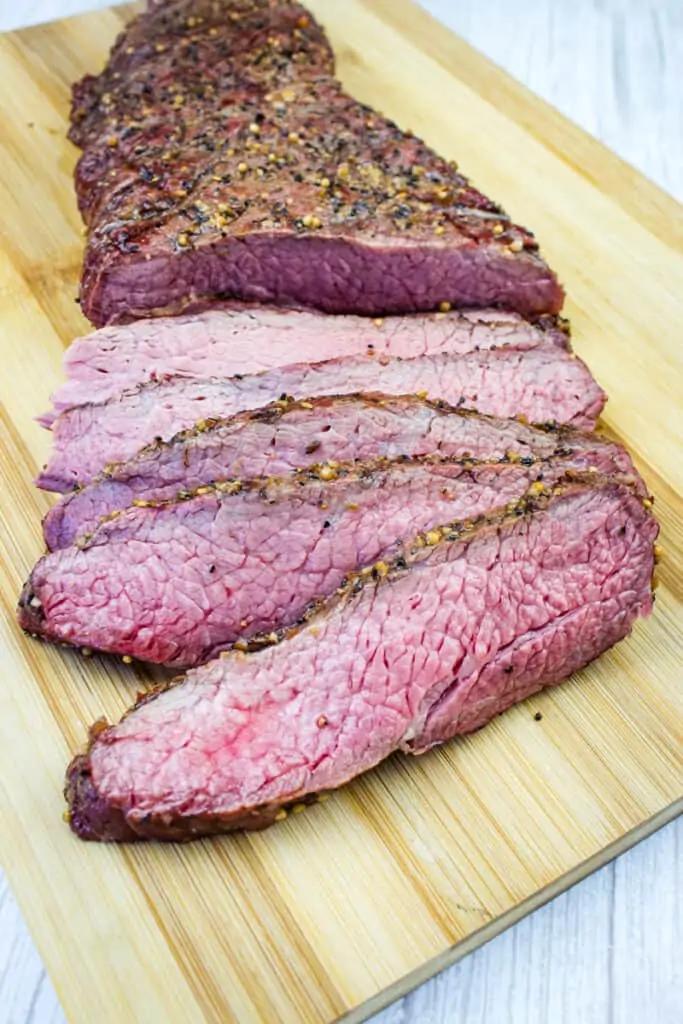 Tri Tip Internal Temperature Guide
Here's a handy chart to help you figure out what the temperature means on your digital meat thermometer:
| | |
| --- | --- |
| Rare | 120-125F |
| Medium Rare | 125-130F |
| Medium | 135F ish |
| Medium Well | 140-145F |
| Well Done | 150-160F |
Chef Jenn's Tips
Use your favorite rub or spice blend on this delish smoked steak but keep it simple so the beefy flavor shines through! Or, make your own tri tip rub for smoking by blending 1 teaspoon of salt, 1 teaspoon of garlic powder, and 1 teaspoon of onion powder with 1/2 teaspoon of freshly ground pepper.
Count on about 6-8 ounces of uncooked weight per person, unless of course you like leftovers in which case smoke extra!
Let the meat come to room temperature before putting it on the smoker for the best low-and-slow cooking.
Reverse searing a tri tip adds lovely flavor and color, don't skip this step unless you have to!
What To Serve With Smoked Tri Tip
Anything! Fill up the empty space on the smoker and make Smoked Asparagus, Smoked Mac and Cheese, or Smoked Brussels Sprouts. Or, serve this amazing cut of beet with all your favorite sides. One of my faves is this Farro Risotto!
What To Do With Leftover Smoked Tri Tip
Tri tip roast smoked is delicious, and you can use up any leftovers in a variety of ways. Use finely chopped tri tip in place of the ground beef in this Smoked Queso recipe, add it to a salad, put it into tacos or quesadillas, or just munch on it! Hot or cold, it's delish!
How To Store Cooked Tri Tip
Like any meat, cooked tri tip will keep in the fridge for 3-4 days if tightly covered, but it won't freeze well. Technically you can freeze it, and if it comes to a choice between tossing it out or freezing it, freeze it and use it in soups, stews, queso, or chili.
I love tri tip cold. It has very little fat on it so it doesn't get all gross when it's cold, but if you do want to heat it up, heat it in a very low oven (about 300-F) for a few minutes just to take the chill off of it. If you try to get it hot, it will overcook.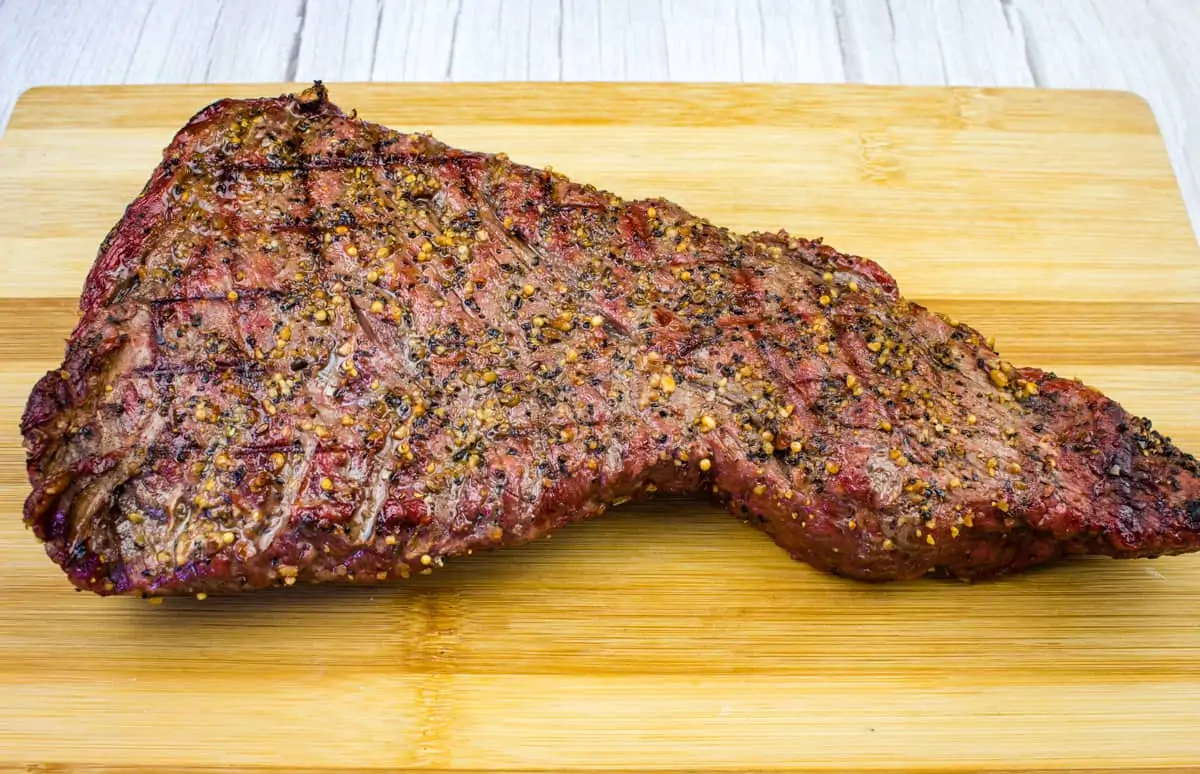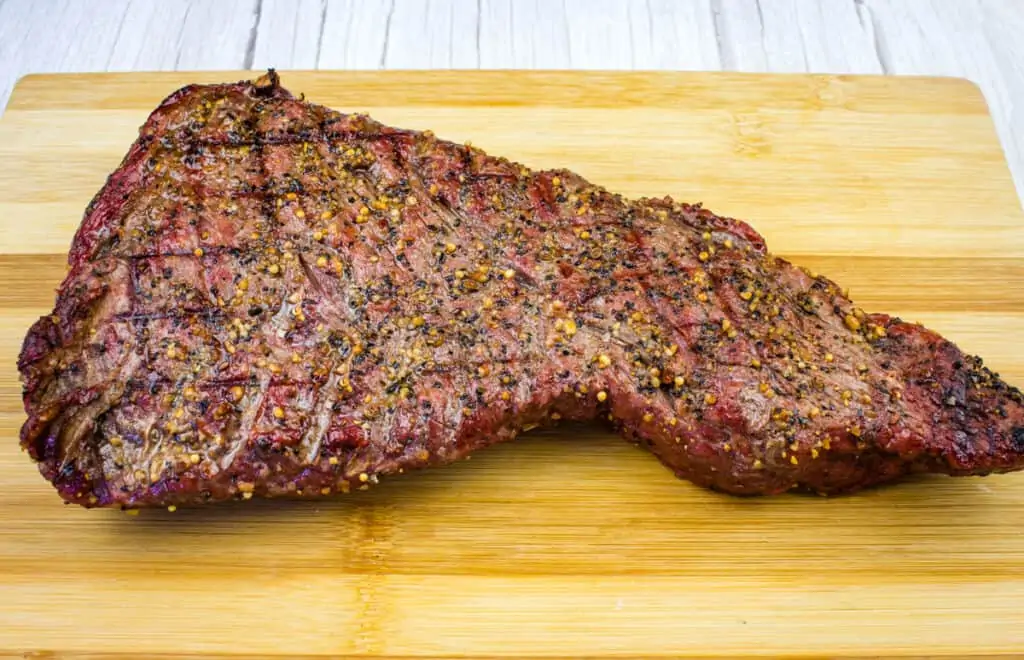 Frequently Asked Questions
Do I need a smoked tri tip marinade?
This is personal preference. Tri tips are naturally tender so you don't need a marinade to tenderize it. I personally love the beefy flavor but you can certainly marinade it to alter the flavor. It's a thin cut of meat, so a few hours in a marinade should be fine – I wouldn't leave it longer than that.
What is the tri tip smoke time?
That all depends on the size of the cut of meat and what temperature it is when it goes into the smoker. Plan on up to about 2 hours of total time.
Can I reverse sear my pellet grill tri tip?
Yes! You can reverse sear right on the Traeger by firing up the Traeger to hot (about 450-F or the sear function) but I find it much easier and faster to do this in a cast iron pan or on my Blackstone griddle.
Like This? Also Try:
Smoked Tri Tip
Beefy, tender, and with a light kiss of smoke, Smoked Tri Tip is a delicious way to cook this amazing cut of meat!
Instructions
Preheat your Traeger pellet smoker or electronic smoker according to the manufacturer's instructions

Season the tri tip, all over, with about 3 tablespoons of Montreal Steak Seasoning or your favorite rub.

Smoke the tri tip at 180-F for 20 minutes to give it a bit of smokiness.

Turn the heat up to 225-F and cook for an addition 30-60 minutes (or longer) until it reaches 125-F for medium rare. Actual cooking time depends on size and the temperature of the beef when it went into the smoker.

Heat a cast iron pan until it is smoking hot. Add a tablespoon of cooking oil and sear the tri tip on each side for about 2 minutes. Remove it to a cutting board.

Let rest for 10 minutes before slicing and serving.
Nutrition
Serving:
6
ounces
|
Calories:
414
kcal
|
Carbohydrates:
2
g
|
Protein:
47
g
|
Fat:
23
g
|
Saturated Fat:
7
g
|
Polyunsaturated Fat:
2
g
|
Monounsaturated Fat:
12
g
|
Trans Fat:
1
g
|
Cholesterol:
150
mg
|
Sodium:
119
mg
|
Potassium:
739
mg
|
Fiber:
1
g
|
Sugar:
1
g
|
Vitamin A:
79
IU
|
Vitamin C:
1
mg
|
Calcium:
87
mg
|
Iron:
4
mg
A Note on Nutritional Information
Nutritional information for this recipe is provided as a courtesy and is calculated based on available online ingredient information. It is only an approximate value. The accuracy of the nutritional information for any recipe on this site cannot be guaranteed.
Want More Delicious and Easy Recipes?
By