Move over jarred salsa, Smoked Salsa has big, bold, Southwestern flavors and a smoky kiss that really highlights the sweet tomatoes. This luscious salsa is an easy fix and is perfect for snacking with crispy tortilla chips. Hungry? Read on and I, Chef Jenn, will show you all my tips to making this outstanding Smoked Tomato Salsa!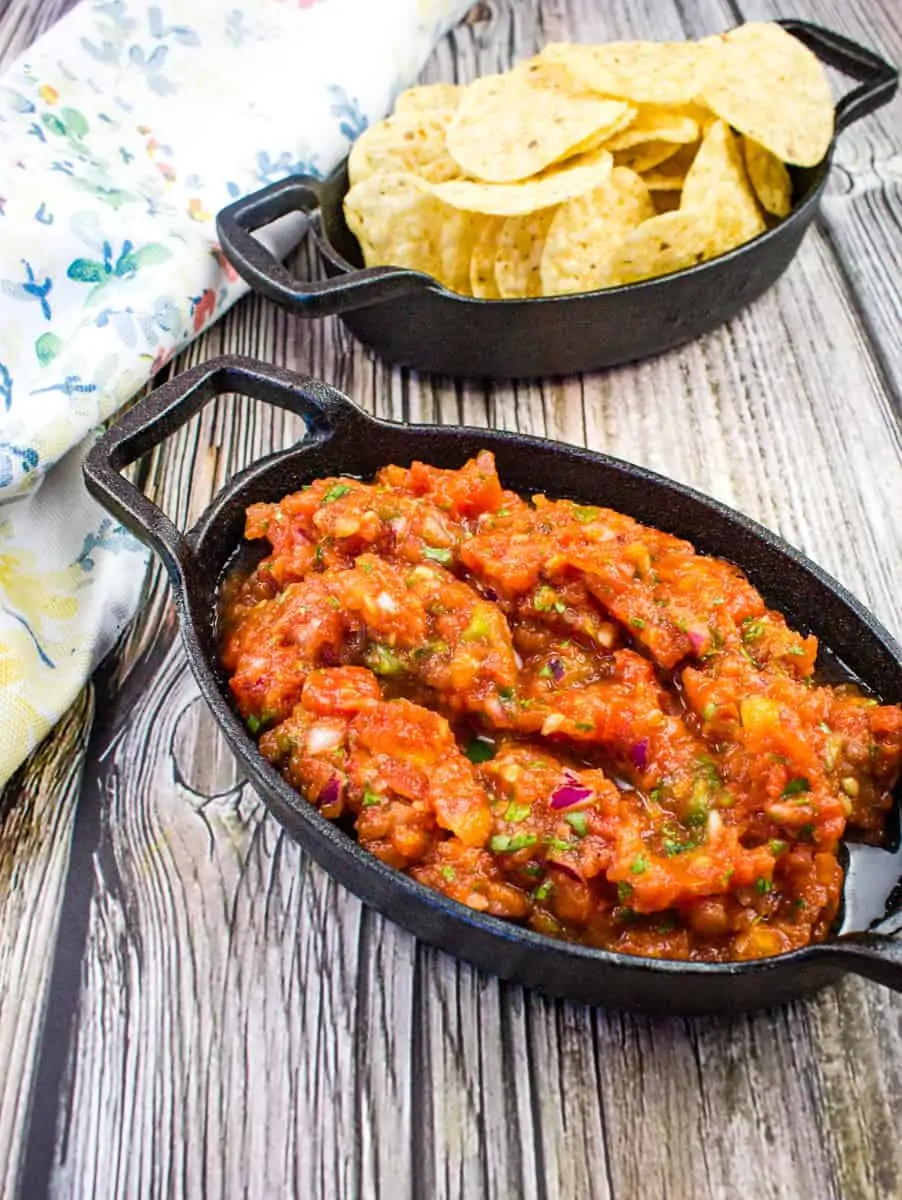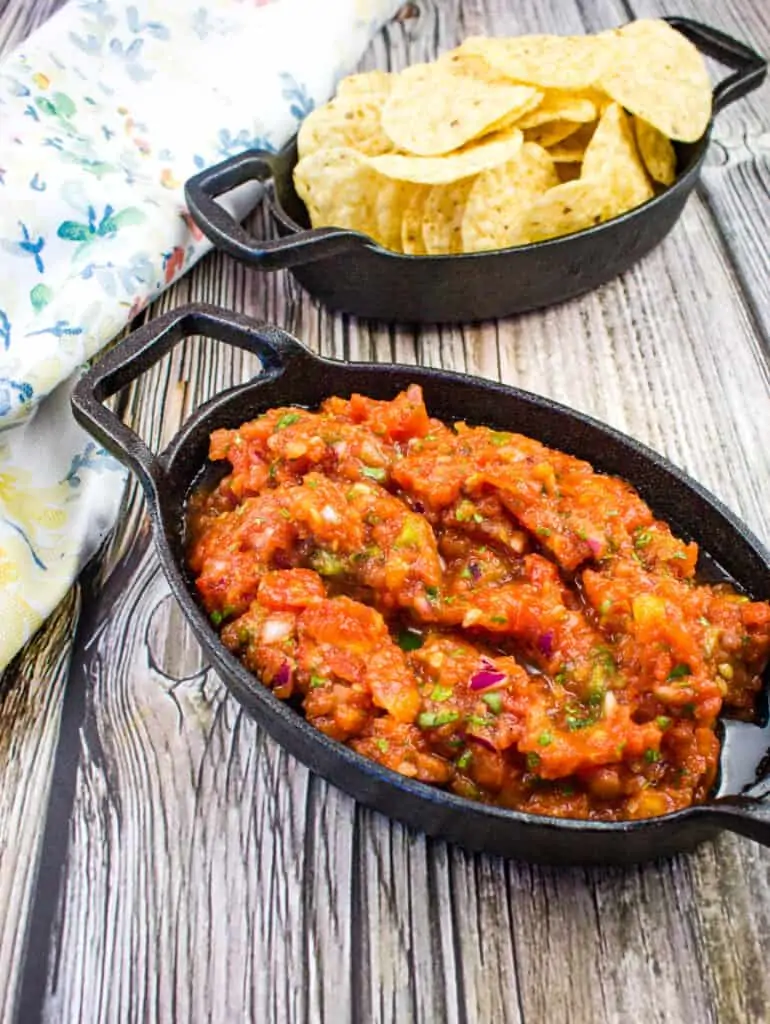 This post may contain affiliate link(s). As an Amazon Associate, I earn from qualifying purchases. See Disclosure.
Thick, chunky and with a kiss of smoky goodness, Smoked Salsa is an unforgettable recipe. It's an easy recipe to make, and one that's made in two steps. Let's get started!
What You Need To Make Traeger Smoked Salsa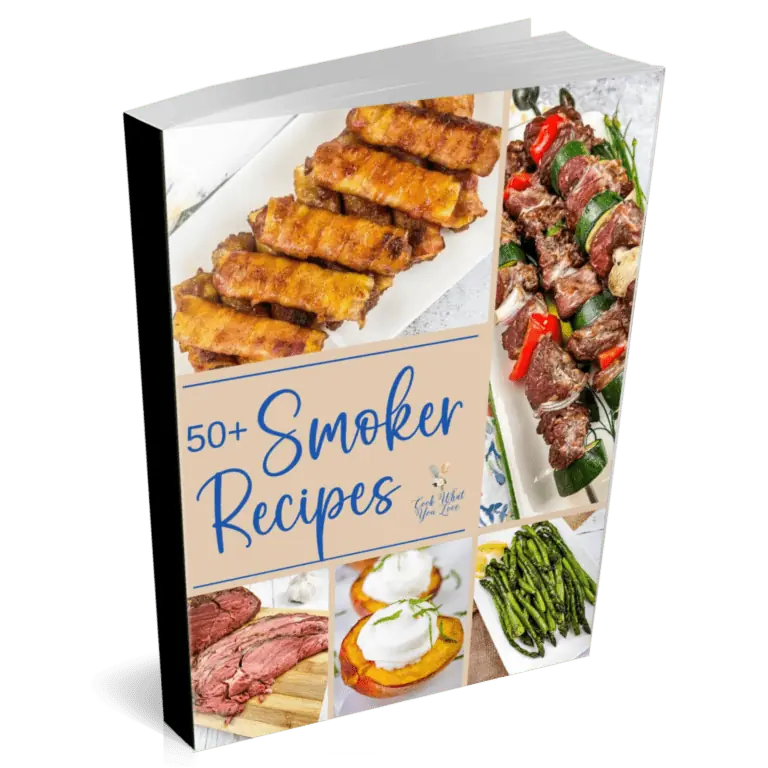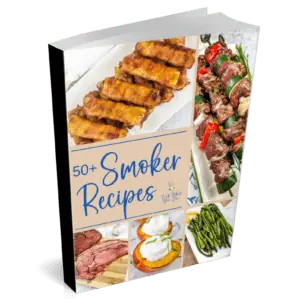 Love your pellet smoker? Get your hands on Chef Jenn's newest eBook: 50+ Smoker Recipes, and become the pitboss of your backyard!
Use coupon code VIPSMOKE for $5 off the already low price! Don't miss out – master your smoker today!
GET IT NOW!
Smoked Tomato Salsa – Step 1: Smoke the Tomatoes
As I said, you make this amazing Traeger salsa recipe in two steps, and the first step is to roast the tomatoes. Here's how:
Preheat your Traeger pellet grill or other smoker as per the manufacturer's instructions.
Wash the tomatoes, cut the stem end off, and then cut the tomatoes in half. If you're using bigger tomatoes, cut them into thick slices.
Toss the tomatoes with minced fresh garlic, olive oil, salt and pepper.
How long to smoke tomatoes for salsa? Arrange the tomatoes on your grill pan or basket and smoke them at 225-F for 45 minutes to an hour.
They're done when they are a bit wrinkly from evaporating some moisture. But, you can keep smoking them until they reach your desired smokiness and consistency.
Smoked Tomato Salsa – Step 2: Making the Salsa
Pop the cooled smoked tomatoes into a food processor. Add the red onion, de-seeded jalapeno, cilantro, lime juice, more garlic, cumin, and salt to the processor.
Pulse it a few times until it is the consistency you're looking for.
Smoking Salsa – Thick or Thin consistency?
Salsa thickness is a personal choice. Some people like it so thick you can stand a spoon up in it, while others like it thinner, almost runny.
If you like your salsa on the thicker side, pulse the food processor just enough so that everything is chopped up.
If you like it thinner, run the processor in 15-20 second batches to liquify it.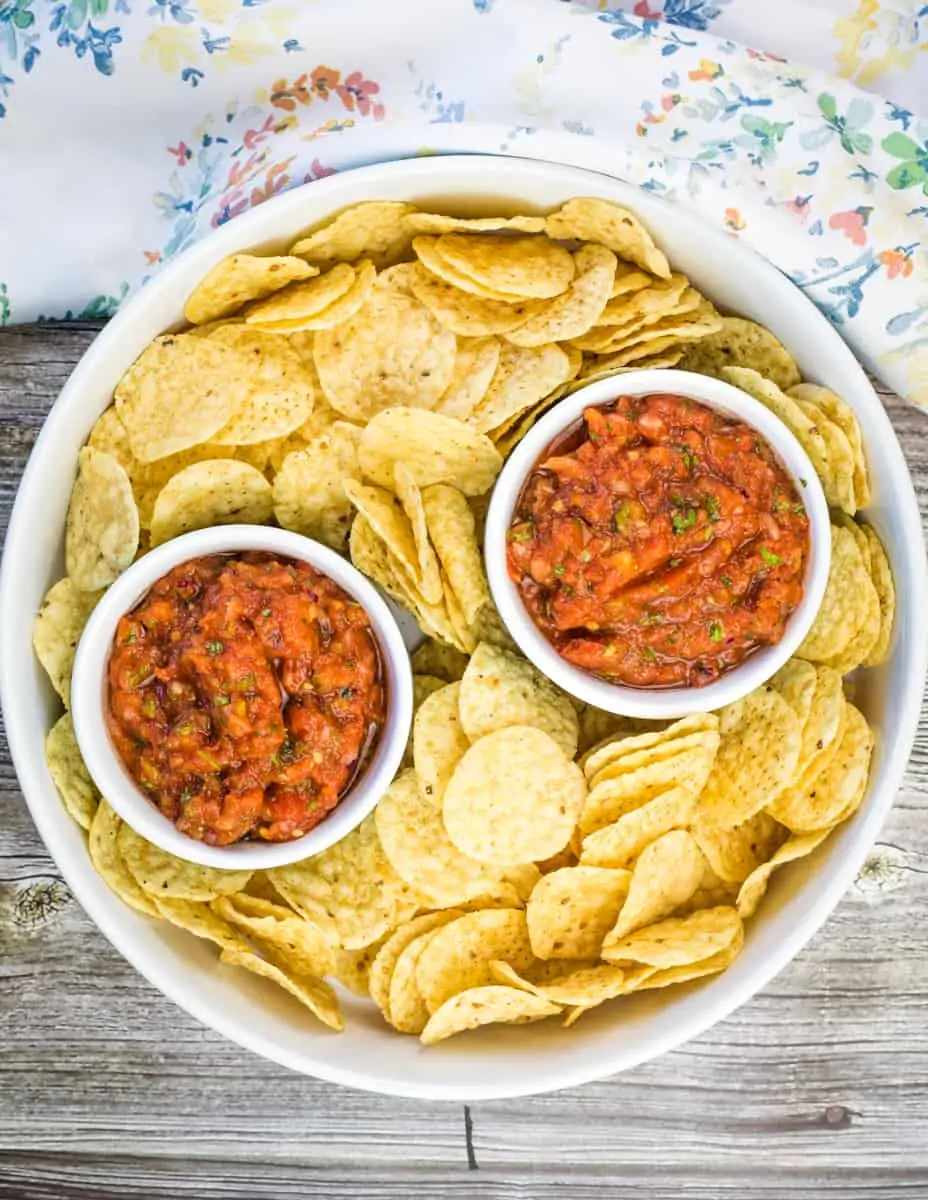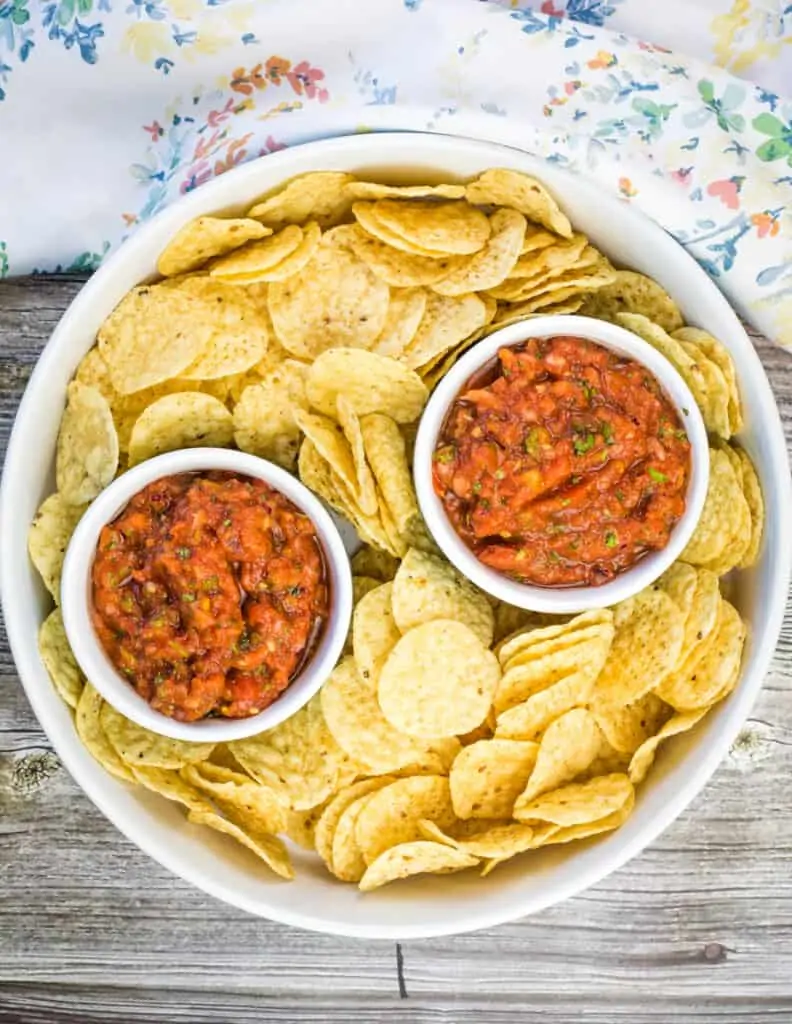 Chef Jenn's Tips
If you like extra smokiness, toss the onion and jalapeno with the tomatoes, olive oil, and garlic, and smoke all of it!
Want it extra spicy? Use a serrano or habanero pepper instead of a jalapeno pepper.
Depending on the size of your tomatoes, this recipe can make about 3 cups of salsa, but it's easily doubled. Just make sure to smoke the tomatoes in a single layer.
You can prep this dish ahead of time. Simply smoke the tomatoes and pop them tightly wrapped into the fridge. When you're ready, simply finish the recipe.
How To Use This Smoked Salsa Recipe
Bust out your favorite crispy tortilla chips and start dunking! Or, use this salsa on top of tacos – Smoked Pork Belly Tacos, perhaps? But it'll also go nicely on breakfast burritos, grilled fish or seafood, burgers, or wherever you usually add salsa. Got a Blackstone griddle? Check out these 50+ Blackstone Griddle recipes.
Pop the leftovers into the fridge for up to a week.
Frequently Asked Questions
Can I freeze Smoked Salsa?
Technically, you can freeze smoked salsa. But, it'll be runnier when you thaw it out. So if you don't mind it a bit runnier, then go ahead and freeze it for up to three months. This fresh salsa recipe is, however, better eaten fresh.
How spicy is Smoked Tomato and Jalapeno Salsa?
Jalapenos are not all created equal: some are seriously more spicy than others. And, if you remove the seeds and inner membranes (the white part inside the jalapeno), you'll temper the heat. With an average jalapeno, I'd put this Smoked Tomato Salsa at a mild-medium level for spiciness.
What kind of tomatoes do you use for salsa?
I love using big Roma tomatoes. Roma tomatoes have more flesh and less seeds than other round tomatoes, so they make a meatier, thicker, and chunkier salsa.
Like This? Also Try:
Step By Step Process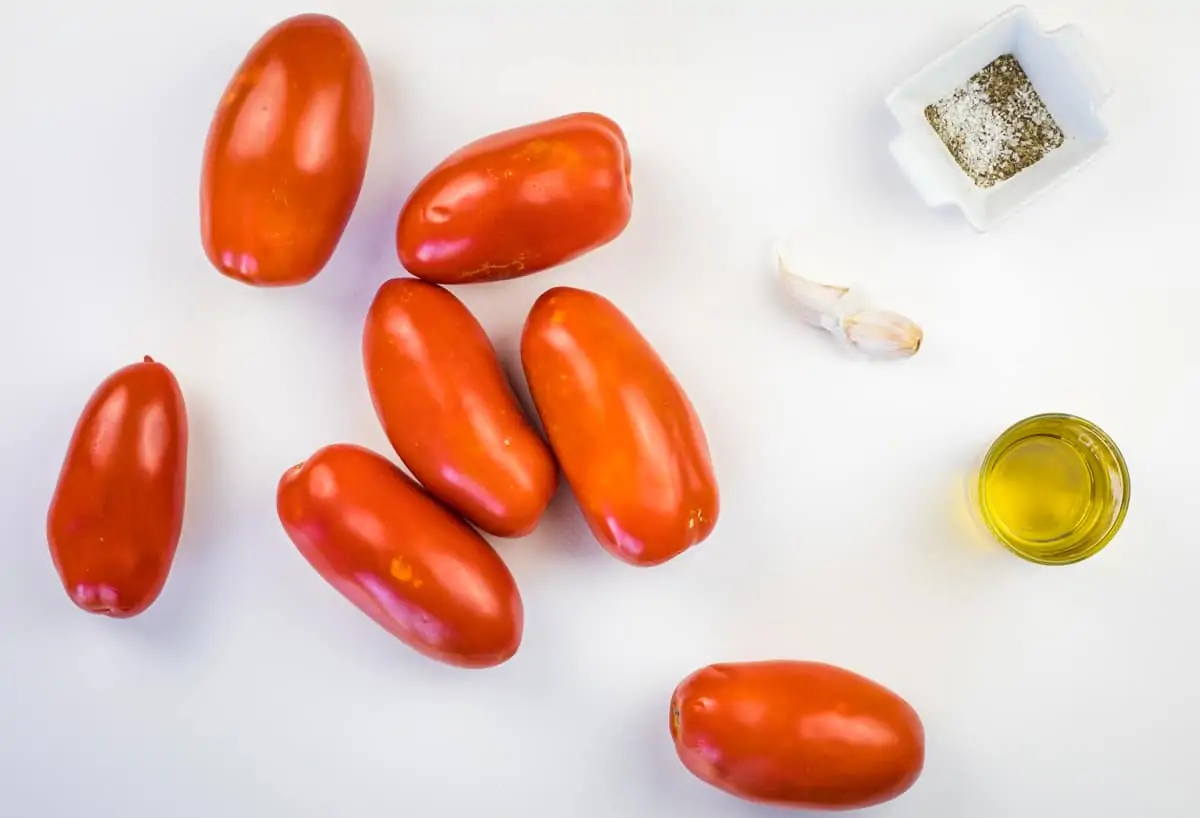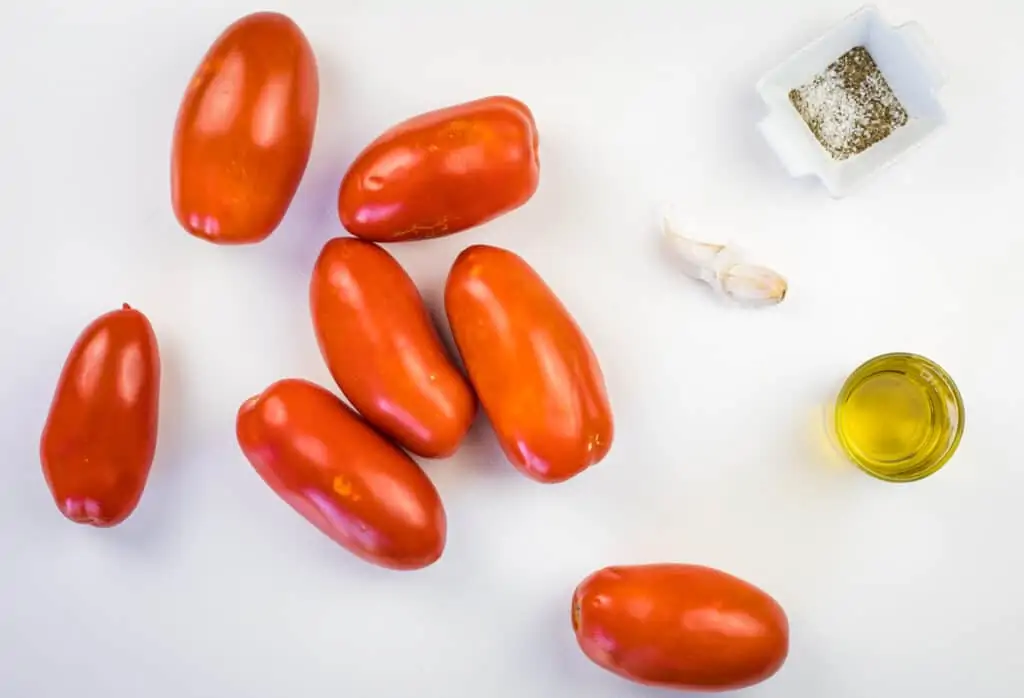 Smoked Tomato Salsa
Thick, chunky, and with a kiss of smoke, Smoked Tomato Salsa is so unbelievably good, you'll never want it any other way!
Ingredients
For the smoked tomatoes:
2

lbs

roma tomatoes

halved

1/4

cup

olive oil

2

cloves

garlic

minced

1/4

tsp

salt

1/4

tsp

pepper
For the salsa:
1/2

cup

red onion

1/2

cup

cilantro

1

jalapeno

seeded

1

clove

garlic

2

tbsp

lime juice

1

tbsp

cumin
Instructions
To smoke the tomatoes:
Preheat your pellet smoker to 225-F as per the manufacturer's instructions.

Toss the cut Roma tomato halves with the oil, minced garlic, salt and pepper. Toss well to combine.

Arrange the tomatoes in a single layer in a grill basket, cut side up.

Smoke at 225-F for 45-60 minutes. Set aside to cool.
For the salsa:
Combine the cooled tomatoes, red onion, cilantro, jalapeno, garlic, lime juice, cumin, and salt in a food processor.

Pulse the food processor until the smoked tomato salsa has reached your desired consistency. Serve and enjoy!
Nutrition
Serving:

4

tbsp

|

Calories:

90

kcal

|

Carbohydrates:

7

g

|

Protein:

1

g

|

Fat:

7

g

|

Saturated Fat:

1

g

|

Polyunsaturated Fat:

1

g

|

Monounsaturated Fat:

5

g

|

Sodium:

81

mg

|

Potassium:

316

mg

|

Fiber:

2

g

|

Sugar:

4

g

|

Vitamin A:

1043

IU

|

Vitamin C:

20

mg

|

Calcium:

24

mg

|

Iron:

1

mg

A Note on Nutritional Information

Nutritional information for this recipe is provided as a courtesy and is calculated based on available online ingredient information. It is only an approximate value. The accuracy of the nutritional information for any recipe on this site cannot be guaranteed.

By