Smoked Shrimp. Need I say more? If you're a fan of smoking, then you have GOT to try this amazing recipe! Cooking the shrimp low-and-slow makes them plump, tender, sweet, and so freaking good! Hungry? Read on and I, Chef Jenn, will show you all my tips and tricks to make these the most amazing shrimp you've ever had!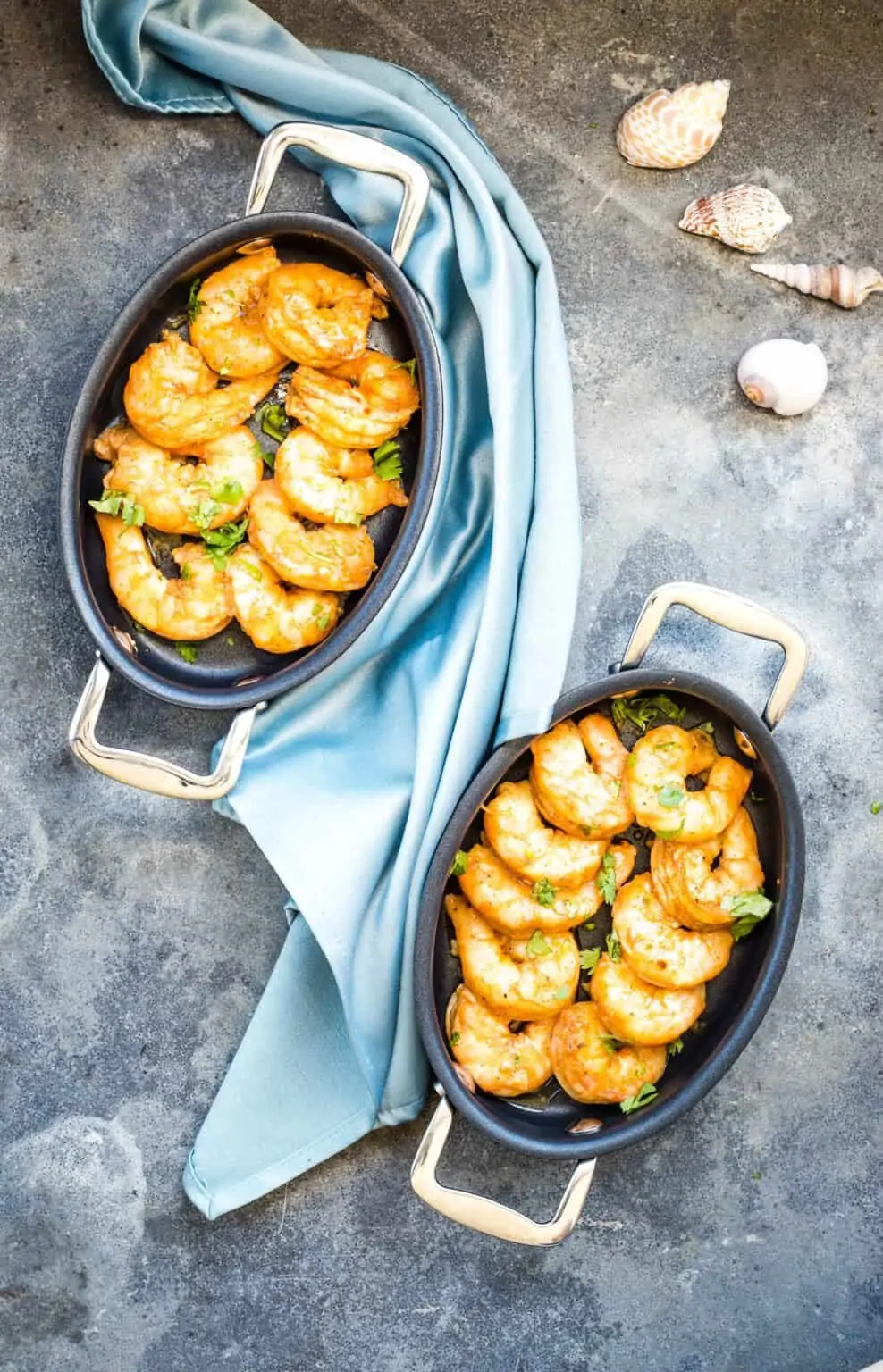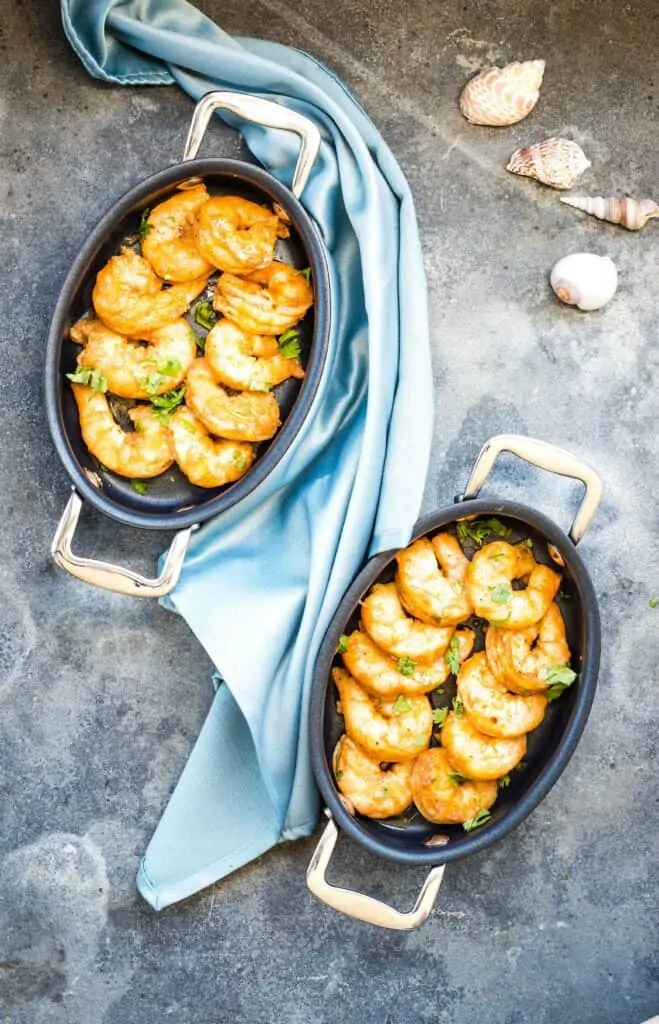 This post may contain affiliate link(s). As an Amazon Associate, I earn from qualifying purchases. See Disclosure.
I use my Traeger pellet grill and smoker during the non-frozen months as often as I can! Not only does it not heat up the kitchen, but a light kiss of smoke enhances the flavor of so many dishes. This Smoked Shrimp recipe is easy and packed with flavor. And, the low heat keeps the shrimp unbelievably tender and sweet.
This particular dish uses the Fiesta Taco seasoning that I've been using for eons. Right now it's on my other site, but this link will take you to it. Make your own seasoning or use your favorite – but if you like a spicy kick, the Fiesta Seasoning is so gosh darn good.
The other secret to this dish is basting the shrimp in butter. I'm using a lime butter in this recipe, which really enhances the flavor of the shrimp. I'm salivating – again – just thinking about how good this dish is. I might just have to make it again soon!
What You Need To Make Smoked Shrimp
That's it!
How To Make Easy Smoked Shrimp
This Traeger shrimp recipe is so easy – it doesn't take very long (shrimp cook pretty quickly even at the lowest heat) – and all you need to do is baste it a few times.
Smoked prawns, or shrimp take a bit of time, so allow for about 2 hours after your pellet smoker has been heated and is ready to go.
Season the shrimp with Fiesta Taco Seasoning or your favorite spice blend.
Pop them into a disposable foil pan to make cleanup easy (see below).
Baste them with the lime butter every 30 minutes.
Feast!
The Best Shrimp To Buy
These days, shrimp come in all sizes. For this easy smoker recipe, don't fuss with tiny shrimp. Go for bigguns like 16-20s. What do the numbers mean? The only regulation for shrimp sizes is by the number of shrimp per pound. So, shrimp which are 30-40 are going to be significantly smaller, with 30 to 40 of them per pound, compared to 16-20s. For this recipe, the bigger the shrimp, the better.
Buy raw shrimp (frozen is fine but thaw them first), and make it easy on yourself by getting peeled and deveined or EZ-peel shrimp. I love EZ-Peel. They've been split down the back and have the vein removed. I save the shells, freezing them in a bag, for making shrimp and seafood stocks. But, I'm a food nerd. Peeled and deveined is the easiest!
Chef Jenn's Favorite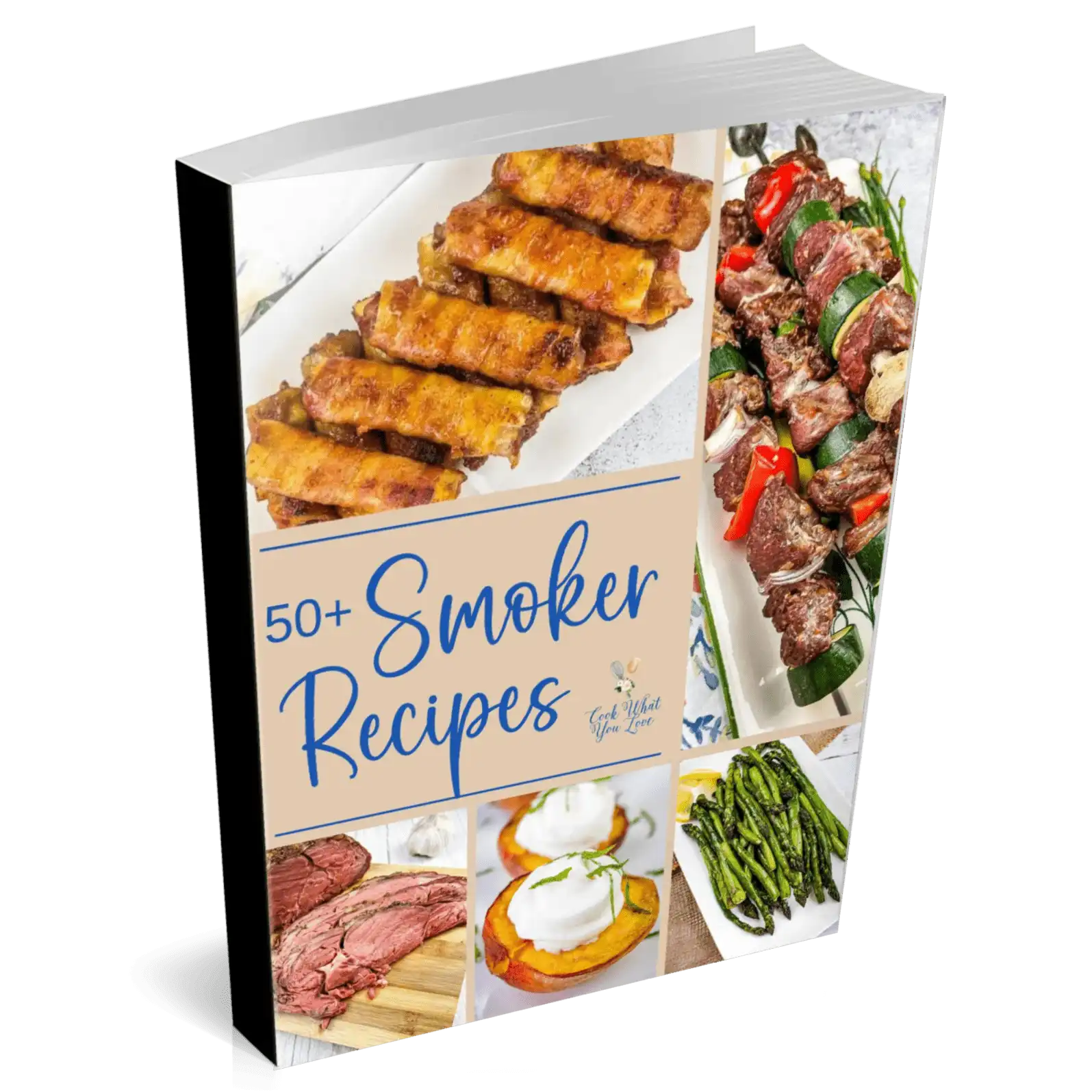 Chef Jenn's 50+ Best Smoker Recipes eBook
This full-color ebook cookbook features more than 50 of Chef Jenn's tried, tested, and favorite smoker recipes! Enjoy:
Smoked Beef Kabobs
Smoked Chicken Thighs
Smoked Bacon-Wrapped Pork Stuffed Jalapeno Poppers
Smoked Spaghetti Squash with Herbs
and so much more!
Buy Now
Wild-caught or Gulf shrimp are my personal favorites. But, you gotta get what you can get, and depending on where you live, you may not have some options.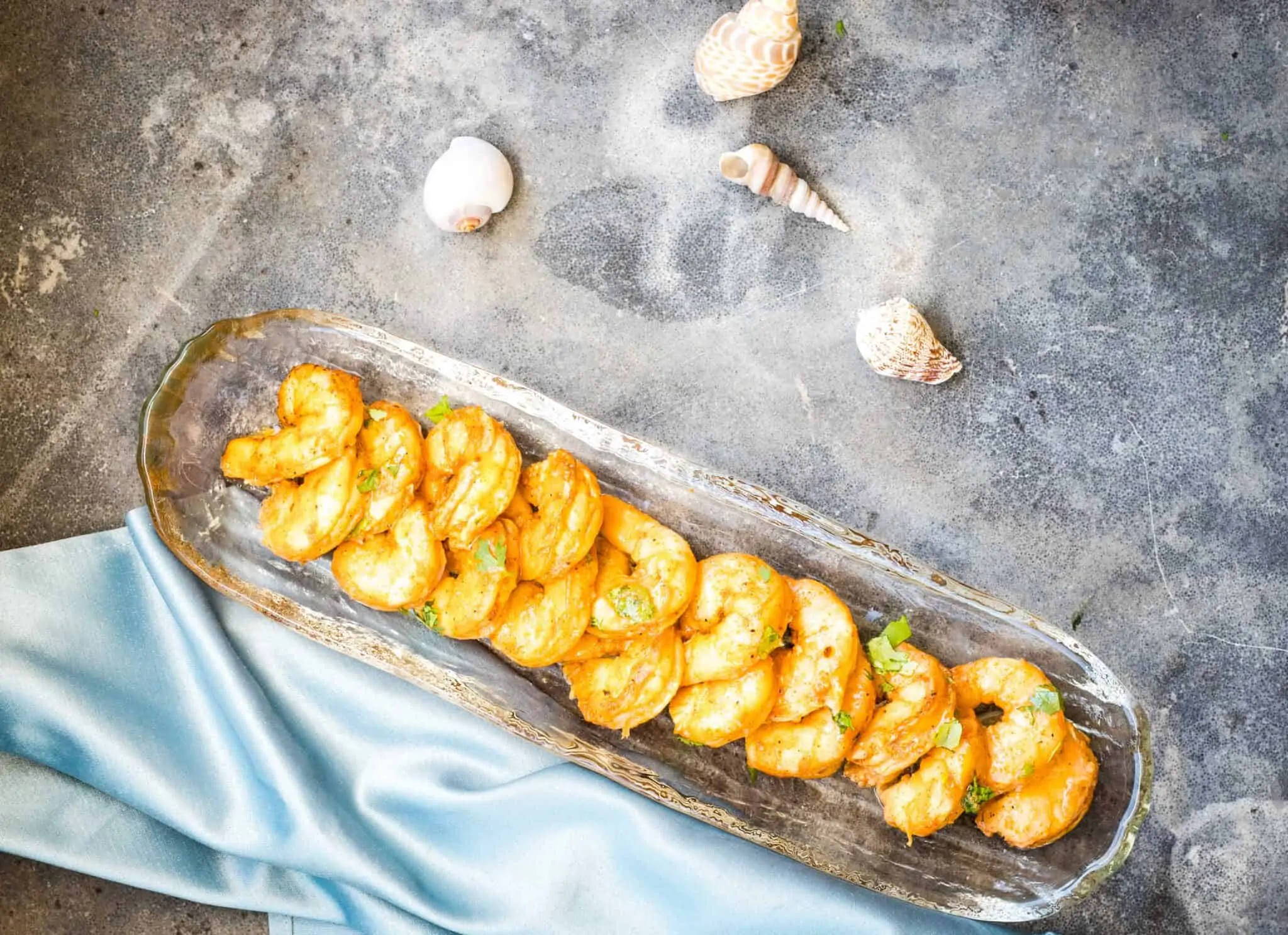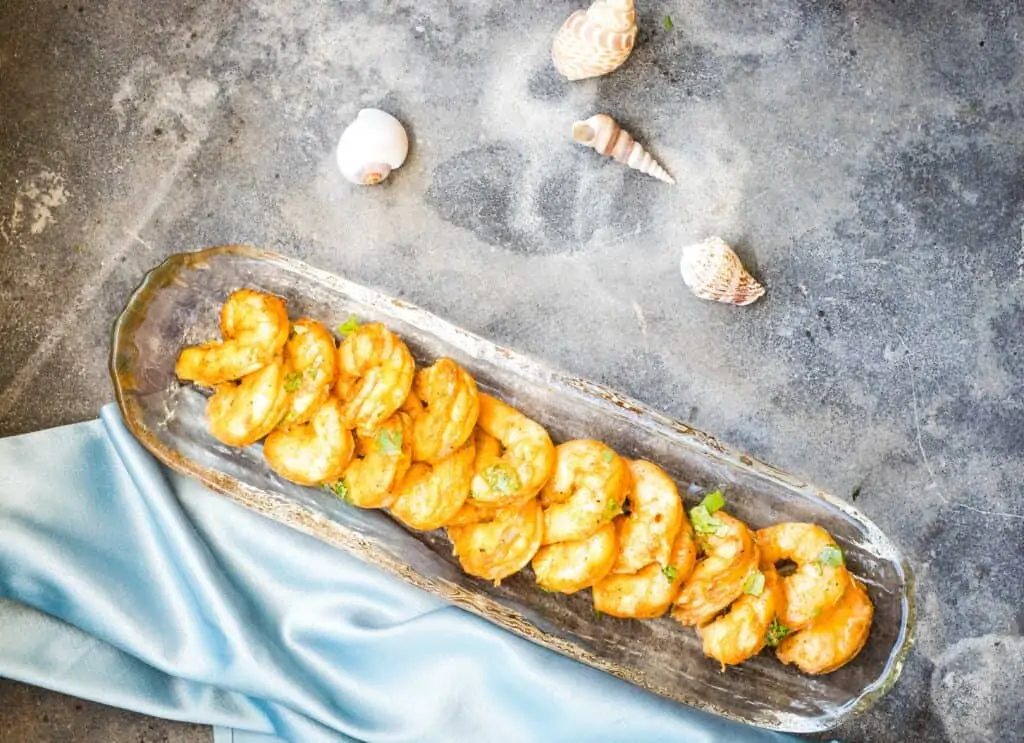 Pans on the Smoker
Whatever dishes can go into your oven can also go on the smoker. However, dishes that go in the smoker are going to get black and nasty on the bottom. Invest in recyclable foil containers and make your life easy! Less cleanup, and you won't be scrubbing your good dishes with steel wool to remove the smoke residue.
Chef Jenn's Tips To Make Perfect Smoked Shrimp
Low and slow is how these shrimp turn out spectacular. Don't rush them!
Baste the shrimp with the lime butter – the bit of acidity really makes the difference.
Drizzle the sauce over the shrimp when they're done, and mop it up with bread. It's soooo good!
Fresh spices are essential! Old spices get stale and the flavors suffer. Always use fresh spices.
Leave the shrimp tails on if you like, but it's a pet peeve of mine! I want to eat them, not play with them!
What To Serve With Smoked Shrimp
Just about anything goes with this amazing and easy Traeger shrimp recipe, but some of my favorites include Mexican Corn Salad, and Smoked Queso with your favorite chips. And for dessert, this Rhubarb and Strawberry Crumble is a must!
Can I freeze Smoked shrimp?
Shrimp will freeze, and while I advocate for eating this dish fresh, if you do freeze it, pack it with lots of sauce to protect the shrimp from the freezer. Freeze the thoroughly chilled shrimp in a plastic bag or container for up to 3 months, and let them thaw gently in the fridge.
To reheat, I'd pop them in a low oven just to bring them up to temperature. Don't overcook them!
Frequently Asked Questions
Can I make smoked shrimp with shells on?
Sure you can, if you want to get down and dirty with your meal. Bring lots of napkins, and allow a little bit more time for cooking because they'll take longer on the smoker with the shells on. Remember, seafood is safe to eat at 145-F, so if in doubt, check the temp with a digital thermometer.
What can I do with leftover smoked shrimp?
IF you have any leftover, add them to a salad, make them into a wrap with crisp lettuce and tomatoes, or toss them with pasta and a cream sauce. The choices are endless – and delicious!
Can I make smoked shrimp dairy-free?
Yes! Simply use a good quality olive oil in place of the butter. Mix the lime juice with the olive oil and use that for basting the shrimp.
Like this? ALso Try:
Step By Step Process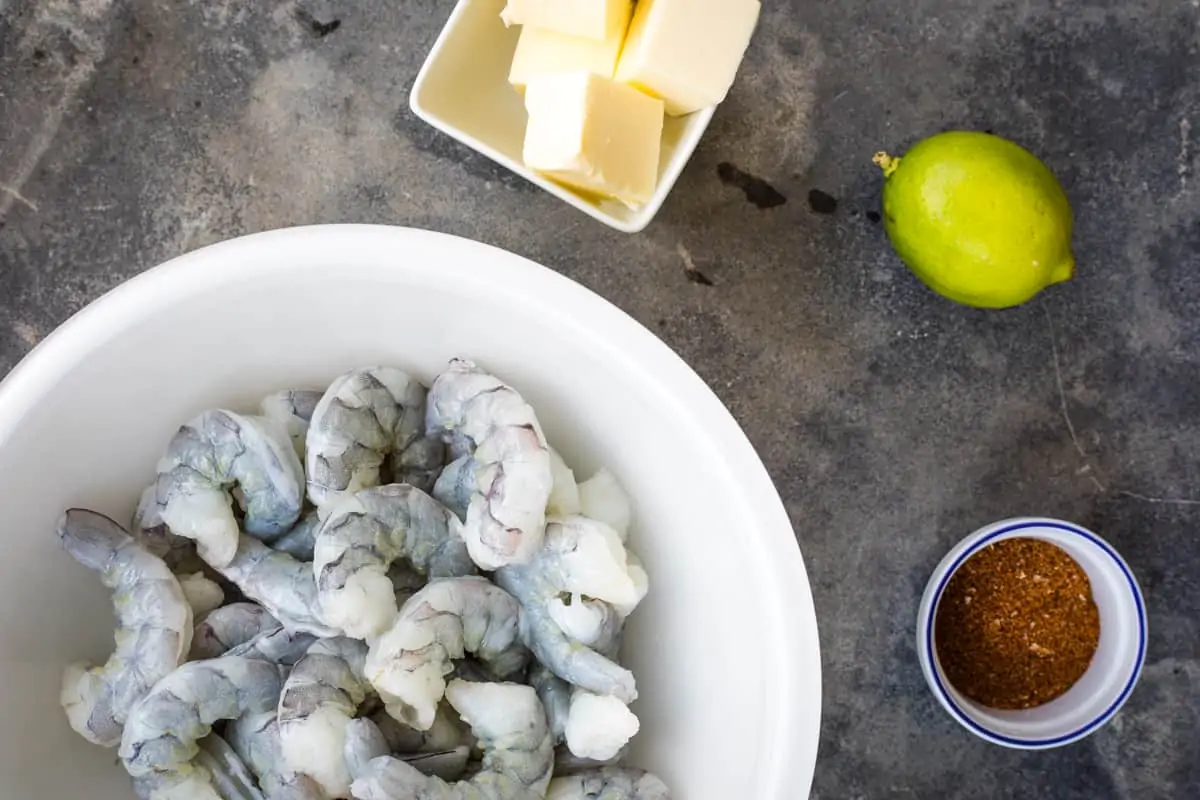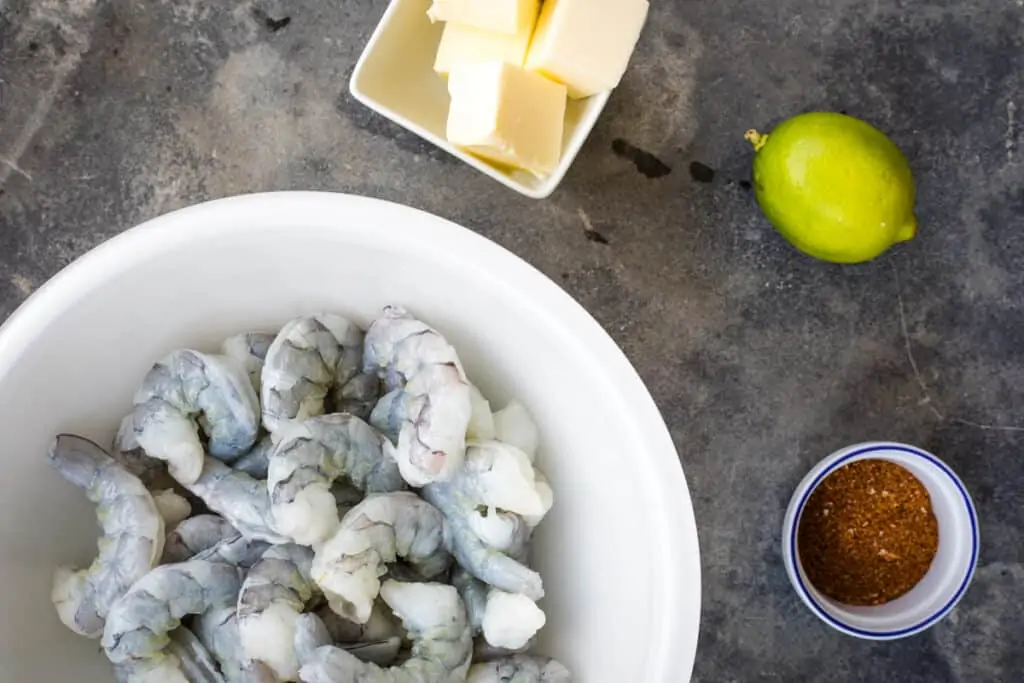 Smoked Shrimp
So tender, so sweet, and so delicious, smoking shrimp really amps up the flavor!
Ingredients
2

pounds

shrimp

1/4

cup

Fiesta Taco Seasoning

or your favorite blend

1/4

cup

unsalted butter

1/4

cup

lime juice
Instructions
Preheat your Traeger pellet smoker to 180 as per manufacturer's instructions.

Toss the shrimp with the Fiesta Taco Seasoning or your favorite blend.

Lay them in a disposable foil pan in a single layer and pop the pan onto the smoker.

Smoke them at 180 for 30 minutes, then baste with the lime butter and turn up the heat to 225-F.

Cook an additional 90 minutes, basting with the lime butter every 30 minutes, or until the shrimp are opaque and slightly curled. Serve and enjoy!
Nutrition
Serving:
1
cup
|
Calories:
240
kcal
|
Carbohydrates:
6
g
|
Protein:
31
g
|
Fat:
10
g
|
Saturated Fat:
5
g
|
Polyunsaturated Fat:
1
g
|
Monounsaturated Fat:
2
g
|
Trans Fat:
1
g
|
Cholesterol:
401
mg
|
Sodium:
1971
mg
|
Potassium:
135
mg
|
Fiber:
2
g
|
Sugar:
2
g
|
Vitamin A:
1166
IU
|
Vitamin C:
14
mg
|
Calcium:
223
mg
|
Iron:
4
mg
A Note on Nutritional Information
Nutritional information for this recipe is provided as a courtesy and is calculated based on available online ingredient information. It is only an approximate value. The accuracy of the nutritional information for any recipe on this site cannot be guaranteed.
Want Even MOre Easy Family Recipes?
Here are some other recipes that your family is sure to love:

By