Veggies on the smoker are delish, especially when there's bacon involved! Smoked Brussels Sprouts with Bacon are an easy side that you can pop onto the smoker while everything else is cooking. Hungry? Read on and I, Chef Jenn, will show you all my tips and tricks to make this amazing dish perfectly every time!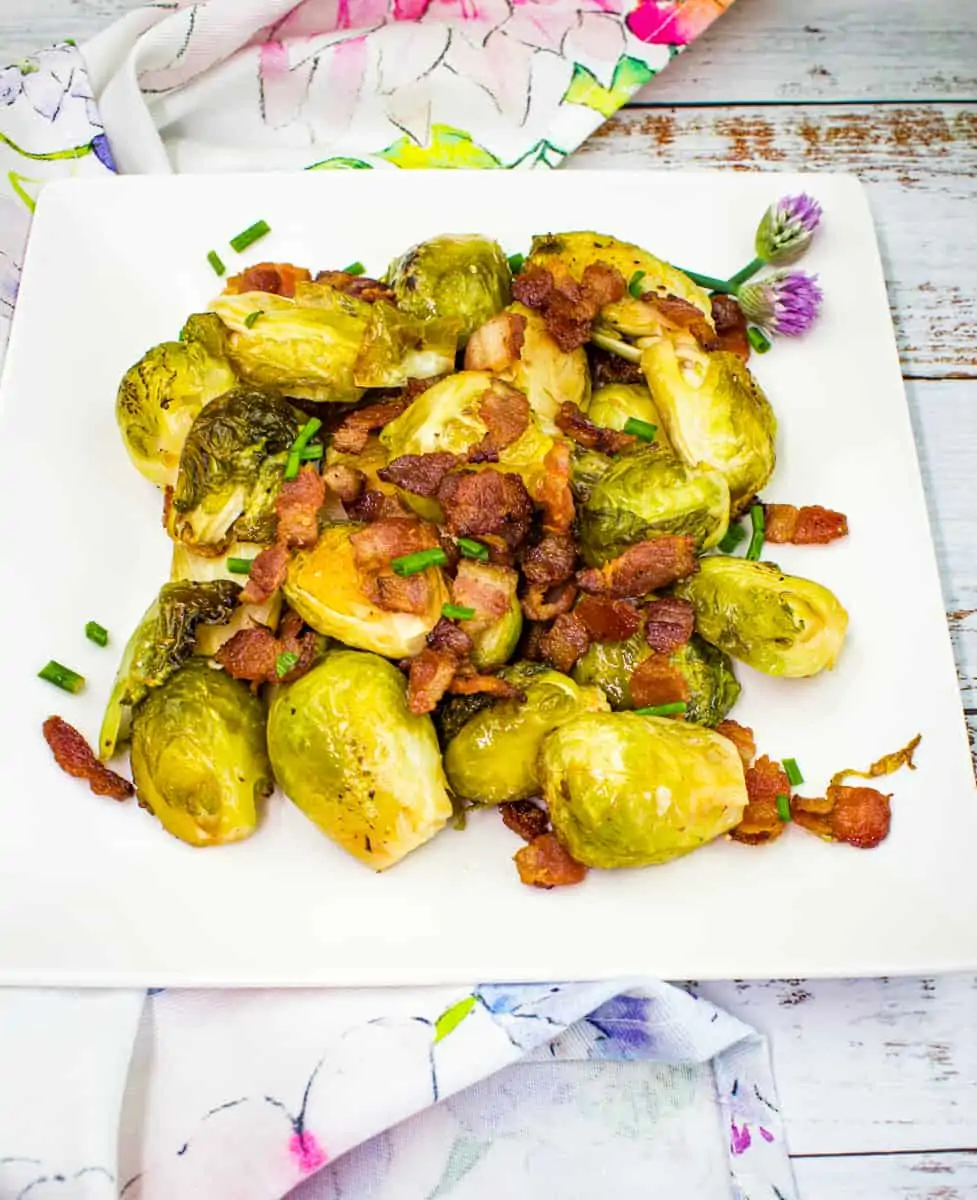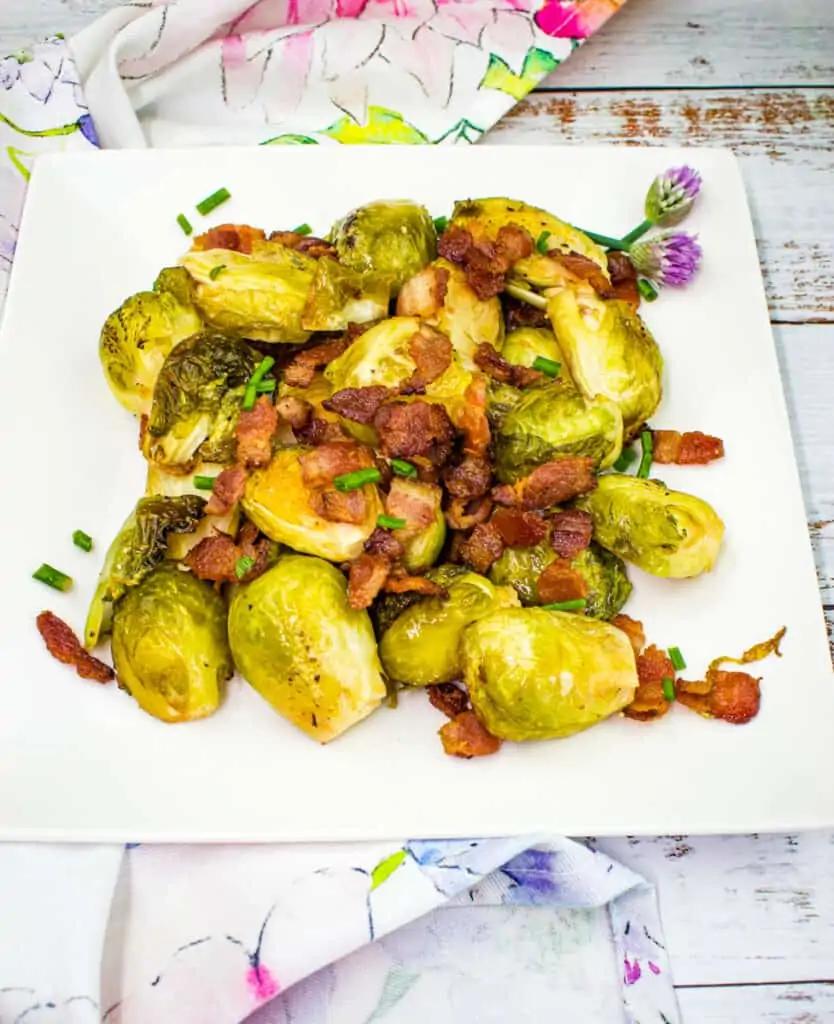 This post may contain affiliate link(s). As an Amazon Associate, I earn from qualifying purchases. See Disclosure.
Loaded with flavor and a nice bit of crunch, Smoked Brussels Sprouts with Bacon is an easy side dish that's going to wow sprouts fans.
Traditionally bitter and with a funky after taste, today's Brussels sprouts have no bitterness, and while you'll get a nasty bite if you overcook them, smoking Brussels sprouts on your Traeger pellet grill makes them difficult to overcook.
Plus, the light kiss of smoke really enhances the flavor, and the bacon? Heck ya! Sprouts and bacon are a natural and delicious combination.
What You Need To Make Smoked Brussels Sprouts on the Traeger
Brussels Sprouts
Bacon
Salt and pepper
What Kind of Pellets Should I use to Smoke Brussels Sprouts?
This smoked vegetable recipe holds up well to just about any kind of pellet, but my favorite for this recipe is applewood. It pairs so nicely with the bacon, and the bit of sweetness from the smoke helps temper the stronger flavor of the sprouts.
How To Cook Vegetables on the Smoker
Obviously you can't just drop a bunch of Brussels sprouts onto the grill of your smoker, because they'd fall through and you'd have a nasty mess to clean up.
Instead, invest in a good grill basket – a shallow heavy pan with holes in it to allow the smoke to circulate, or buy a stack of recyclable foil pans. The genius of the foil pans is that they can be recycled when you're finished with them, and don't have to worry about cleaning nasty smoke residue off your grill pan.
Chef Jenn's Favorite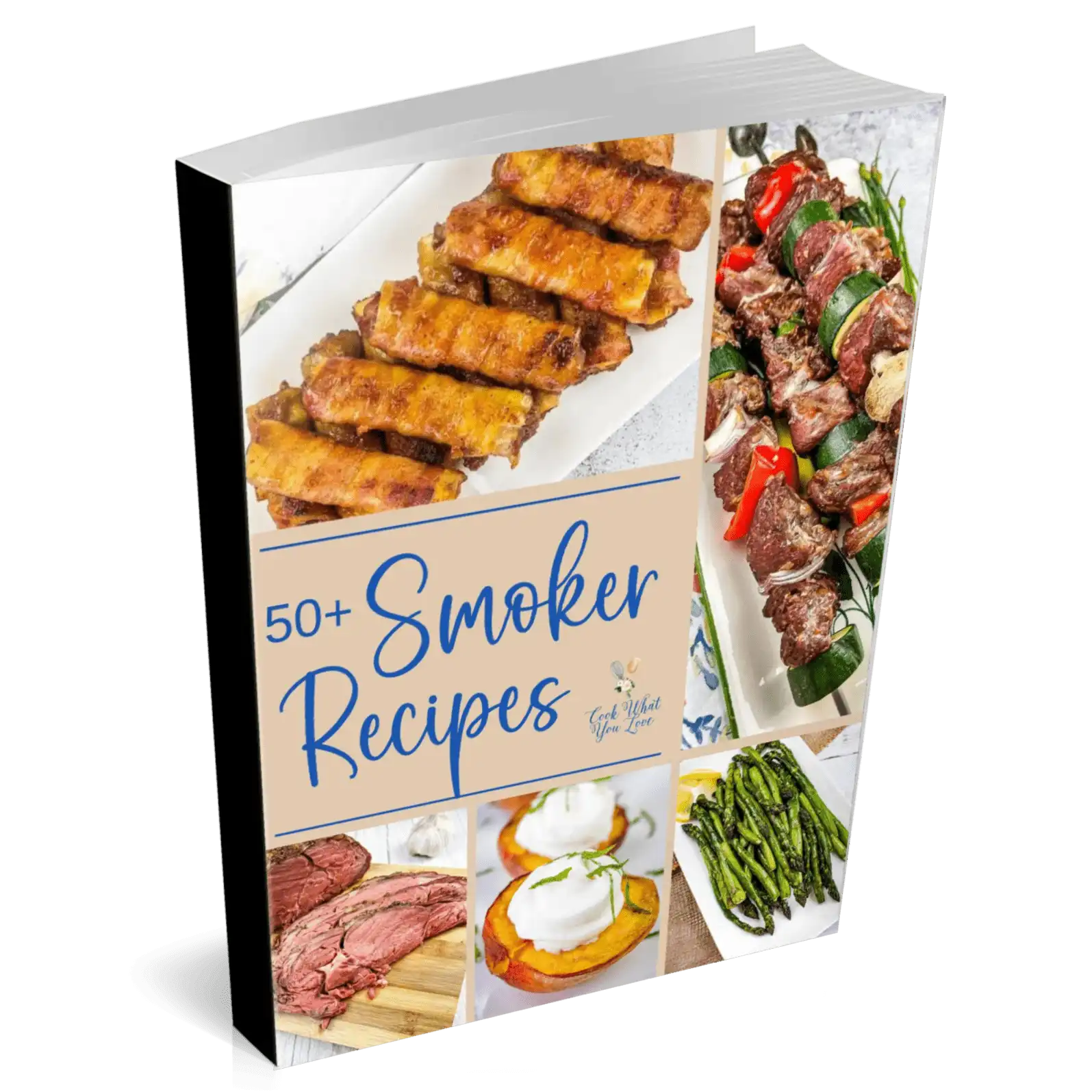 Chef Jenn's 50+ Best Smoker Recipes eBook
This full-color ebook cookbook features more than 50 of Chef Jenn's tried, tested, and favorite smoker recipes! Enjoy:
Smoked Beef Kabobs
Smoked Chicken Thighs
Smoked Bacon-Wrapped Pork Stuffed Jalapeno Poppers
Smoked Spaghetti Squash with Herbs
and so much more!
Buy Now
If you use a foil pan, poke several holes in the bottom of the pan to allow the heat and smoke to more easily circulate.
How To Smoke Brussels Sprouts with Bacon
Preheat your smoker as per manufacturer's instructions. Set it to 180-F.
Clean the Brussels sprouts and chop the bacon. Pan-fry the bacon for a few minutes to crisp it up. Save 2 tbsp of the remaining fat. Toss the whole batch with the bacon fat, salt, and pepper.
Lay the prepared sprouts on your pan and smoke them at 180-F for about 30 minutes to give them a good dose of smoke.
Turn the temperature up to 250-F and cook for an additional hour, or until the sprouts are tender-crisp.
HOw To Clean Brussels Sprouts
Brussels sprouts look like mini cabbages with layers of leaves all tightly packed together. Cleaning them properly is essential – if you've ever had a nasty sprout, you'll know the importance of cleaning them. Here's how to do it:
With a small, sharp knife, cut away about 1/8-inch off the bottom of the stem end.
Peel away some of the outer leaves, watching closely for bugs.
If you see tiny black or grey specs in between the leaves, those are bugs. You can discard the sprout or try peeling or cutting away a bit more of the sprout. Sometimes, the sprout is just too buggy – I toss those into the compost.
Cut the larger sprouts in half, so that they're all about the same size for even cooking.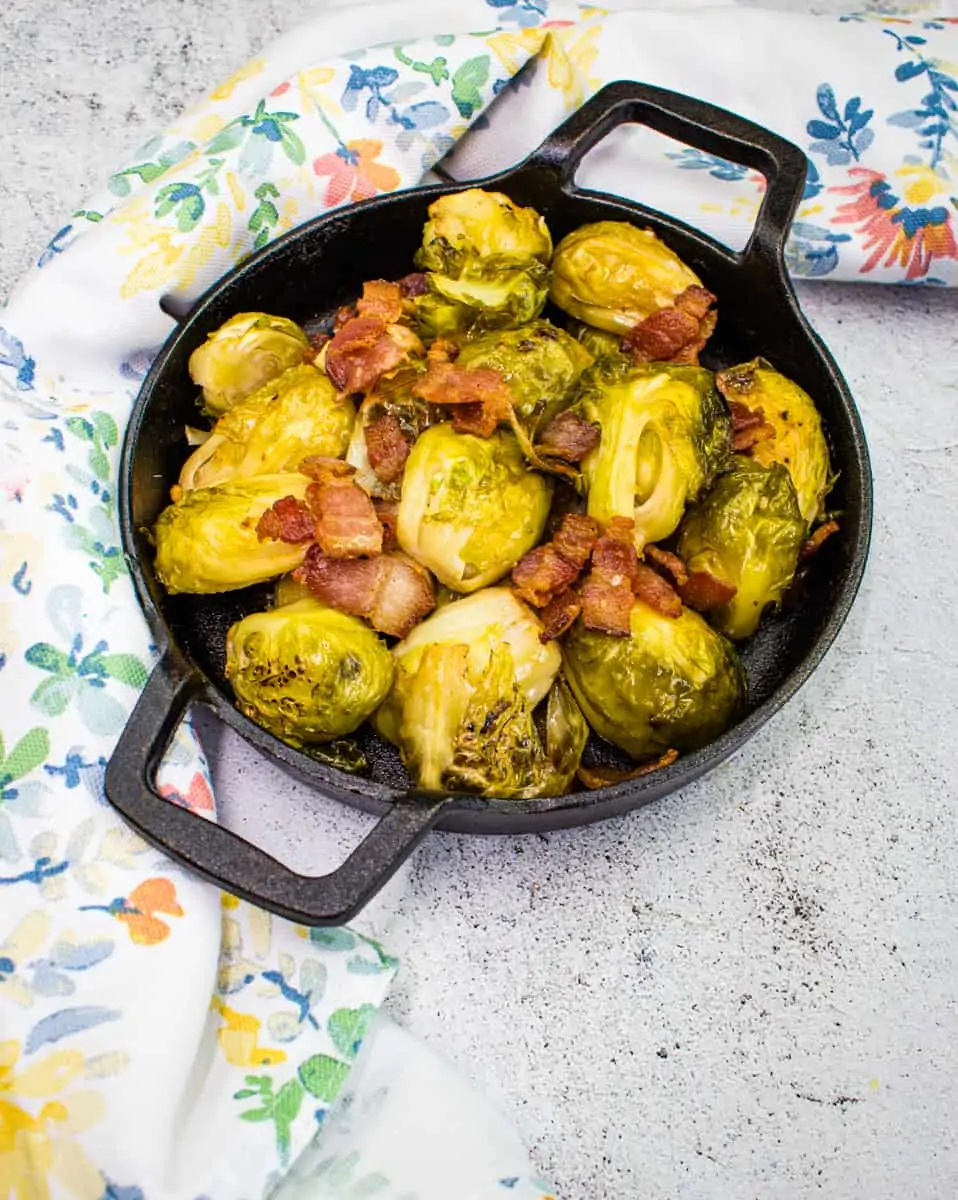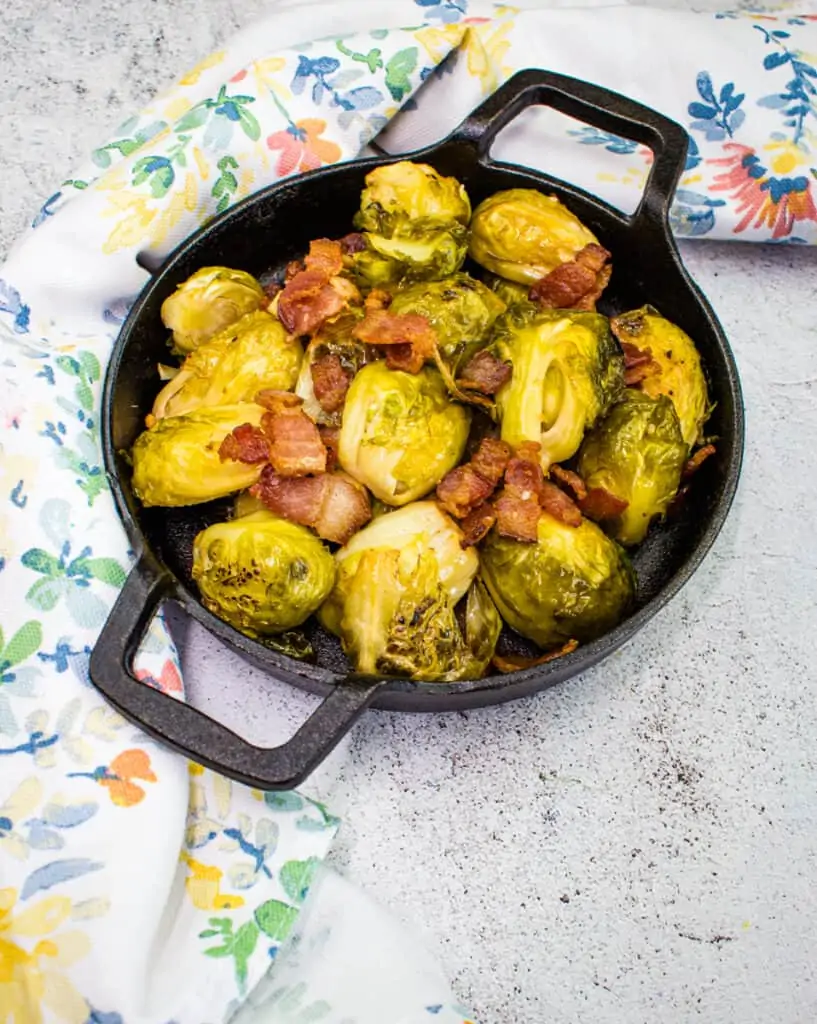 Chef Jenn's Tips
Look for Brussels sprouts that are tight and closed at the stem end. They're less likely to be buggy.
Buy sprouts that are all about the same size for even cooking.
This recipe won't work with frozen sprouts – they're just too watery.
Change up the flavor with pepper bacon, or add a bit of heat with a pinch of red pepper flakes.
Don't be afraid to cook these sprouts a bit longer to get them as tender as you like them.
What To Serve With Smoked Brussels Sprouts
I love adding a pan of these tasty smoked vegetables to the smoker when doing long-haul smokes – it uses up the extra space on the smoker. But, if that's too much smoke flavor for you, try pairing this easy smoker recipe with Garlic Shrimp Scampi or Oven-Baked Chicken Thighs.
Frequently Asked Questions
How long to smoke Brussels sprouts on a pellet grill?
That's going to depend a lot on a few factors – the size of your sprouts, the temperature of your sprouts when you put them onto the Traeger or smoker, and the temperature of the smoker. I give mine 30 mins at 180-F to give them a good dose of smoke, then turn the temp up to 250-F for about an hour.
Can I freeze Smoked Brussels Sprouts with Bacon?
Technically, yes, you can freeze smoked sprouts. But, I have a thing against frozen Brussels sprouts. When thawing them they are soggy, mushy, and downright nasty. Save yourself some heartache and don't freeze these amazing smoked vegetables. Instead, keep them tightly wrapped in the fridge for up to a week.
Can I smoke Brussels sprouts with no bacon?
Sure you can! Just skip the bacon and double the oil.
Like This? Also Try:
Step by Step Process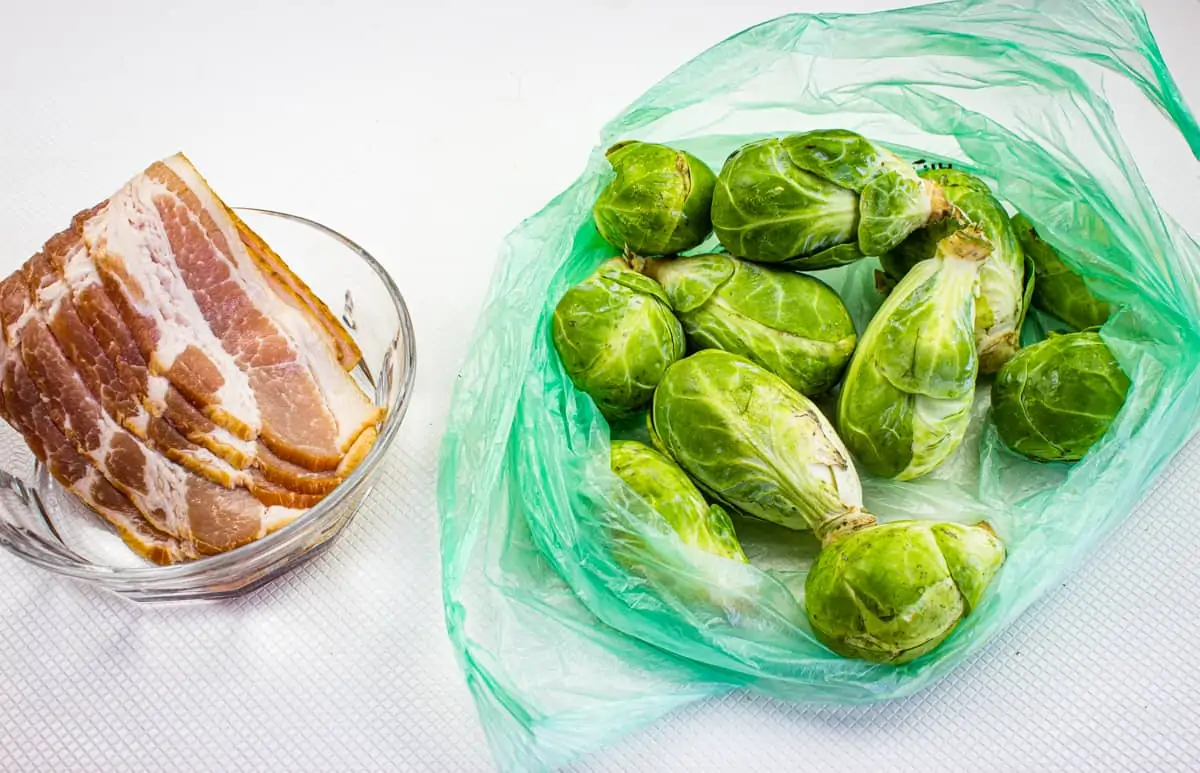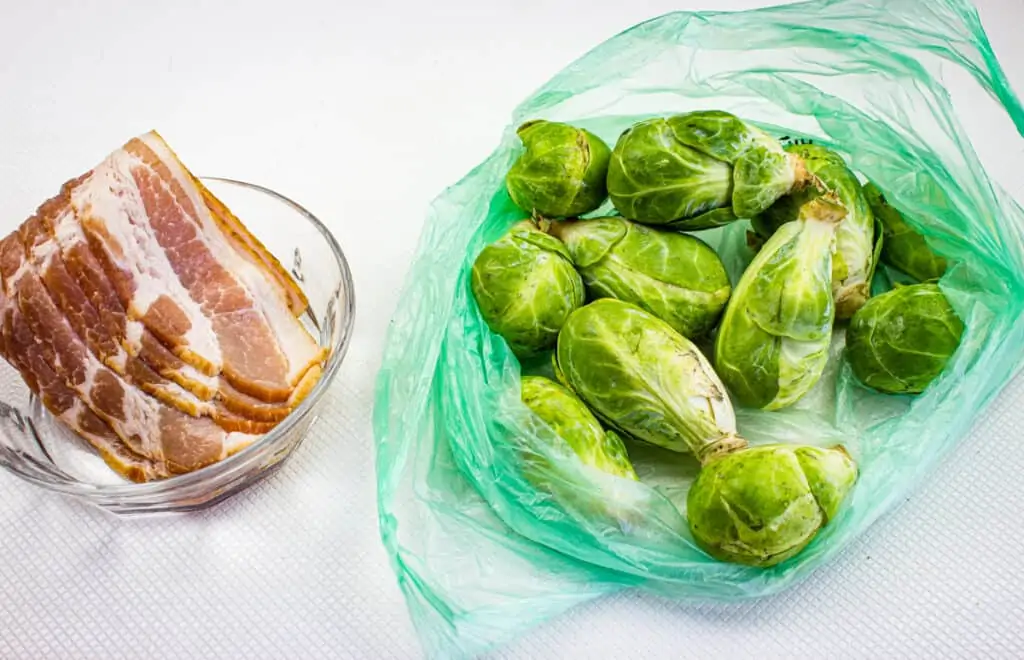 Smoked Brussels Sprouts
A kiss of smoke pairs so well with these Smoked Brussels Sprouts with Bacon, turning them into an irresistible side dish that's packed with flavor!
Ingredients
1

pound

Brussels sprouts

trimmed and cut in half

4

slices

bacon

chopped

1/2

tsp

salt

1/4

tsp

ground black pepper
Instructions
Pan fry the chopped bacon until it is just staring to get crispy. Remove the bacon and reserve 2 tbsp of the bacon fat.

Toss the cleaned and halved Brussels sprouts with the bacon, reserved bacon fat, salt and pepper.

Lay the Brussels sprouts out on your grill pan in a single layer.

Set the smoker to 180-F and smoke the sprouts for 30 minutes.

Turn the heat up to 250-F and cook for an additional 40-60 minutes or until the sprouts are tender-crisp. Toss halfway through the cooking time.
Nutrition
Serving:
0.5
cup
|
Calories:
58
kcal
|
Carbohydrates:
10
g
|
Protein:
4
g
|
Fat:
1
g
|
Saturated Fat:
1
g
|
Polyunsaturated Fat:
1
g
|
Monounsaturated Fat:
1
g
|
Cholesterol:
1
mg
|
Sodium:
321
mg
|
Potassium:
443
mg
|
Fiber:
4
g
|
Sugar:
2
g
|
Vitamin A:
856
IU
|
Vitamin C:
96
mg
|
Calcium:
48
mg
|
Iron:
2
mg
A Note on Nutritional Information
Nutritional information for this recipe is provided as a courtesy and is calculated based on available online ingredient information. It is only an approximate value. The accuracy of the nutritional information for any recipe on this site cannot be guaranteed.
Want even more delicious recipes?
By