Smoked chicken thighs are an easy way to add LOADS of flavor to your meal. Meaty and fatty thighs cooked low-and-slow turn out delicious, juicy, and incredibly delicious. Just add your favorite rub or spice blend and pop them onto the smoker for a crazy-good meal!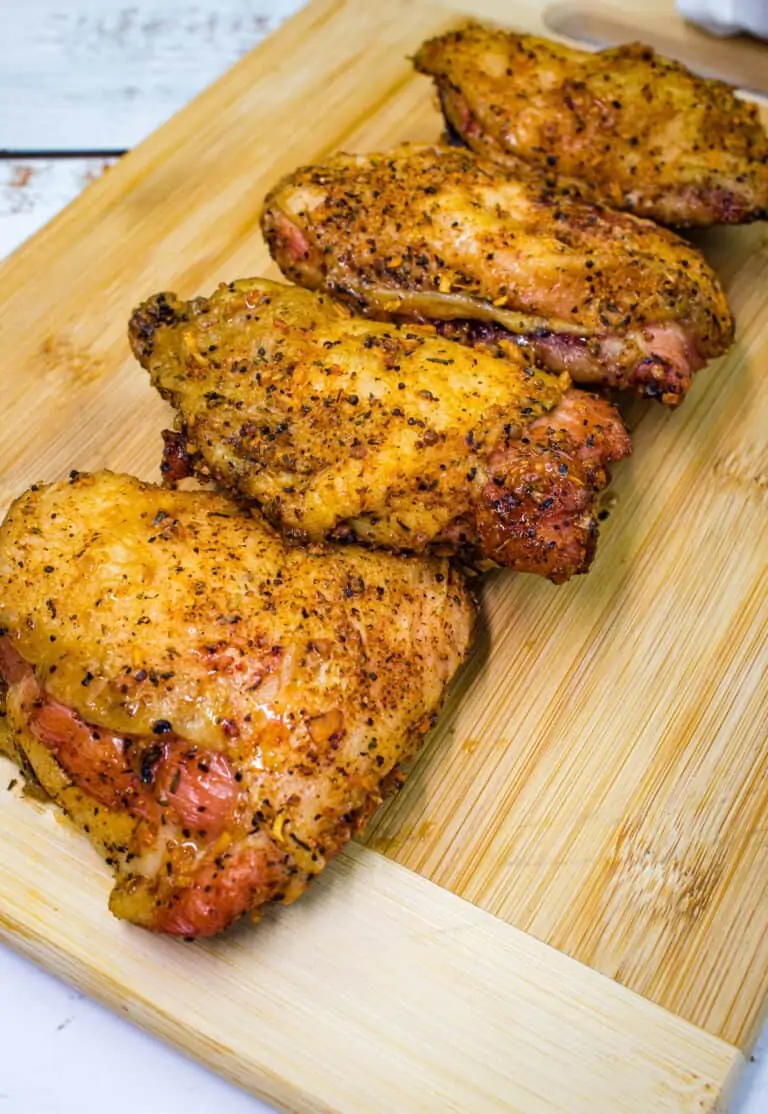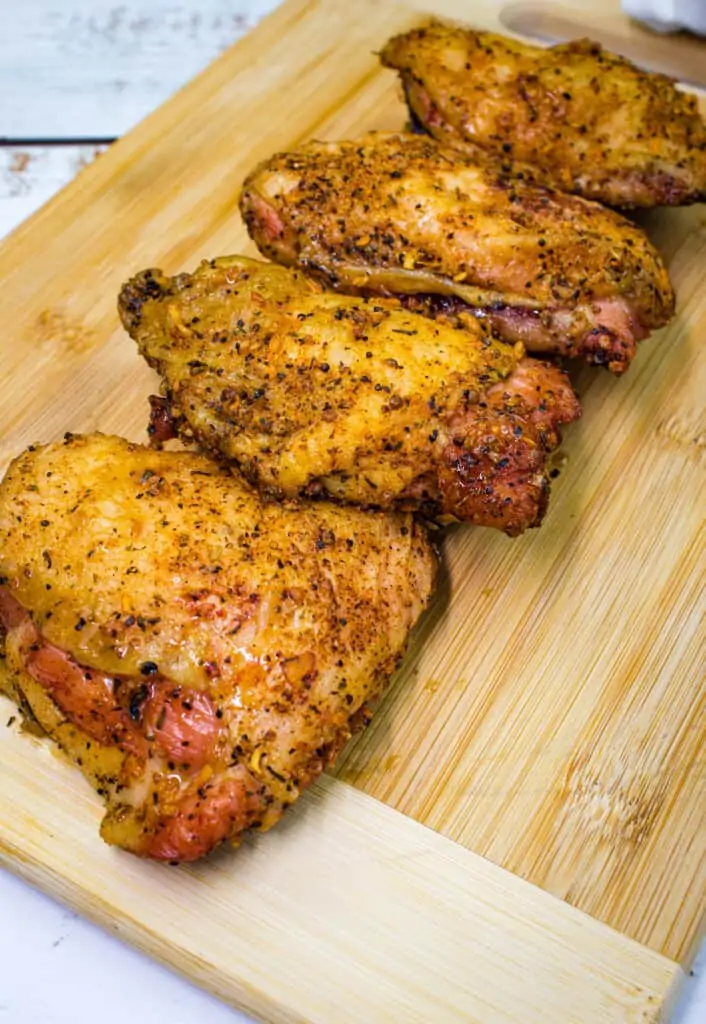 This post may contain affiliate link(s). As an Amazon Associate, I earn from qualifying purchases. See Disclosure.
Meaty chicken thighs don't take all day to cook on a smoker, especially if you use a pellet smoker like a Traeger. Paired with equally tasty sides, this is a meal that everyone will talk about. Hungry? Read on and I, Chef Jenn, will tell you all my cheffy secrets for making this delish dish perfectly each time!
What You Need To Make Smoked Chicken Thighs
Chicken thighs – bone-in, skin-on. Count on two thighs per person or see my notes below about leftovers
Spice rub – use your favorite spice rub or blend. I love Montreal Chicken Seasoning when I'm smoking chicken thighs.
Hickory or mesquite pellets or wood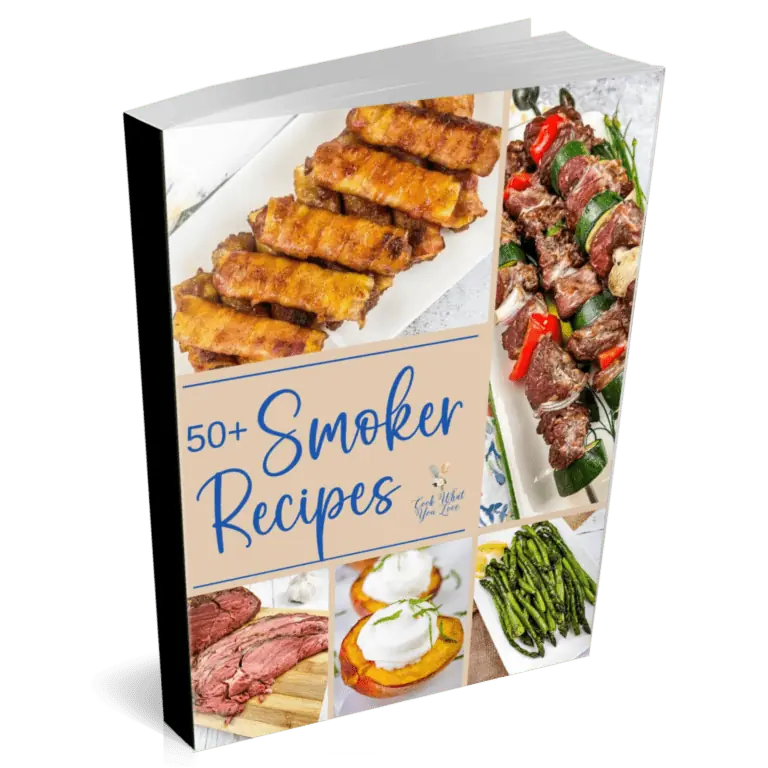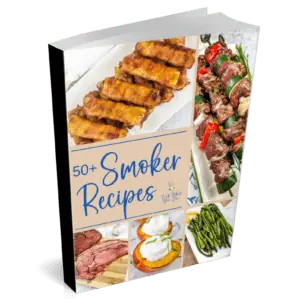 Love your pellet smoker? Get your hands on Chef Jenn's newest eBook: 50+ Smoker Recipes, and become the pitboss of your backyard!
Use coupon code VIPSMOKE for $5 off the already low price! Don't miss out – master your smoker today!
GET IT NOW!
A Word About Smokers
The Traeger pellet grill/smoker is my go-to. I love how I can accurately control the smoking temperature which allows me to cook things more quickly with a little smoke flavor, or for a long time imparting plenty of smoky goodness.
Chicken is a delicate meat and can't hold up to hours and hours on the smoker. I've found the perfect balance – cooked quickly enough that the meat stays moist and juicy, but long enough to get the perfect amount of smoke flavor. And this smoked chicken thighs recipe is so darn easy – you'll love it!
You can use your favorite smoker for this recipe – it's the level of heat that's important. Keep your smoker around 225-F for the very best results.
How To Smoke Chicken Thighs
Trim any excess fat or skin from the chicken thighs, ensuring that you keep a nice layer of skin over the top of the thigh.
Add the thighs to a bowl and add your favorite spice blend or rub. I love Montreal Chicken Seasoning, but your favorite blend will work fine.
Toss the thighs with the rub/spices.
Preheat your smoker and when it has come up to temp, put the thighs in in a single layer.
Smoke the thighs for about 80-90 minutes or until the internal temperature of the thighs, when taken near the bone, is 165-F.
What About Smoked Boneless Skinless Chicken Thighs?
Yes! You can also smoke boneless and skinless chicken thighs, but you'll want to watch the internal temperature. Use a good digital thermometer and pull the thighs off the smoker once they've hit 165-F.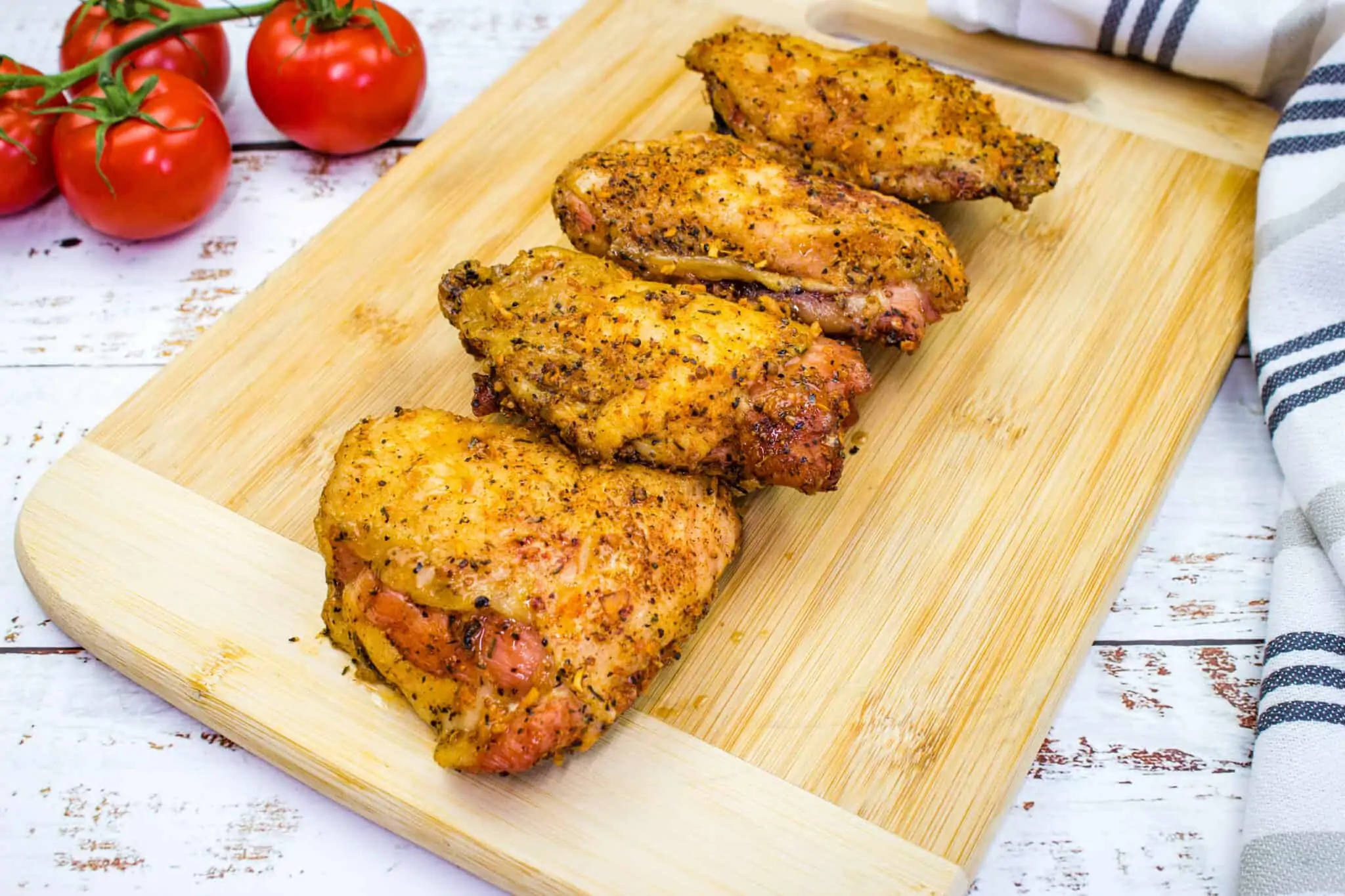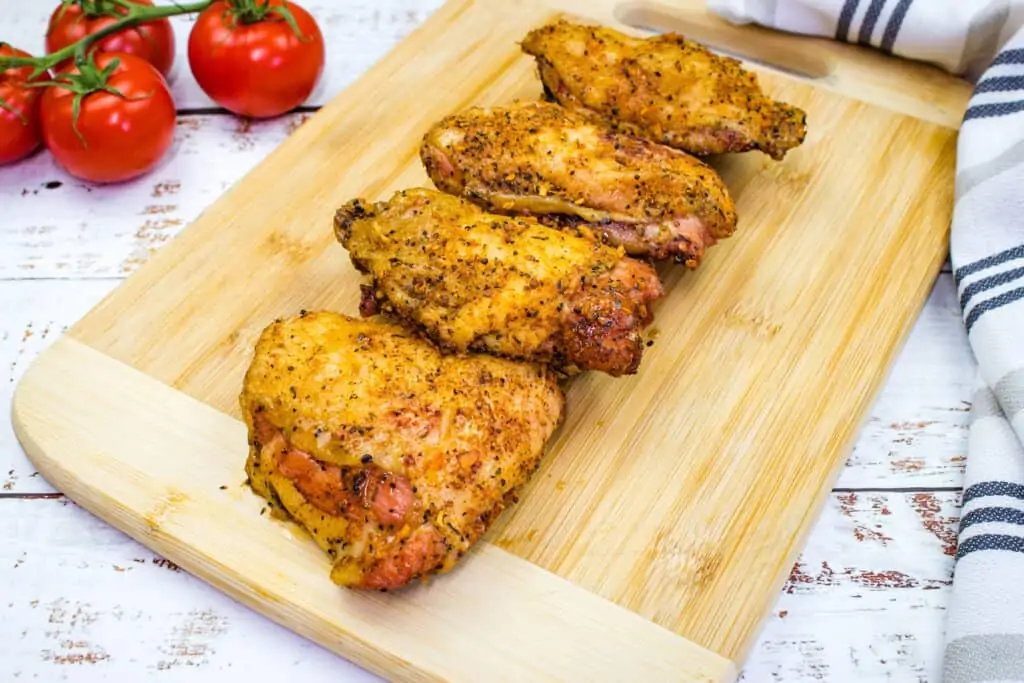 Chef Jenn's Tips
Consider doing more Traeger smoked chicken – firing up the smoker uses up the same number of pellets no matter how much chicken you smoke, so I always load the smoker with more. We eat the smoked chicken for another meal, and then I pull the rest of the chicken off the bone for enchiladas, chicken salad, chicken sandwiches, and so much more.
Like it spicy? Add a 1/2 tsp of chipotle powder or cayenne pepper to your spice blend
Don't worry if your chicken looks pink! Smoked chicken often has a pink hue to it, especially near the surface of the chicken. Use your meat thermometer to temp the chicken near the bone. 165-F is the recommended temperature for the safe consumption of chicken.
Bone-in thighs are my pick for this recipe, but you can use boneless. Just watch because they'll take less time to cook.
These really don't need more flavor, but you can serve these Traeger smoked chicken thighs with your favorite BBQ sauce for dipping.
No smoker? Try Robin's recipe for air fryer Fried Chicken!
What to Serve With This Smoked Chicken Thighs Recipe
Slaw, a good salad or sides like this Texas Corn Succotash are perfect compliments to this meal. Another great pick is a creamy dish like Baked Pasta with Ricotta and Tomatoes. You can even use the leftovers in this delish Cobb Salad recipe.
Frequently Asked Questions
How long do you smoke chicken thighs at 225?
The actual smoking time depends on a few factors: a) the temperature of the chicken when you put it on the smoker (colder chicken will take longer), b) the size of the chicken thighs, and c) the temperature of your smoker. At 225-F, I allow about 90 minutes to smoke bone-in chicken thighs.
How to smoke chicken thighs and legs?
You can smoke legs and thighs at the same time and at the same temperature. The thighs will take slightly longer to come up to temperature. Simply toss the chicken with your favorite spice rub or blend and then pop them on the smoker at 225-F.
Can I freeze leftover smoked chicken?
Yes! Simply wrap the leftover thigh meat tightly in a freezer-safe plastic bag or container and freeze for up to three months. Thaw, reheat, and enjoy!
LIke This? ALso Try:
Smoked Chicken Thighs
So meaty, juicy, and flavorful, Smoked Chicken Thighs are perfect for BBQs, gatherings, or just dinner on a weeknight!
Instructions
Preheat the smoker to 225-F according to manufacturers directions.

Trim excess skin and fat from the chicken thighs but be sure to leave a good flap of skin over the thigh.

Toss the chicken thighs with the Montreal Chicken Sesaoning then put them into the smoker in a singl layer.

Smoke the thighs for about 80 minutes or until the internal temperature taken near the bone, reaches 165-F.
Nutrition
Serving:

2

thighs

|

Calories:

386

kcal

|

Carbohydrates:

3

g

|

Protein:

28

g

|

Fat:

29

g

|

Saturated Fat:

8

g

|

Trans Fat:

1

g

|

Cholesterol:

167

mg

|

Sodium:

132

mg

|

Potassium:

379

mg

|

Fiber:

1

g

|

Sugar:

1

g

|

Vitamin A:

248

IU

|

Vitamin C:

1

mg

|

Calcium:

57

mg

|

Iron:

3

mg

A Note on Nutritional Information

Nutritional information for this recipe is provided as a courtesy and is calculated based on available online ingredient information. It is only an approximate value. The accuracy of the nutritional information for any recipe on this site cannot be guaranteed.

By