With a perfect smoke ring and loads of flavor, this Smoked Meatloaf with Bacon recipe is one of my family's favorites. Plus, it's low on prep time and it turns out moist, meaty, juicy, and delicious. Hungry for flavor? Read on and I, Chef Jenn, will show you all my tips to make this the best smoked meatloaf you've ever had!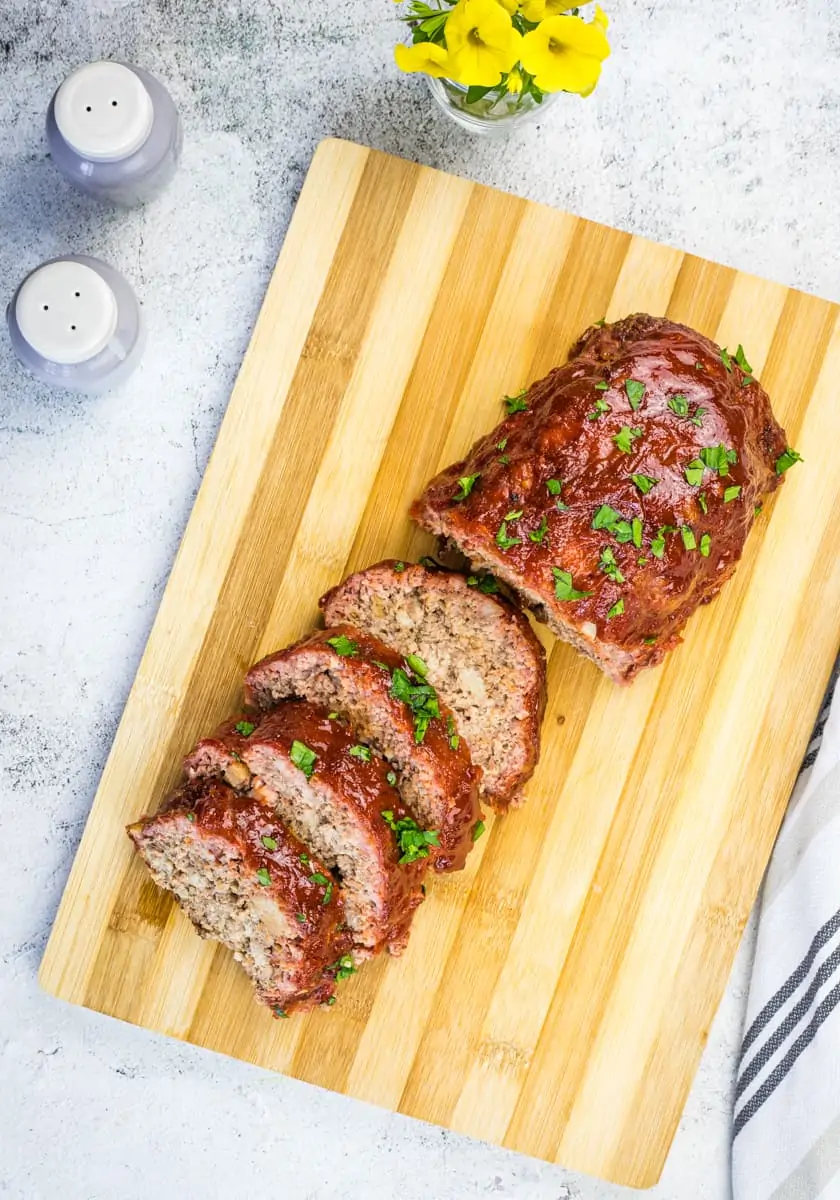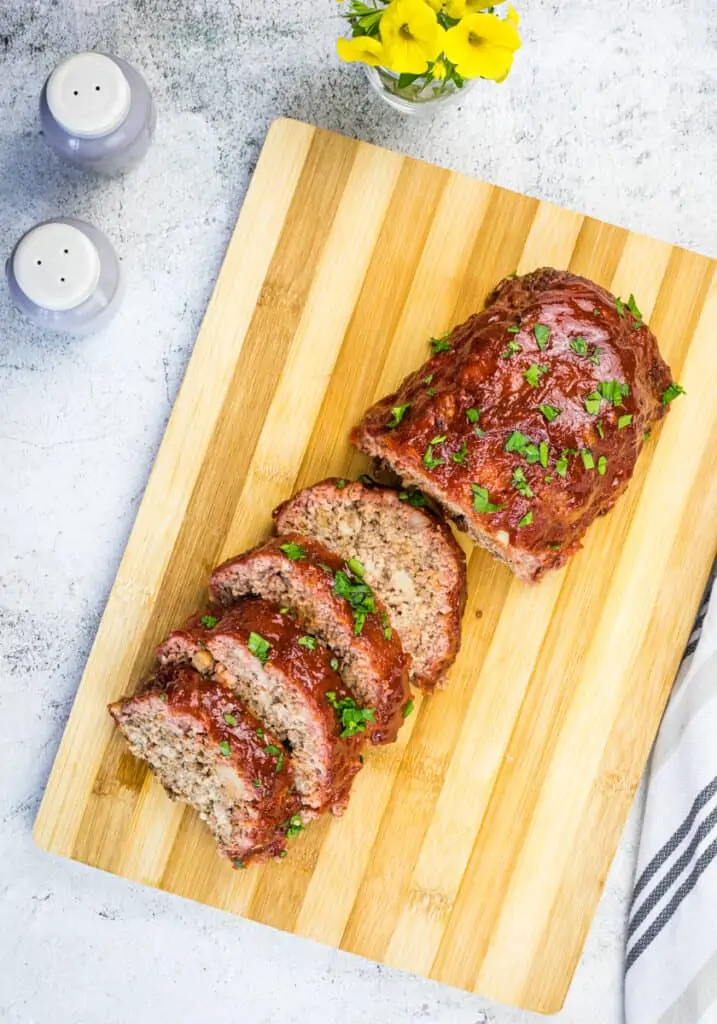 This post may contain affiliate link(s). As an Amazon Associate, I earn from qualifying purchases. See Disclosure.
Need some dinner inspiration but at the same time want something hearty and delicious? This smoked tender meatloaf recipe is your answer, but it is NOT a traditional meatloaf! It's meaty, easy, and the home-made BBQ sauce on top is just right! It's one of my all-time favorite meatloaf recipes! Let's get started!
What You Need To Make Smoked Meatloaf
I make this easy meatloaf recipe on my Traeger pellet smoker, but you can use any electric smoker. You don't want to overdo the smoke flavor, just add a hint to enhance the flavor of the meat. Just follow the manufacturer's instructions to get it going and preheated, and then follow the rest of the instructions below!
A grilling tray/basket – you need something to set the meatloaf on without it being directly on the smoker rack
Digital meat thermometer – don't try to guess when it's done – use a thermometer!
Ground beef – I use lean ground beef, about 80/20 to make this flavorful meatloaf. Anything leaner won't smoke well, but don't worry, we're adding fat 🙂
Ground pork – ground pork adds essential flavor to this dish
Bacon – look for ends and pieces or ask your butcher for ends and pieces
Eggs
Milk or cream
Sliced bread
Italian seasoning
Garlic powder
Dehydrated onion flakes

Salt and powder
And for the sauce:
Ketchup
Cider vinegar
Brown sugar
Onion powder
Mustard powder
Garlic powder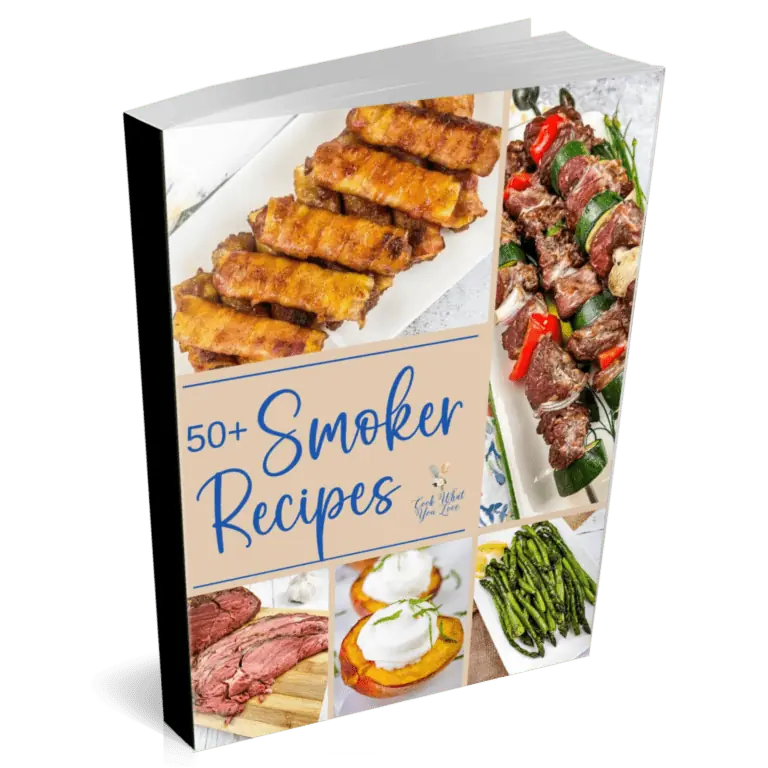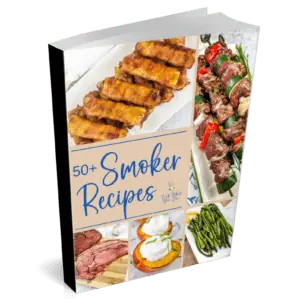 Love your pellet smoker? Get your hands on Chef Jenn's newest eBook: 50+ Smoker Recipes, and become the pitboss of your backyard!
Use coupon code VIPSMOKE for $5 off the already low price! Don't miss out – master your smoker today!
GET IT NOW!
Meatloaf Magic
If you've ever had a solid brick of tasteless, dry, and nasty meatloaf, then you've missed my essential meatloaf magic: milk and bread.
Most meatloaf recipes call for breadcrumbs – these act as a binder but they also soak up some of the juices in the meatloaf helping it to stay moist. BUT there's a better way. Soak sliced bread in milk. You see, milk has enzymes in it that help to tenderize the beef. When you add the milk-soaked bread to the meatloaf and work it in, the milk will help tenderize the meatloaf, and the bread will help retain moisture. This helps make this the most delicious smoked meatloaf recipe!
How To Make Traeger Smoked Meatloaf
Smoked meatloaf Pit Boss style is another way to make this amazing dish, but today we're going to use make this a Traeger meatloaf recipe.
Fill the pellet hopper as per the instructions, and set the Traeger to 180-F.
Soak the slices of bread in a small bowl with the milk. Set aside.
Meanwhile, add the ground beef, ground pork, eggs, chopped bacon, and spices to a medium-sized bowl. Add the bread and any unabsorbed milk.
Mix well, combining all the ingredients without overmixing.
Form the meatloaf into a loaf shape and lift it carefully onto your grill pan. Alternatively, you can use a loaf pan.
Smoke at 180-F for 30 minutes, then turn up the heat to 350-F and cook for an additional 40 minutes.
Mix the sauce ingredients together in a small bowl.
After 40 minutes (or when the meatloaf's internal temp is around 130-F) top the meatloaf with about 2/3 of the sauce. Reserve the rest for adding at the table – it's that good!
Cook for another 20 minutes or so, or until the internal temperature has reached 165-F.
Let rest for 15 minutes before cutting and serving.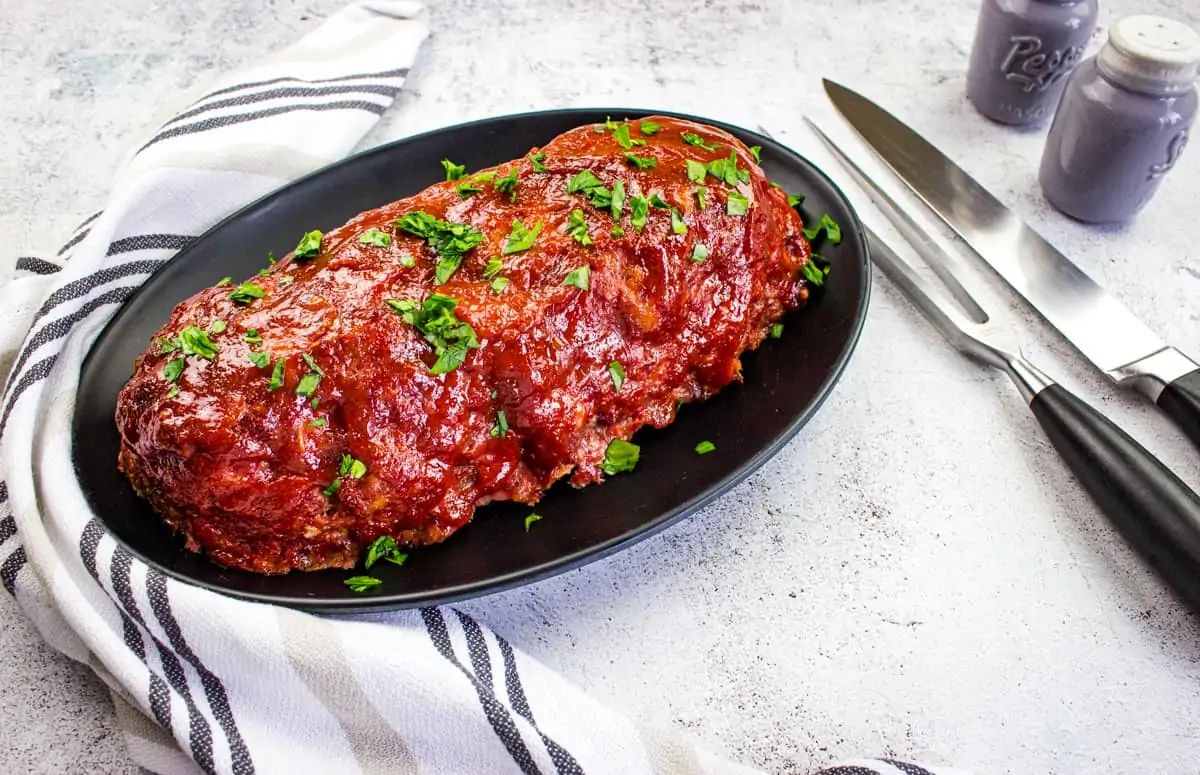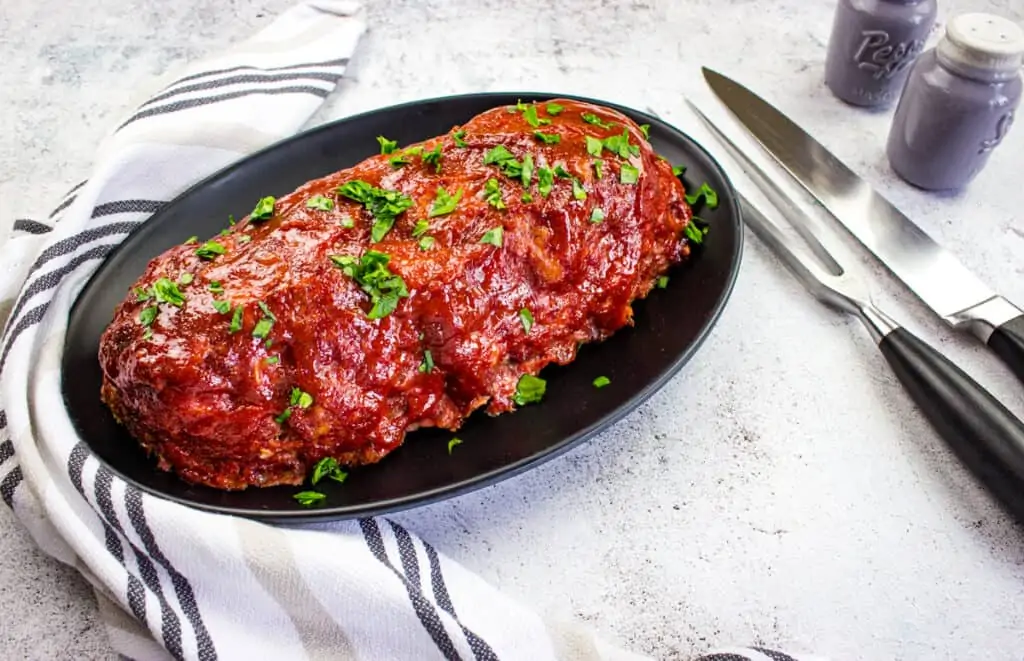 Chef Jenn's Tips
What kind of pellets should you use to make this Trager smoked meatloaf recipe? I like hardwood pellets, but you can use what you've got.
You can use white bread, wheat bread, or your favorite bread to soak with the milk. Just avoid anything that's too crusty (like the heels of the bread or a bun) as the crust doesn't absorb quite as well as the inside of the bread.
A 1/4 tsp of chipotle or cayenne powder will add a bit of zip to this recipe if you like it spicy, and add some to the sauce, too!
I love using dehydrated onion flakes in recipes where fresh onion is too much, and onion powder isn't enough. Find these in the spice section at your grocery store. If you do opt for fresh onion, grate it or chop it very finely so it cooks in through, or sautee it before adding it to the meatloaf.
Don't skip the bacon! It adds loads of needed fat to this easy smoked meatloaf recipe, and a subtle flavor.
What to Serve With This Traeger Smoked Meatloaf With Bacon Recipe
Anything! I love bright, fresh veggies with this classic comfort food recipe, like corn on the cob, or a tasty salad. You could also throw some asparagus on the smoker! For a starchy side, opt for this Creamy Orzo with Spinach and Tomatoes, and for dessert, there's nothing quite like this Blueberry Grunt.
Frequently Asked Questions
How long to smoke meatloaf?
The total time time to smoke meatloaf is going to depend on what temperature you're smoking it at, and the temperature of the meat when it goes into the smoker. The colder it is, the longer it'll take to reach 165-F, the safe internal temperature for ground meat.
Is making smoked meatloaf on a pellet grill easy?
Yes! This is a pretty easy dish to make. Once you've gathered all the ingredients, you just mix, form it into a loaf and smoke it! Don't forget to sauce it when there are about 20 minutes left of cooking time, or when it is around 130-F.
Can I freeze smoked meatloaf?
Yes, you sure can! Slice the meatloaf into portions and chill it thoroughly in the fridge for a few hours. Then, wrap it tightly in plastic wrap and then in foil. Freeze it for up to 3 months. To reheat it, thaw it in the fridge overnight then warm it wrapped in foil in a low (325-F) oven or in the microwave until warmed through. Don't overheat it or heat it too quickly or you could dry it out.
Like This? Also Try:
STep BY Step Process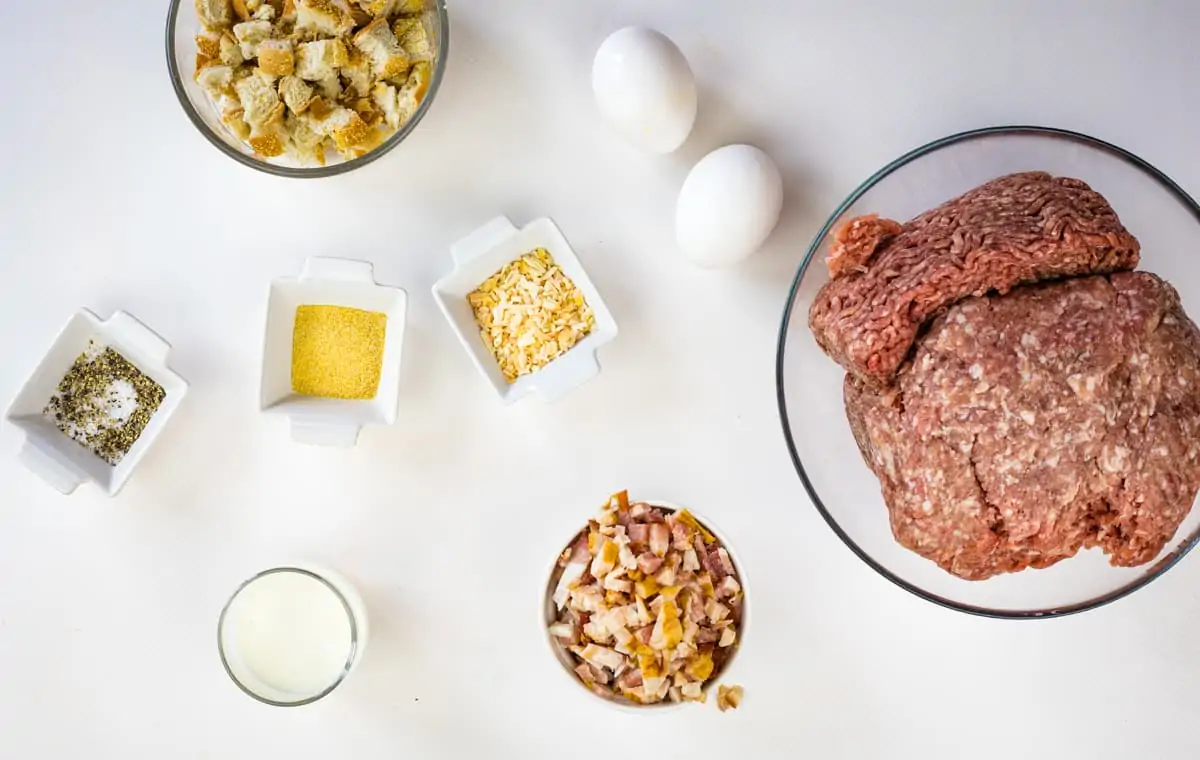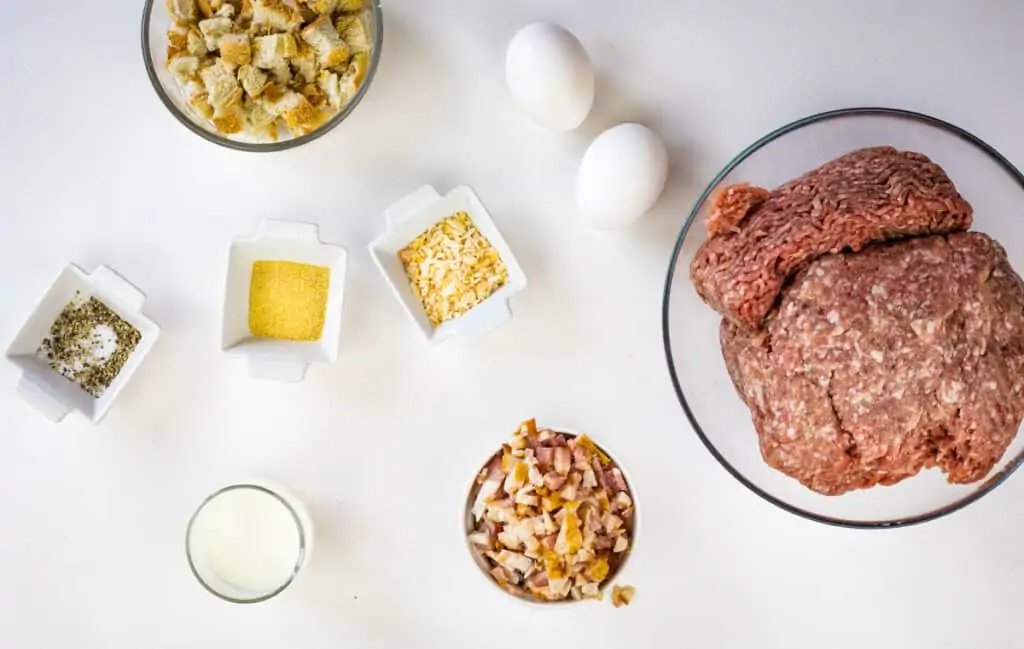 The Best Smoked Meatloaf
Moist, tender, and loaded with flavor, there's plenty of smoky goodness in this amazing meatloaf!
Instructions
In a small bowl, tear the sliced bread into small pieces and add the milk. Set aside for 5 minutes.

Add the ground beef, pork, bacon, eggs, and spices to a medium-sized bowl. Add the soaked bread and any leftover milk. Mix well without over-mixing.

Form the meatloaf into a loaf and lift it carefully to the grill pan.

Smoke the meatloaf at 180-F for 30 minutes, then turn up the heat to 350-F and smoke for an additional 40 minutes, or until it reaches an internal temperature of 130-F.

When the meatloaf has reached 130-F, top it with about 1/2 of the sauce. Reserve the rest of the sauce for adding at the table.

Continue to smoke at 350-F for an additional 20 minutes or until the internal temperature reaches 165-F.

Let rest for 15 minutes then slice and serve.
To make the sauce:
To make the sauce, combine the ketchup, brown sugar, cider vinegar, and spices in a small bowl.
Nutrition
Serving:

1

slice

|

Calories:

389

kcal

|

Carbohydrates:

16

g

|

Protein:

22

g

|

Fat:

26

g

|

Saturated Fat:

10

g

|

Polyunsaturated Fat:

2

g

|

Monounsaturated Fat:

11

g

|

Trans Fat:

1

g

|

Cholesterol:

123

mg

|

Sodium:

690

mg

|

Potassium:

476

mg

|

Fiber:

1

g

|

Sugar:

11

g

|

Vitamin A:

230

IU

|

Vitamin C:

2

mg

|

Calcium:

54

mg

|

Iron:

2

mg

A Note on Nutritional Information

Nutritional information for this recipe is provided as a courtesy and is calculated based on available online ingredient information. It is only an approximate value. The accuracy of the nutritional information for any recipe on this site cannot be guaranteed.

By