With sweet fire heat and loads of flavor, this Mango Habanero Salsa is a must-try for anyone who craves big, bold flavors. It's an easy fix, and with a handful of ingredients you can transform chips, tacos, nachos, and grilled meats into something fabulous! Ready to cook? Read on and I, Chef Jenn, will show you all my cheffy tricks to make this easy salsa recipe turn out perfectly every time!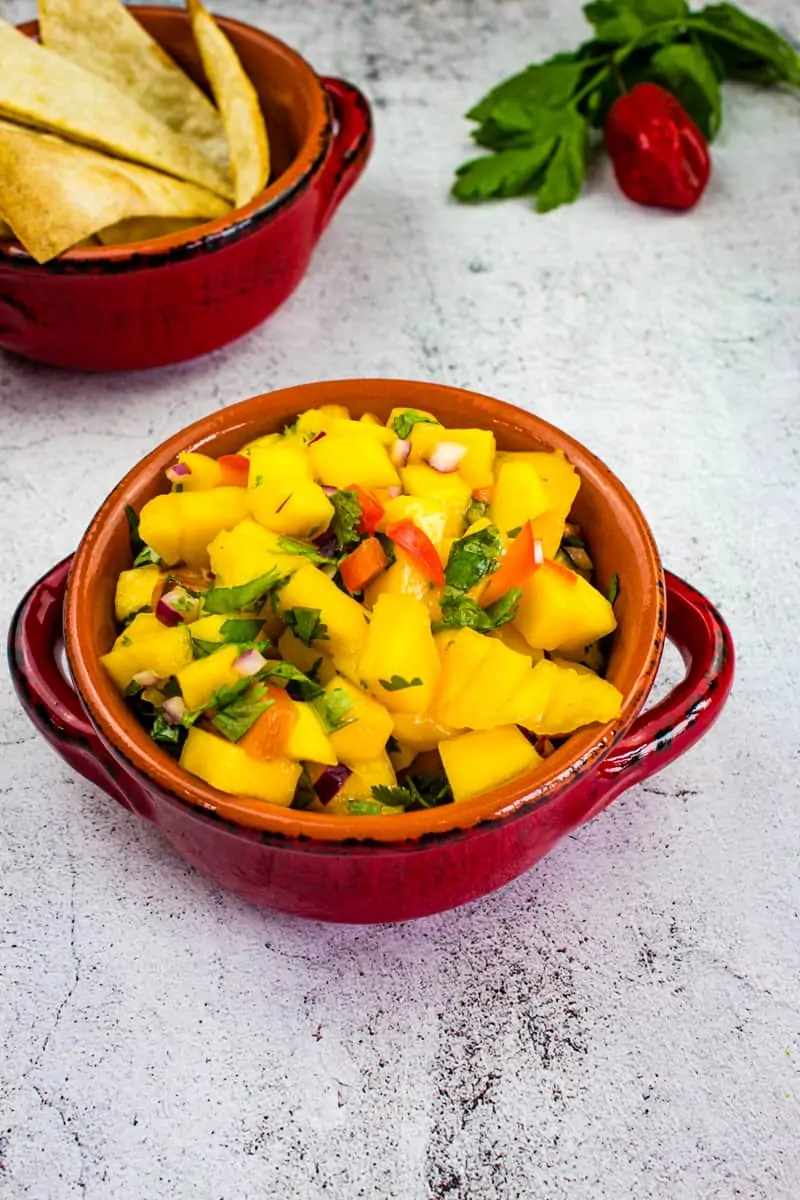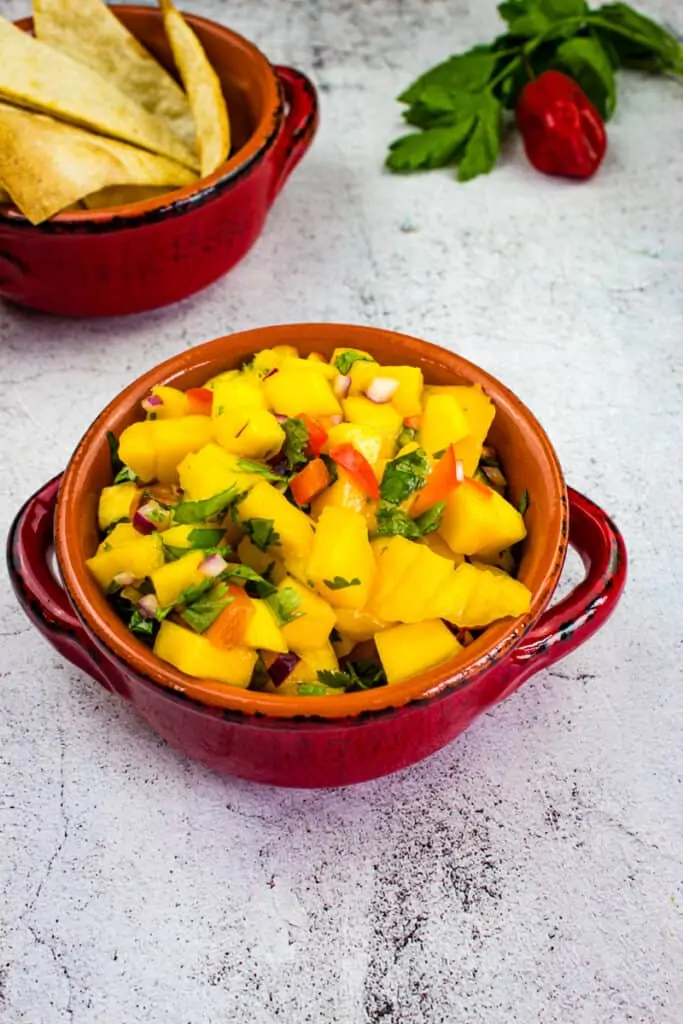 This post may contain affiliate link(s). As an Amazon Associate, I earn from qualifying purchases. See Disclosure.
Before You Get Started – a Word About Habaneros
Habanero peppers are HOT. Spicy, With 100,000-350,000 Scoville Heat Units, they can be up to 140 times hotter than a jalapeno. You must be careful when dealing with and cutting these feisty chilis! Always wear gloves when cutting them, and even while cleaning the knife and cutting board afterwards. Keep your hands away from your eyes, and be careful not to touch anything that your gloved hands touched, after cutting the peppers. Dice them very finely – you don't want to bite into a big chunk of one of these peppers!
About Habanero Peppers
With a slightly sweet but still fiery heat, habaneros are common in Latin American dishes. They come in a variety of colors, with the most ripe being a deep, brick red. You can find them in many grocery stores, or perhaps a specialty Latin market.
Store them in the fridge, and they'll keep for about a week.
What You Need to Make Mango Habanero Salsa
Mangos – see my notes below
Habanero chili – 1 is plenty!
Red onion
Red bell pepper
Cilantro
Lime
How To Buy Mangos
Mangos are usually picked from the tree before they are ripe, so you'll need to buy them a few days before you're looking to make this mango salsa with habanero. Let the mangos sit on the counter for a day or two, but you don't want them to be super soft.
When making salsa with mangos, look for mangos that are unblemished and on the firm side but with a bit of give. When pressing gently on the mango, you should feel some softness, not a rock-hard mango.
How To Make Mango Habanero Salsa
This recipe really couldn't be any easier, just a few steps and you're done!
Peel the mango with a vegetable peeler and cut it off the seed. Cut it into small dice. The smaller the dice, the more easily this fruit salsa recipe will fit on a nacho chip or inside a taco.
Seed and VERY finely dice the habanero. Start with about half the chili – you can always add more if you need more heat. See my notes above in order to safely deal with a habanero chili.
Seed and dice about 1/3 of the bell pepper.
Dice about 1/4 a cup of red onion.
Chop some cilantro.
Squeeze some lime juice.
Mix it all together and let it sit for about 20 minutes to blend all the flavors before serving.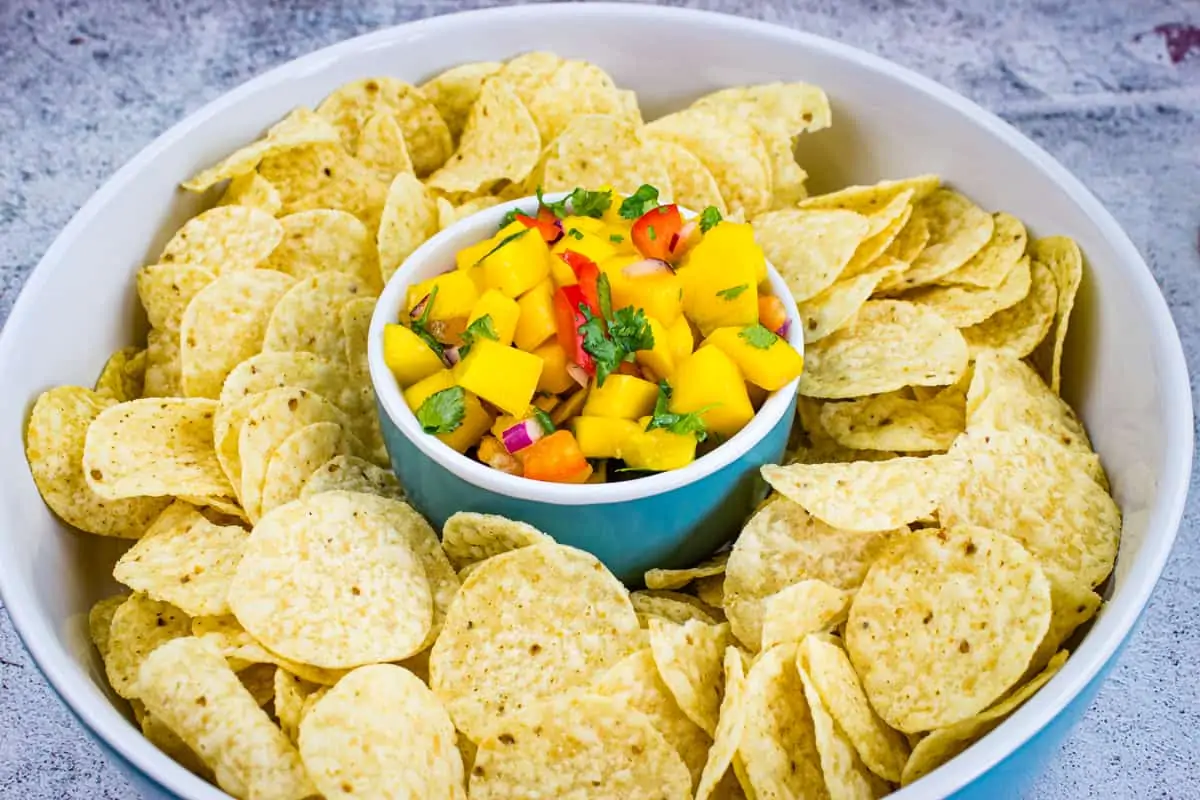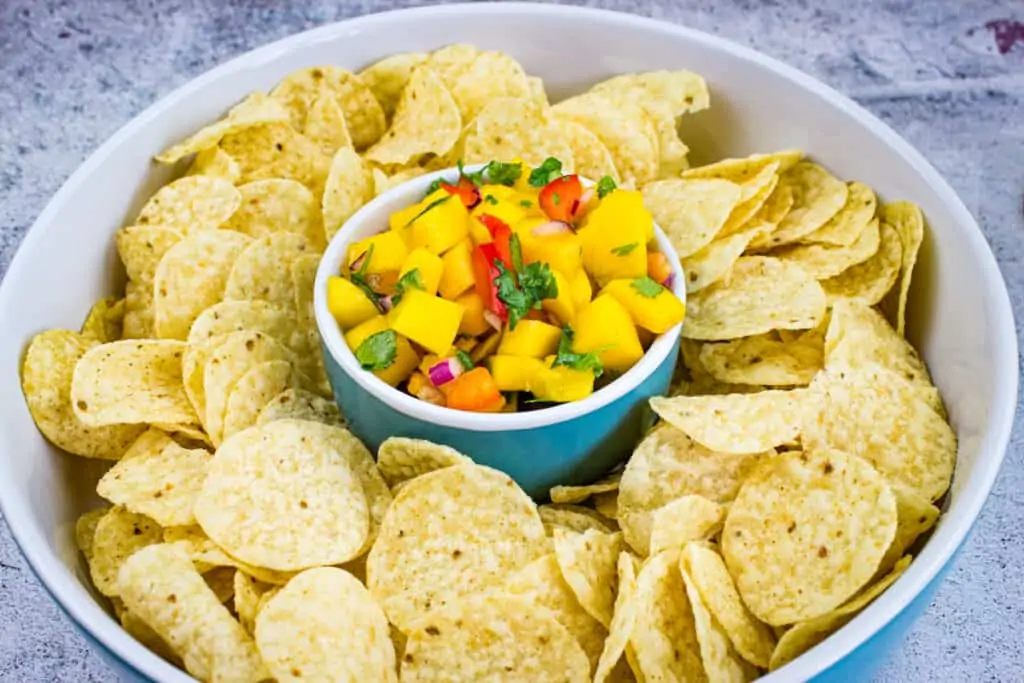 Chef Jenn's Tips
There's a lot of chopping in this recipe, but all the ingredients can be prepped ahead of time and then mixed shortly before you want to eat.
This mango salsa recipe will also keep covered in the fridge for a few days, so feel free to make it ahead of time.
The mango and bell pepper (not the habanero) should be diced about the same size. Knife cuts are important when making a salsa like this, so take your time and use a good quality chef's knife to get pretty cuts.
Be careful when dealing with the habanero chilis – they're hot! See my notes above about how to safely handle one of these fiery peppers.
Using a mango that's more firm than soft will allow you to cut it more easily without making a juicy mess.
How To Serve Mango Habanero Salsa
This fruity and spicy salsa goes so deliciously with so many different dishes. Try it on fish tacos, spoon it over grilled chicken, or just scoop it up with tortilla chips. I love building a nacho bar with this fruit salsa and Creamy Jalapeno Dip as some of the options. It's really versatile! Drop a note below in the comments and let me know how you like to eat this amazing tropical salsa recipe!
Frequently Asked Questions
Is Mango Habanero Salsa gluten-free?
Yes! This is a naturally gluten-free recipe. Using all-natural ingredients and nothing processed, you can skip all the gluten and just chow down on serious flavor in this easy mango salsa recipe.
How long does it take to make Mango Habanero Salsa?
The answer depends on how quickly you chop, but I'd set aside 15-20 minutes to make this easy salsa appetizer.
Can I freeze Mango Habanero Salsa?
No, this is one of those dishes that's just best when eaten fresh. The good news is that it'll keep for 3-4 days in the fridge if tightly covered.
Like this? ALso Try:
Step by Step Process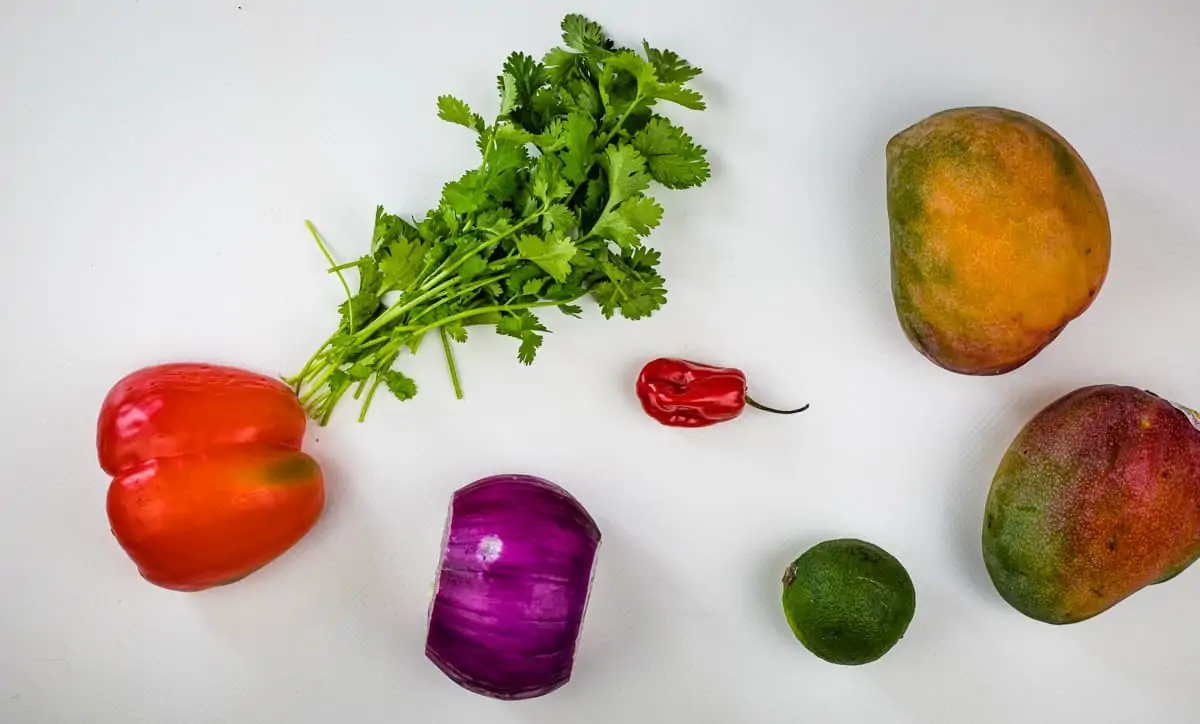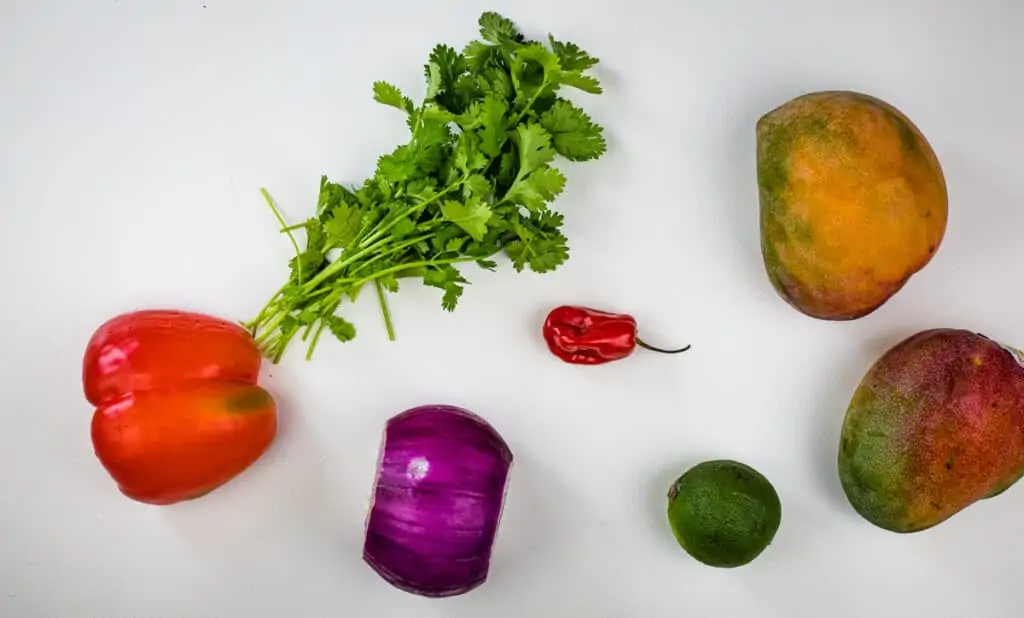 Mango Habanero Salsa
Loaded with sweet mango and a fiery kick from the habanero, this well-balanced salsa is the perfect pick for every snacker and Mexican food fan!
Ingredients
2

cups

mango

from about 2 large mangos

1/4

cup

diced red onion

2

tbp

diced habanero chili

1/2

cup

diced red bell pepper

2

tbsp

chopped cilantro

2

tbsp

lime juice

pinch of salt and pepper
Instructions
Mix everything together well and serve!
Nutrition
Serving:

0.25

cup

|

Calories:

43

kcal

|

Carbohydrates:

10

g

|

Protein:

1

g

|

Fat:

1

g

|

Saturated Fat:

1

g

|

Polyunsaturated Fat:

1

g

|

Monounsaturated Fat:

1

g

|

Sodium:

2

mg

|

Potassium:

151

mg

|

Fiber:

1

g

|

Sugar:

9

g

|

Vitamin A:

1042

IU

|

Vitamin C:

45

mg

|

Calcium:

10

mg

|

Iron:

1

mg

A Note on Nutritional Information

Nutritional information for this recipe is provided as a courtesy and is calculated based on available online ingredient information. It is only an approximate value. The accuracy of the nutritional information for any recipe on this site cannot be guaranteed.

By