Sweet potatoes can take FOREVER to bake in a regular oven, but with your air fryer, you can get all the amazing flavors of a baked sweet potato in much less time! Read on and I, Chef Jenn, will show you how to bake sweet potatoes in an air fryer!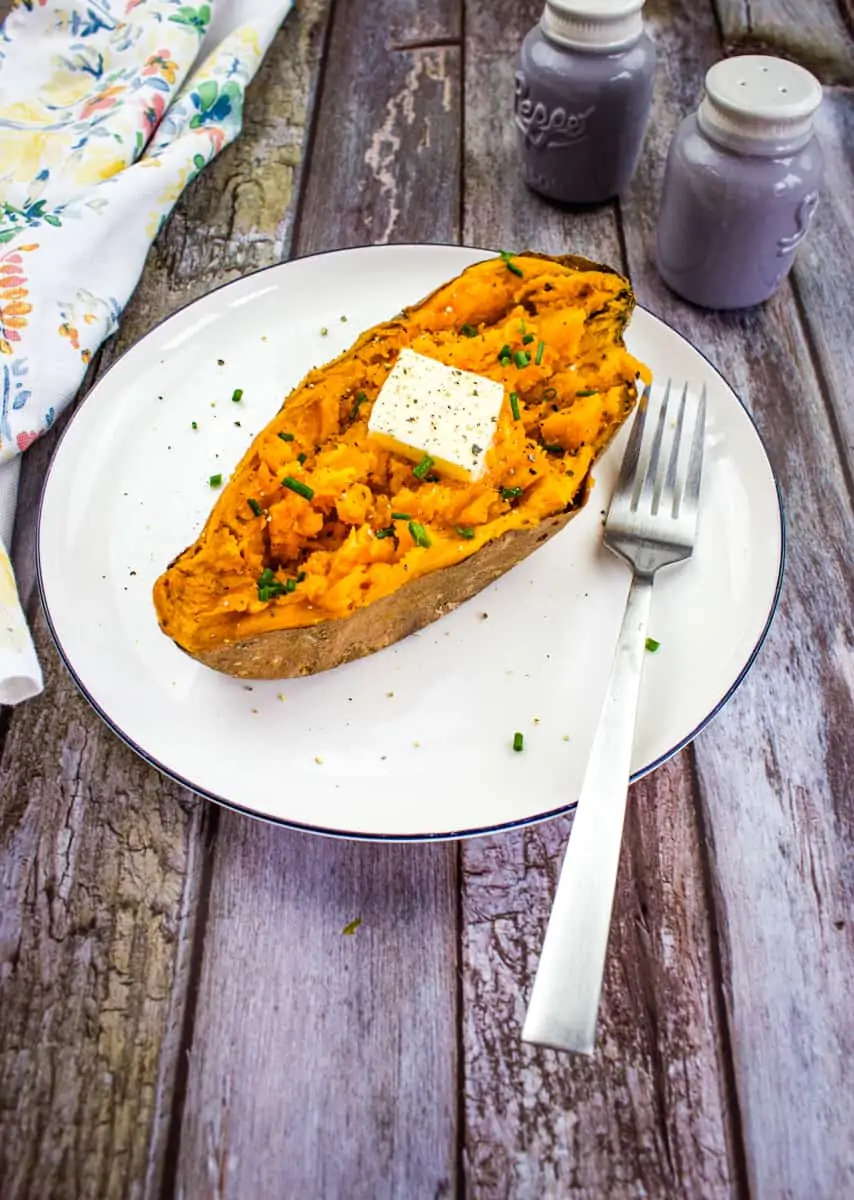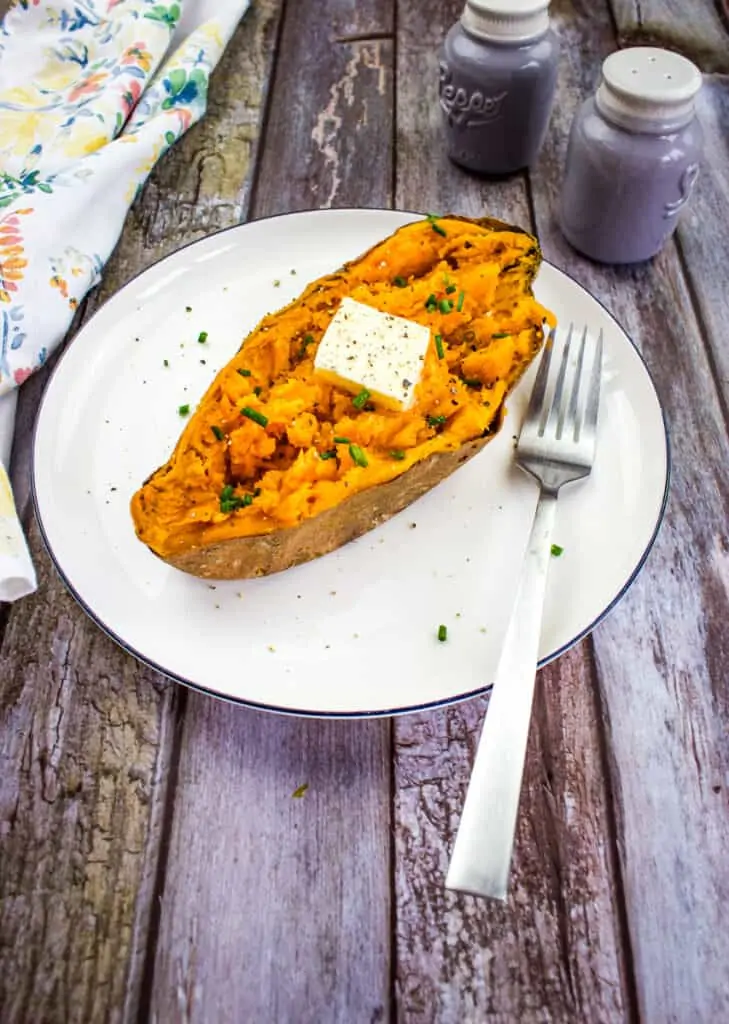 This post may contain affiliate link(s). As an Amazon Associate, I earn from qualifying purchases. See Disclosure.
Sweet, light, and fluffy, baked sweet potatoes are a real treat in our house. But, they take soooo long and the oven heats up the house something awful! But, if you have an air fryer, you can make these healthy and nutritious sweet potatoes in a fraction of the time and they come out so fabulously!
What You Need To Make Sweet Potatoes in the Air Fryer
A Word on Air Fryers
Air fryers have become a HUGELY popular countertop appliance, and for good reason! They are genius, and I chose a multipurpose one so that I could get more out of it than just air frying. I use it to bake, toast, broil, and of course, make tasty eats on the air fryer setting.
Temperatures and cooking times vary from air fryer to air fryer, and so my suggestions are guides only. Your air fryer may cook hotter or faster, so keep an eye on things.
How To Bake Sweet Potatoes in an Air Fryer
Preheat your air fryer to 375-F as per manufacturer's guidelines
Poke each sweet potato with the fork in 6-8 spots. This is to let the steam out and help your sweet potatoes to cook.
Air fry at 375-F for about 20 minutes. Flip them over and continue to cook for another 15-20 minutes or until the sweet potatoes are soft when you squeeze them.
Let them rest for about 5 minutes then cut them open, load in the butter, and enjoy!
Chef Jenn's Tips
Don't overcrowd your air fryer. If you stuff too many sweet potatoes in there, the air can't circulate properly and your sweet potatoes will cook unevenly.
If you like to eat the skin, give the sweet potatoes a good scrub with running water and then rub them with a bit of olive oil before cooking to help the skins crisp up.
If your sweet potatoes start to get too brown, cover them with foil.
Need to bake sweet potatoes even faster? Poke them all over with a fork then pop them into the microwave for 3-4 minutes to give them a head start. This should shave 10-12 minutes off the air fry time.
Sweet potatoes will take more or less time depending on how big they are. Always give them the squeeze test halfway through the cooking time. If they're still rock-hard, they've got a ways to go. If they're starting to get soft, check them again in 5 minutes.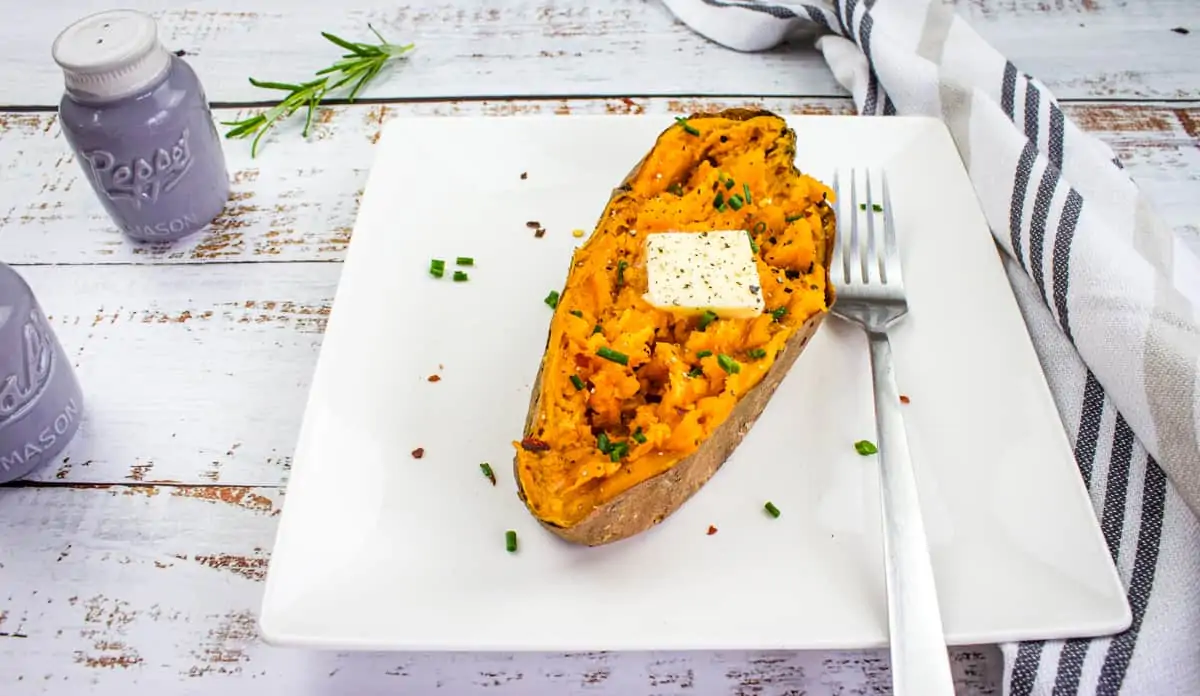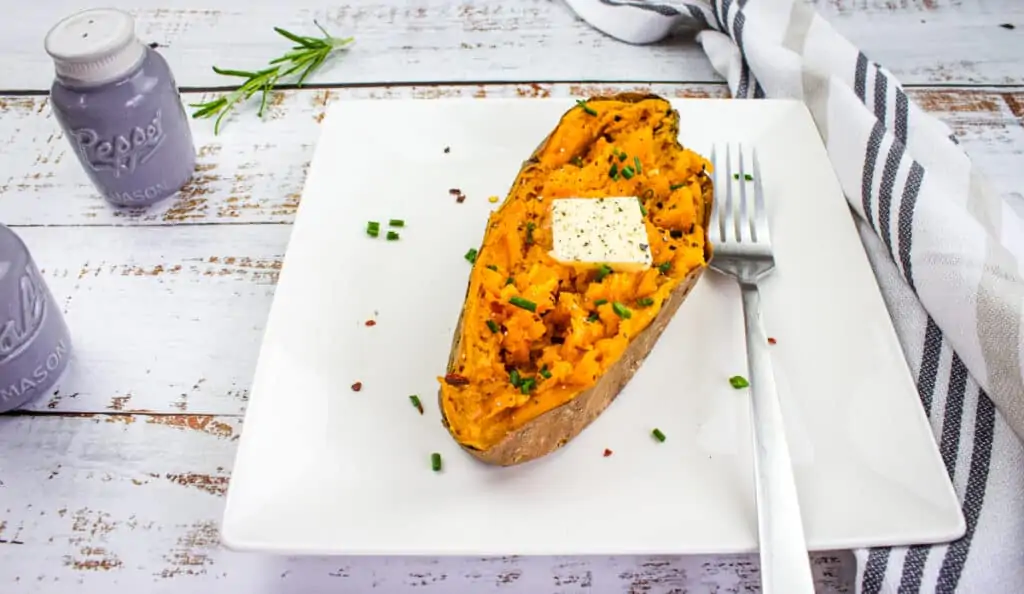 What To Serve With Baked Sweet Potatoes in an Air Fryer
This is a hearty and healthy side dish to so many different main dishes. Some of my favorites include Smoked Turkey Thighs, Pork Chops with Green Onion & Tomato Relish, and Smoked Meatloaf.
Frequently Asked Questions
Is this sweet potato air fryer recipe easy?
Yes, it sure is! All you have to do is puncture the potatoes, preheat your air fryer, then pop them in! It couldn't be any easier!
How long do you cook a sweet potato in the air fryer?
That's going to depend on the size of your sweet potatoes and your model of air fryer. Some air fryers cook more quickly than others, and if you stuff the air fryer full of sweet potatoes, they'll take longer. For the fastest cooking time, choose smaller sweet potatoes and don't overload your air fryer. Even so, check them after 20 minutes of cooking time. I once did colossal sweet potatoes (over a pound each) and they took about 40 minutes.
Do you peel sweet potatoes before baking them in your air fryer?
No. Leave the peel on and let them get all roasty and toasty inside their jackets. The skin will help to protect them from the high heat of the air fryer.
Like This? Also Try:
How To Make Sweet Potatoes in An Air Fryer
Easy and delicious, baking sweet potatoes in the air fryer turns out great!
Instructions
Pierce each sweet potato with a fork in 6-8 places.

Preheat the air fryer to 375- and bake the sweet potatoes for about 20 minutes. Give them a squeeze and if soft, take them out and let them rest for 5 minutes before cutting and serving.

If the sweet potatoes are still hard or not very soft, cook for up to 20 more minutes, checking them after every 5 minutes.

Cut the sweet potatoes open and fluff them with a fork, Top with butter if you like, and serve!
Nutrition
Serving:

0.5

sweet potato

|

Calories:

97

kcal

|

Carbohydrates:

23

g

|

Protein:

2

g

|

Fat:

1

g

|

Saturated Fat:

1

g

|

Polyunsaturated Fat:

1

g

|

Sodium:

62

mg

|

Potassium:

381

mg

|

Fiber:

3

g

|

Sugar:

5

g

|

Vitamin A:

16031

IU

|

Vitamin C:

3

mg

|

Calcium:

34

mg

|

Iron:

1

mg

A Note on Nutritional Information

Nutritional information for this recipe is provided as a courtesy and is calculated based on available online ingredient information. It is only an approximate value. The accuracy of the nutritional information for any recipe on this site cannot be guaranteed.

By