Moist, flavorful, and with a hint of cinnamon, this is the best Zucchini Bread I've ever made. The secret is in the ingredients: they're simple, but in the right combination and with a few subtle twists, this nut-free zucchini bread is perfect in school lunches or for dessert or snacking. Ready to get cooking? Read on and I, Chef Jenn, will show you all my tips and tricks to make this the best Zucchini Bread you've ever had!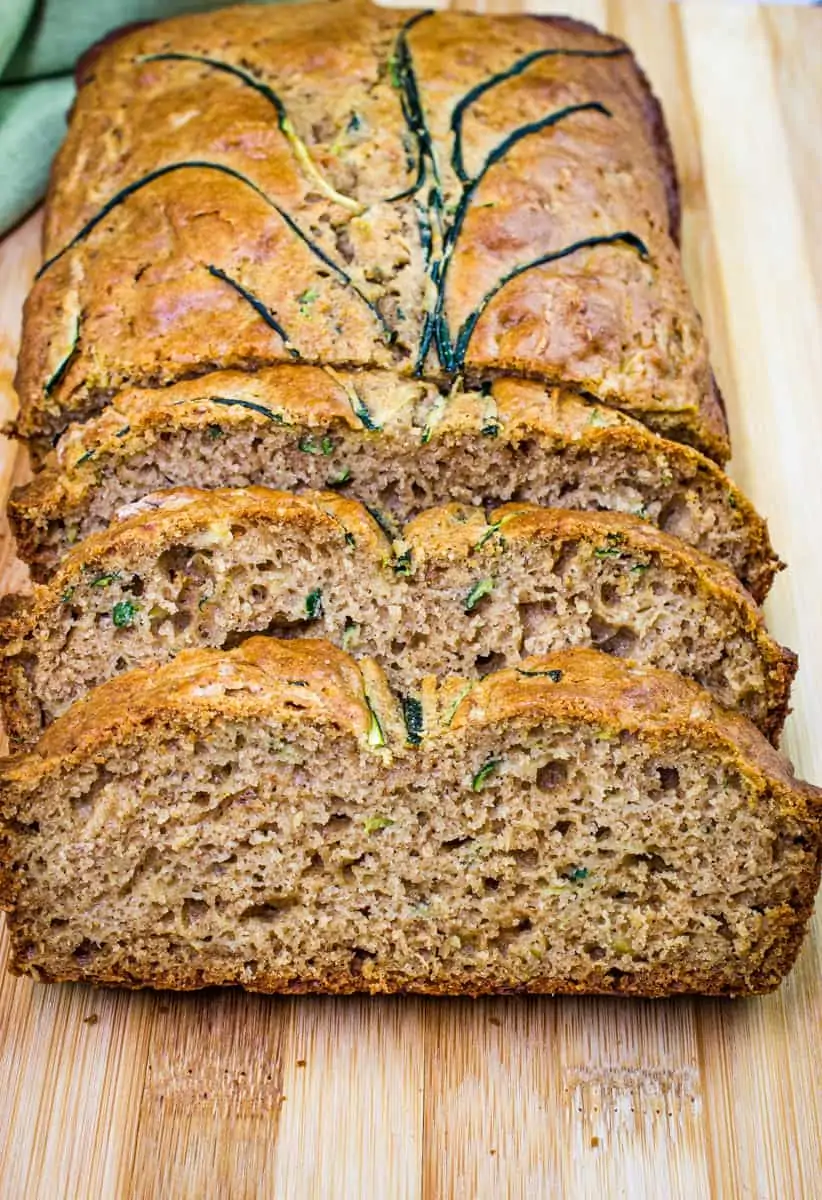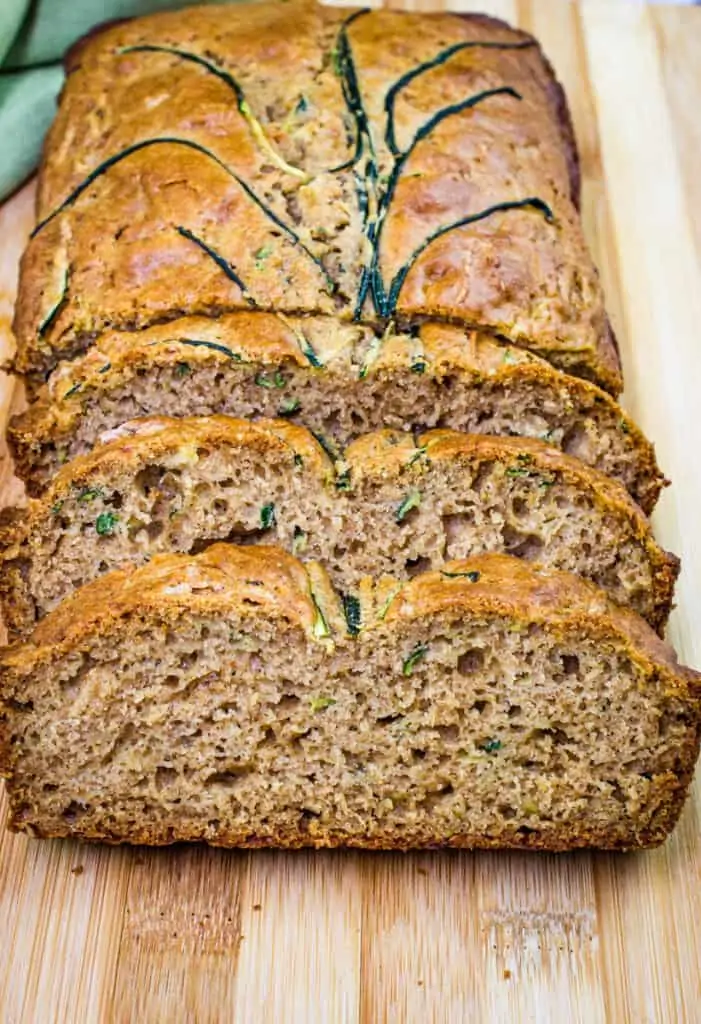 This post may contain affiliate link(s). As an Amazon Associate, I earn from qualifying purchases. See Disclosure.
Lovely, moist, and not too sweet, this Zucchini Bread is a quick and easy fix the whole family will love. With a touch of sour cream and olive oil, Zucchini Bread transforms into an indulgent fix that's also good for you!
What You Need To Make This Easy Zucchini Bread Recipe
Box grater – or other grater
Oven-safe loaf pan
Fresh zucchini
Brown sugar
Olive oil – use a good quality olive oil for this recipe
Sour cream – full fat works best
Eggs
Vanilla
All purpose flour
Salt
Baking powder
Baking soda
Cinnamon
Nutmeg – freshly ground works best!
How to Buy Zucchini
You need to use fresh zucchini for this recipe – frozen and thawed is just way too runny and the recipe won't work.
When buying zucchini, look for dark green and firm zucchini with no blemishes. Zucchini size is less important when making a zucchini loaf – if you were eating it for dinner I'd recommend the younger, smaller zucchini. I actually use the humongous zucchini for making breads. I get them in the late summer and load my freezer with zucchini bread. One huge zucchini will make a bunch of loaves!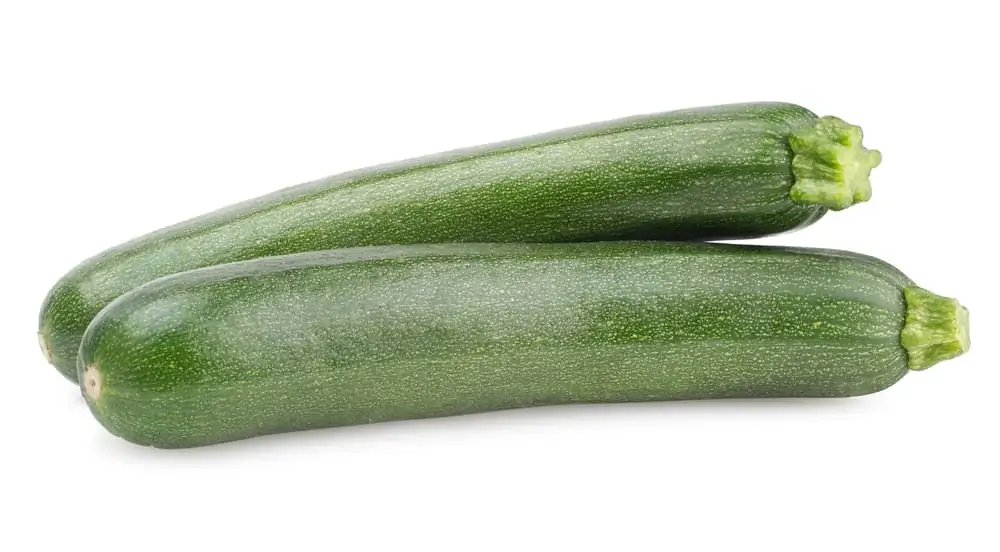 How To Make Olive Oil Zucchini Bread
The touch of olive oil in this recipe replaces other fats and adds a subtle flavor that you don't even really notice, but it enlivens the zucchini and adds a touch of umami. The sour cream balances the sweetness, and adds enough acidity to really make the flavors pop!
In a medium sized bowl, combine the shredded zucchini (keep the skin on but avoid the seeds) with the sugar, olive oil, sour cream, eggs, and vanilla. Mix well.
In a second, smaller bowl, whisk the flour, salt, baking powder, baking soda, cinnamon and nutmeg together.
Add the dry ingredients to the wet ingredients and mix well with a spatula, but don't over-mix.
Spray a loaf pan with cooking spray and gently pour in the batter.
Bake on a rack in the middle of the oven at 350-F for about 45 minutes.
Let cool, slice, and enjoy!
How To Decorate the Top of The Zucchini Bread
With a clever and handy small kitchen tool, you can decorate the top of your zucchini loaf. A julienne peeler is my secret weapon.
I use it to make long and very thin strips of zucchini which I then fashion into a design on the top of the batter. Press the zucchini strips down every so slightly, into the batter.
Bake as normal and when done, your loaf will look like gourmet zucchini bread – and will taste delicious, too!
How To Tell if Zucchini Bread is Cooked
This healthy zucchini bread is cooked when an inserted toothpick comes out ALMOST clean. It's a myth that the toothpick has to be squeaky clean and totally crumb-free. That can indicate it's been cooked too long. A few clingy crumbs on the toothpick is fine, you just don't want to see gooey batter.
Also, toothpicks aren't necessary. I've used everything from a kitchen knife to a kabob skewer – you just need something long and thin.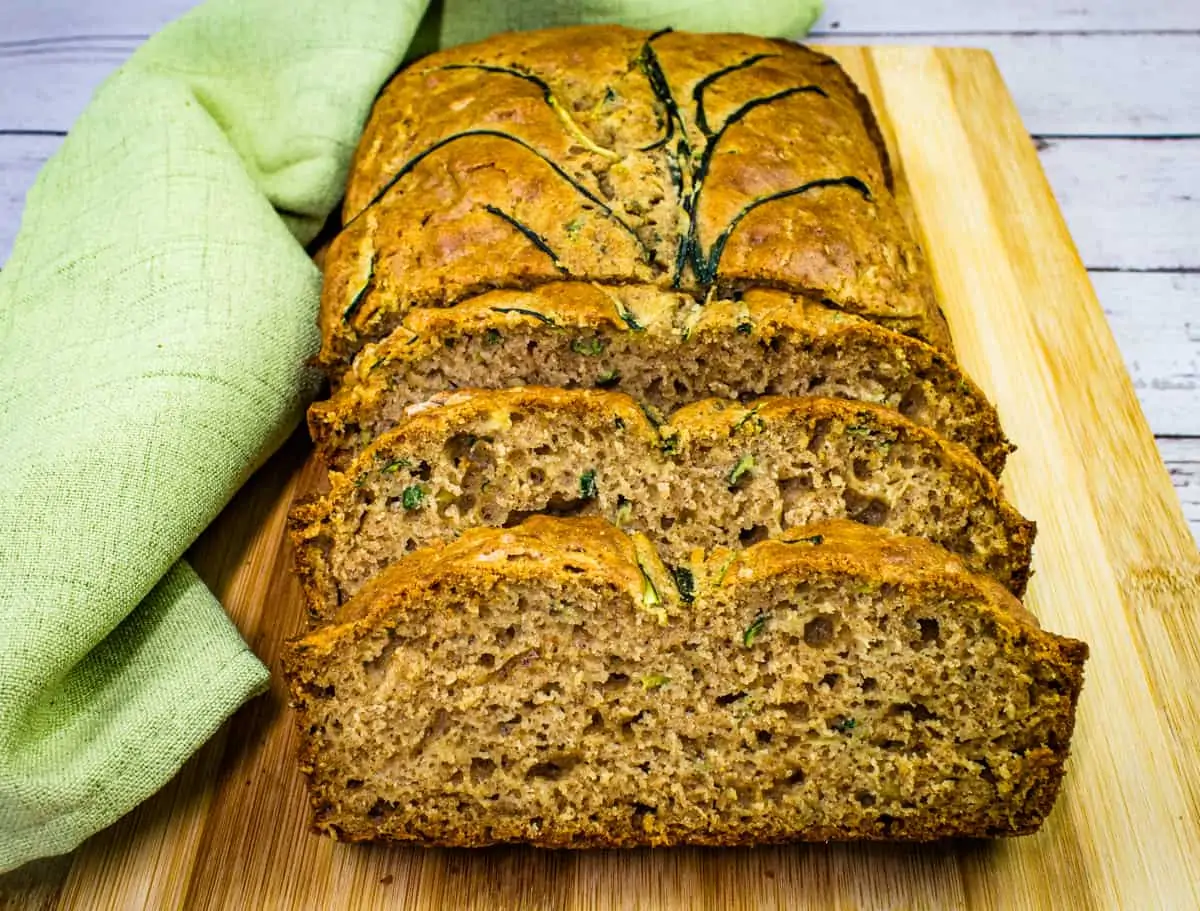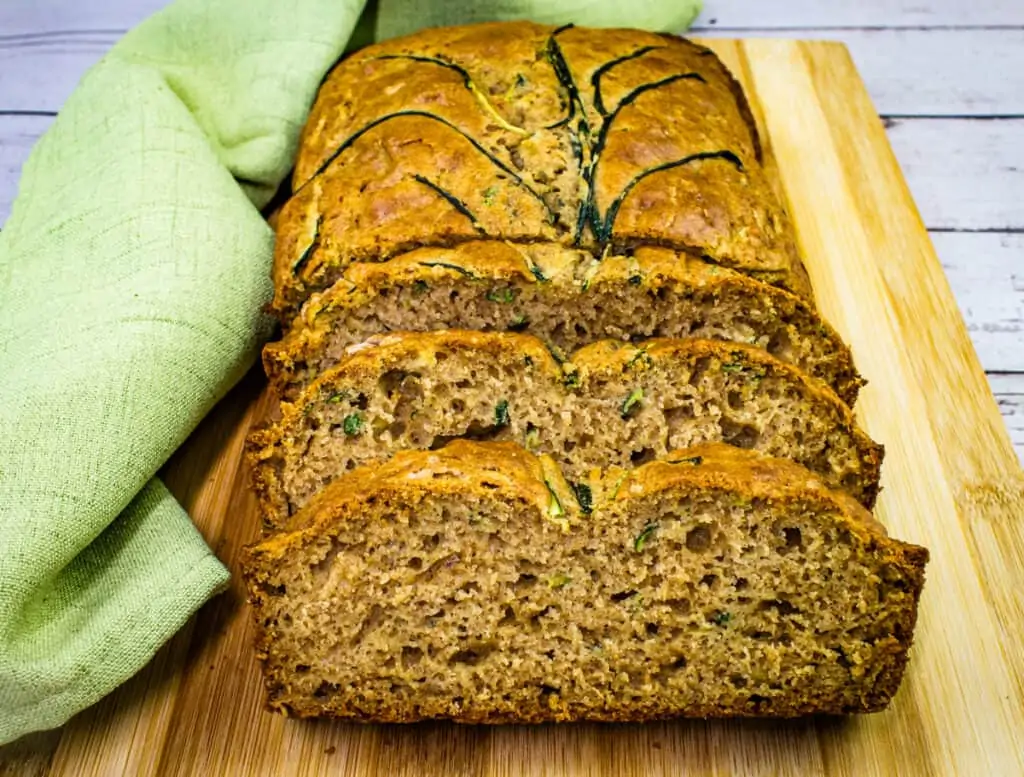 Chef Jenn's Tips
Use good olive oil in this recipe. If you don't have olive oil, use melted butter instead. Don't use canola or vegetable oil – your bread will bake fine but the flavor just won't be the same.
Fresh nutmeg really puts this zucchini loaf over the top! Buy whole nutmeg and use a fine microplane grater to get the freshest nutmeg.
Don't overmix the batter! Use a spatula and mix only enough to combine all the ingredients.
Love zucchini bread with walnuts? Add a handful of toasted and chopped walnuts to the batter and cook as directed.
If you don't have cooking spray, you can line the inside of your loaf pan with parchment paper.
If the top of your zucchini bread starts getting too brown, cover it LOOSELY with a sheet of tinfoil, shiny side up.
What To Serve With This Easy Zucchini Bread Recipe
This savory zucchini bread is perfect as an afternoon pick-me-up with a cup of coffee. But my kids will also down it for breakfast on the go, or for dessert after a hearty meal like this Hot Pot at Home recipe. It's up to you how you enjoy it!
Can I Freeze Homemade Zucchini Bread?
Absolutely! Either slice it and then freeze it, for easy one slice servings, or freeze the whole loaf.
I wrap the loaves tightly in plastic wrap, and then again in foil. Plastic wrap will come off in the freezer but the foil will hold it in place. Then, I pop the loaves into a zipper-top plastic bag.
I freeze them for six months or more, and they're just fine. How to defrost zucchini bread? Let it thaw in the fridge (or on the counter for a few hours) before serving, and enjoy!
Frequently Asked Questions
What to put on zucchini bread?
We love zucchini loaf plain – there's enough moisture and flavor in this recipe that it doesn't need a single thing! However, sometimes we'll warm up slices in the toaster oven and add a dab of butter. I've caught my husband adding jam to his zucchini bread, too, but that might be a bit over the top!
When making zucchini bread, do you leave the skin on?
Absolutely! Wash the zucchini first then use a grater to grate it, skin and all. I stop when I hit the seeds in the middle, though. They're not so pleasant to eat.
Is this recipe better than Mom's zucchini bread?
I think so! Most traditional recipes call for more cooking oil – vegetable oil. But the sour cream and olive oil modernize this recipe and add oodles of moisture that you just can't beat!
Like This? Also Try:
Step By Step Process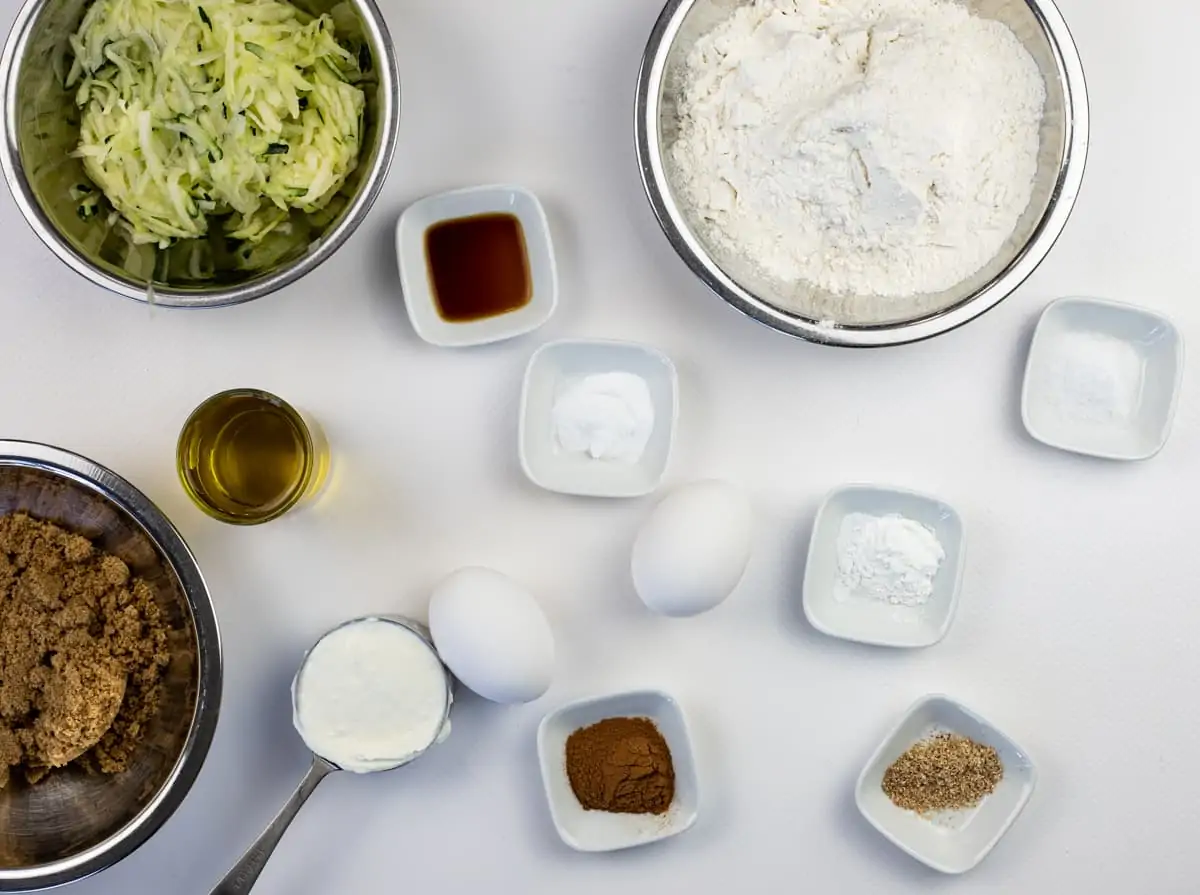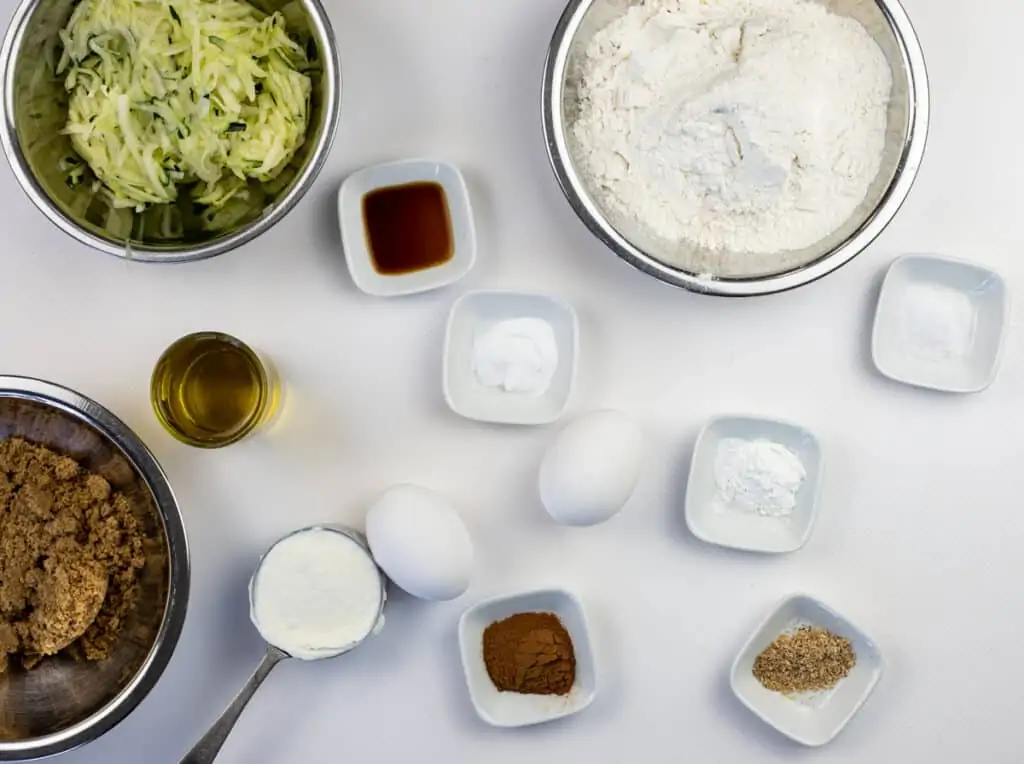 Moist Zucchini Bread
Easy, moist, and loaded with zucchini, this delicious Zucchini Bread recipe can be enjoyed all-year long!
Ingredients
1 1/2

cups

shredded zucchini

1/2

cup

brown sugar

1/3

cup

olive oil

1/3

cup

sour cream

2

eggs

1

teaspoon

vanilla

1 1/2

cups

all purpose flour

1/2

teaspoon

salt

1/2

teaspoon

baking powder

1/2

teaspoon

baking soda

1

teaspoon

ground cinnamon

1/4

teaspoon

ground nutmeg
Instructions
In a medium-size bowl, combine the shredded zucchini, brown sugar, olive oil, sour cream, eggs, and vanilla.

In a second medium-size bowl, whisk together the flour, salt, baking powder, baking soda, cinnamon, and nutmeg.

Combine the wet and dry ingredients, and mix well but don't overmix.

Spray a loaf pan with cooking spray (or use a non-stick pan) and add the batter.

Bake at 350-F for about 45 minutes or until an inserted toothpick comes out with just a few crumbs clinging to it.
Nutrition
Serving:
1
slice
|
Calories:
258
kcal
|
Carbohydrates:
33
g
|
Protein:
4
g
|
Fat:
12
g
|
Saturated Fat:
3
g
|
Polyunsaturated Fat:
1
g
|
Monounsaturated Fat:
7
g
|
Trans Fat:
1
g
|
Cholesterol:
46
mg
|
Sodium:
270
mg
|
Potassium:
135
mg
|
Fiber:
1
g
|
Sugar:
14
g
|
Vitamin A:
166
IU
|
Vitamin C:
4
mg
|
Calcium:
53
mg
|
Iron:
2
mg
A Note on Nutritional Information
Nutritional information for this recipe is provided as a courtesy and is calculated based on available online ingredient information. It is only an approximate value. The accuracy of the nutritional information for any recipe on this site cannot be guaranteed.
Want More Easy Recipes?
By