With lovely flavor and a set-it-and-forget it cooking method, sous vide sausage is a tasty meal that's ready when you are! Hungry? Read on and I'll show you all my chef tips and tricks to make sous vide brats or sous vide sausage of any kind, perfect every time!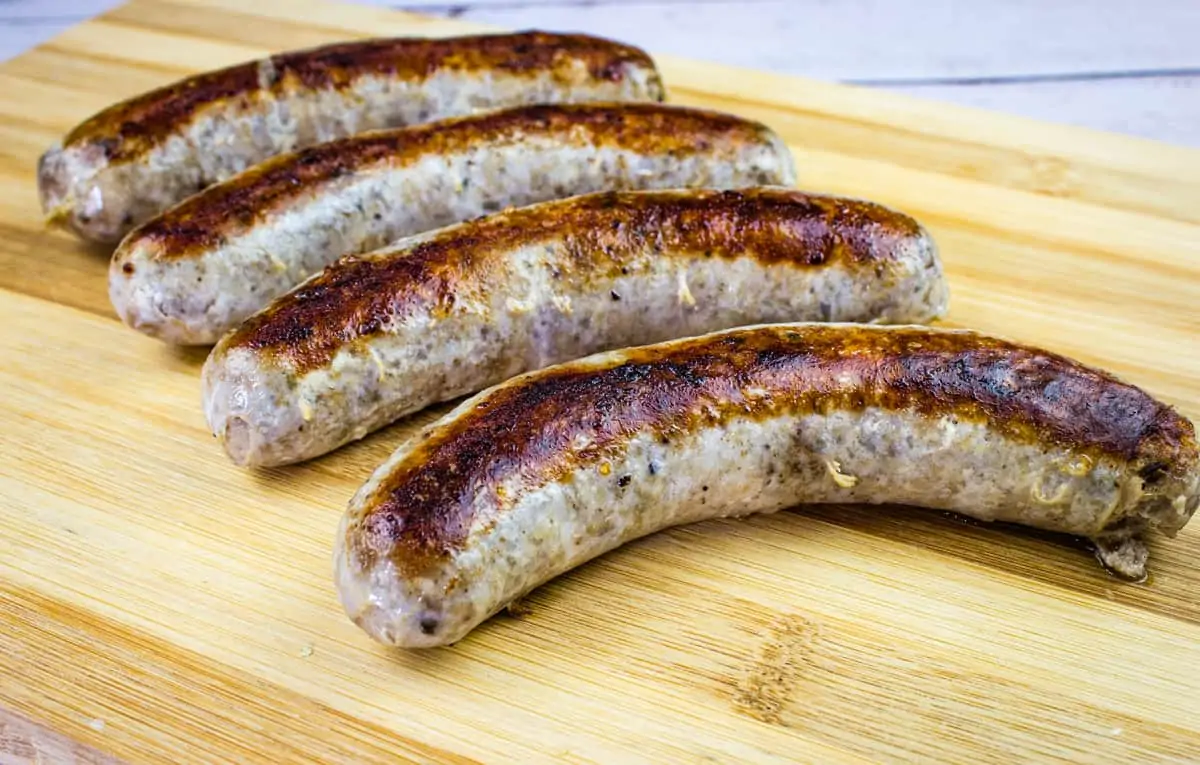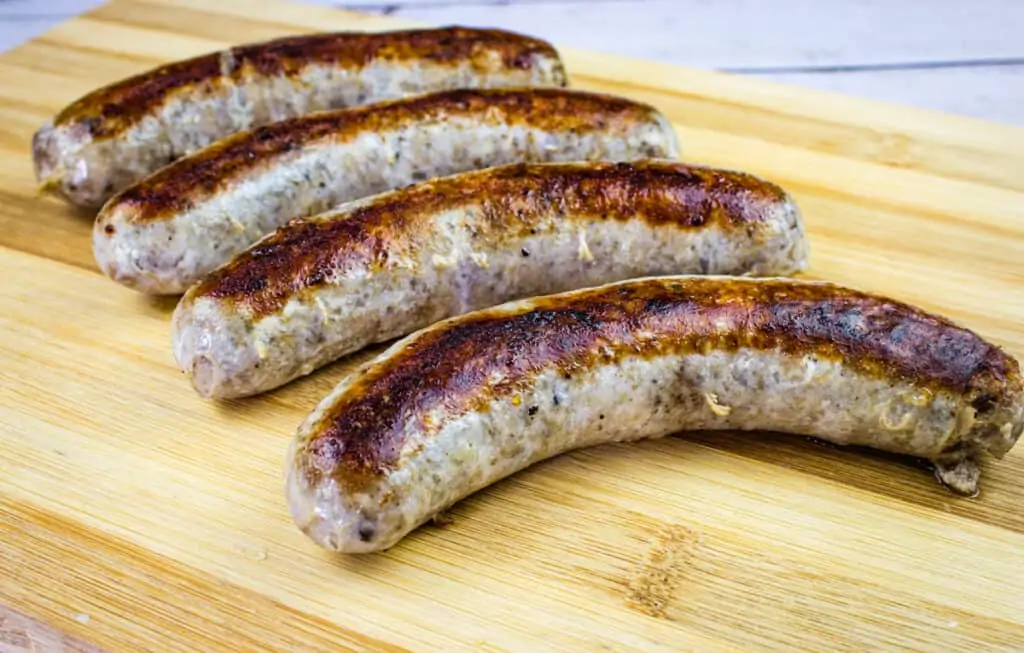 This post may contain affiliate link(s). As an Amazon Associate, I earn from qualifying purchases. See Disclosure.
Cooking sous vide used to be reserve for frou frou chefs who would turn ingredients into amazing dishes. Today, however, with such a variety of sous vide appliances available, home cooks are turning to this fail-proof cooking technique.
The concept of sous vide cooking is simple: ingredients, largely proteins, are cooked low and slow in a most water bath at a controlled temperature. The food can never overcook as long as you set the sous vide motor appropriately.
Imagine chicken that's always moist and tender, or steaks that are never overdone. That's the magic of sous vide cooking.
And today, I'm going to show you how to make sous vide sausage.
Why Sous Vide Sausage?
Frying and grilling are the two most common ways of preparing sausage. Both hit the sausage with extremely high temperatures, often resulting in split skins that shed all the moisture and delicious fat, and overcooked, dry meat inside.
Cooked sausage sous vide, however, remains moist, delicious, fatty, and most importantly, not overcooked. They have lots of sausage flavor, and in particular, pork sausage retain all that nice fatty goodness but still have a smooth texture.
What You Need To Make Sausage Sous Vide
Sous vide motor – I like Anova. I like this brand because it is dependable, accurate, and hasn't let me down!
Sous vide cooking container – you can use a big pot or giant bowl but you'll have to rig something to hold the motor in place. The container is large enough for most sous viding, and it has a form-fitted lid to keep all the heat inside
Vacuum sealer and appropriate bags or a zipper-top bag
Sausage
Beer or apple juice
Salt
Oil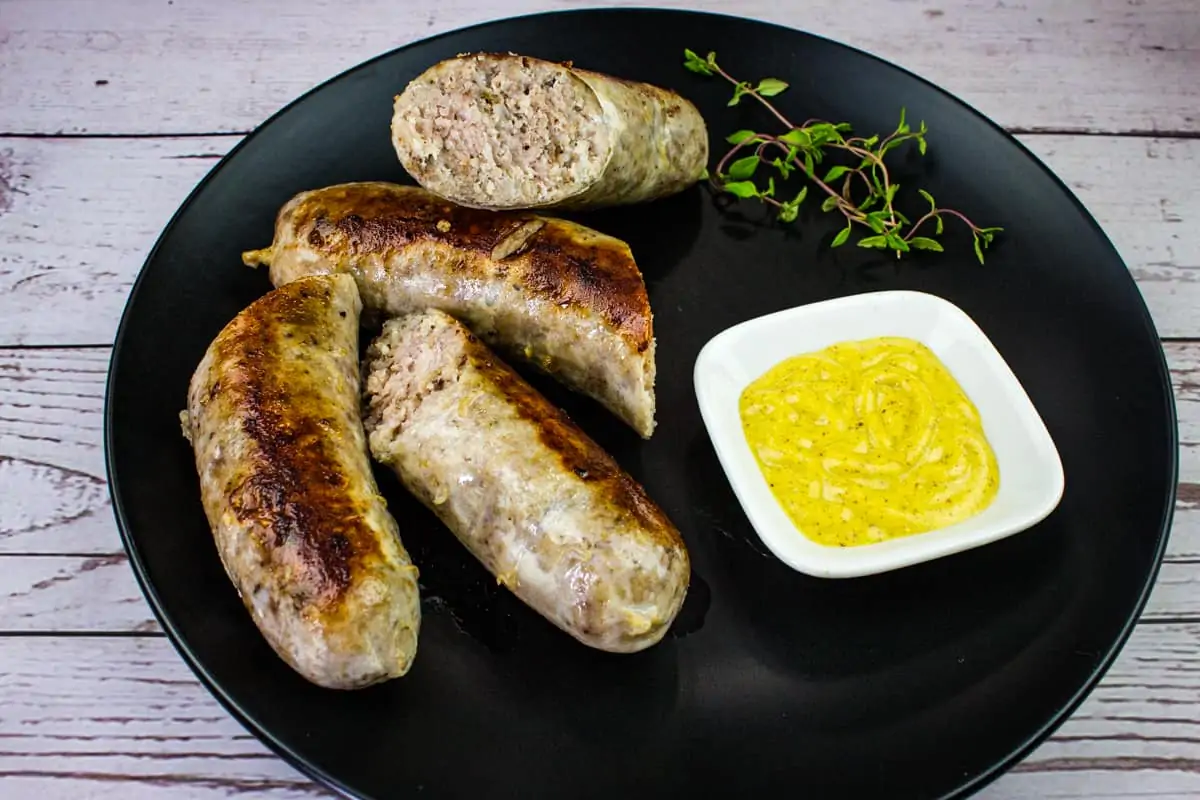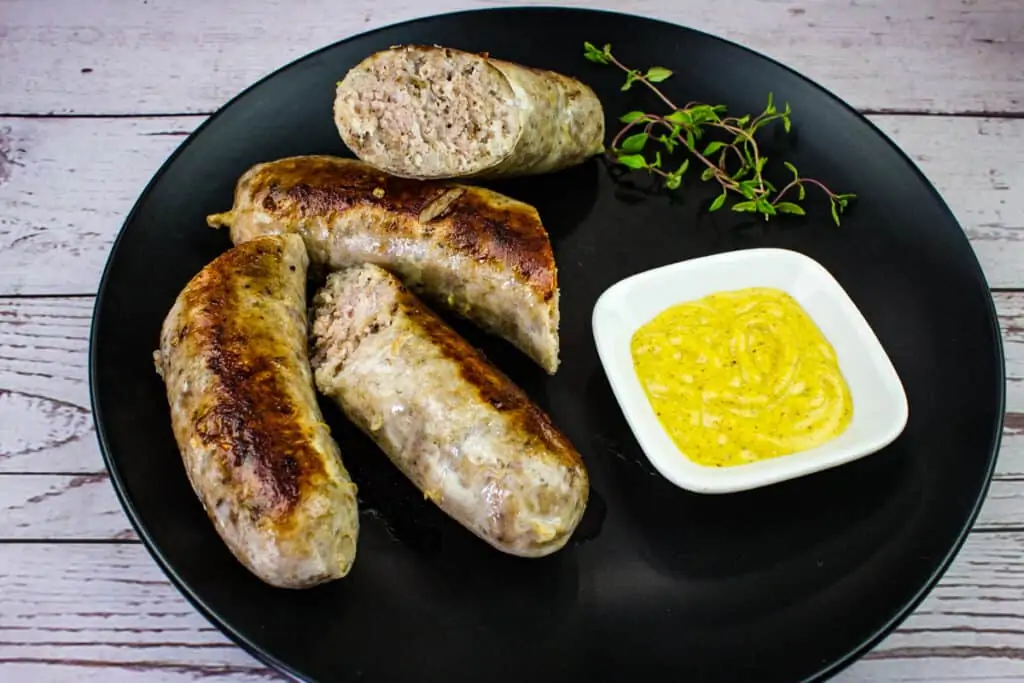 What Kind of Sausage Should I use?
You can sous vide Italian sausage, bratwurst, or pork sausage of any kind. Chicken, turkey, and other sausages work well, too. You can even make perfectly cooked breakfast sausage this way.
How To Sous Vide Sausage
Place the sausage into the bag along with 1/2 cup of beer and 1/2 teaspoon of salt.
Seal the bag with the vacuum sealer or use the water displacement method to push the air out of the bag.
I like to clip the bag to the top grate if available. This is just double protection from water leaking into the bag.
Set the sous vide temperature to one of the following:
140-F – sausage will be extra juicy and soft and can appear still pink in the middle
150-F – sausage will be firmer and still juicy and slightly pink
160-F – the texture will be the most like a traditionally cooked sausage, but still plenty juicy
You have to play around with it to find what's best for you. Personally, I set the temp to 155-F because pink sausage freaks me out DESPITE knowing that it's safe. See why below!
5. Reverse-sear the sausage to put some color on them! Heat a skillet over medium-high heat and add 2 tablespoons of oil. Brown the sausage for 1-2 minutes per side, then enjoy!
Time and Temp for Sous Vide Sausage
Once you've set the water temperature, you can trust your sausage to NOT overcook. Fried and grilled sausage MUST be cooked to an internal temperature of 160-F to be safe for consumption because all the surface bacteria on meat is mixed into the inside of the sausage when the meat is ground. So in order to kill the bacteria, the internal temperature must reach a high enough level. The magic number is 160-F for ground meats.
Unless you're doing it sous vide. Why? Because you are essentially pasteurizing the meat. When cooked to a specific temperature and then HELD at that temperature for a short time, you're also killing most of the bacteria, making the meat safe to eat.
So, for this sous vide sausage recipe, set your preferred temperature and then leave the sausage to work their magic for up to four hours.
I found it took me nearly 2 hours for colossal cold (just from the fridge) sausage to reach the internal temperature of 155-F.
Chef Jenn's Tips
Use good-quality sausage and let those amazing flavors shine through!
Sous vide sausages are not particularly attractive, often coming out anemic looking and pale. Put some color on them with a reverse sear (see step 5 above).
You can temp the sausage to see if it is done but resist the urge to poke them a bunch of times or all that good juice will come out!
Beer braising sous vide brats – beer adds lovely flavor but it will leech some of the flavor out of the sausage. To prevent this, add 1/2 teaspoon of salt to the bag. Your sausage won't be too salty, don't worry!
Use apple juice instead of beer, or even ginger ale!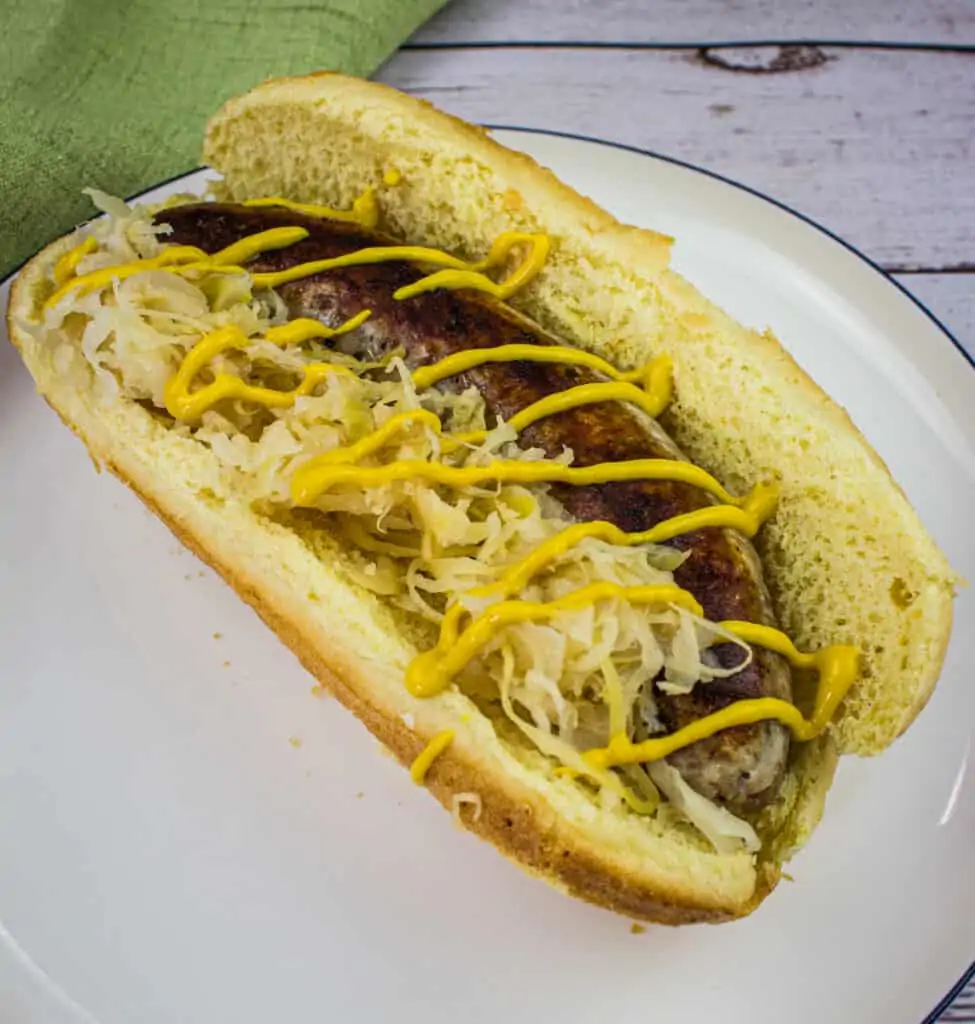 What to Serve With Sous Vide Sausage
Cooking low and slow like this gives you plenty of time to come up with some amazing side dishes! I love sous vide bratwurst on a bun with sauerkraut, or jazz up your favorite sausage with tasty sides like: Corn Fritters, Pasta with Ricotta and Tomatoes, or Au Gratin Potato Stacks. Sous vide sausage with beer are just fine all on their own, too!
How to Store Sous Vide Sausage
Sausage cooked sous vide will keep in the fridge for 4-5 days. Alternatively, you can freeze the sausage. Wrap it tightly in plastic wrap and then foil, or an air-tight container and freeze for up to a month or two.
Warm them in a low oven or microwave them on half power. Don't blast them with heat or you'll undo all that amazing sous vide flavor and texture!
Frequently Asked Questions
Can I sous vide frozen sausage?
Yes! You sure can! Simply add the frozen sausage to a bag, in one layer. You'll need to adjust the cooking time – expect them to take closer to 3 hours or more to come to temperature.
Can I sous vide chicken sausage?
Yes! You can sous vide any kind of sausage so start buying all those fancy flavored sausage and get experimenting to find all your favorites!
How long to sous vide sausage?
A lot depends on the temperature of the sausage when it goes into the water, plus the size of your sausage. They can take anywhere from about 45 minutes to sous vide breakfast sausage, or up to 2-3 hours to sous vide pork sausage.
Like This? Also Try:
Step By Step Process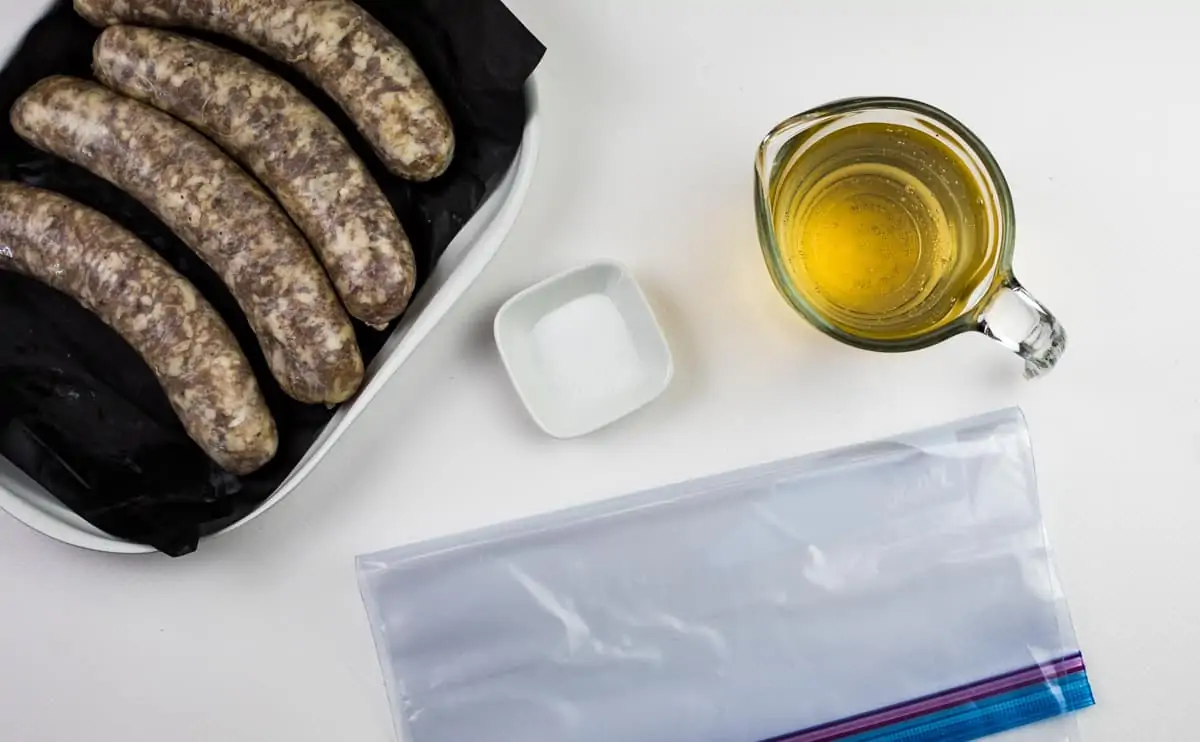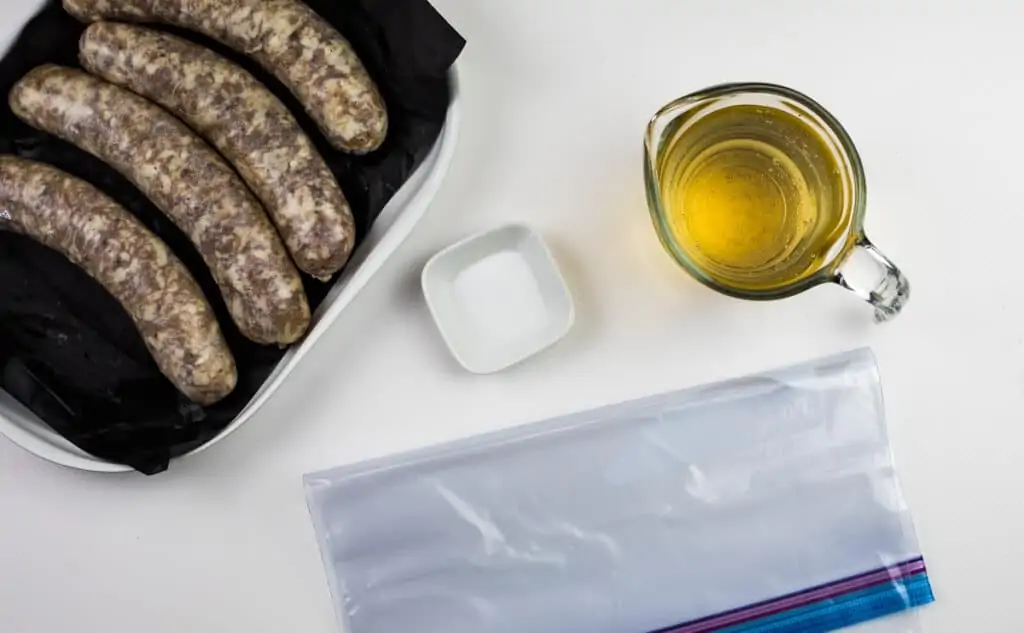 Sous Vide Sausage
Unbelievably juicy and tender, Sous Vide Sausage turn out perfectly every time with no fear of over cooking them!
Ingredients
1

pound

sausage

1/2

cup

beer

1/2

teaspoon

salt

2

tablespoons

oil
Instructions
Place the sausage, beer, and salt into a zipper-top or vacuum sealer bag. Either seal the bag with the vacuum sealer or slowly press the bag down to the bottom of the filled sous vide container, displacing the air, and quickly closing the top before the water gets in.

Set the water temperature to either 140 (juicy and soft sausage that are still a bit pink), 150-F (firmer but still very juicy and slightly pink sausage), or 160-F (firmest sausage but still plenty juicy).

Cook in the sous vide water bath for up to 4 hours.

Remove the sausage from the bag and discard the liquid. Heat the oil in a large skillet over medium-high heat and sear the sausage on both sides until browned.
Nutrition
Serving:
1
sausage
|
Calories:
407
kcal
|
Protein:
17
g
|
Fat:
37
g
|
Saturated Fat:
10
g
|
Polyunsaturated Fat:
6
g
|
Monounsaturated Fat:
18
g
|
Trans Fat:
1
g
|
Cholesterol:
82
mg
|
Sodium:
721
mg
|
Potassium:
281
mg
|
Vitamin A:
85
IU
|
Vitamin C:
1
mg
|
Calcium:
10
mg
|
Iron:
1
mg
A Note on Nutritional Information
Nutritional information for this recipe is provided as a courtesy and is calculated based on available online ingredient information. It is only an approximate value. The accuracy of the nutritional information for any recipe on this site cannot be guaranteed.
Want Even More Easy Recipes to Love?
By