Caramelized onions are soft, tender, buttery onions that really don't taste like onions at all! They're the basis for French onion soup, and they make great garnishes and toppings for toast, appetizers, charcuterie plates and cheese boards. If you've ever wondered how to make caramelized onions, then this is the page for you!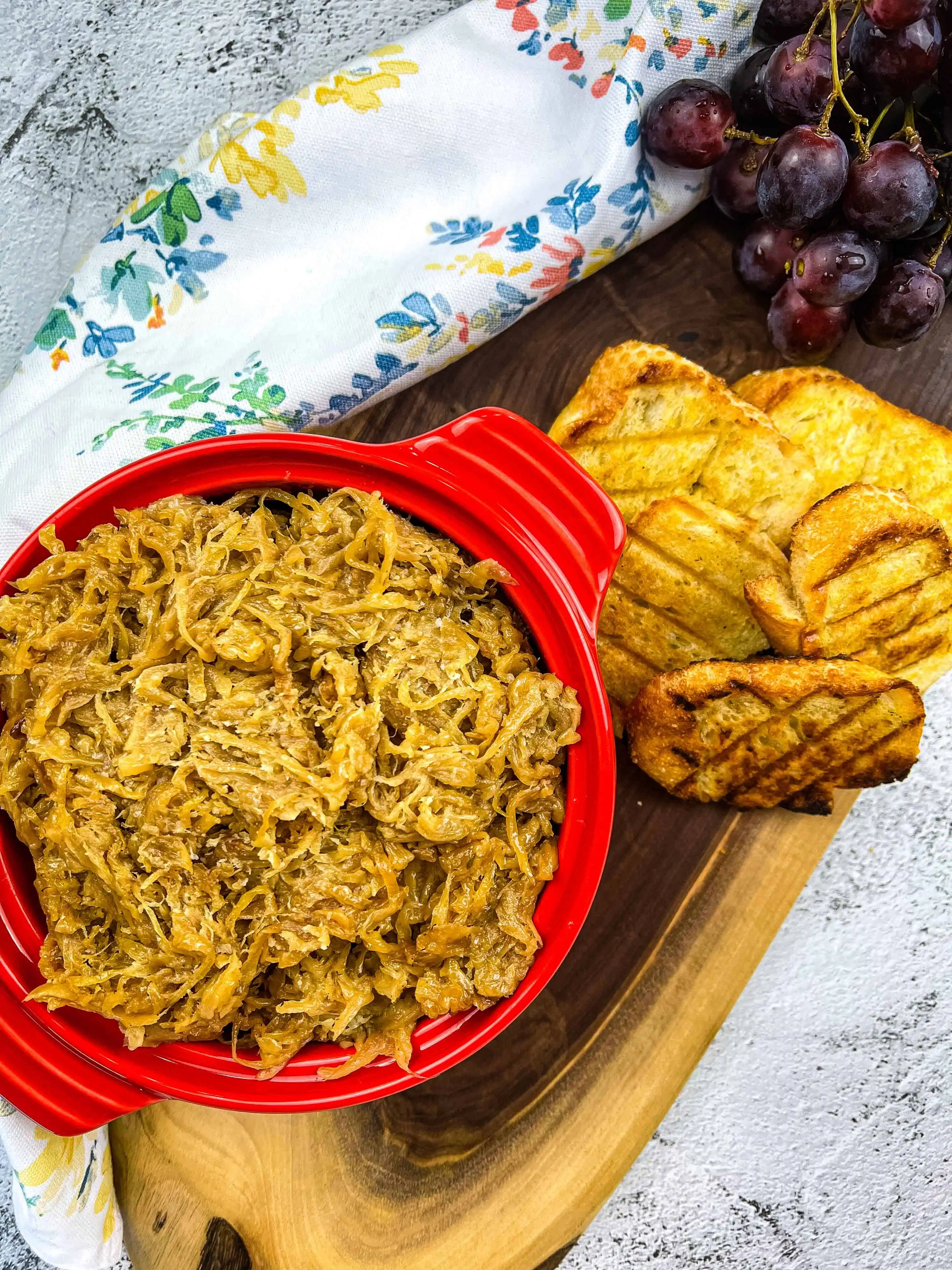 This post may contain affiliate link(s). As an Amazon Associate, I earn from qualifying purchases. See Disclosure.
There's nothing quite like properly caramelized onions. Melt-in-your-mouth delicious with an unmistakable buttery flavor, caramelized onions are just about perfect. They're soft and syrupy, spreadable and spoonable. But, they're not a quick fix, and you really can't rush them.
Fried onions, raw onions, baked onions, creamed onions, deep fat fried onions – onions are such a versatile vegetable. But of all the ways you can cook them, none are better than Caramelized Onions.
What you'll love About This Recipe
---
Caramelized onions are naturally sweet.
Easy to make!
They're so versatile and can be used in dozens of ways.
What Are Caramelized Onions?
Caramelized onions are onions that have been slowly cooked in butter to bring out all their sweet flavor. When cooked low and slow and in a rich fat like butter, the natural sweetness comes out and the sugars caramelize – or brown – to create a depth of flavor that's unlike any other onion flavor.
What You'll Need
Making caramelized onions isn't something you can rush, so make sure you have plenty of time.
You'll also need a heavy-bottomed skillet, like a good cast-iron pan.
Also, you'll need:
Onions – Lots and lots of sliced onions.
Butter – Salted butter.
Herbs – Fresh thyme is lovely with caramelized onions, or a pinch of dried thyme, marjoram, or even bay leaves.
Salt and pepper – To taste.
Recommended
What Kind of Onions For Caramelized Onions?
Some people will say only use this or that kind of onion, but take it from this chef – any kind of onion will caramelize. In fact, I use plain old yellow cooking onions. Not only are they more affordable, but they have a more assertive onion flavor that mellows and deepens when you caramelize them, giving them a great flavor.
You can also use:
Sweet onions – Vidalia, Texas sweet, and even red onions can be caramelized.
White onions – Lower in sugar content, these will be the hardest to caramelize.
Yellow cooking onions – My personal favorites.
Shallots – Not technically an onion but close, these also work great but you need to start with a lot of shallots.
Homegrown onions make the best caramelized onions, and they're so easy to grow if you have a bit of dirt. Here's how to start onion seeds indoors – happy growing!
How To Make Caramelized Onions
For a complete list of ingredients and instructions, please scroll down to the recipe at the end of this page.
Melt the butter over low heat in a large skillet. The heavier the skillet the better – cast-iron works great for caramelizing onions.
Add the onions and start cooking them down slowly, adding a tablespoon of butter at a time if the onions start sticking to the pan.
Add the herbs about halfway through the cooking time.
Season with salt and pepper, and dig in!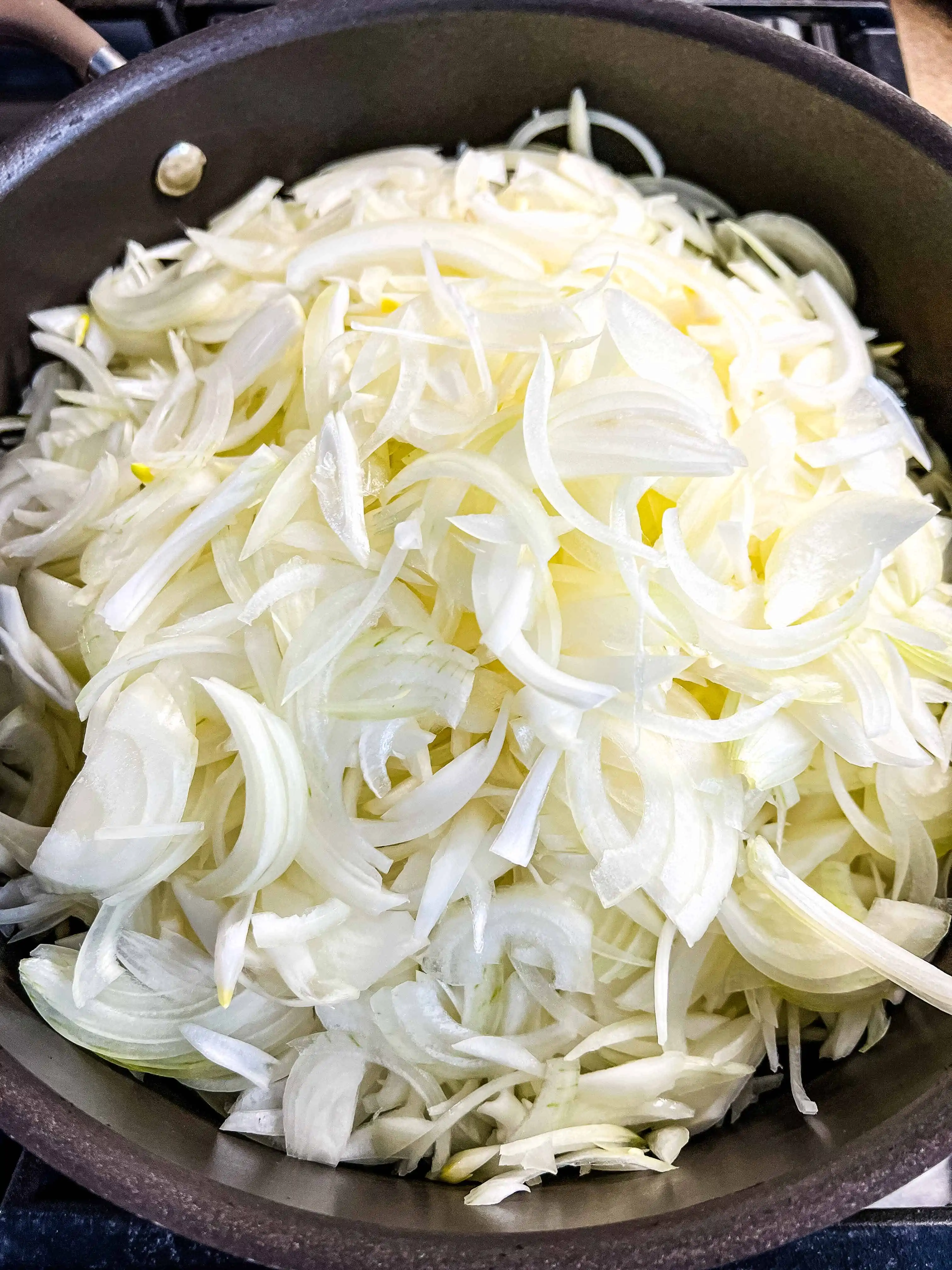 What To Do With Caramelized Onions
Caramelized onions can be the building blocks of recipes or served as a topping or garnish. Here are some of my favorite ways to use caramelized onions.
French onion soup – Caramelized onions create the unmistakable flavor in French onion soup. Also try this keto version.
Burgers – Caramelized onions on burgers will take your favorite hand-held to new levels!
Sandwiches and paninis – Adding these onions to any sandwich will turn it into a gourmet masterpiece.
Steaks – Onions and steaks are a perfect match.
Pizzas – Jazz up your pizza routine with these sweet jammy onions on your favorite pizza.
Canapes – Add a tiny bit of creamy onions to toasts, crostinis, and canapes.
Cheese plates – Nothing goes better with strong, crumbly cheeses than sweet caramelized onions!
Charcuterie – Add a small bowlful of caramelized onions to your next charcuterie board and wow everyone.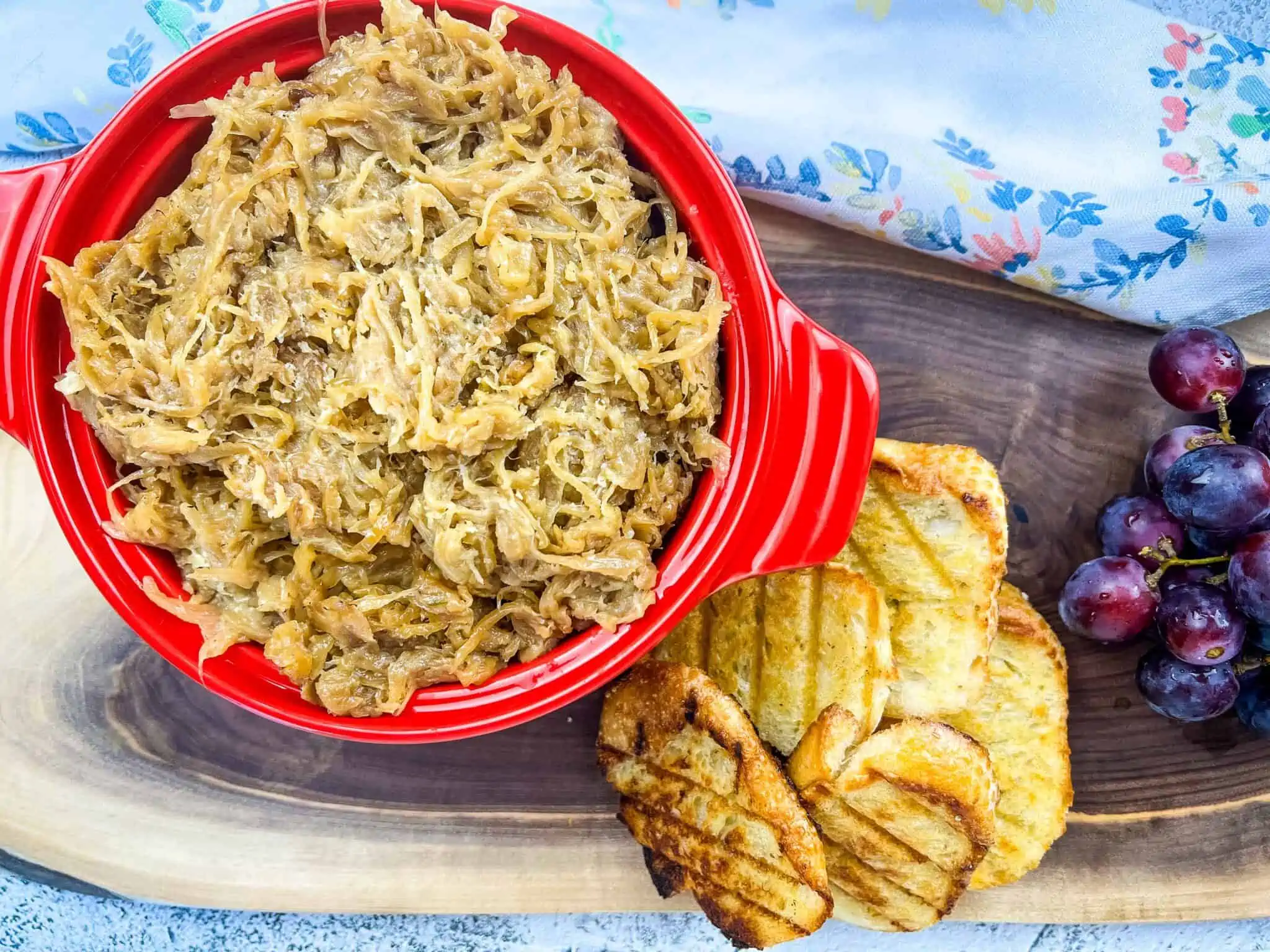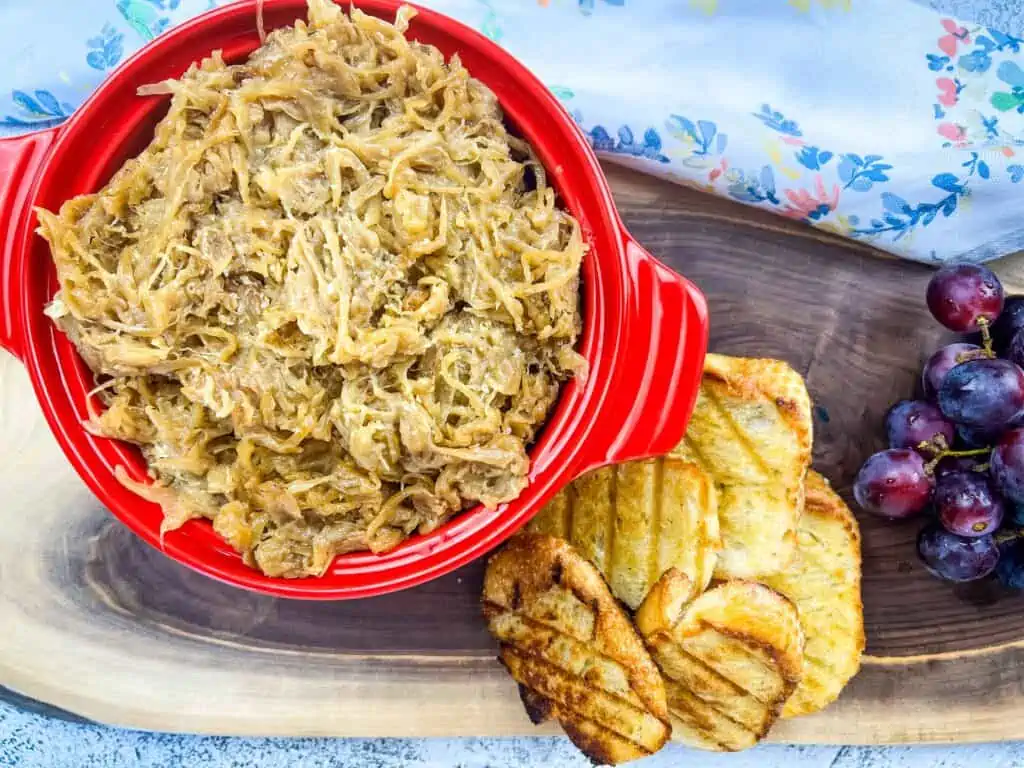 Frequently Asked Questions
How to caramelize onions fast?
You can't. Caramelized onions take time and they must be cooked low and slow to gently release the sugars in them. Anything faster would be fried onions or griddled onions.
Do you add sugar to caramelized onions?
No! If they're cooked properly, the onions will release all their natural sugar creating sweet, melt-in-your-mouth caramelized onions. Adding sugar is not necessary.
Can you freeze caramelized onions?
Yes, caramelized onions can be frozen! I make a bit batch then freeze them in an airtight freezer bag and then just cut off and thaw as much as I need. They'll keep in your freezer for up to 3 months. To keep them for longer, use a vacuum sealer.
Caramelized Onions
Sweet, soft, and delicious Caramelized Onions can be used in so many ways! Easy to make; start a batch today!
Ingredients
2

pounds

onions

thinly sliced

1/4

cup

salted butter

1/4

teaspoon

dried thyme

salt and pepper to taste
Instructions
Melt the butter in a heavy-bottomed skillet over low heat, then add the onions.

Cook the onions over low heat, stirring every 5 minutes or so.

Once the onions have reduced in volume by about half, add the dried thyme.

Continue cooking the onions until they turn deep, honey-brown and have a jam-like consistency.

Season with salt and pepper and enjoy!
Notes
You'll start with a mountain of onions but they'll cook down quickly.
Use your favorite onions (yellow, Texas sweet, Vidalia, and red onions all work well)
Do NOT add sugar!
Nutrition
Serving:
2
tablespoons
|
Calories:
96
kcal
|
Carbohydrates:
11
g
|
Protein:
1
g
|
Fat:
6
g
|
Saturated Fat:
4
g
|
Polyunsaturated Fat:
1
g
|
Monounsaturated Fat:
2
g
|
Trans Fat:
1
g
|
Cholesterol:
15
mg
|
Sodium:
50
mg
|
Potassium:
168
mg
|
Fiber:
2
g
|
Sugar:
5
g
|
Vitamin A:
181
IU
|
Vitamin C:
8
mg
|
Calcium:
28
mg
|
Iron:
1
mg
A Note on Nutritional Information
Nutritional information for this recipe is provided as a courtesy and is calculated based on available online ingredient information. It is only an approximate value. The accuracy of the nutritional information for any recipe on this site cannot be guaranteed.
WANT MORE DELICIOUS AND EASY RECIPES?
By