Steaks – plump, juicy, beefy, fatty, and delicious. Whether they're grilled, broiled, smoked, or reverse-seared, they're so good. The only question is, what to serve with your steak dinner? You've got the steak, now round out your meal with something fabulous! Here are 50+ side dishes to pair with your steak.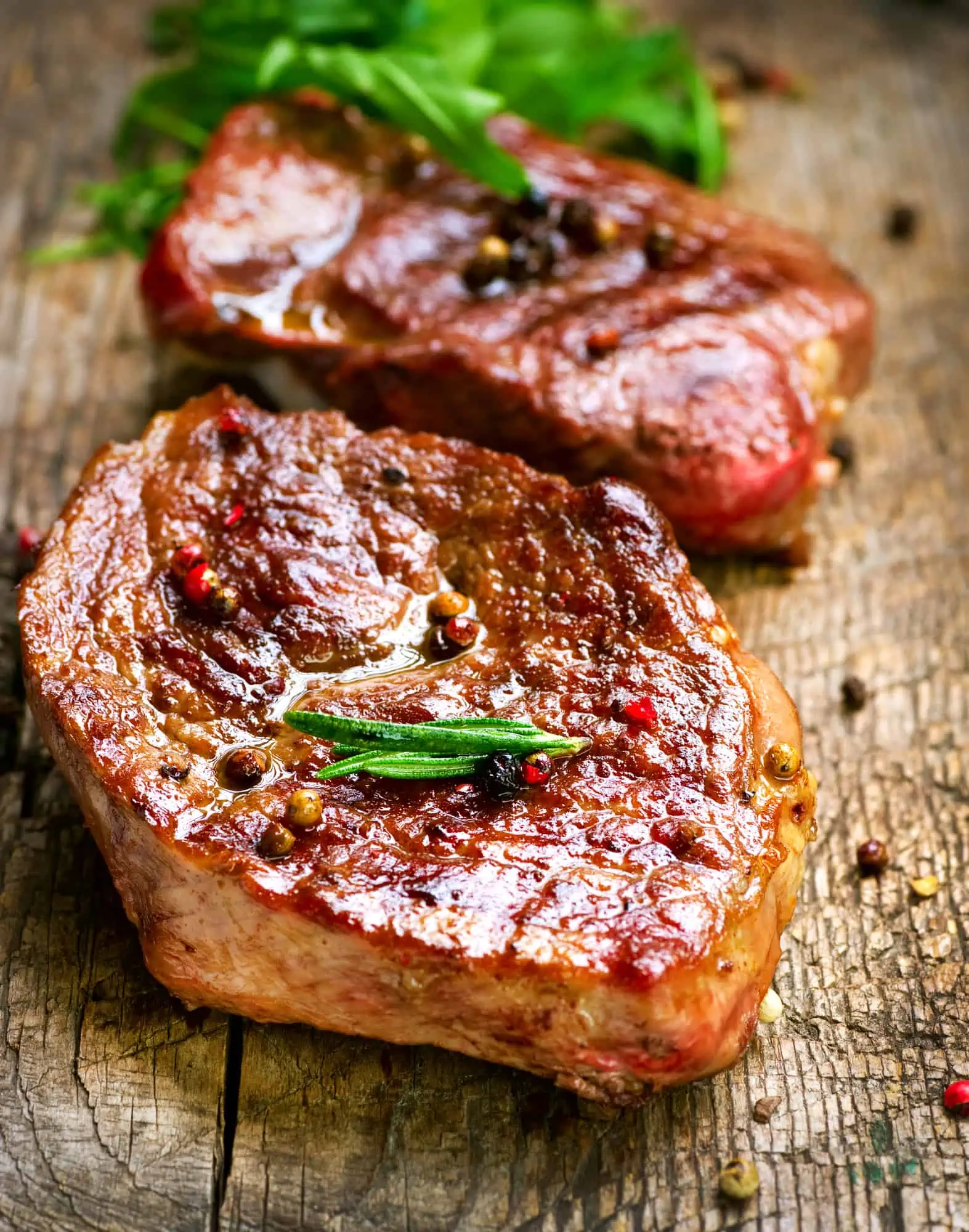 There's a bit of an art to pairing sides with entrees – you don't want flavors that are going to compete with each other, and you want to make sure that the textures and colors are also complementary. For example, you don't want to serve a saucy side dish with a saucy entree.
But with steak, you've got much more freedom. Steaks are generally grilled, broiled, pan-seared, and sometimes even smoked or cooked in a sous vide, and most of the time, the steak is fairly simply presented with out too much fuss.
This means that you can choose the kinds of sides that you like best, and there are sooo many to pick from!
How To Pick Sides for Steak
I said you've got more freedom when it comes to pairing side dishes with your steak entree, but there are still some things you should consider.
Is your meal fancy or casual? A fancy meal of expensive filet mignon will pair better with delicate sides like asparagus or beans. Casual steak meals can be as delish with mac and cheese as a fully-loaded baked potato.
How much work do you want to do? Making steak can be tricky enough, so consider how much work you want to do in the kitchen. Simple sides for steaks, or those which can be prepared in advance may be easier than a la minute (last minute) side dishes or complicated ones.
Do you want leftovers? Most sides will reheat fairly well, but you're far more likely to have leftovers if your sides are more casserole-like.
What kind of sides? Fancy steakhouses often serve just the steak with the sides an optional (and extra) expense. But traditional steak dinners are typically accompanied by a starch (like potatoes) and a vegetable. Do you want 2 vegetables? 1 starch and 1 veg? Or just the starchy side?
Starchy Steak Side Dish Options
Potatoes, corn, and pasta are all considered starch side dishes. And there are so many to choose from! Think about how hearty you want your meal to be, because the starch side dishes are where most of your meal filler is going to come from.
Vegetable Side Dishes for Steaks
From salads to sautes, there are so many different vegetable side dish choices. Go with what's seasonal or splurge a little on exotic veggies to make a show-stopping side dish.
How to Choose the Best Side Dish for Steak?
There are a LOT of recipes below, in fact, there are more than 50 easy side dishes for your steak dinner, and you've got to pick what a) looks good to you and b) what you can handle. If you're a novice cook, don't go for the most complicated sides, and if you won't have much time, stick to something simpler.
Happy eating, and pass the steak sauce, please! (Check out the Bourbon BBQ Sauce recipe at the end of the list for an amazing sauce that goes great with grilled steaks!)
50+ Easy Side Dishes For Steak Dinners
Chipotle Bourbon BBQ Sauce
Thick, rich, and with the perfect blend of sweet and spicy, slather this Chipotle Bourbon BBQ Sauce on everything from pork and ribs to chicken and salmon!
Ingredients
1/2

cup

bourbon

1/2

cup

onion

diced

1

tablespoon

garlic

minced

1/4

cup

water

`

1

cup

tomato sauce

4

tablespoons

dark brown sugar

2

tablespoons

Worcestershire sauce

1

teaspoon

paprika

1/2

teaspoon

chipotle powder

1

pinch

salt

1

pinch

freshly ground pepper
Instructions
Add the bourbon and the diced onion to a small pot and set it on medium-high on the stove. Simmer the onion and bourbon for about 5 minutes or until it has reduced by about half.

Add the remaining ingredients to the pot, mix well, and simmer for another 5 minutes to blend all the flavors.

Blend the mixture in your blender or with an immersion blender. If using a blender, cover the top of the blender with a kitchen towel to protect you in case the hot sauce sprays out.

Return the sauce to the pot and simmer it on low for another 5 minutes, then cool and use with your favorite pork recipes!
Notes
Chef Jenn's Tips
Fresh spices make the world of difference. Chipotle powder and paprika both lose strength the older they are.
There's dark brown sugar and light brown sugar. You can use either, but dark brown sugar has more molasses in it which gives the pork BBQ sauce a richer flavor.
Bourbon gives this sauce a nice sweet flavor, but you could also use dark rum.
Nutrition
Serving:

2

tbsp

|

Calories:

77

kcal

|

Carbohydrates:

11

g

|

Protein:

1

g

|

Fat:

1

g

|

Saturated Fat:

1

g

|

Polyunsaturated Fat:

1

g

|

Monounsaturated Fat:

1

g

|

Sodium:

213

mg

|

Potassium:

185

mg

|

Fiber:

1

g

|

Sugar:

10

g

|

Vitamin A:

193

IU

|

Vitamin C:

5

mg

|

Calcium:

20

mg

|

Iron:

1

mg

A Note on Nutritional Information

Nutritional information for this recipe is provided as a courtesy and is calculated based on available online ingredient information. It is only an approximate value. The accuracy of the nutritional information for any recipe on this site cannot be guaranteed.

By