If you love entertaining but are tired of the same old routine, throw a different kind of dinner party! I'll show you how to have a raclette party that'll be the talk of the town and the envy of all your friends!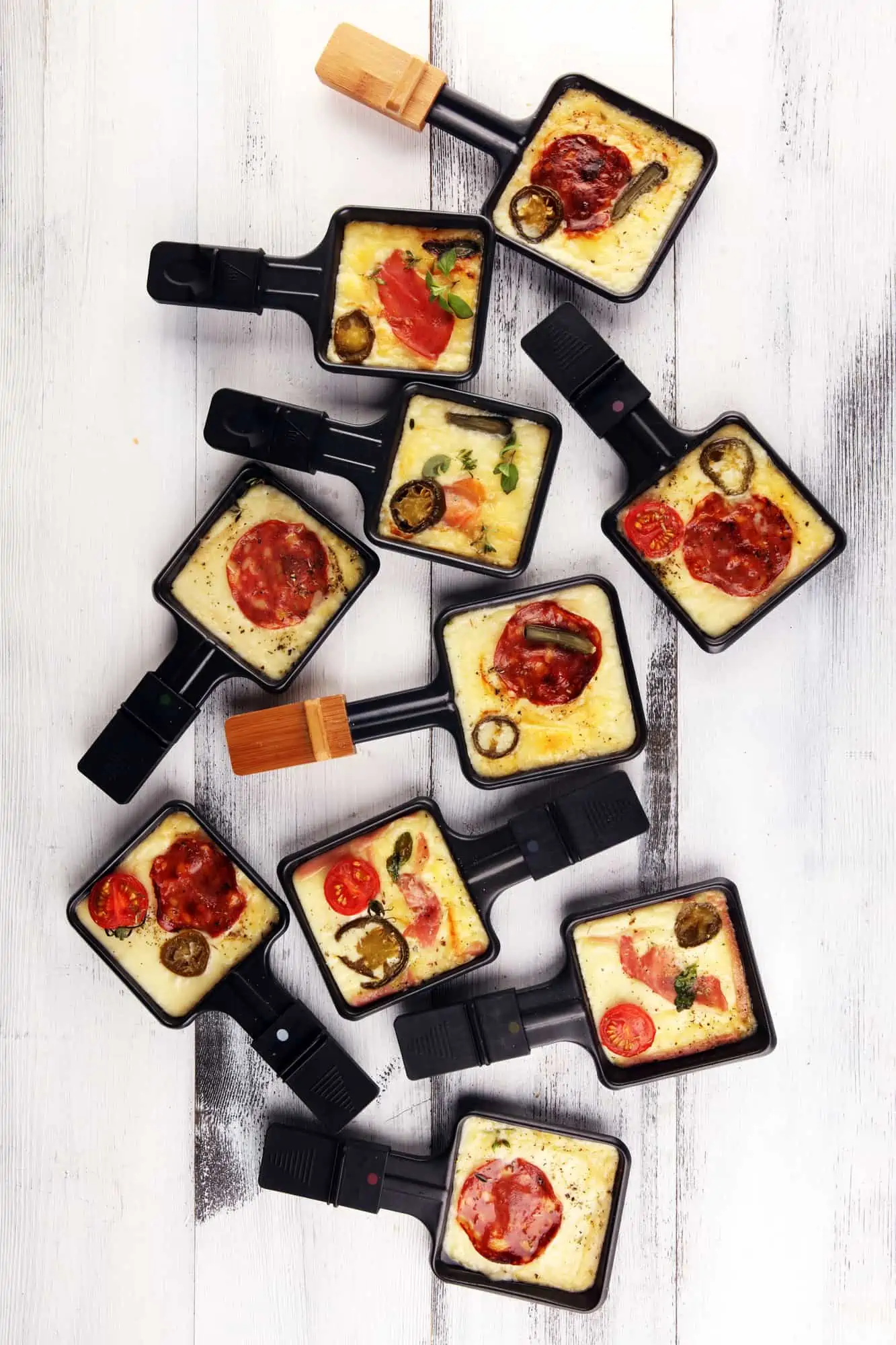 This post may contain affiliate link(s). As an Amazon Associate, I earn from qualifying purchases. See Disclosure.
Raclette is a cheese from Switzerland known for its mild flavor and easy melting. Traditionally it is melted under a hot element until it is gooey and thick, and then it is drizzled on top of potatoes and other sinfully delicious fare.
But when you're talking about a raclette grill, you're talking about the specialized table-top grill that allows you to melt portions of this delicious cheese and then smother it on top of tasty bite-sized foods that you can grill or eat as-is.
Think of a raclette like fondue's older, bigger, and better-looking brother. Not only can you melt cheese with a raclette grill, but you can grill or griddle tasty eats right in front of you.
To have a raclette party, you need a raclette grill.
What Is A Raclette Grill?
A raclette grill/griddle is a specialized (and affordable) electric appliance that lets you melt portions of cheese while cooking or heating tasty tidbits of meats, veggies, and more. Then, you smother the meat, veggies, fruits, or whatever you choose with the cheese, add some toppings, and enjoy!
Swiss raclette grills come in various styles and can accommodate up to about 8 people. It's an electric table-top appliance that you set in the middle of the table (or on the counter) and arrange around it various meats, cheeses, fruits, breads, crackers, sauces, and more.
Then your guests can mix and match to create mouth-watering bites, and each one can be different every time!
A raclette grill usually comes with:
Raclette trays – Individual-sized trays where you melt your cheese. Grills can come with 2, 4, or 8 trays.
Grill / griddle top – With a reversible cooking surface, you can decide if you want your guests to griddle or grill. The griddle is flat and smooth, while the grill has a grooved surface to help with lovely grill lines.
Electric elements – With an adjustable electric element heating the grill, you can turn the heat up or down.
Raclette grills sometimes come with:
Grilling stone – This is a heavy natural stone grill that can be used in place of the metal removable grill/griddle plate. You heat the stone in the oven first, then the elements keep it hot while your guests can cook on it.
Tongs – Some deluxe raclette grills come with small tongs that are perfect for moving and cooking bites of food.
Spatulas – Small spatulas that fit inside the raclette trays.
What Accessories Do You Need For A Raclette Party?
If you're going all-out and want the perfect racelette dinner party, then there are a few other things that'll come in useful:
Raclette plates – Similar to fondue plates, raclette plates have divided sections to help you keep your food separate. These are perfect if you have both raw and cooked ingredients.
Serving dishes – Cute serving dishes with sections are perfect for the small bites of tasty things to grill and smother with cheese.
Charcuterie board – A charcuterie board is the perfect way to display all the meats, cheeses, and other tasty bites for your guests to choose from.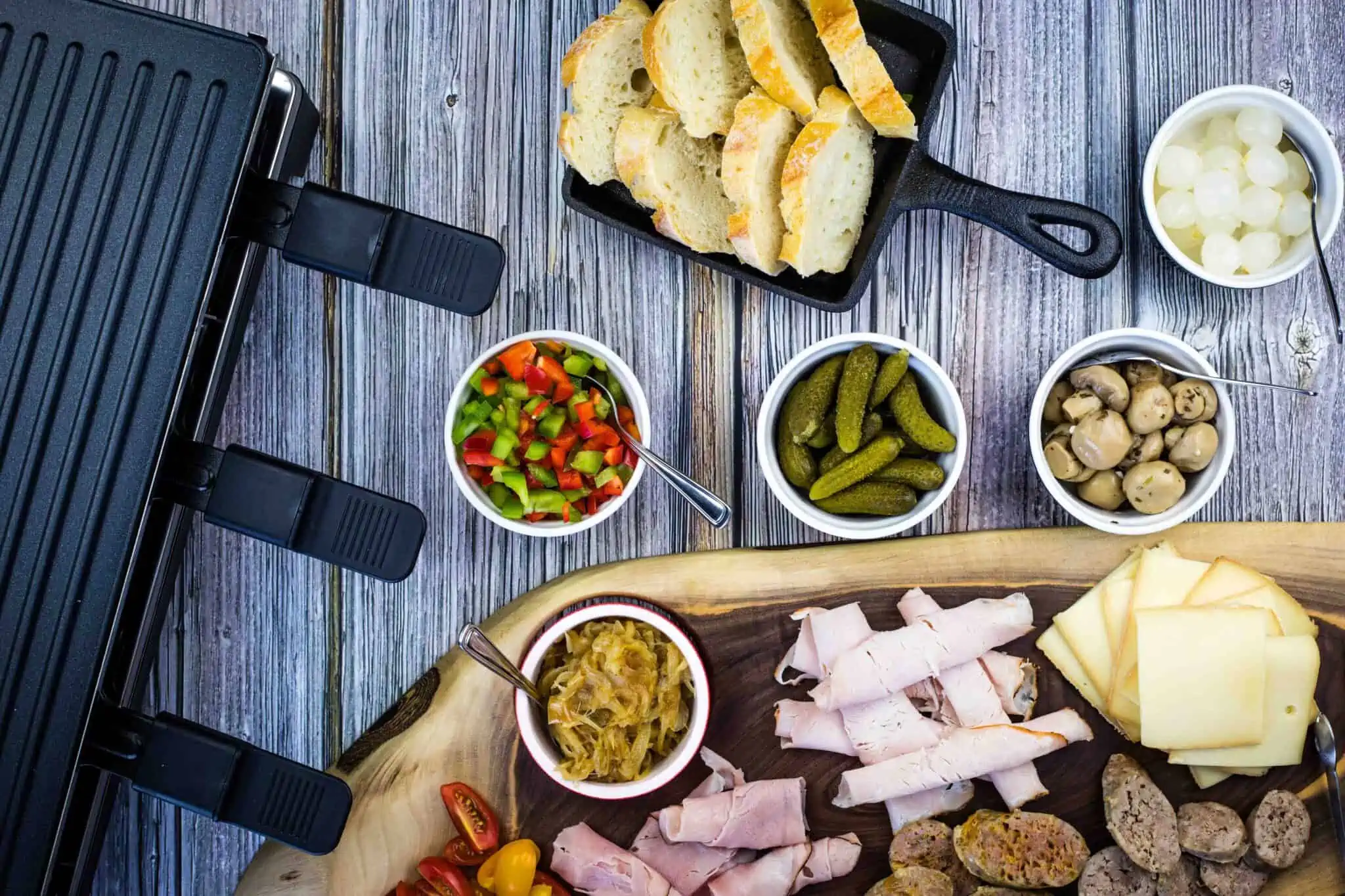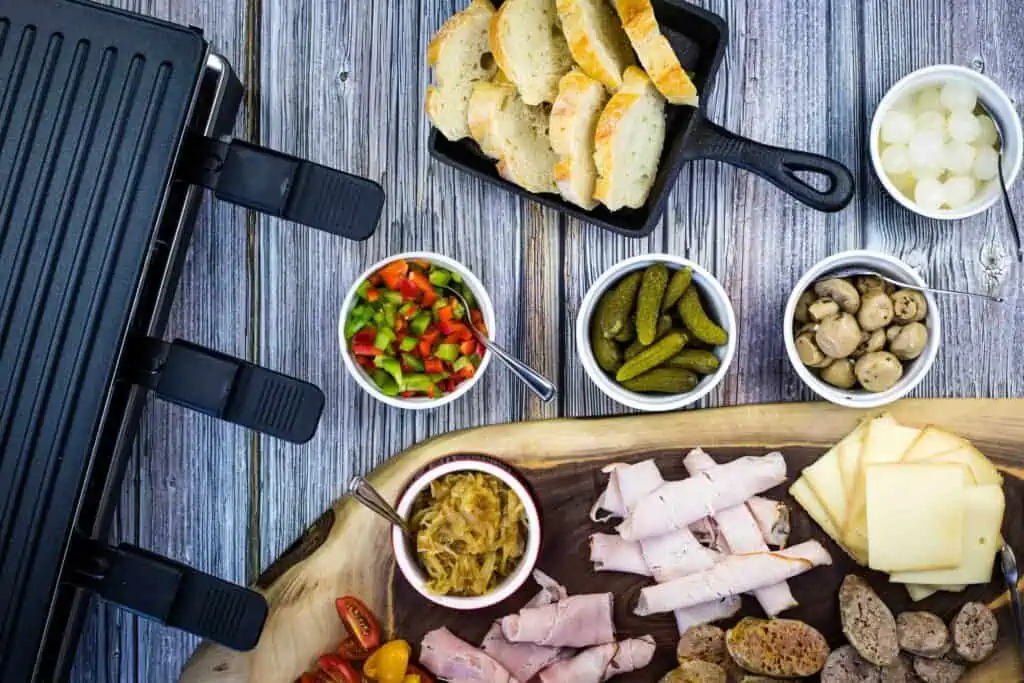 Raclette Ingredients
So you've got your raclette grill and your guest list. Next, you need to figure out what tasty raclette ingredients you're going to put out! They fall into a few categories:
Meats – Sliced deli meats, sausage, thinly-sliced cooked chicken or beef, sliced meatballs, diced ham, smoked salmon, shrimp, and more are all delicious picks.
Vegetables – Blanch the veggies ahead of time or slice vegetables very thinly to cook quickly on the grill. Mushrooms, onions, peppers, carrots, celery, radish, green beans, spinach, broccoli or cauliflower florets, steamed potatoes, caramelized onions, and all your favorite vegetables are perfect for raclette grilling.
Fruits – Pineapple, tart apples, grapes, plums, nectarines, and melon are my favorites.
Breads – Sliced baguette, crackers, pretzels, and cubes of various breads create a stunning display and plenty of variety.
Garnishes – Gherkins and pickled onions are traditional with raclette. They also help cut the richness of the cheese and fatty meats.
Sauces – Unlike fondue, you don't have to go crazy with sauces for your raclette. Mustards, pesto, aioli, horsey sauce (see recipe below), and perhaps a cocktail sauce if you have seafood, are great sauces for raclette.
Cheese – Cheese gets its own section. Scroll down a bit!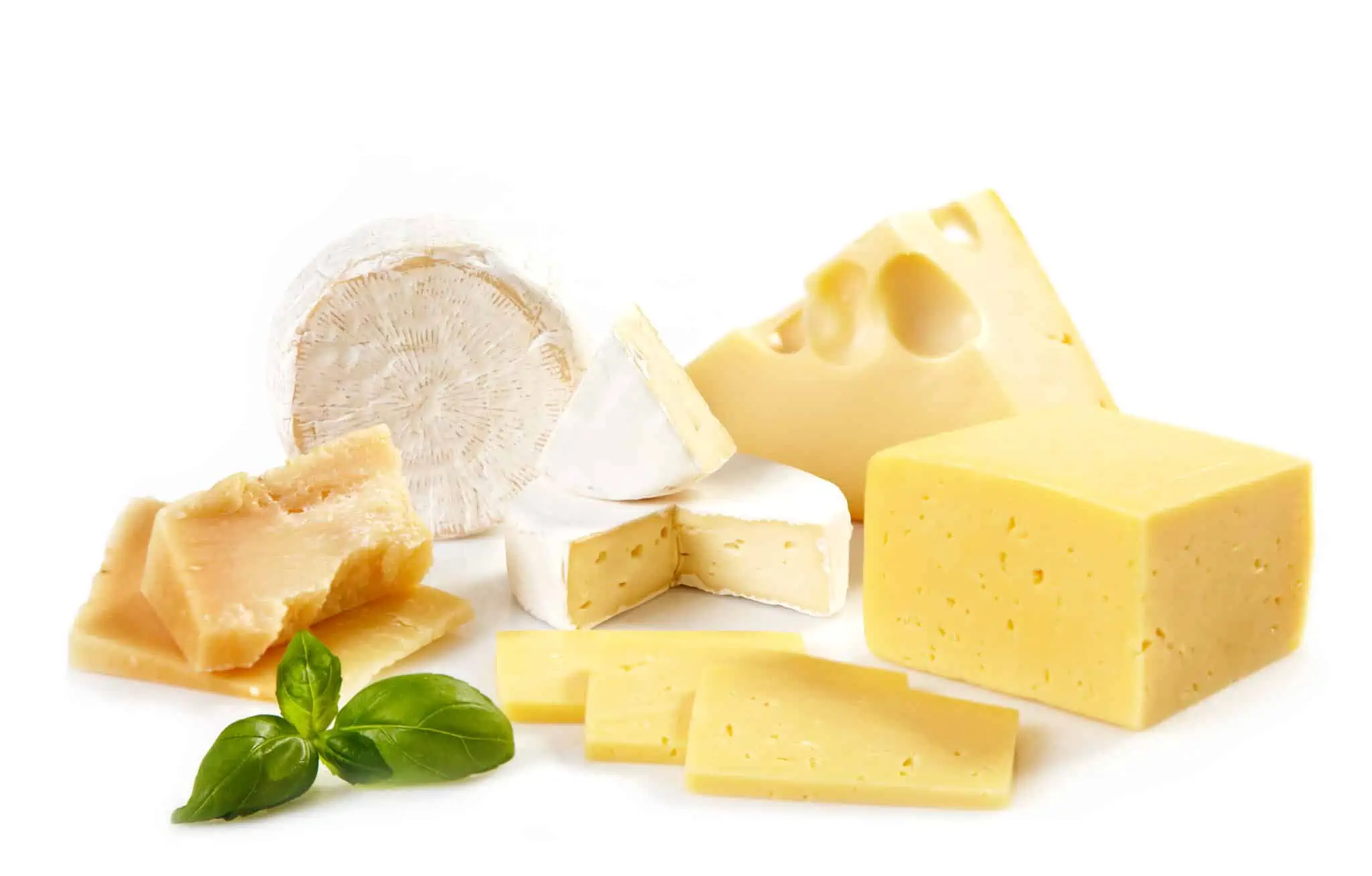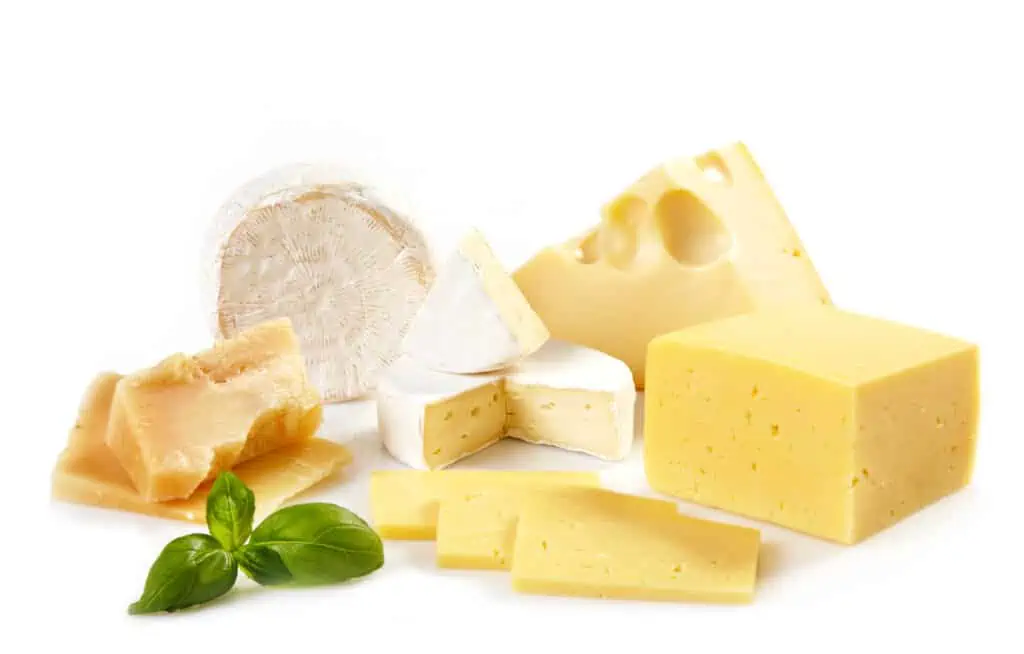 What's The Best Cheese for A Raclette Party?
The best cheese for your raclette party is, of course, raclette cheese! This mild-flavored easy-melting cheese is the traditional pick for raclette parties.
Raclette cheese comes:
Whole – You can buy it whole and slice it or shred it yourself.
Sliced – I like having the cheese counter slice it for me. That way, guests can get what they need easily.
Shredded – Shredded is fine, but it can make a mess, and guests don't often know how much they need.
While raclette cheese is the gold standard for raclette grills, other cheeses work, too. Some of my favorites are:
Gouda – Mild flavored and easy melting.
Mozzarella – Try fresh mozzarella versus the blocks.
Fontina – A classic Italian easy-melting cheese.
Pepper Jack – For a bit of spice!
Any semi-soft cheese will work. Stay away from Parmesan and other hard cheeses as they don't melt as quickly.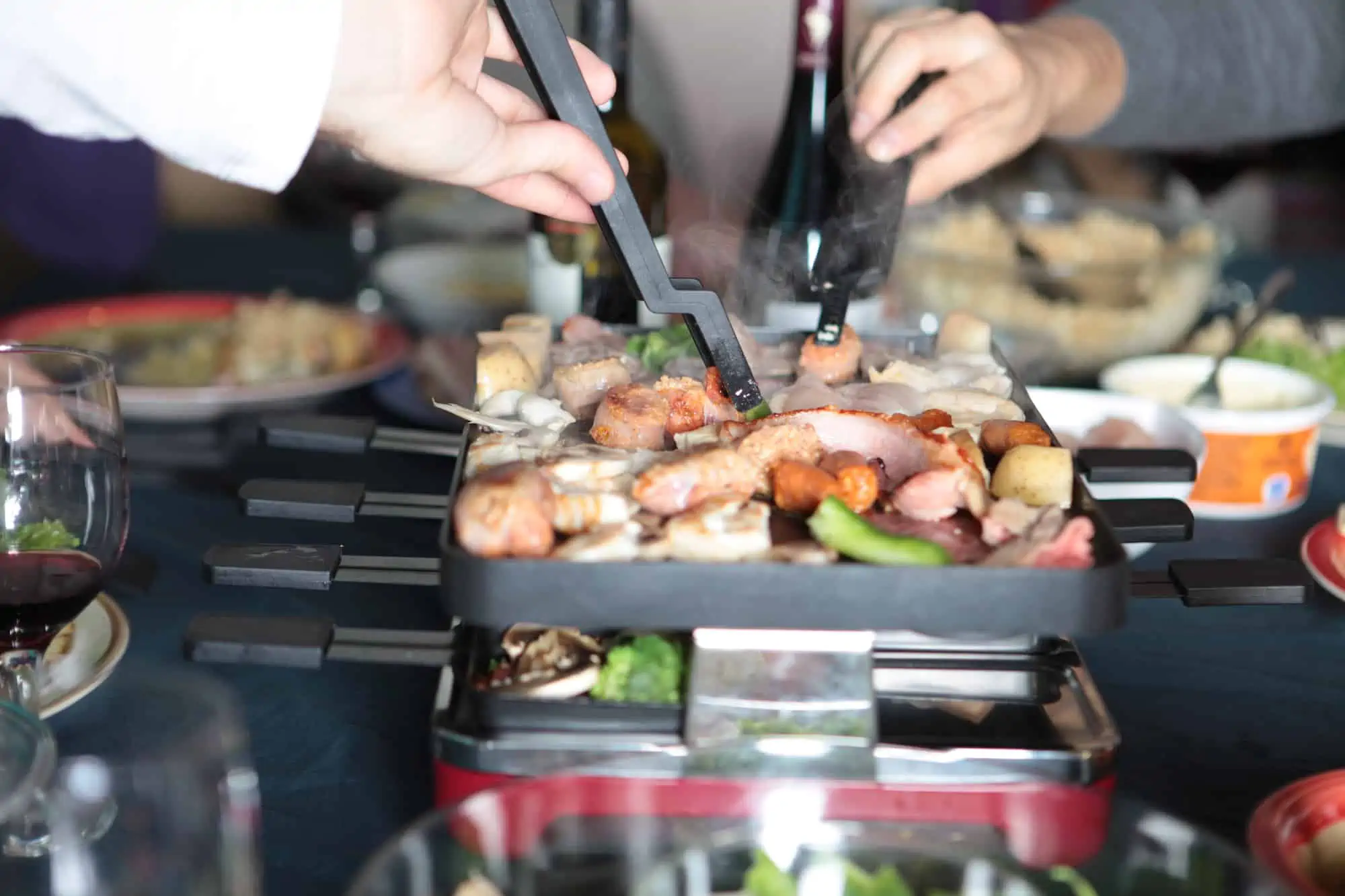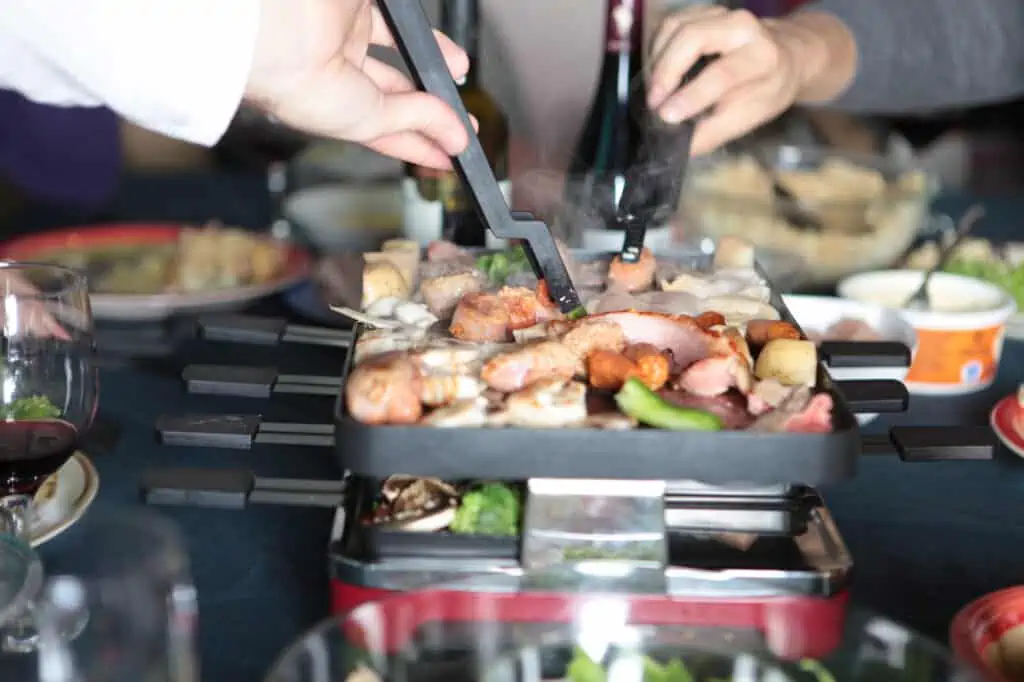 How To Assemble Your Raclette Spread
You need some room for your raclette grill and all the ingredients, so pick a large table or counter that's centrally located so that people can get to it easily.
Place the raclette grill on a sturdy table-top surface and follow the manufacturer's instructions for heating it.
Arrange the serving dishes and charcuterie tray around the raclette grill or nearby so that people can load their plates and assemble their bites.
Have plenty of wine on hand, and that's it! Enjoy your raclette party!
Tips for the Best Raclette Party
Precook sausage, shrimp, and other raw meats, so your guests only need to heat them.
Offer pre-sliced cheeses cut to fit the raclette trays to reduce waste and make melting the cheese easier.
Blanch carrots, cauliflower, broccoli, beans, and other vegetables first, so they're a bit more tender.
Pickles cut the richness of the cheese and meats – gherkins, pickled onions, and other pickles are a must with raclette.
Allow lots of time for guests to get their fill – this is not a quick meal!
Horsey Sauce
Tangy and with a bit of a kick, this Horsey Sauce is the perfect condiment for all grilled meats!
Ingredients
1/4

cup

mayonnaise

1/4

cup

sour cream

2

tablespoons

creamy horseradish

1/4

teaspoon

dried parsley

1

pinch

salt and pepper
Instructions
Mix everything together and serve!
Nutrition
Serving:
2
tbsp
|
Calories:
127
kcal
|
Carbohydrates:
1
g
|
Protein:
1
g
|
Fat:
13
g
|
Saturated Fat:
3
g
|
Polyunsaturated Fat:
6
g
|
Monounsaturated Fat:
3
g
|
Trans Fat:
1
g
|
Cholesterol:
13
mg
|
Sodium:
142
mg
|
Potassium:
42
mg
|
Fiber:
1
g
|
Sugar:
1
g
|
Vitamin A:
99
IU
|
Vitamin C:
2
mg
|
Calcium:
21
mg
|
Iron:
1
mg
A Note on Nutritional Information
Nutritional information for this recipe is provided as a courtesy and is calculated based on available online ingredient information. It is only an approximate value. The accuracy of the nutritional information for any recipe on this site cannot be guaranteed.
WANT MORE DELICIOUS AND EASY RECIPES?
By