Celebrate St. Patrick's Day in style with this colossal St. Patrick's Day Snack Board! Loaded with all sorts of tasty eats, pass some Guinness around, set out this board of tasty eats, and watch everyone devour it!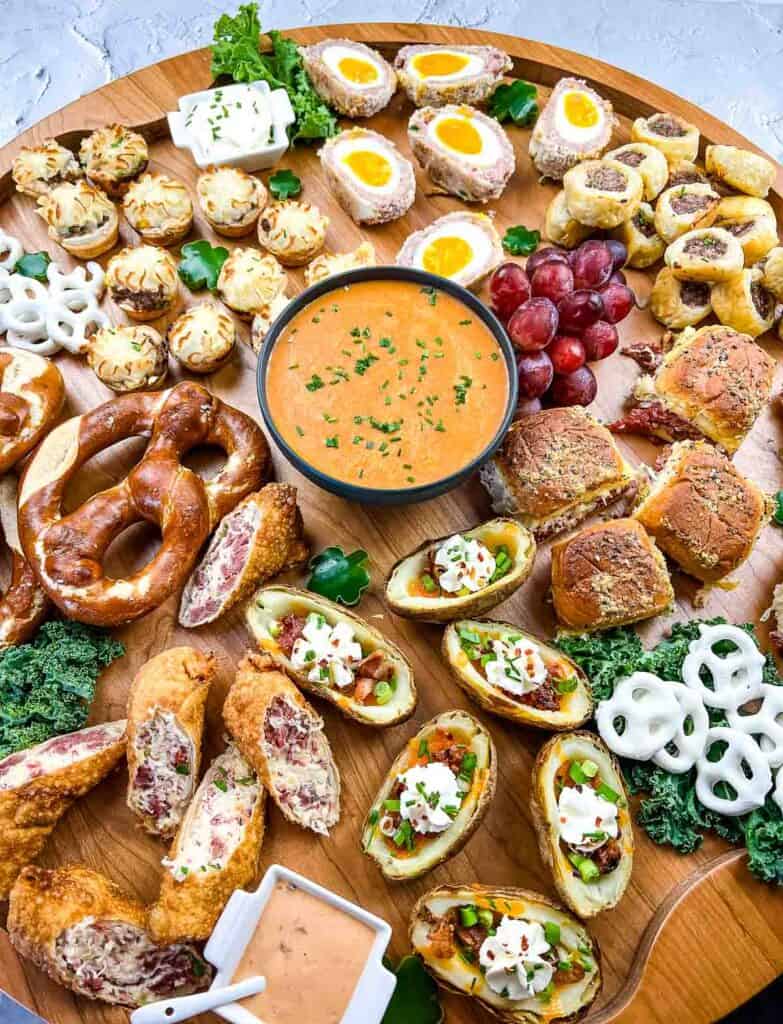 I love charcuterie, snack boards, grazing boards, or whatever you might call them. There's just something so inviting about setting down a selection of tasty eats and nibbling.
What Is A Snack Board?
Snack boards are an evolution of a charcuterie board. They are boards loaded with appetizers and snacks, versus meats and cheeses. They can be a bit more involved, but there's nothing quite as impressive as a loaded snack board.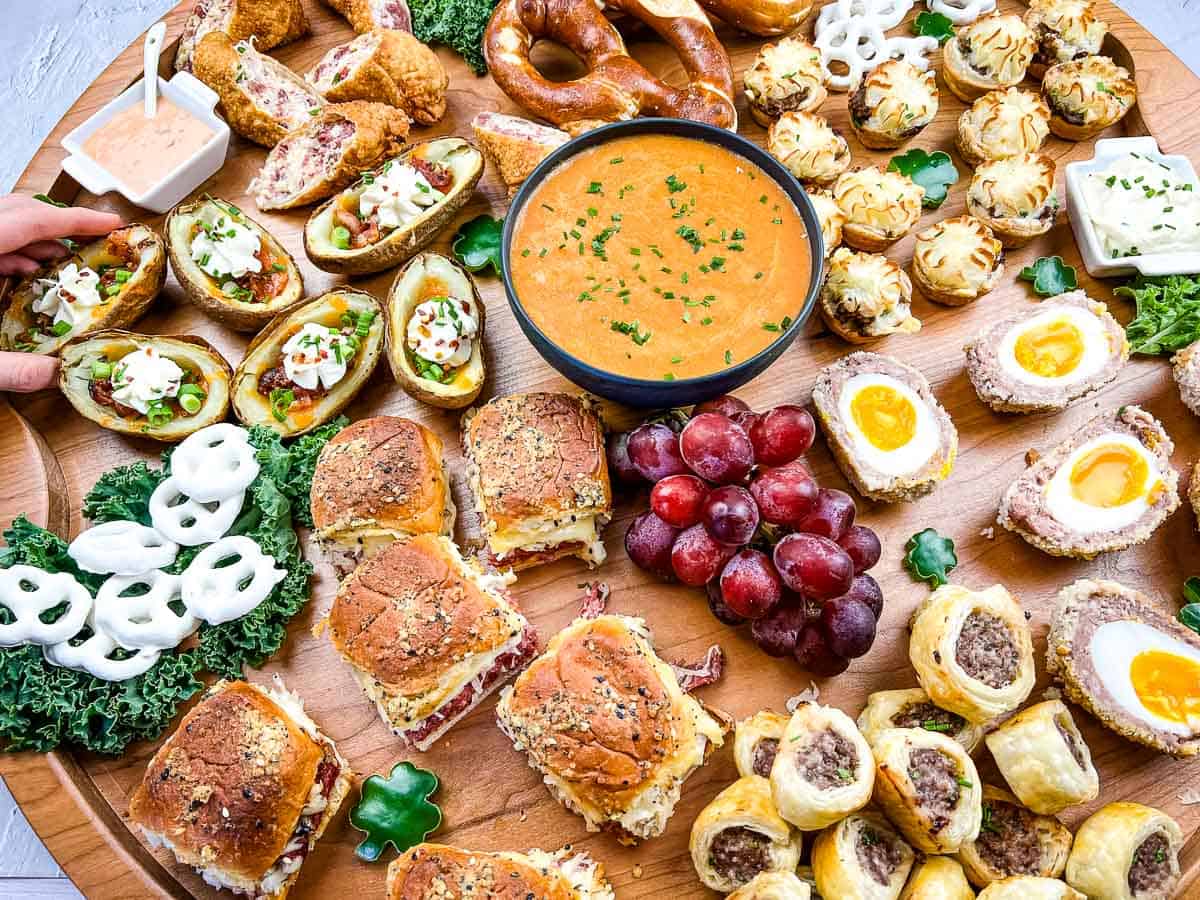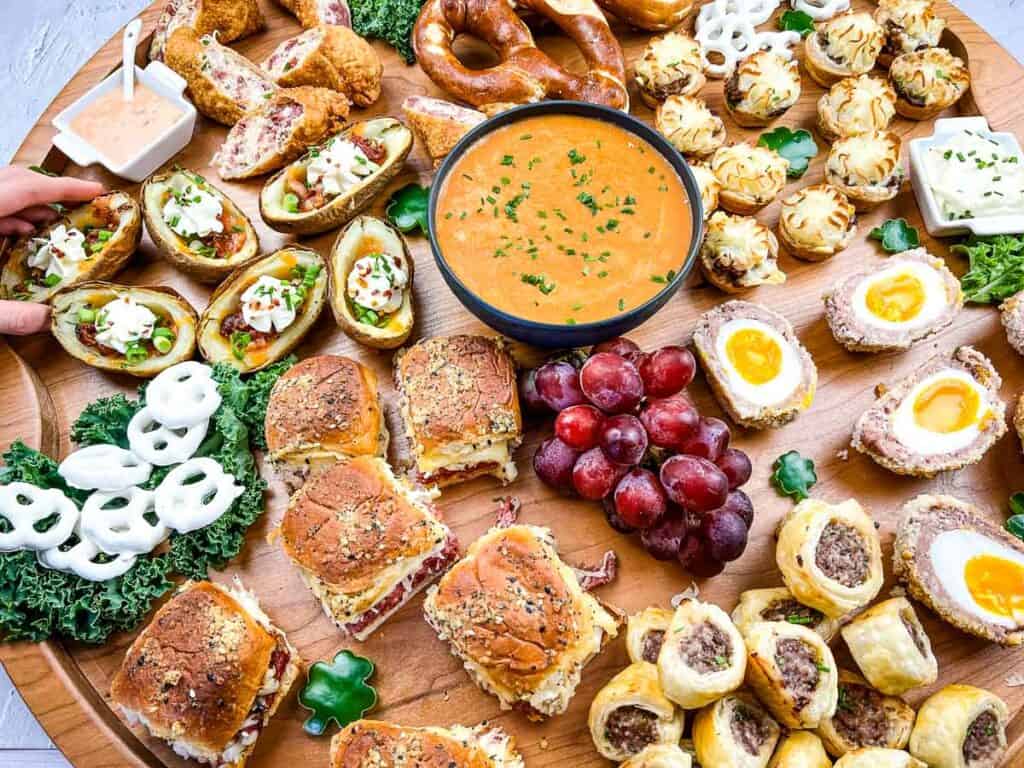 How To Make A Snack Board
Pick your board! My favorites are the handcrafted boards from the board queen, Reluctant Entertainer. The boards are huge, food-safe, and gorgeous. They're a show-stopper for sure! Check out the amazing boards here.
Plan what you'd like to feature on your board. You should include a variety of savory and sweet treats, and make sure that the items you pick don't all require last-minute preparation. The more you can make in advance, the easier it'll be.
Add some store-bought goodies to fill in empty spaces on the board. Pretzels, candies, fruit, chips, crackers, and nuts are all good picks.
Find a good spot to park your board. These are portable, yes, but having a stationary spot for the board makes it a focal point of the party or gathering and people can mingle around it.
Have plenty of napkins and small snack plates nearby.
What To Put On A St. Patrick's Day Snack Board
Here's where the fun really starts! There are so many things you could include on your Irish-themed snack board. Some of my favorites include: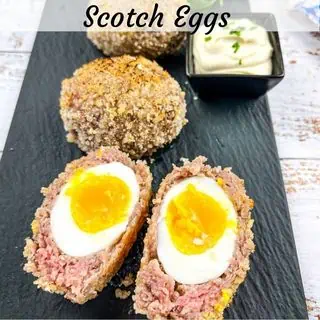 Scotch Eggs are a classic that never miss! These Baked Scotch Eggs are super-easy and can be prepped ahead of time.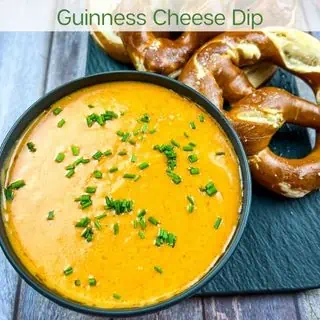 Guinness Beer Dip is the hit of the party! It's thick, creamy, and delish. Have plenty of dippers on hand for this tasty Irish-inspired dip.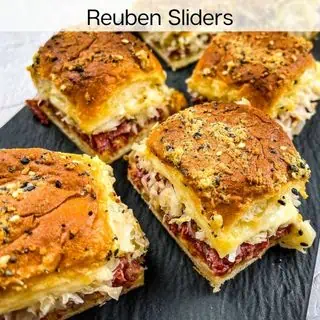 Loaded with tender corned beef and plenty of other goodies, these Reuben Sliders are hearty and delish!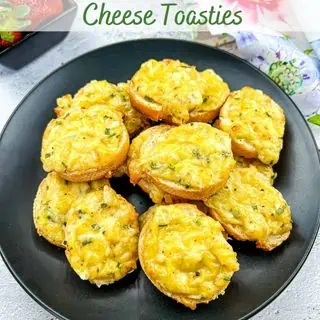 Made the way my Irish grandmother made them, these Cheese Toasties have a bit of egg in the cheese topping that makes them extra creamy and delish!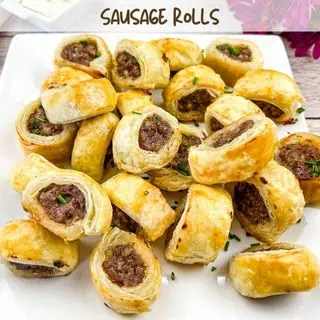 It's hard to decide if the flaky pastry or savory sausage filling is better in these easy-peasy and totally make-aheadable Sausage Rolls!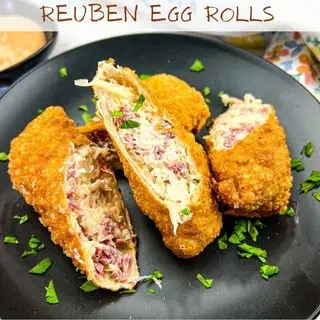 Crispy on the outside and creamy inside, these Reuben Egg Rolls are loaded with corned beef, cheese, sauerkraut, and more!
Fill Up The Empty Spots
One of the most attractive features of a snack board is the abundance of food on there. Empty spots will give the impression that there's not much food on the board, so fill in those spaces! Here are some great space filler ideas for your charcuterie or snack board:
Hardy greenery like kale adds texture and color to the board.
Crackers, pretzels, baguette slices, and pita wedges are inexpensive fillers.
Fruit and veggies – Stick with green as your theme for this St. Patrick's Day snack board. Green grapes, cucumber slices, celery, green bell pepper, kiwi and more are all green and delish.
Other Cute Ideas
Cut the top off of a green pepper, scoop out the seeds, and fill it with dip. It'll look like a shamrock!
Buy shamrock cookie cutters and cut shamrock shapes out of green bell pepper to decorate the board.
Cadbury Dairy Milk chocolate bars are made in Ireland and are widely available in the states. Add some chocolate to your board.
What is a snack board?

A snack board, or grazing platter, is a collection of appetizers and finger foods all on one giant board.

How long does it take to make a snack board?

It all depends on how many different things you're adding to it. With purchased snacks, it takes minutes to assemble. With scratch-made snacks, it can take as long as it takes to make the recipes.

How many snacks per person on a snack board?

It depends on the occasion. If it's a meal, count on about 8 pieces of things for the average appetite. If it's just for munching, 3-4 items per person is probably sufficient.

By