First, there were cheese plates, then charcuterie boards, and now snack boards! With all sorts of tasty eats on one portable board, snack boards are the ultimate treat. And for guacamole lovers, a guacamole snack board is the ultimate indulgence that will wow everyone.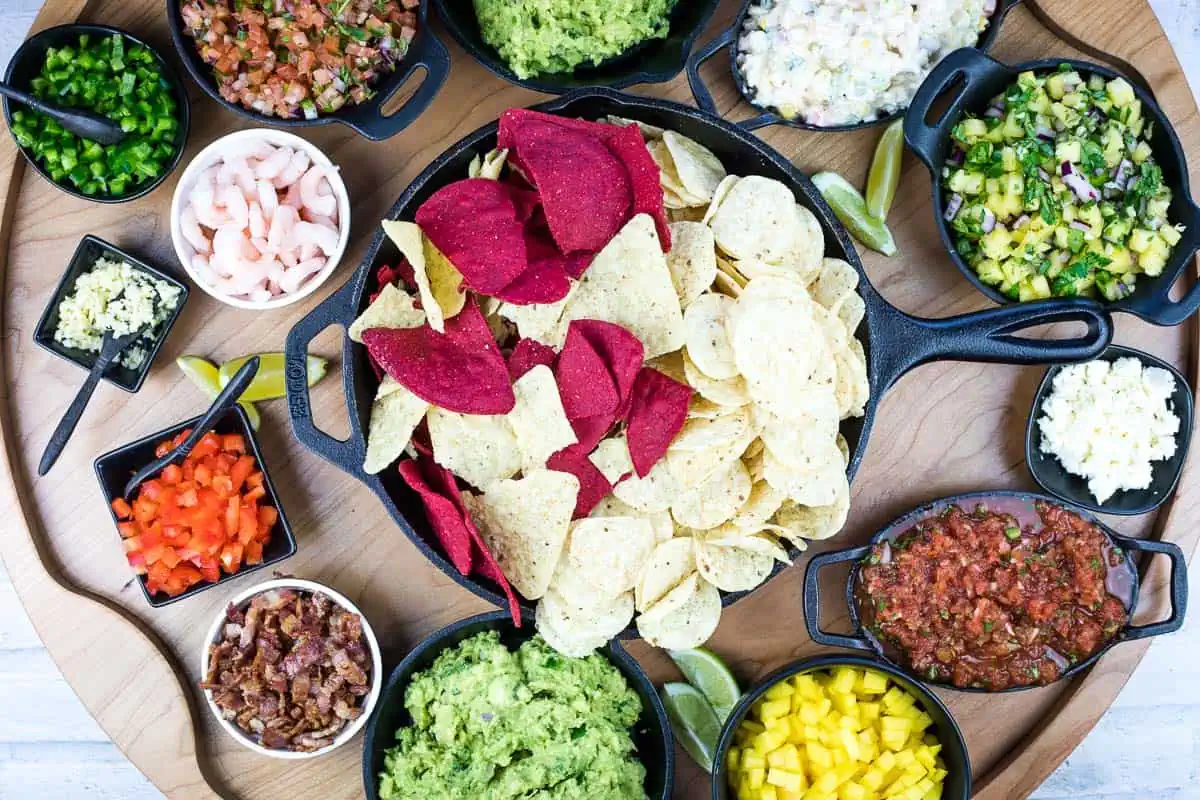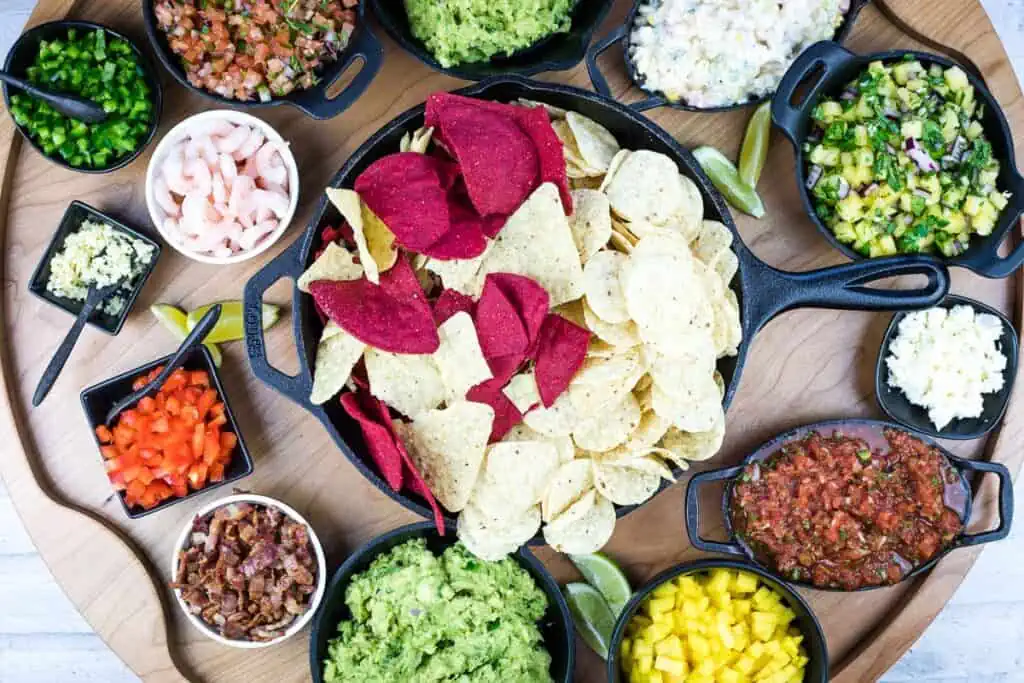 This post may contain affiliate link(s). As an Amazon Associate, I earn from qualifying purchases. See Disclosure.
Loaded with freshly made guacamole, salsas, chips, dips, and mix-ins to create different kinds of guacamole, a guacamole snack board is a thing of culinary beauty! And the best part is that putting together a masterpiece like this isn't hard. It just takes a bit of planning, and before long, you'll be dipping chips into all your favorites.
What's A Guacamole Snack Board?
Snack boards are boards that are loaded with snack options. From holiday-themed snack boards to food-themed boards, snack boards can be any size or shape and can hold any number of tasty eats.
The idea behind a snack board is that it has all you need for snacking. This guacamole snack board is loaded with two kinds of chips for dipping, plus a variety of salsas, dips, and mix-ins to create customized guacamole.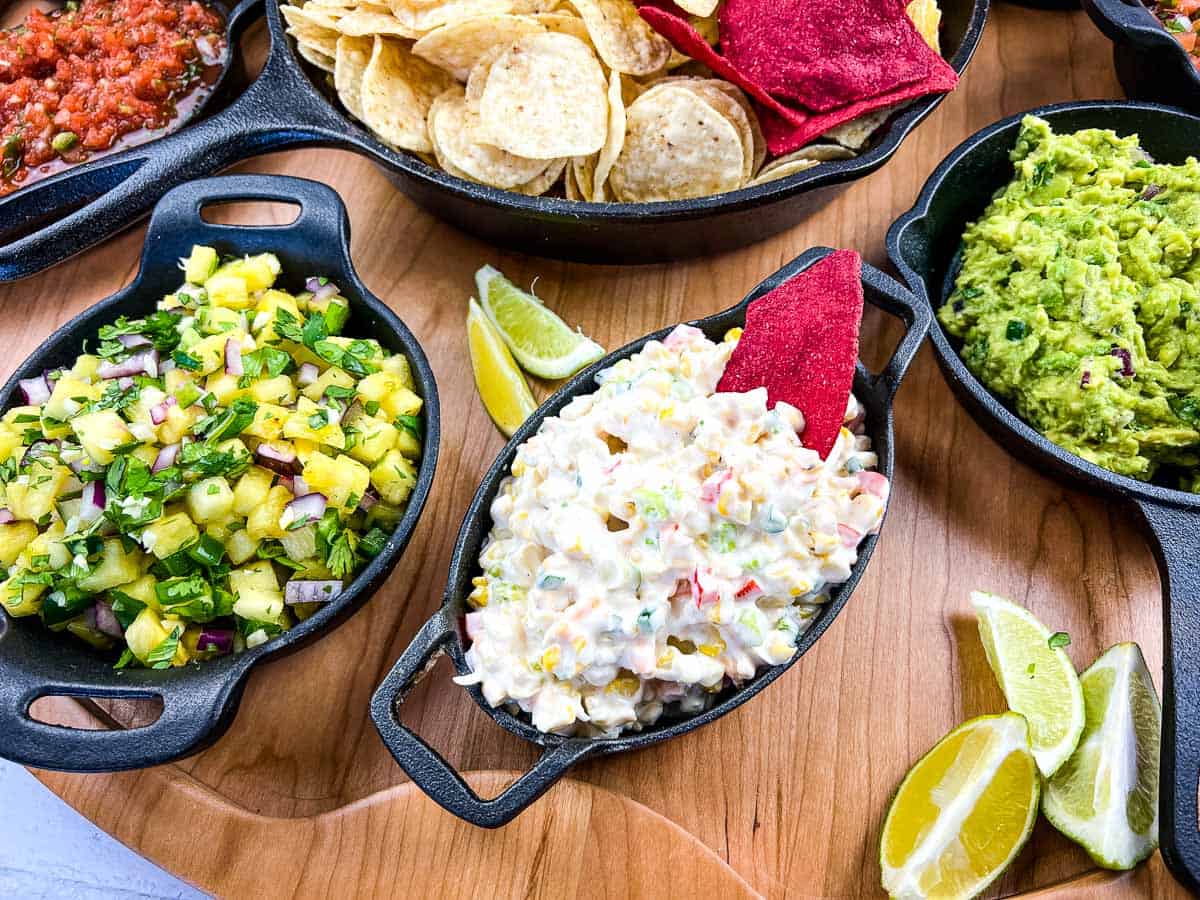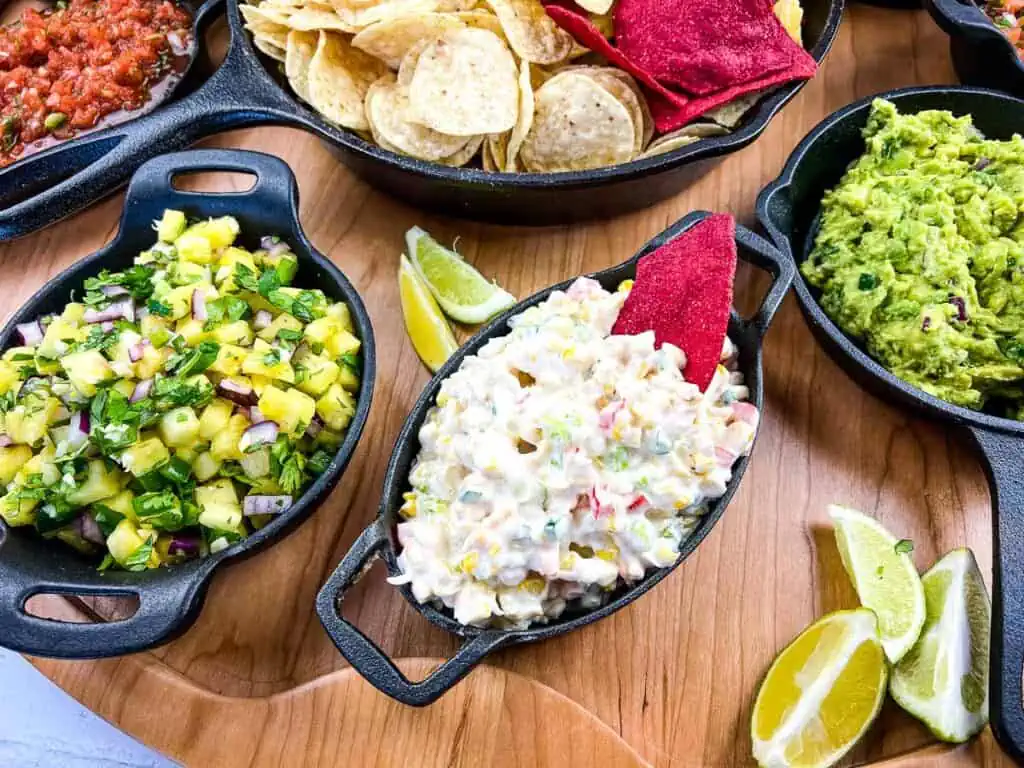 How To Build A Guacamole Snack Board
Designing your own snack board is easy! Here's how:
Step 1
Consider what board you're going to use. When I build my boards, I use a colossal 26-inch in diameter board from House of Hyacinth. It's a great board – it's food friendly (which surprisingly, many boards are not), has built in handles, and never fails to impress.
Any board will work, including a large wooden cutting board, or you could even use the surface of a counter – though that won't be portable.
Step 2
Figure out what you want to put on your guacamole snack board. This board is loaded with:
Also on this board are a variety of mix-ins so that guests can customize their guacamole. Included are:
Salad shrimp
Crumbled bacon
Cotija cheese
Minced garlic
Dice jalapenos
Diced bell pepper
Diced mango
Step 3
Now that you know what you want on your guacamole snack board, it's time to make a plan.
Make a shopping list and obtain all the ingredients.
Work backwards from the event and prep what you can in advance. Food processor salsa can be made a few days in advance, the Pineapple Salsa and Pico de Gallo can be made one day in advance, and the add-ins can also be prepped the day before.
Figure out where you're going to put your board and make sure there's enough room around it for people to access it.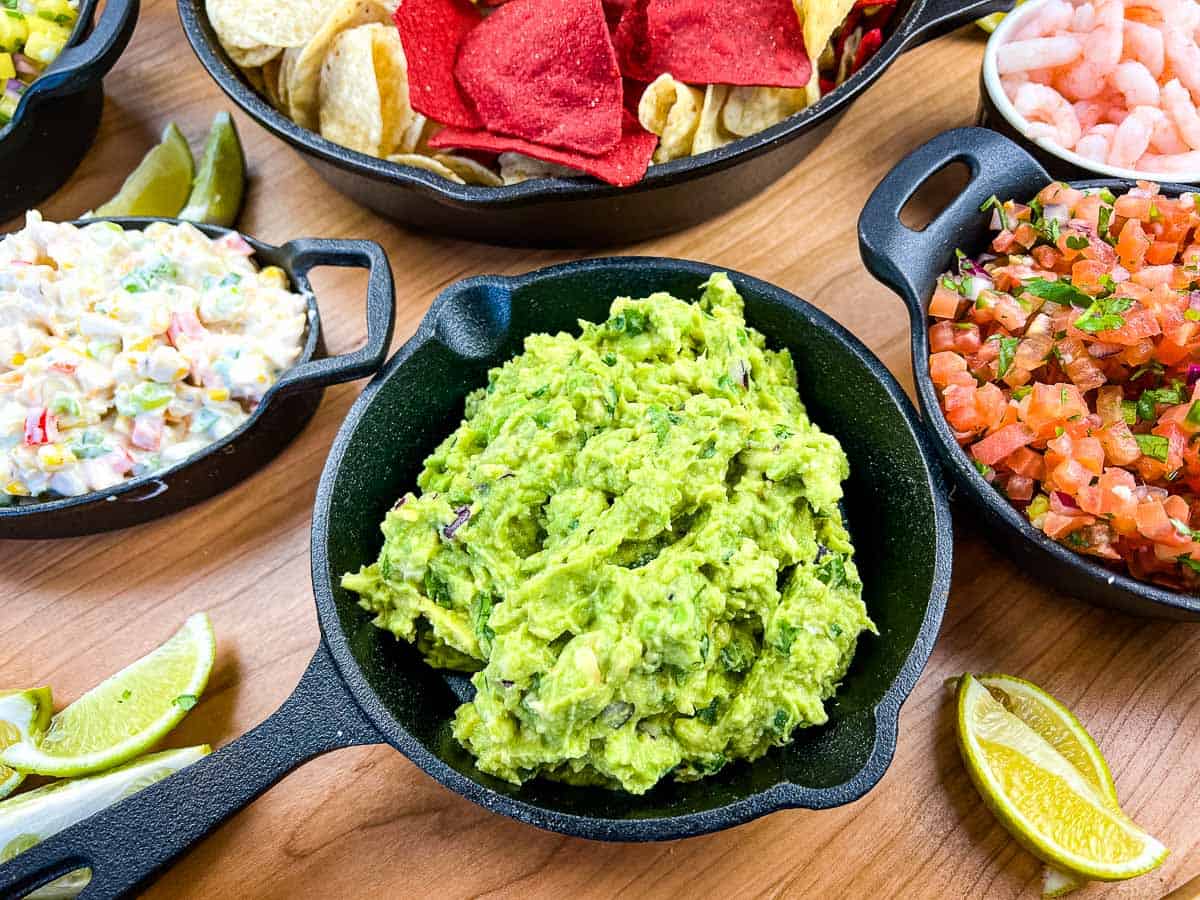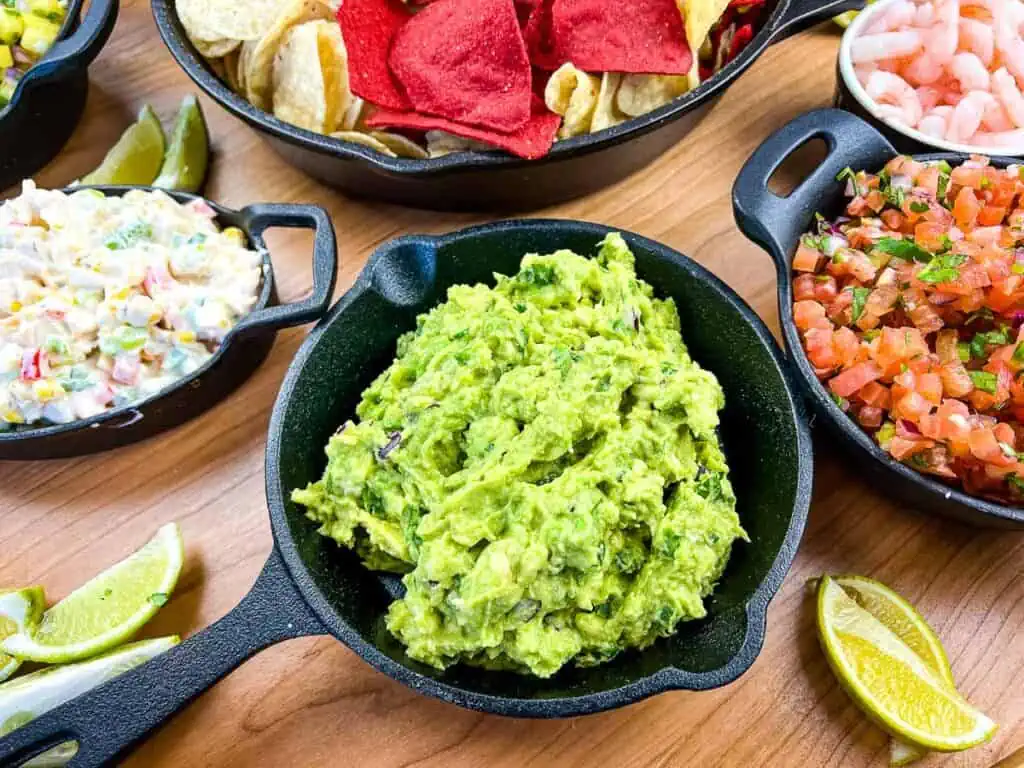 Step 4 – Serving Day
Make the guacamole as close to the serving time as possible.
Shortly before your guests arrive start putting out all the dips, salsas, chips, mix-ins and other goodies on your board. Give yourself enough time to get it all arranged!
Position the board along with plates and napkins so that people can dig in.
Chef Jenn's Tips
Don't be afraid to use store-bought dips or salsas to cut down on your prep time.
Use an alligator chopper to make salsas the easy way and save lots of chopping time.
Get creative and add your own favorites to the board!
Keep refills easily accessible in the kitchen and replenish the board as needed.
That's all there is to it! Building a guacamole snack board might seem intimidating at first, but when you break it down into its parts, it's not that hard!

Grab a drink, some snacks, and enjoy your company while they shower you in compliments about your colossal board!

What is a snack board?

Snack boards are portable boards that are loaded with snackables, usually revolving around a theme. You can have Christmas snack boards loaded with cookies, cakes, and other treats, and so much more!

Can you have a snack board for dinner?

You sure can! Snack boards are best shared, so if you've got friends or family coming over, make a snack board filled with hearty savory treats to share instead of a traditional meal.

Are appetizer snack boards easy to make?

They can be as easy or involved as you want! To make them easier, add store-bought goodies to cut down on prep and cooking time. Or, make everything from scratch but account for the extra time.

By