Chicken Marsala Meatballs are a tasty and family-friendly twist on the original which uses thinly pounded chicken breast. With less fuss and all the flavor, this is an easy dish that can be on the table in about 30.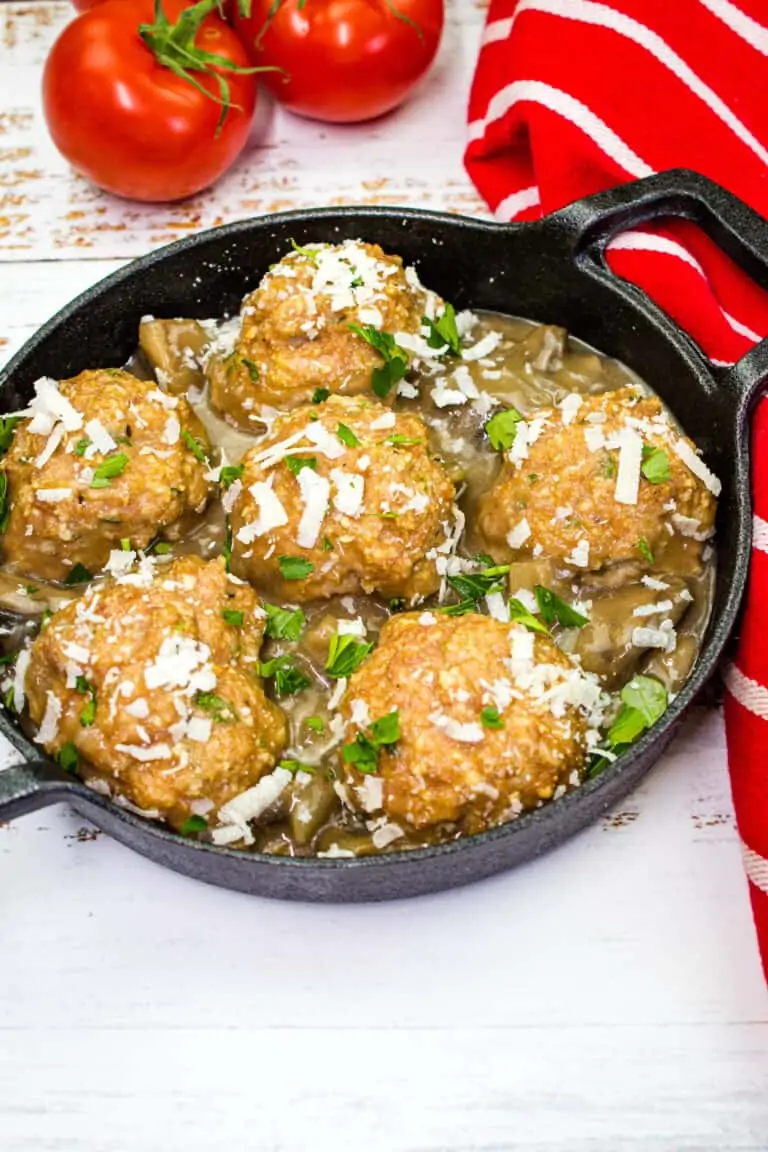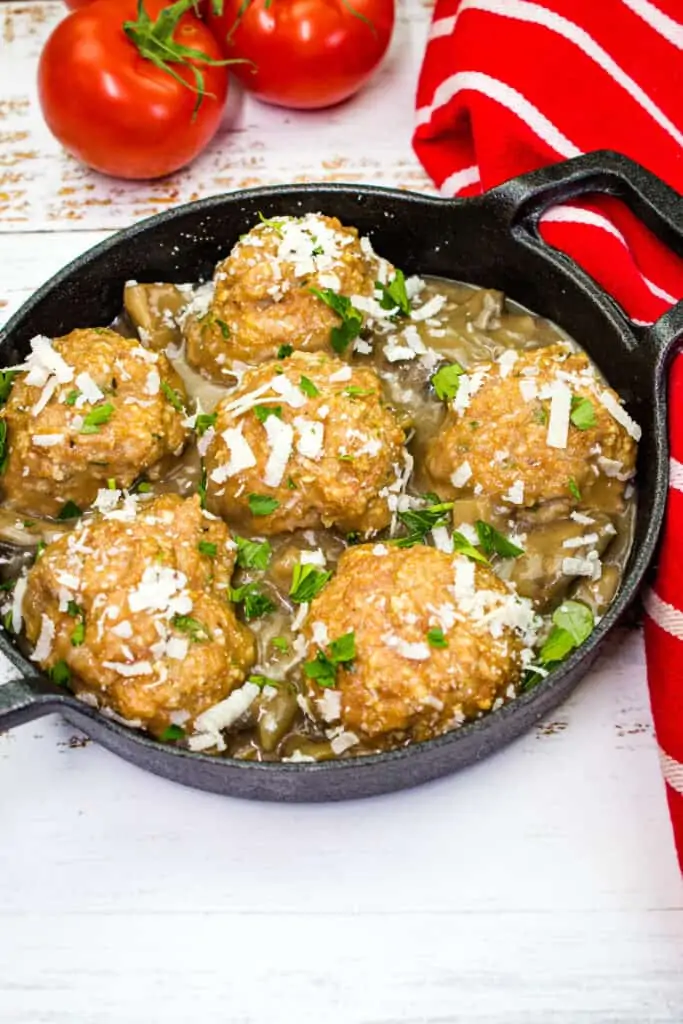 With a luscious creamy sauce and plenty of tender mushrooms, chicken Marsala has been a restaurant favorite for decades. But did you know that this is an easy dish to make, and you can have these Marsala chicken meatballs on the table in no time? Ready? Let's get cooking!
What You Need To Make These Marsala Chicken Meatballs
Sheet pan
Parchment paper (for easier cleanup)

Ground chicken

Breadcrumbs – Panko will work
Parsley – fresh and chopped
Garlic – fresh is best!
Grated Parmesan cheese
Salt
Egg
Butter – salted or unsalted
White mushrooms – or use your favorite
Shallot
All-purpose flour
Chicken broth – use low or no sodium to control the salt
Marsala wine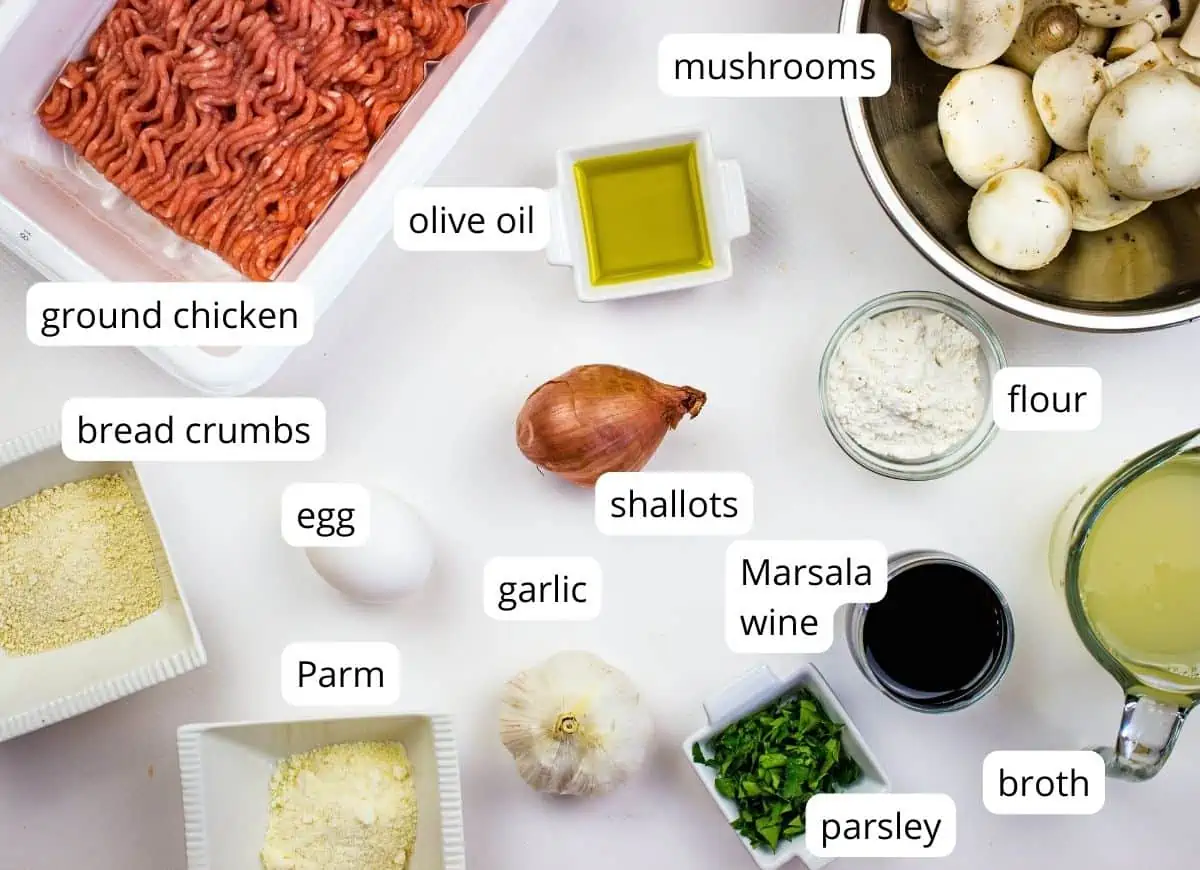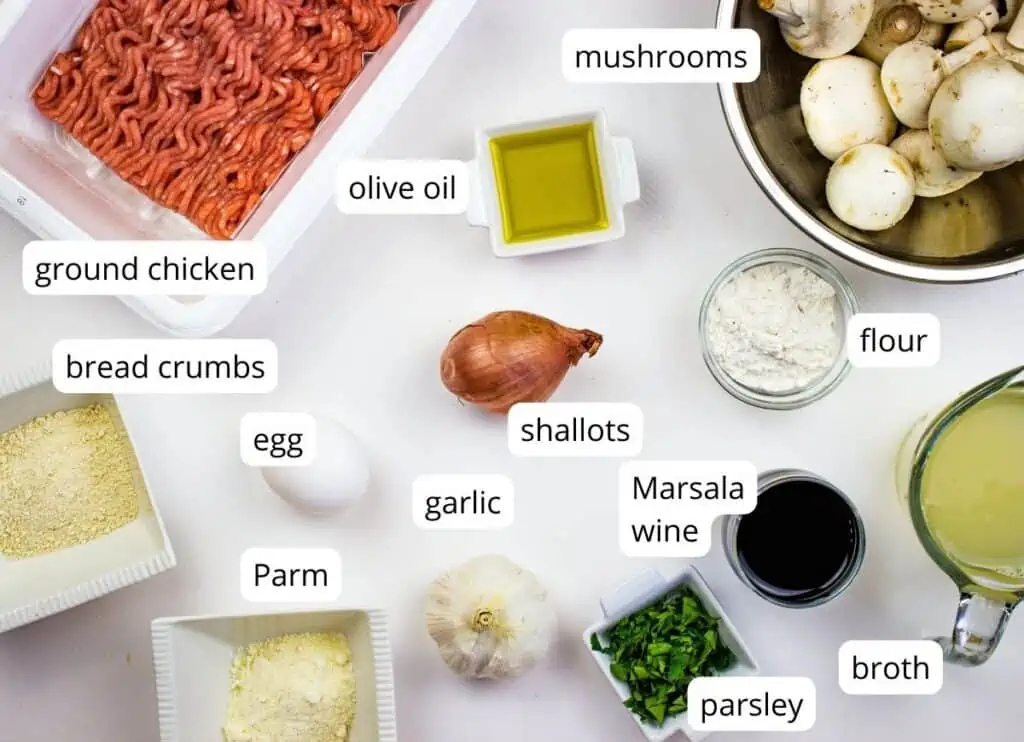 How You Make This Easy Meatball Recipe
Line a sheet pan with parchment paper and set the oven to 400-F.
To make the meatballs, combine the ground chicken with the bread crumbs, minced garlic, Parmesan cheese, salt, and egg. Mix well. Fold in the parsley and form into ping pong ball-sized meatballs. You should get about 16 meatballs.
Line the meatballs up on the sheet pan and bake at 400-F for about 10-12 minutes or until they're fully cooked. Use a digital meat thermometer to check that they've come to an internal temperature of 165-F.
Meanwhile, make the sauce. Melt the butter in a large skillet and saute the mushrooms until golden brown. Add the shallots and minced garlic.
Add the flour to the pan and blend well with the mushrooms and shallots. Slowly stream in the chicken broth, whisking to remove any lumps. Thicken the sauce slightly over medium heat, and add the Marsala wine before serving.
What Kind of Mushrooms Should I Use?
Just about any kind of mushroom works well in this dish, but I'd stay away from stronger flavored mushrooms like shiitake or specialty mushrooms like morels. Inexpensive white or cremini mushrooms work fine, and if you opt for portobellos, remove the black gills with a spoon before chopping and adding to the pan, or you will discolor the sauce.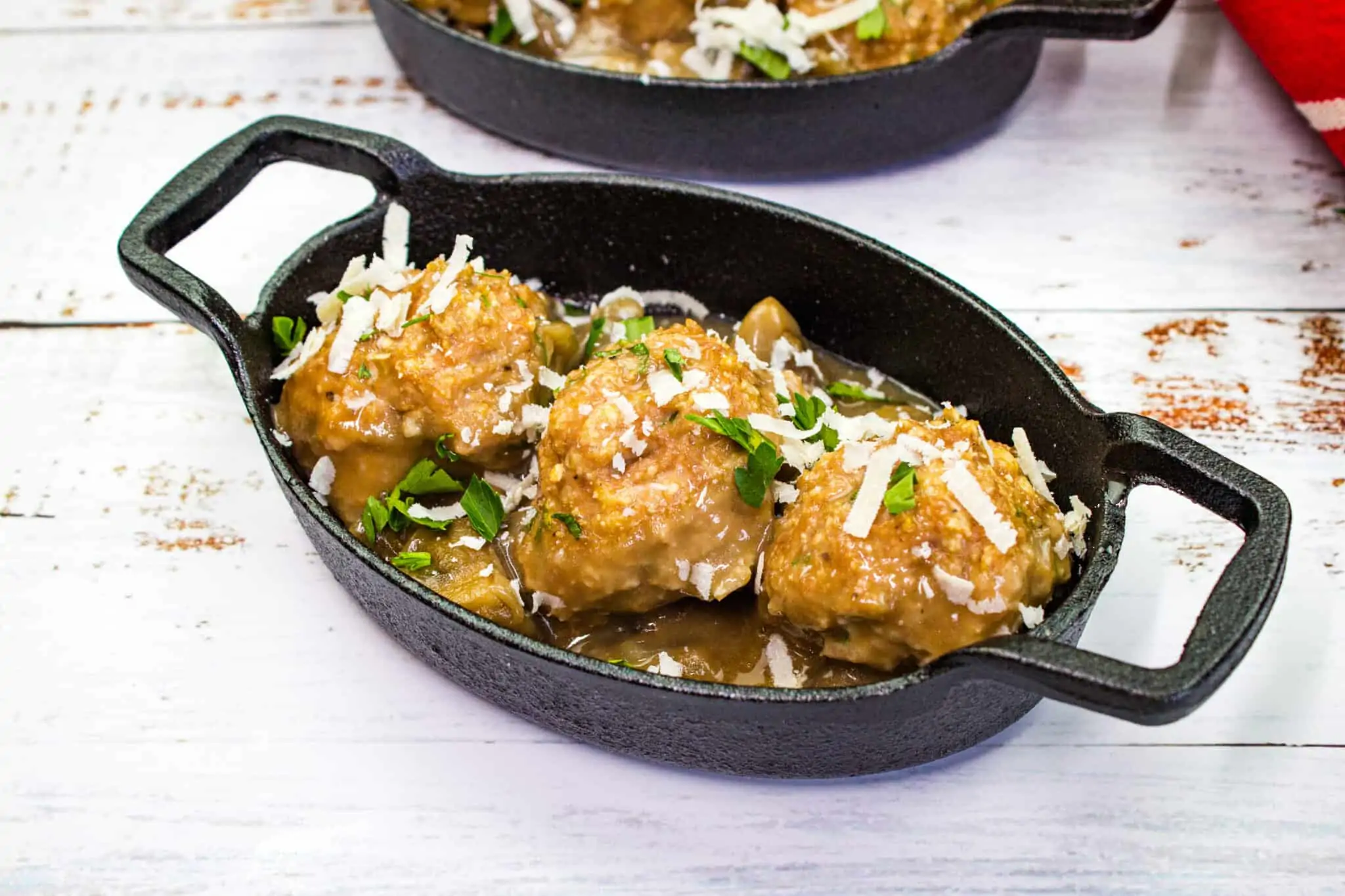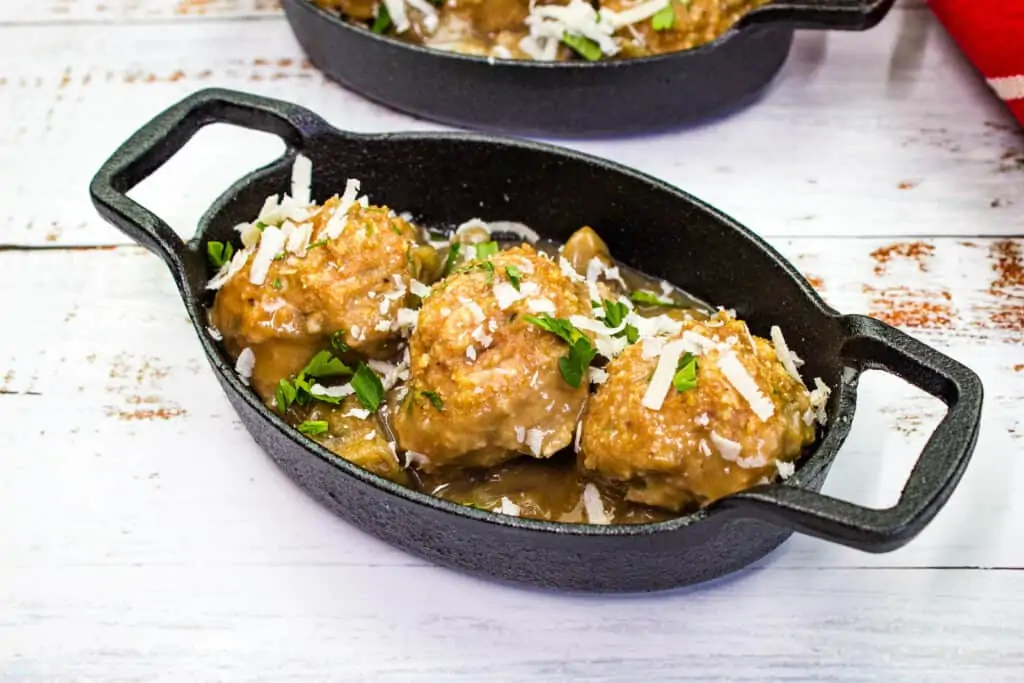 Chef Jenn's Tips
Don't overmix or overwork the meatball mixture – just mix it enough to combine all the ingredients.
Fresh parsley adds so much lovely flavor but you can substitute 1 tbsp of dried parsley instead. Divide this between the meatballs and the sauce
No shallots? No problem – substitute 1/2 cup of chopped yellow or sweet onion instead.
Cooking the meatballs on a sheet pan is easy and saves time, but you can also cook them in a skillet over medium heat.
Don't worry if your meatballs seem a little wet. They should cook up just fine.
Recommended
What To Serve With Marsala Chicken Meatballs
A simple side of pasta or rice is what I serve them with, but other sides like Creamy Spinach Orzo and Au Gratin Potato Stacks are also tasty choices. Or go super creamy with these Twice Baked Mashed Potatoes.
Are These Chicken Meatballs Freezer Friendly?
Yes! You can freeze this dish. Cool it thoroughly in the fridge for a few hours or overnight, then package any leftovers with sauce in air-tight freezer containers or plastic bags for up to three months.
To thaw, heat it slowly in the microwave or oven on a low heat, around 300-F until heated through.
Frequently Asked Questions
How long does it take to cook Chicken Marsala Meatballs?
If you cook the meatballs in the oven, you can be making the sauce while those cook. Making the recipe this way, you can have it on the table in about 30 minutes. If you cook the meatballs on the stovetop, be prepared to add another 15-20 minutes to your prep time.
Can I use ground turkey to make Marsala Meatballs?
Absolutely! Ground turkey has a slightly stronger flavor than ground chicken, but they'll still work perfectly well.
Are Chicken Marsala Mushrooms healthy?
There are certainly worse dishes for you. It's low carb with just a bit of flour used to thicken the sauce and some breadcrumbs in the meatballs as a binder, and it's high in protein thanks to the lean chicken meat. It's also relatively low in fat because there's just a bit of butter used, and you can swap the butter for olive oil if you prefer.
Step By Step Process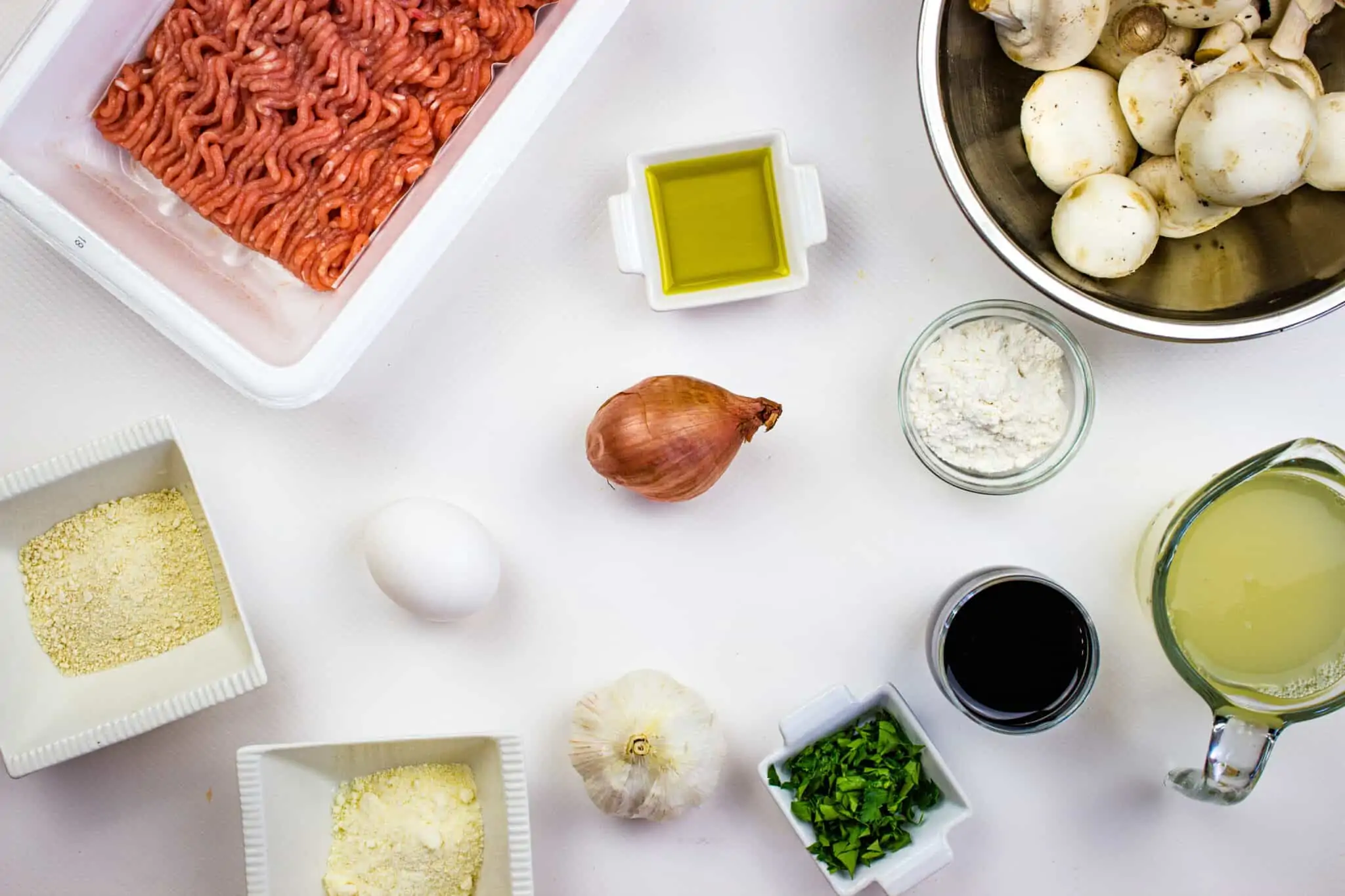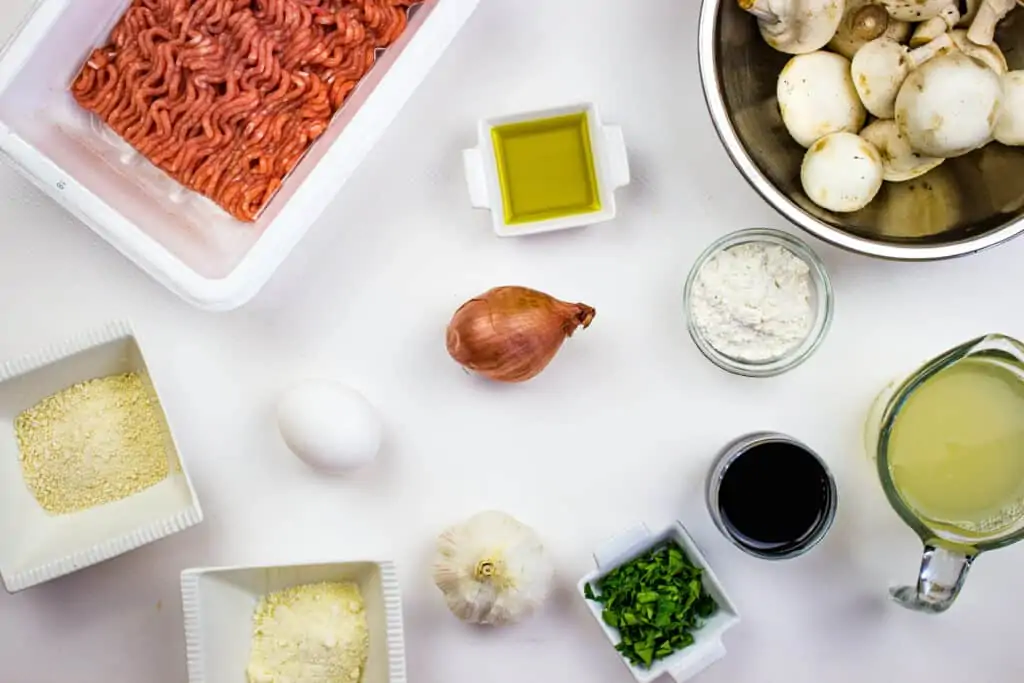 Chicken Marsala Meatballs
Moist and flavorful meatballs and tender mushrooms are smothered in a luscious and velvety Marsala sauce in this delicious and easy dish.
Ingredients
1

pound

ground chicken

lean

1/4

cup

Parmesan cheese

shredded or grated

1

egg

2

tbsp

minced garlic

divided

1/4

cup

breadcrumbs

4

tbsp

chopped parsley

divided

2

tsp

salt

divided

2

tbsp

butter

or olive oil

8

ounces

white mushrooms

quartered

1/2

cup

chopped shallots

2

tbsp

all purpose flour

1 1/2

cups

low sodium chicken broth

1/2

cup

Marsala wine
Instructions
To make the meatballs
Combine the ground chicken, Parmesan cheese, egg, 1 tbsp of minced garlic, the breadcrumbs, 2 tbsp of chopped parsley and 1 tsp of salt. Mix well and form about 16 meatballs.

Put the meatballs on a parchment paper-lined sheet pan and bake in a pre-heated 400-F oven for about 10-12 minutes or until cooked through.
To make the sauce
Melt the butter in a large skillet. Cook the mushrooms over medium heat until soft and tender. About 5 minutes. Add the chopped shallot and remaining garlic. Cook an additional 2-3 minutes or until the pan is mostly dry. Turn off the heat.

Add the flour to the pan and mix it with the mushrooms and shallots. Add the chicken broth in a slow stream, whisking as you add it, to avoid lumps.

Turn the heat back on and bring the sauce to a slow simmer. Add the Marsala wine to the pan and season with the remaining salt and pepper if you like. Add the meatballs to the sauce and heat through. Enjoy!
Nutrition
Calories:

396

kcal

|

Carbohydrates:

22

g

|

Protein:

29

g

|

Fat:

19

g

|

Saturated Fat:

8

g

|

Trans Fat:

1

g

|

Cholesterol:

158

mg

|

Sodium:

1485

mg

|

Potassium:

1053

mg

|

Fiber:

2

g

|

Sugar:

6

g

|

Vitamin A:

622

IU

|

Vitamin C:

10

mg

|

Calcium:

134

mg

|

Iron:

3

mg

A Note on Nutritional Information

Nutritional information for this recipe is provided as a courtesy and is calculated based on available online ingredient information. It is only an approximate value. The accuracy of the nutritional information for any recipe on this site cannot be guaranteed.

By