With a big ol' Texas-size kick from chipotles, this Shrimp & Corn Chowder with Chipotle is a big hit with creamy soup fans! Loaded with sweet, tender shrimp, corn, and other tasty veggies, grab a spoon and let's get cooking!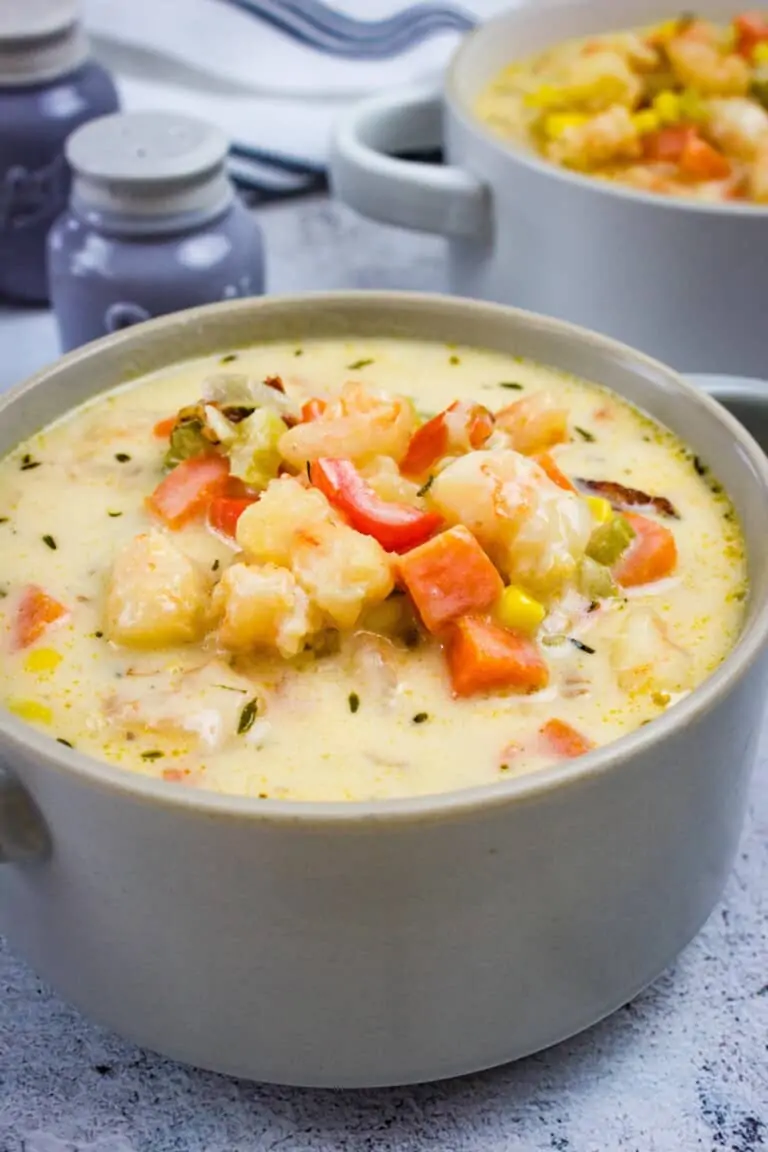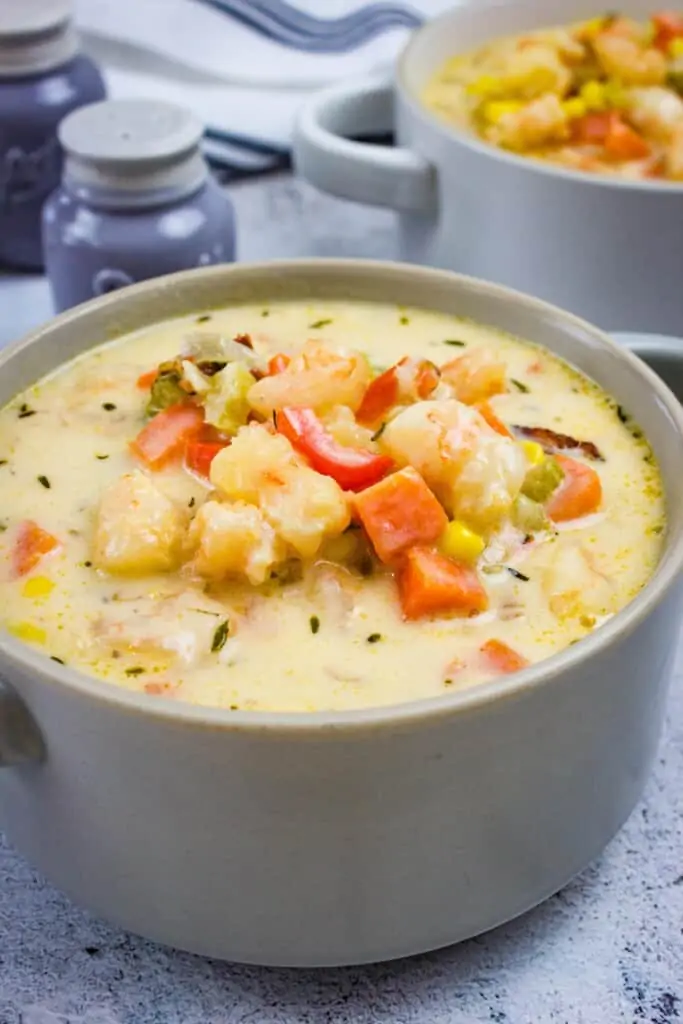 This post may contain affiliate link(s). As an Amazon Associate, I earn from qualifying purchases. See Disclosure.
I've been making this hearty and creamy soup for more than 20 years, back to the days when I had my deli. That was in Texas, but now chipotle is loved all over the world, and everyone loves this delish chowder!
What You Need To Make Shrimp & Corn Chowder With Chipotle
A big ol soup pot
Knife for chopping
Cutting board
Ingredients including chipotle
What Are Chipotles?
Chipotles are smoked jalapenos. They start with red, ripened jalapenos and then smoke them. You can get chipotle peppers in adobo, a zesty tomato sauce, or dried and ground.
For this recipe, we're going to use chipotle peppers in adobo. The sauce that they're packed in is going to add a serious pop of flavor. You can use dried chipotle powder if that's all you got. Just use 1/2 tsp of powder and add more to get it as spicy as you like it.
Chipotle peppers, either dried or in adobo sauce, add a lovely and unique smoky flavor to this soup that really makes it unique!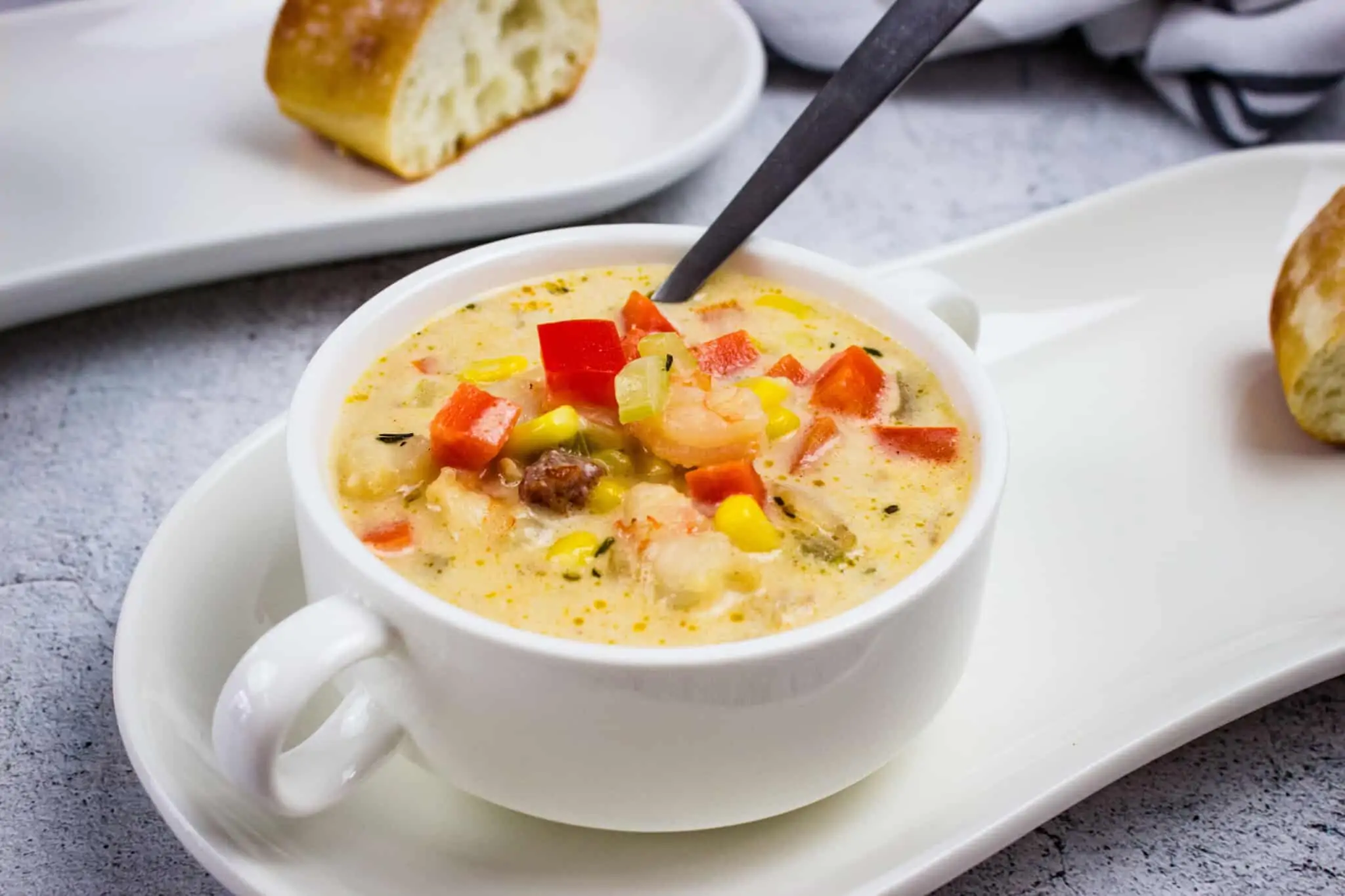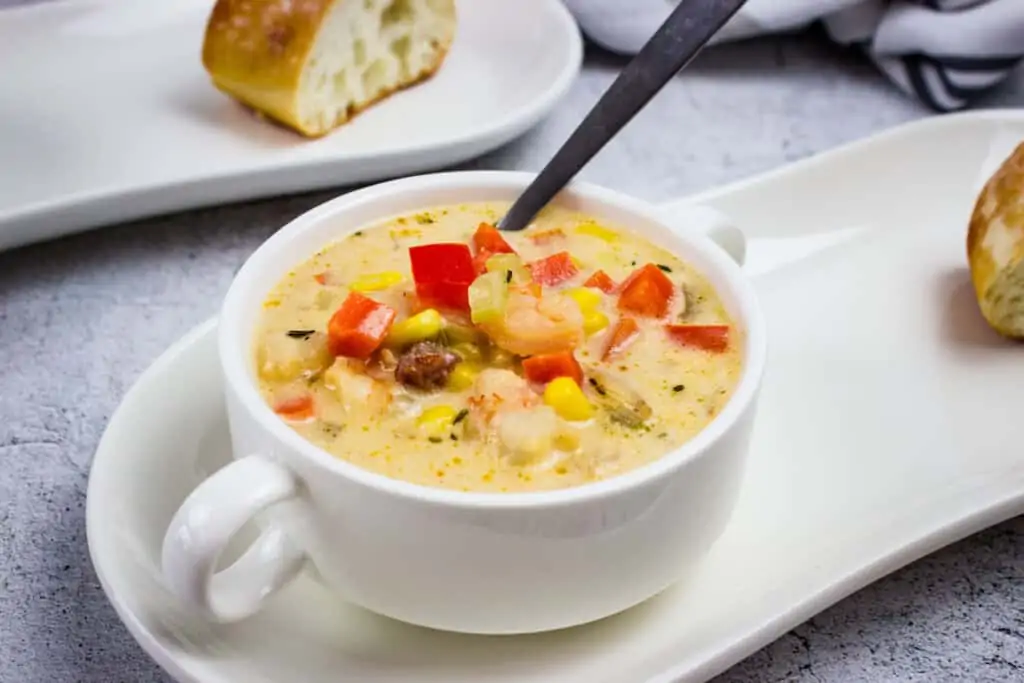 How To Make This Easy Shrimp Chowder Recipe
Soups are all about building flavor! And no, despite what one customer of mine years ago had to say, you can't just throw stuff into a pot and call it soup. At least, certainly not a good soup! For the full recipe, please scroll down to the bottom of this page.
Start by chopping and frying the bacon. This is going to give us some lovely fat to work with.
Sautee the veggies in the bacon fat. Add a bit more oil if you need it.
Add the chicken broth and spices and let it simmer, covered, for about 20 minutes.
Add the red bell pepper, corn, potatoes, and the flour slurry bring to a simmer and cook uncovered for about 10 minutes to thicken and cook the potatoes.
Add your shrimp – if you're using cooked shrimp, just heat the soup to a boil, and you're good to go! If you're using uncooked shrimp, simmer the soup for 2-3 minutes to cook the shrimp through.
What Kind of Shrimp Do I Use In This Shrimp & Corn Chowder Recipe?
Any kind of shrimp will work, but I wouldn't use salad shrimp.
Salad shrimp tend to get really, really tiny when you cook them, and you want a nice, thick, chunky soup.
Easy Peel shrimp are a gift to cooks everywhere! No more tedious deveining! Also called zippered shrimp, these shrimp are already deveined and slit down the back so you can just slip the shell off.
If you're using really big shrimp, cut them into pieces to make sure there's shrimpy goodness in every bite.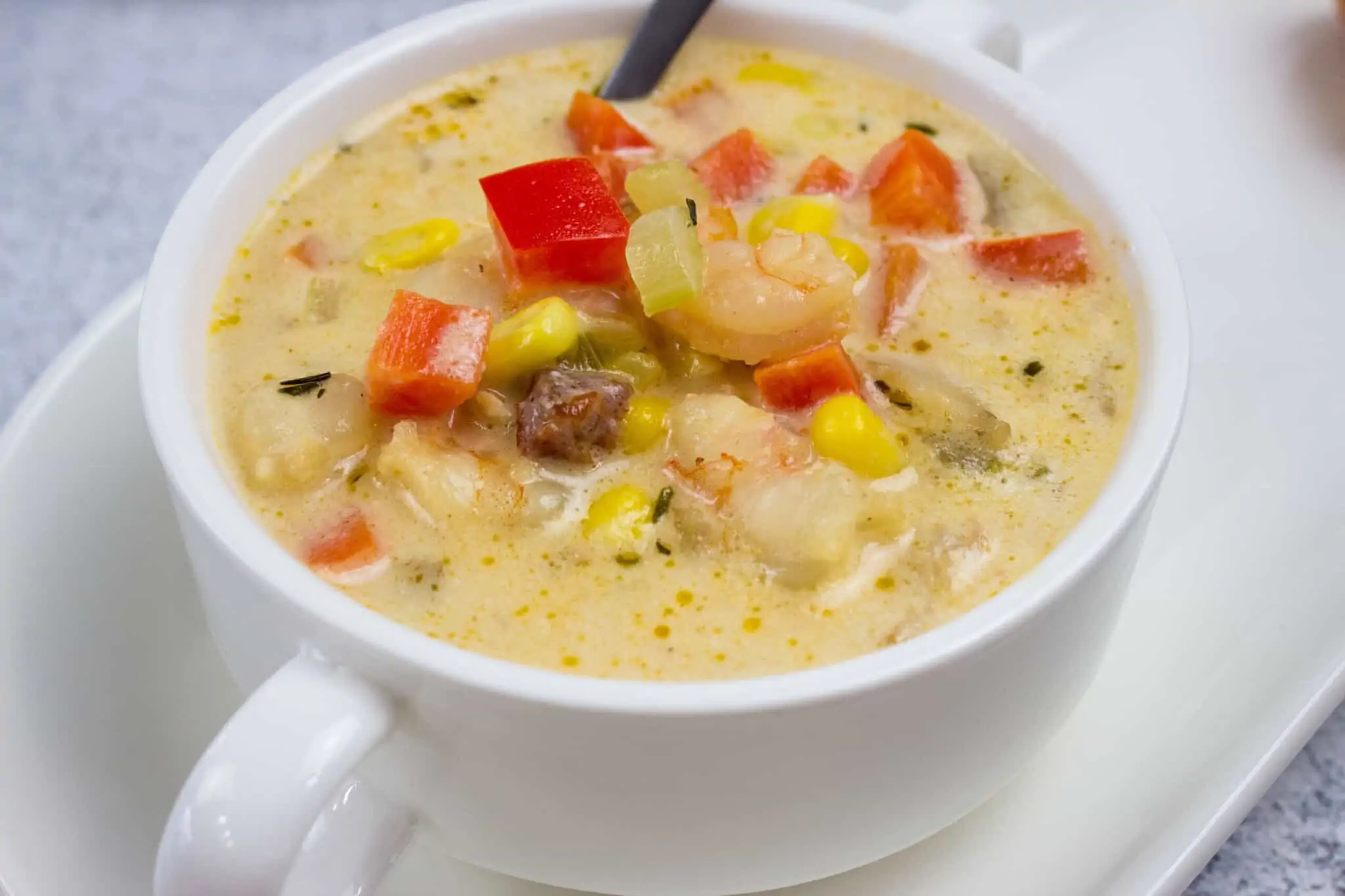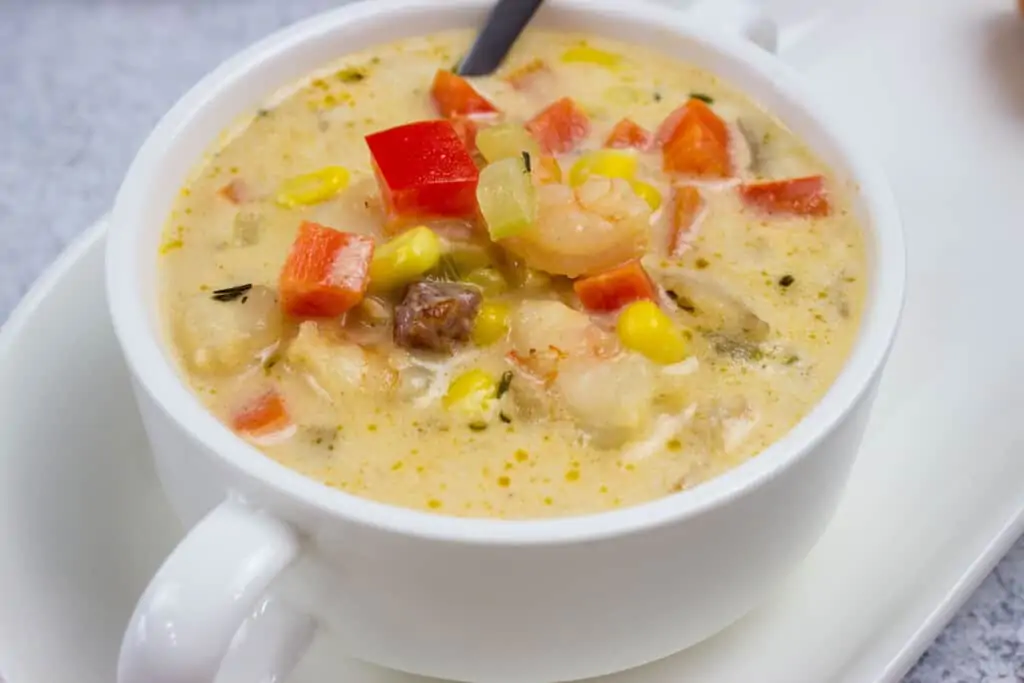 Chef Jenn's Tips To Make Easy Shrimp Corn Chowder
Use no or low-sodium chicken broth – or better yet homemade – to control the sodium in this soup.
Use frozen corn niblets to keep it simple.
Ask your butcher for bacon ends – this is an economical cut of bacon that is perfect in recipes like this. Sometimes you can buy packs of bacon ends and pieces in the grocery store, too.
Start with 1 tbsp of chipotle and adobo. You can add more later if you like it spicy.
What To Serve With Shrimp & Corn Chowder with Chipotle?
A good sandwich like this Rachel Sandwich or crusty heel of bread with this amazing Tomato Jam is all you need with this tasty soup. Or, go for a nice green salad. I also like to pair a smaller serving of this chowder with hearty dishes like Turkey Stuffed Shells with Pesto.
Like This Chowder Recipe? Also Try:
Is This Shrimp Chowder Recipe Freezer Friendly?
Yes! In fact, I almost always have some of this soup frozen. It's my favorite soup in the whole wide world!
Simply chill it thoroughly and then package it in freezer-safe containers for up to three months.
To reheat it: thaw it and then heat it in a pot on the stovetop or in the microwave.
What's the difference between soup and chowder?
Chowders are typically thickened soups that often have cream added to them. Regular soups are broth-based and unthickened.
What kind of potatoes do I use in chowder?
I like to use starchy potatoes like a good old russet potato. They add the most flavor and soften up nicely in the soup.
Can I use fresh corn in chowder?
Absolutely! Cut the corn right off the cob and pop it into your soup. Frozen corn niblets work just fine, too.
Step By Step Process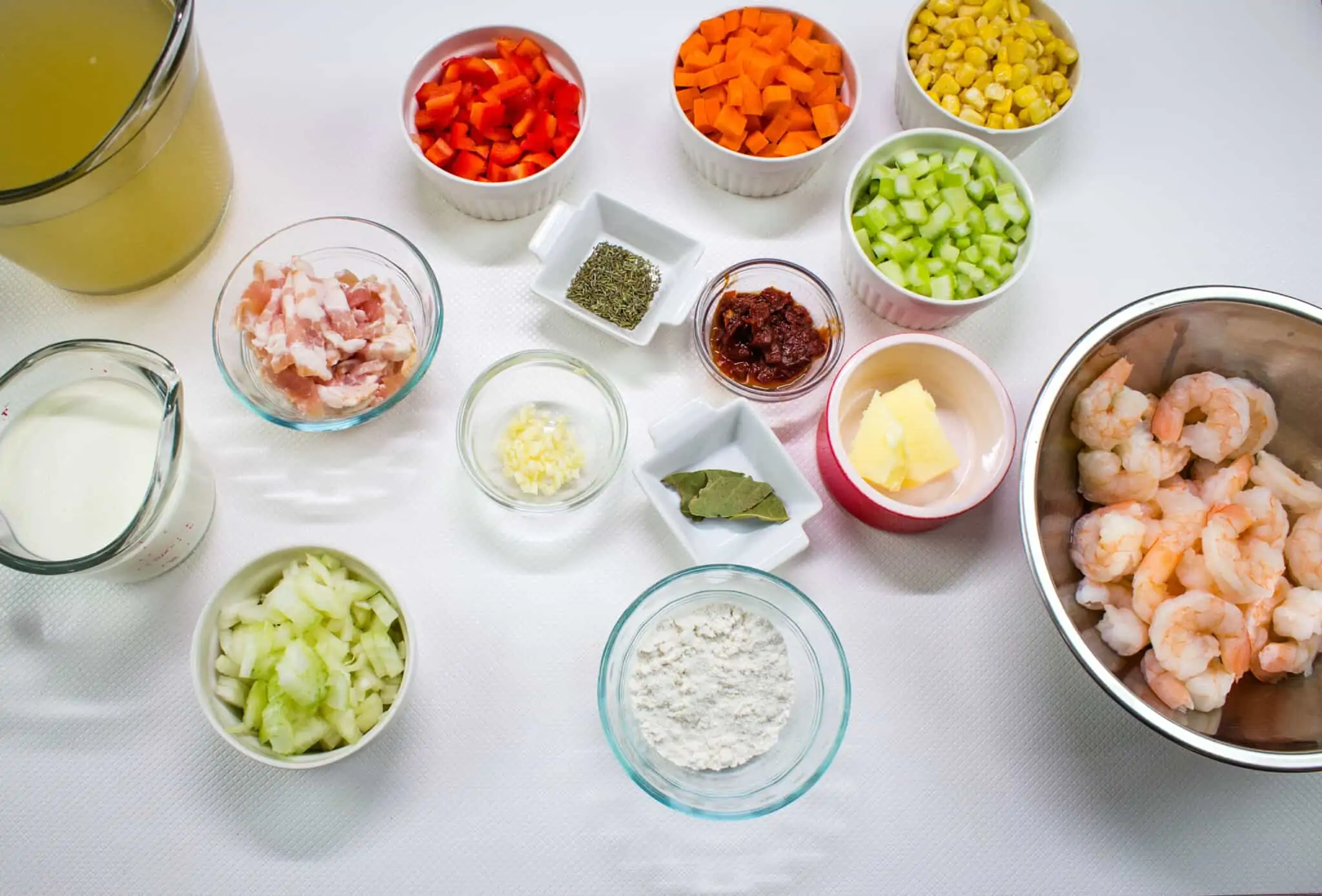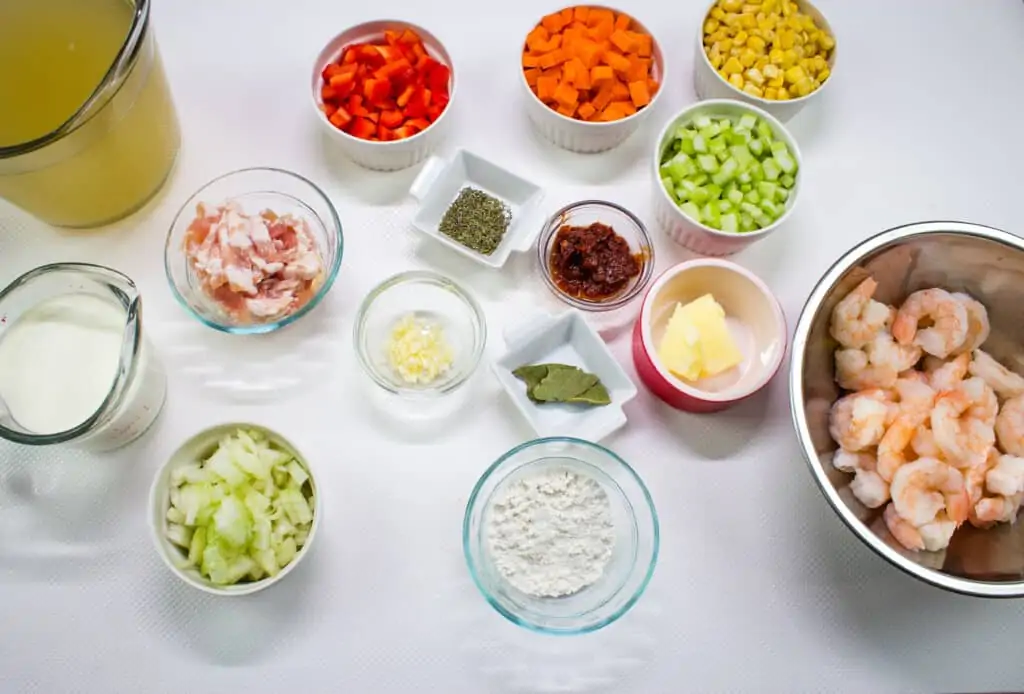 Shrimp & Corn Chowder with Chipotle
This Shrimp & Corn Chowder with Chipotle is loaded with shrimp and veggies and it's got a good kick from the chipotle!
Ingredients
4

slices

bacon

chopped

1

cup

carrots

diced

1

cup

onions

diced

1

cup

celery

diced

1

cup

potato

peeled and diced

2

tsp

garlic

finely chopped

1

tbsp

chipotle in adobo sauce

finely chopped

4

cups

low sodium chicken broth

1

tsp

dried thyme

1

dried bay leaf

1

cup

red bell pepper

diced

1

cup

corn niblets

1

pound

shrimp

peeled and deveined

1

cup

heavy cream

1

tsp

salt

1/2

tsp

pepper
For the flour slurry
2

tbsp

all purpose flour

1/4

cup

water
Instructions
Sautee the chopped bacon with the onion, celery, and carrots over medium heat for about 6 minutes or until the onion is translucent. Add the garlic and cook for an additional minute. Remove any excess bacon fat.

To the bacon and veggies, add the chicken broth, bay leaf, thyme, minced chipotle, and potatoes. Simmer for about 10 minutes.

Make a slurry with the flour and water by adding water to the flour and whisking until there are no lumps.

Add the red bell pepper and corn and the flour slurry while stirring; bring back to a simmer.

Add the shrimp and cream to finish the soup. If your shrimp are cooked simply heat the soup through to a boil and season and serve. If the shrimp are uncooked, simmer them in the soup for a few minutes or until they are cooked. Season with salt and pepper and serve!
Notes
Adjust the chipotle to suit your palate.
Nutrition
Serving:

0.75

cup

|

Calories:

168

kcal

|

Carbohydrates:

12

g

|

Protein:

11

g

|

Fat:

9

g

|

Saturated Fat:

5

g

|

Polyunsaturated Fat:

1

g

|

Monounsaturated Fat:

3

g

|

Cholesterol:

123

mg

|

Sodium:

536

mg

|

Potassium:

321

mg

|

Fiber:

2

g

|

Sugar:

3

g

|

Vitamin A:

2539

IU

|

Vitamin C:

24

mg

|

Calcium:

88

mg

|

Iron:

1

mg

A Note on Nutritional Information

Nutritional information for this recipe is provided as a courtesy and is calculated based on available online ingredient information. It is only an approximate value. The accuracy of the nutritional information for any recipe on this site cannot be guaranteed.

By