Smoked Rack of Pork is an impressive cut of meat that's easy to smoke. Covered in garlic and slow-cooked until tender and juicy, this is one meaty meal you won't be able to resist!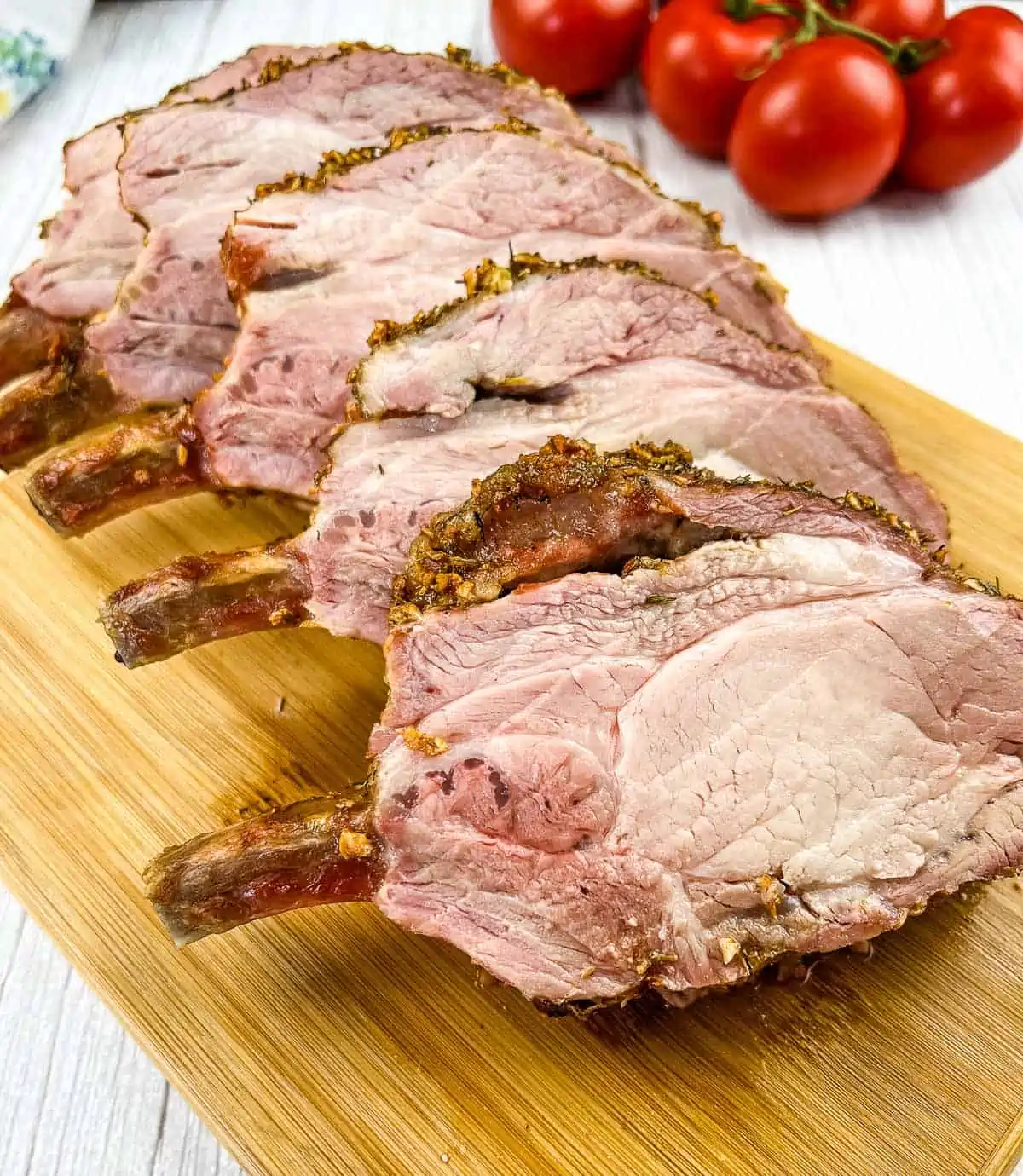 This post may contain affiliate link(s). As an Amazon Associate, I earn from qualifying purchases. See Disclosure.
With a perfect smoke ring, loads of juicy pork, and a rub that's garlicky, herby, and flavorful, this Smoked Rack of Pork recipe is easy and impressive. There's nothing like eating meat on a bone, and this bone-in pork rack really satisfies. It's an affordable cut of meat and one that smokes beautifully! What are you waiting for? Heat up that smoker and get cooking!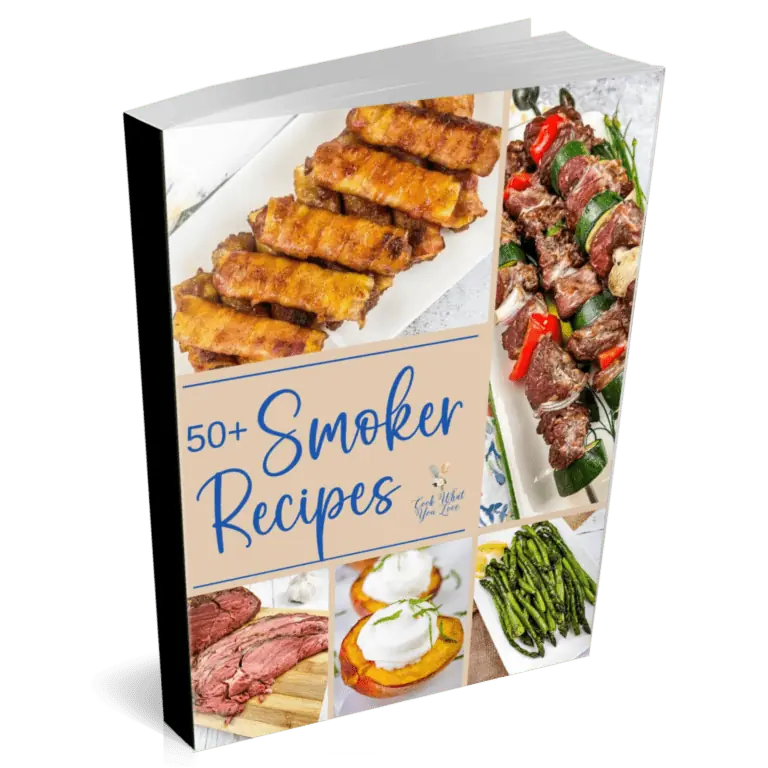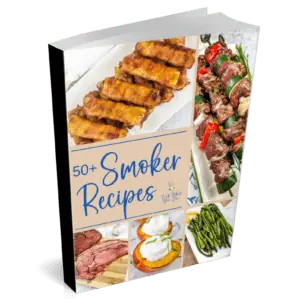 Love your pellet smoker? Get your hands on Chef Jenn's newest eBook: 50+ Smoker Recipes, and become the pitboss of your backyard!
Use coupon code VIPSMOKE for $5 off the already low price! Don't miss out – master your smoker today!
GET IT NOW!
What you'll love about Smoked Rack of POrk
---
Smoked bone-in pork loin is easy and impressive!
The meat is juicy and delish, thanks to the rub and the bones.
It's meaty and smoky, garlicky and flavorful!
What Is Rack Of Pork?
A rack of pork, also called bone-in pork loin roast or even pork rib roast, is a cut of pork that features the rib bones still attached to the pork loin. You get the benefit of a bone-in roast (always juicier than without the bone) but still the meaty goodness of the pork loin.
Pork loin can be hard to cook, especially if you don't have the sirloin end, which is slightly darker and fattier meat. Pork loin is lean, and while a rack of pork often has fat on the top layer, it can be easy to overcook or in this case, over-smoke. However, the bones on the pork loin help insulate it and keep it from overcooking.
The nice thing about this pork roast is that you can get huge roasts with almost a full rack of ribs on them, or you can get a smaller roast with just a few bones. You can often find this roast tied up into a crown and sold as a pork crown roast. That's just a different presentation of the same cut of meat.
Recommended
Ingredients
How To Buy A Rack Of Pork
This bone-in pork roast is all about the bones, so you need to pay special attention to them when making this dish. First, count on one bone per person. There'll be a good bit of meat on each bone, but if you have big meat-eaters at your table, an extra bone or two might be worth it.
Second, the bones should be Frenched. This is the term used to describe the meat cut away from the bones and the bones are scraped clean. Not the whole bone – just about an inch or so of the bone is exposed.
Third, make sure your roast is natural. Some are injected with a saline solution to bump up the raw sell weight, but you don't need all that sodium in this roast. Trust me on that. Your Traeger smoked pork roast recipe doesn't need it!
You may need to order this roast from a butcher as it is a specialty cut, and many grocery stores won't sell this pork roast with the bones attached.
You'll Also Need:
How To Smoke a Rack of Pork
For a full list of ingredients and instructions, please scroll down to the recipe at the bottom of this page.
Preheat your smoker to 180-F.
Rinse the pork with tap water washing away any lingering bone chips, then pat it dry with paper towels.
Combine the olive oil, minced garlic, paprika, thyme, salt, and pepper in a small bowl.
Rub the garlic mixture all over the pork.
Place the pork on the smoker and smoke at 180-F for about 30 minutes to give it a good bit of smoke.
Turn the temperature on your smoker up to 225-F and smoke the rack of pork until it reaches 145-F.
Remove the pork from the smoker and let it rest about 10 minutes before carving. Enjoy!
How To Carve A Rack of Pork
You've gone to all the hard work of getting an amazing cut of meat and smoking it; now cut and serve it!
Keeping the bones attached to the roast, cut between the bones ensuring an even amount of meat on either side of the bone.
Serve the pork with the bones still attached.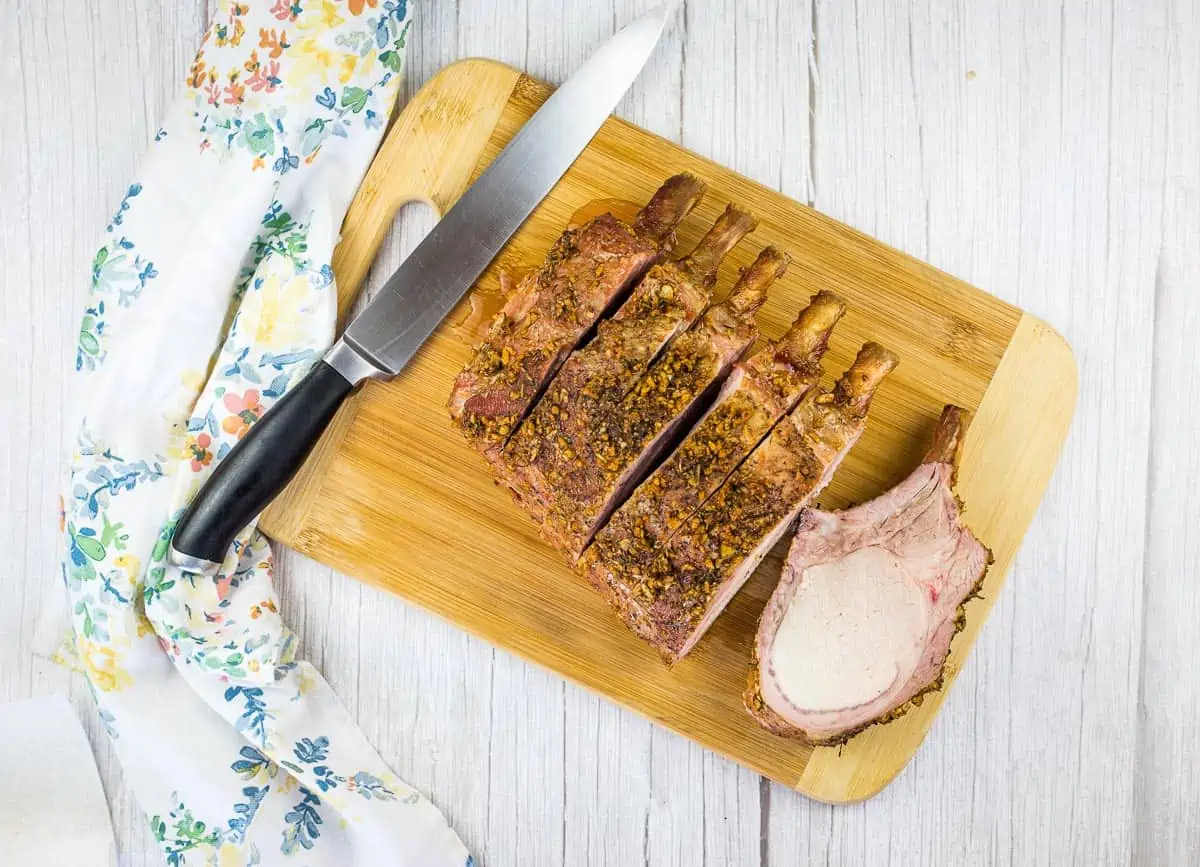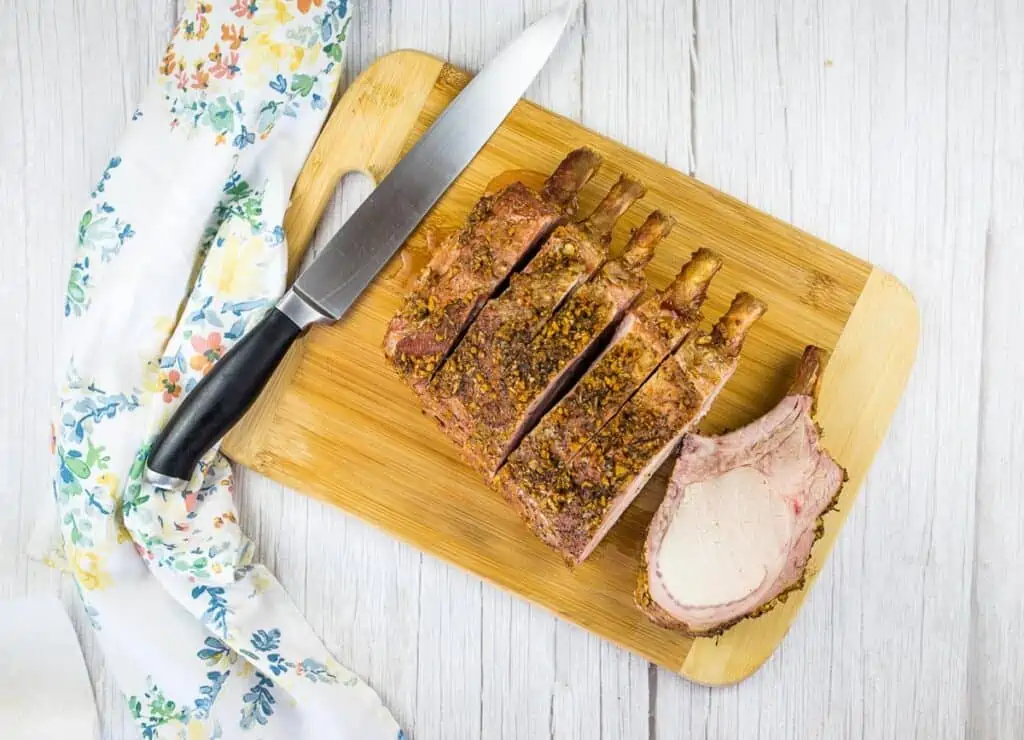 Chef Jenn's Tips
Make It A Meal
Wondering what to serve with a smoked bone-in pork roast? Here are some of my favorites:
Storage
Any leftover Smoked Rack of Pork can be refrigerated in an airtight container for 3-4 days. Heat it slowly, so you don't overcook it – it'll dry out.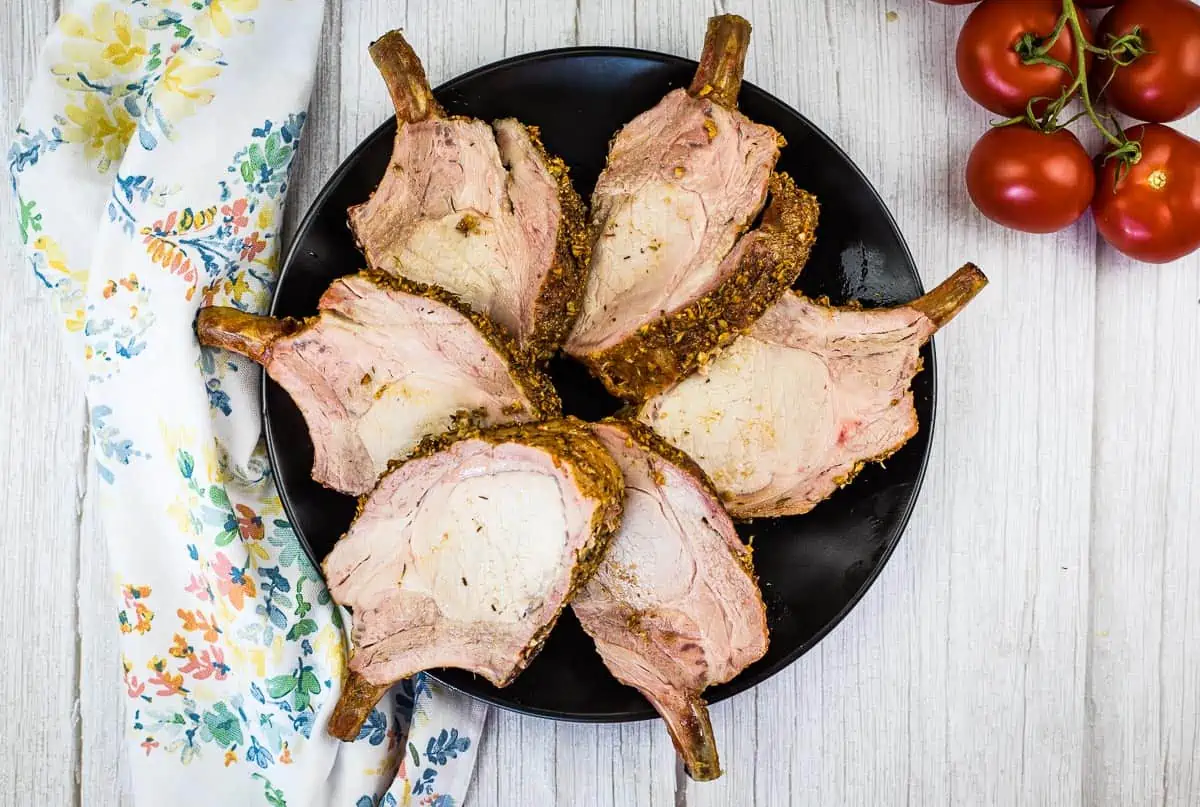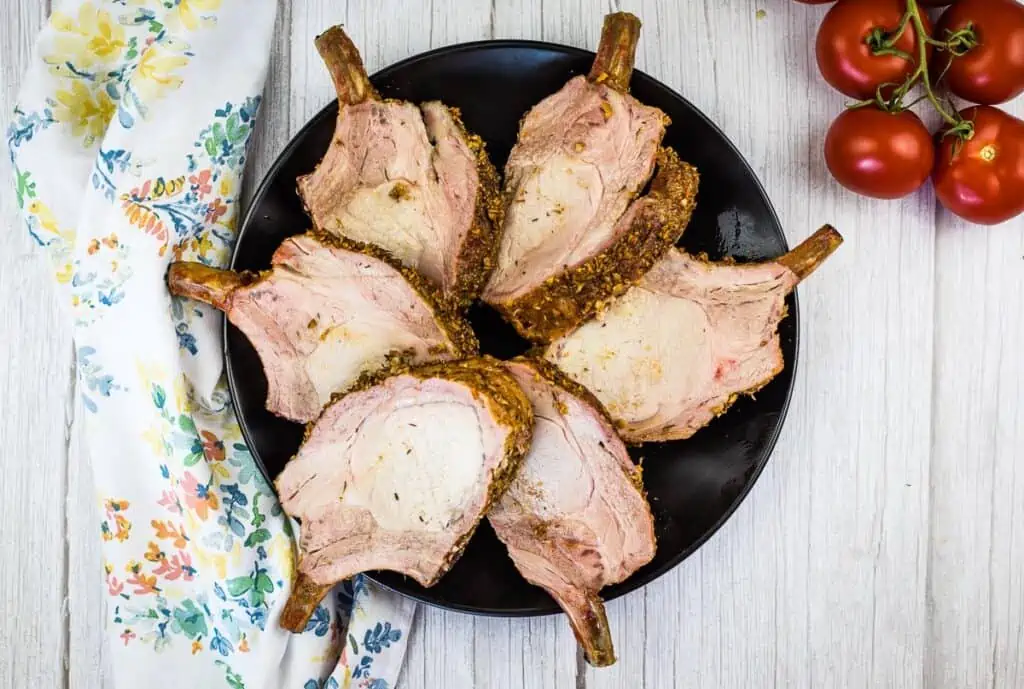 Frequently Asked Questions
How long does it take to smoke a rack of pork?
Smoking a bone-in pork roast will need a few hours. How long exactly will depend on the size of the roast and how cold it was when it went into the smoker. For a 6-bone roast, give yourself about 3 hours. You can always cover it and pop it into a cooler to stay hot if it's done before you're ready to eat. Don't leave it like that for more than an hour.
Does smoked rack of pork need to brine first?
No. You can brine it but the key to smoking pork loin is not overcooking it. It will be juicy and delish if you pull it off at 145-F and rest it.
Is Smoked Rack of Pork on a Traeger easy?
Yes, this is an easy smoked pork loin recipe.
Step By Step Process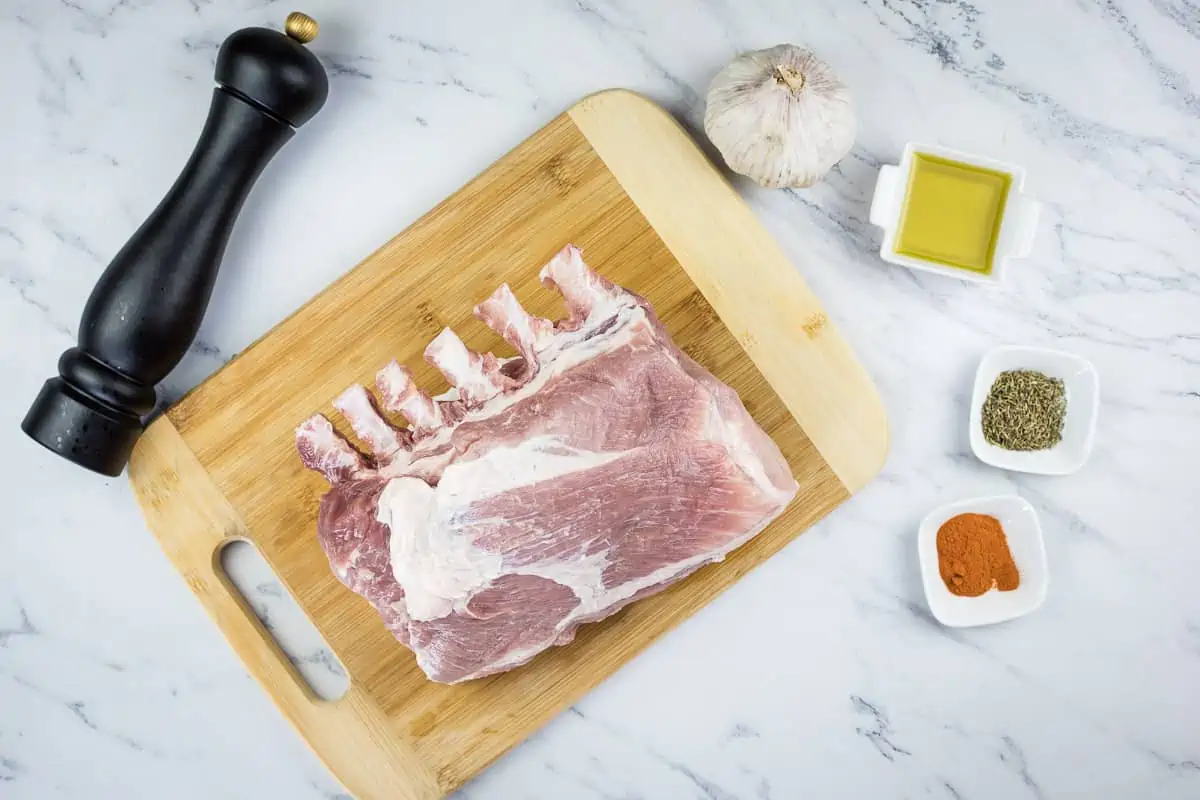 Smoked Rack of Pork
Meaty, juicy, flavorful, and smoky, this impressive cut of pork is easier to smoke than you might think! Fire up that smoker and feast on something delish tonight!
Ingredients
4

pounds

bone-in pork roast

about 6 bones (

1/4

cup

olive oil

4

cloves

garlic

minced fine

1

teaspoon

paprika

1

teaspoon

dried thyme

1

teaspoon

kosher salt

1/2

teaspoon

ground black pepper
Instructions
Preheat your smoker to 180-F.

Combine the olive oil, minced garlic, paprika, thyme, salt, and pepper in a small bowl.

Rub the garlic mixture all over the pork.

Smoke the pork at 180-F for about 30 minutes.

Turn the heat on the smoker up to 225-F and continue smoking until the meat reaches an internal temperature of 145-F.

Remove the pork roast from the smoker and rest for 10 minutes before carving.
Notes
Chef Jenn's Tips
Don't overcook the pork! The USDA says that pork can be safely eaten at 145-F with a 3 minute rest. If you pull it at 145-F and let it rest, it'll come up to about 150-F which is perfect for enjoying pork. It'll still have a blush of pink and be nice and juicy.
Use a good meat thermometer to temp the pork.
Let the pork rest about 10 minutes before carving.
There'll be pink around the bones from the smoke – assure your guests it is not undercooked pork!
Nutrition
Serving:
1
bone
|
Calories:
682
kcal
|
Carbohydrates:
1
g
|
Protein:
60
g
|
Fat:
47
g
|
Saturated Fat:
14
g
|
Polyunsaturated Fat:
5
g
|
Monounsaturated Fat:
24
g
|
Cholesterol:
191
mg
|
Sodium:
539
mg
|
Potassium:
1090
mg
|
Fiber:
0.2
g
|
Sugar:
0.1
g
|
Vitamin A:
54
IU
|
Vitamin C:
4
mg
|
Calcium:
62
mg
|
Iron:
3
mg
A Note on Nutritional Information
Nutritional information for this recipe is provided as a courtesy and is calculated based on available online ingredient information. It is only an approximate value. The accuracy of the nutritional information for any recipe on this site cannot be guaranteed.
Want More Delicious and Easy Recipes?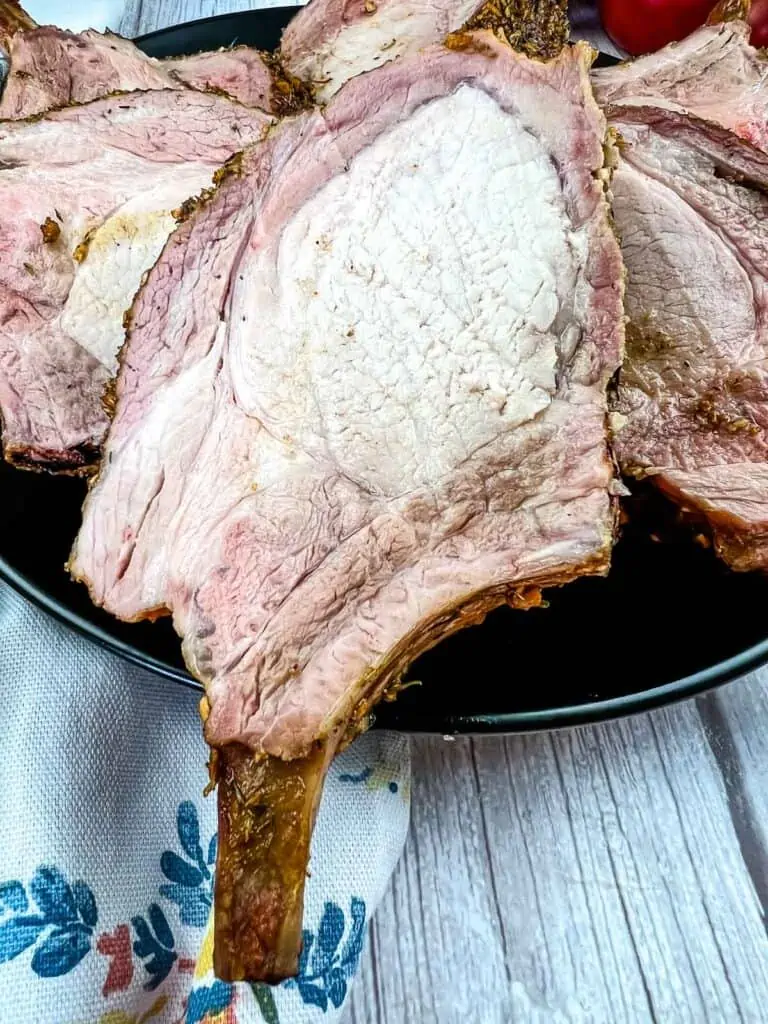 By