Loaded with sweet, tender shrimp and plenty of garlic, this tasty twist on a pizza is about as delicious as it gets! If you're a shrimp fan, this recipe is made for you!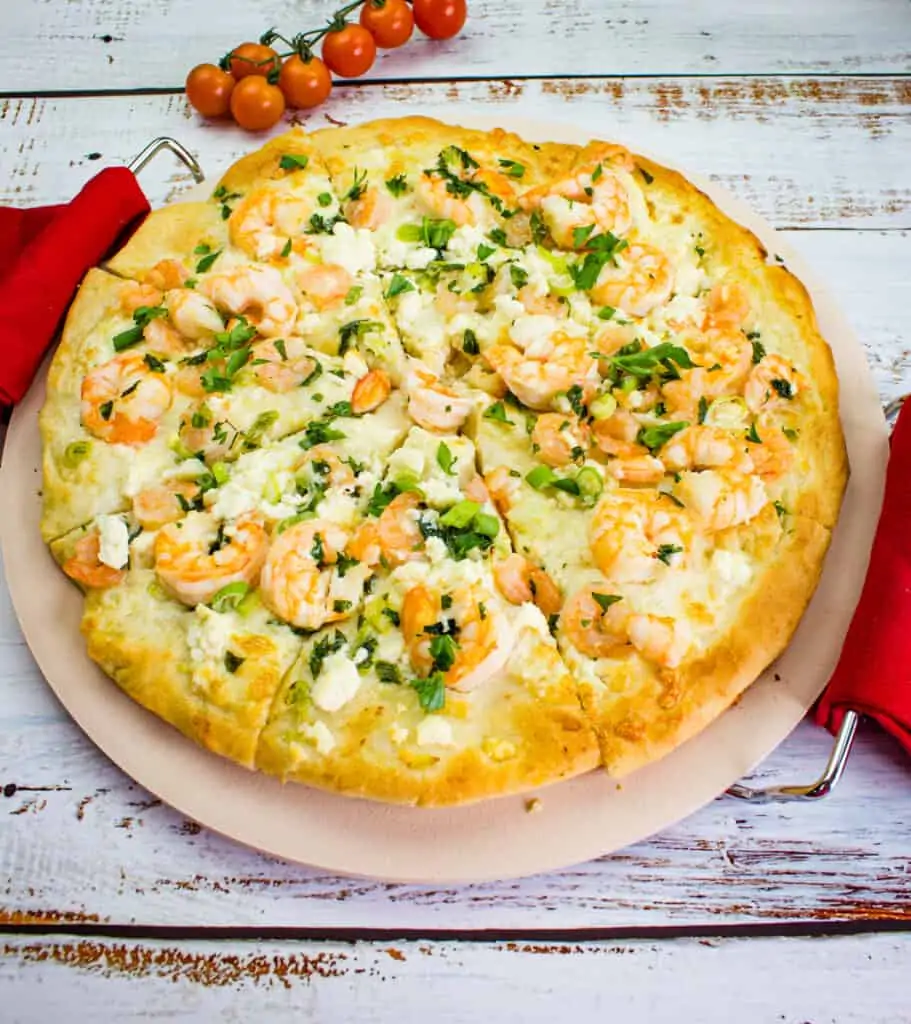 This post may contain affiliate link(s). As an Amazon Associate, I earn from qualifying purchases. See Disclosure.
Topped with tender shrimp, a touch of feta, and plenty of herbs, this gourmet pizza can be made quickly and easily at home with pre-made pizza dough or my homemade pizza dough recipe. Hungry? Let's get cooking!
What You Need To Make Shrimp Scampi Pizza
Pizza pan or stone
Pizza dough – either homemade from my pizza dough recipe, or store-bought
Shrimp
Butter
Olive oil
Garlic – fresh is best!
Red pepper flakes
Green onion
Lemon juice
Parsley
Parmesan cheese
Feat cheese
How To Make This Tasty Shrimp Pizza
Stretch the dough out onto a pizza pan and let it rest while you prepare the topping.
Melt the butter and olive oil in a skillet over medium heat. Add the garlic and let cook for a minute until it is fragrant.
Add the shrimp and cook for 2-3 minutes, turning once, until the shrimp are cooked.
Turn the heat off and add the lemon juice, red pepper flakes, green onion, and parsley.
Season with salt – especially if you used unsalted butter.\
Let the mixture cool while you pre-bake the pizza crust. Pop it into a pre-heated 450F oven and bake the pizza dough for about 5 minutes. Remove it from the oven.
Using a spoon, ladle some of the sauce out of the skillet and spread it around the top of the pizza dough.
Top the pizza with the shrimp and green onions/parsley from the pan. Distribute it evenly.
Top with 1/2 cup of crumbled feta cheese and a sprinkle of Parmesan.
Bake for an additional 6-7 minutes, depending on the thickness of your dough, until golden brown around the edges and cooked through.
What Kind of Shrimp Should I Use?
Do yourself a favor and use peeled and deveined shrimp! You can often find them frozen or at your store's seafood counter.
Bigger is not better here. If you're using bigger shrimp, consider chopping them to spread the shrimp around more evenly. Everyone wants shrimp in each bite!
Or, use smaller shrimp. I'd use a 20-30 or medium size shrimp. Salad shrimp will practically disappear when baking so I'd skip those.
recommended
How Do I Know When Pizza is Cooked Through?
Isn't this the age-old question! Ready for my high-tech and super-cheffy method for checking if pizza is cooked through?
Poke it in the middle. Yup, that's right. Grab a sharp knife and just lift up some of the dough in the middle of the pizza, getting down close to the crust if you can.
Don't mutilate the pizza – you're just looking to get a peek at the dough. If it is raw, pop it back in for another minute or two.
If your pizza starts getting too dark before it is cooked through, tent the top with foil.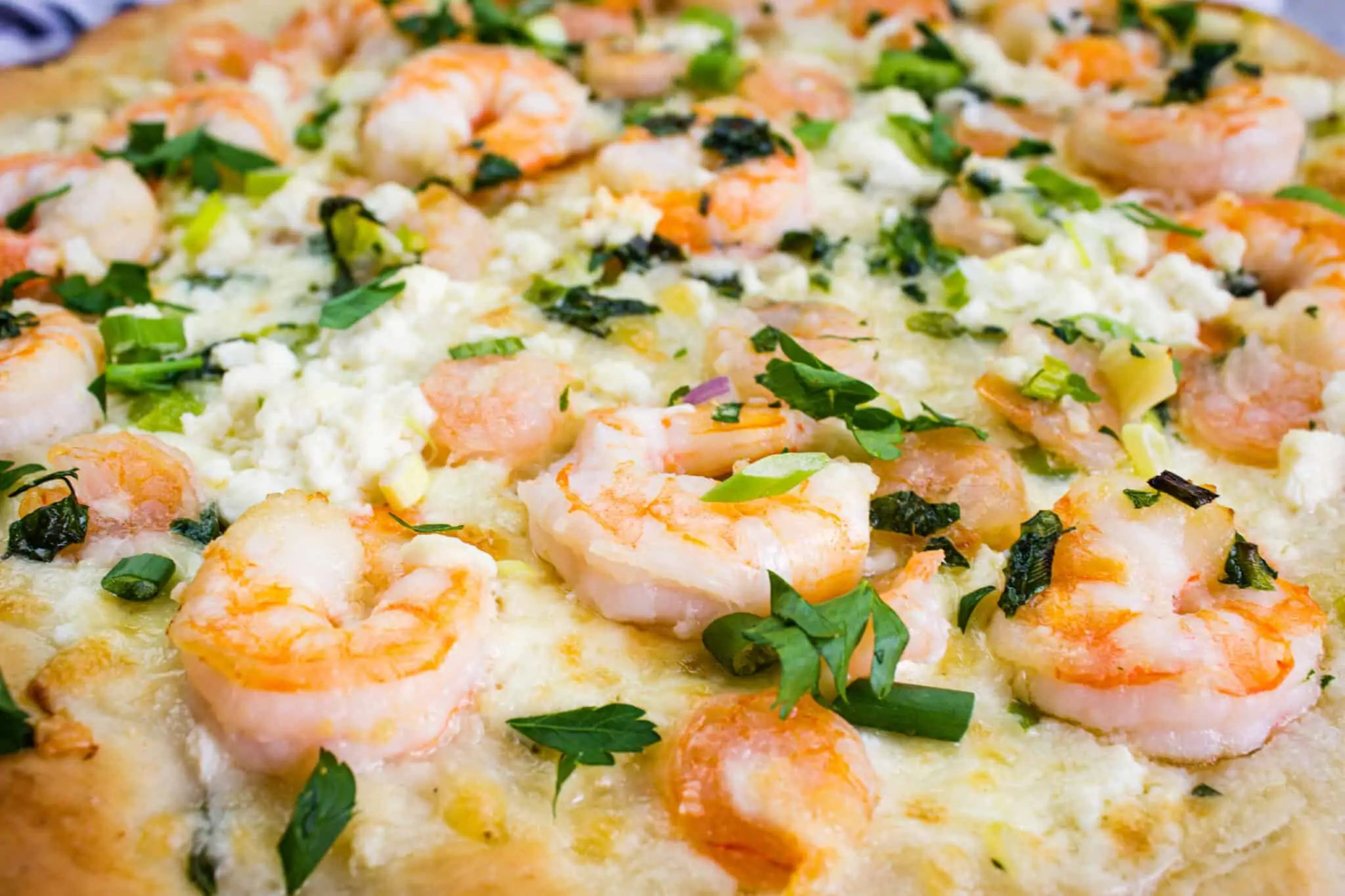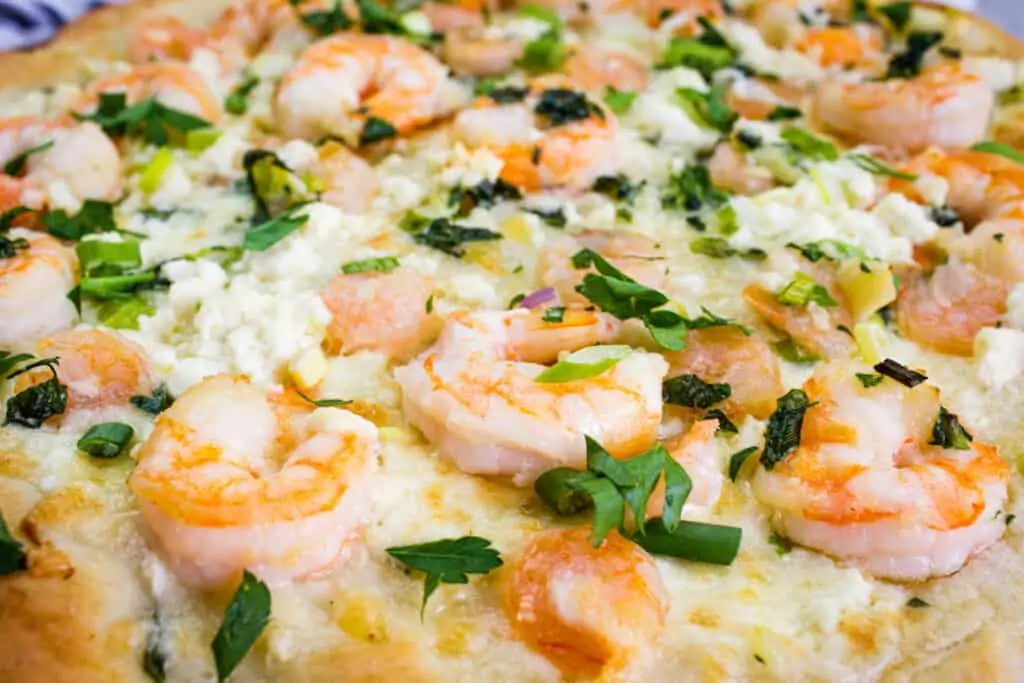 Chef Jenn's Tips
Shrimp is the star of this recipe so use good quality shrimp! See my notes above for what kind of shrimp to use.
Red pepper flakes add a touch of heat to this dish, but go easy! Start with just a tiny pinch unless you know you love the heat.
Feta adds a lovely saltiness to the pizza and balances out the flavor, but you can skip the butter and cheeses if you want to go dairy-free.
Want to make shrimp scampi pizza on the grill? Just fire up your grill and precook the pizza dough on a medium-high grill then top it and finish cooking it on a low heat with the lid closed until cooked through.
What To Serve With Shrimp Scampi Pizza
Honestly, you don't need much! I'd serve this tasty pizza with a garden salad and a nice dressing. Or, you can turn it into a flatbread by stretching the dough into an elongated oval, and serve it as an appetizer or hors d'oeuvre.
I also love offering a non-seafood version of this pizza, like this homemade pepperoni lover's deep dish pizza.
Does This Shrimp Scampi Pizza Recipe Freeze?
Unfortunately not. This is one of those dishes that is best eaten fresh.
You can store the leftovers for a day or two in the fridge, and then reheat them in the toaster oven or regular oven. But it is definitely better fresh.
Frequently Asked Questions
Is shrimp scampi pizza healthy?
Well, it is better for you than meat and cheese-topped pizzas, but with the dough and butter, this isn't a low carb or low fat dish.
Can I make shrimp scampi pizza for a crowd?
Yes! I'd start by doubling or tripling the amount of shrimp mixture. Then, par-bake all your crusts at once. Then, line them up assembly-line fashion and top each of them, baking as many as your oven can comfortably hold.
Can I make this a thick-crust shrimp scampi recipe?
Yes! Just stretch your dough out thicker when you put it on the pizza pan. And, pre-cook it for a few extra minutes. The less time the shrimp are in the hot oven, the better!
Step By Step Process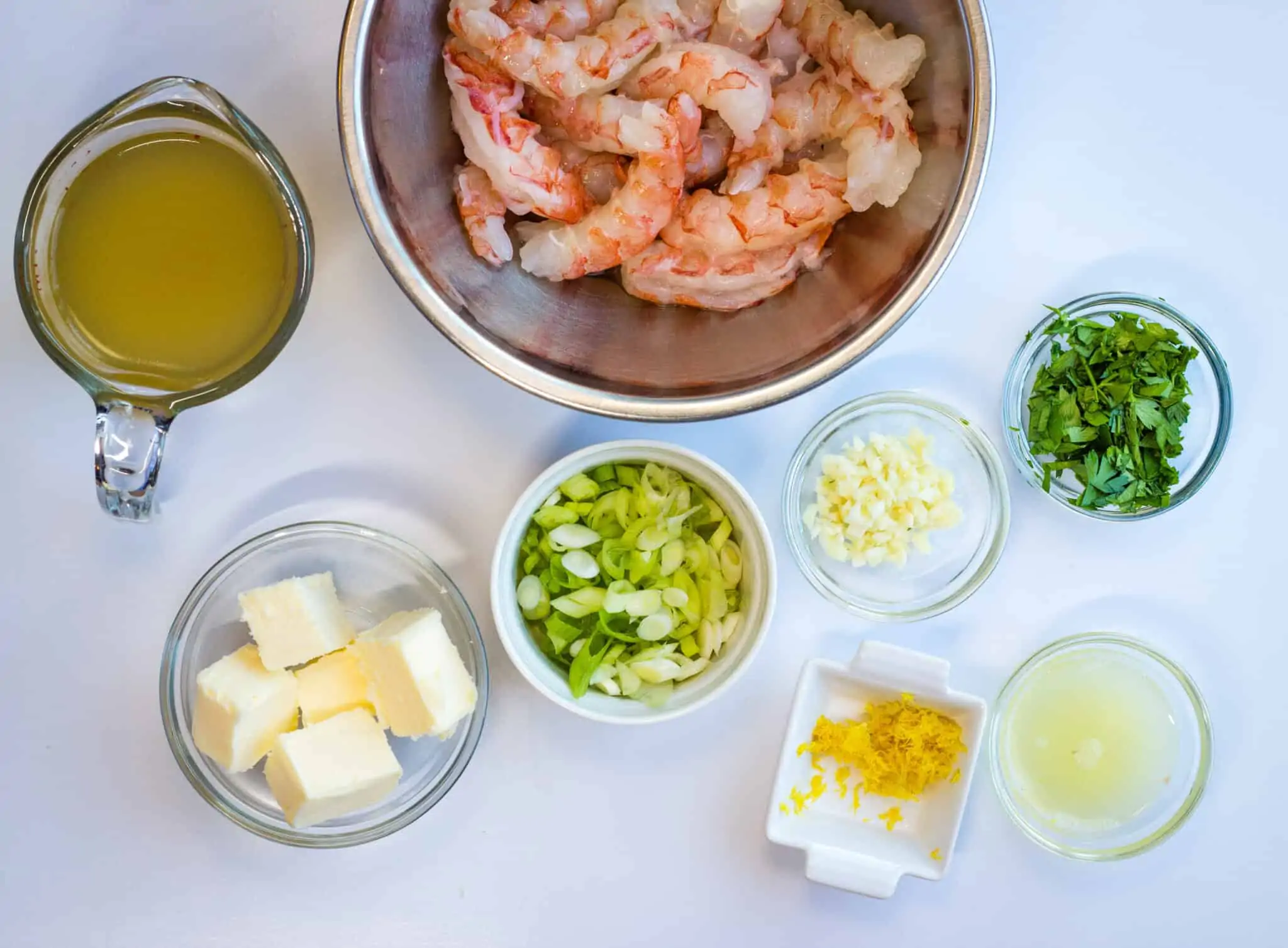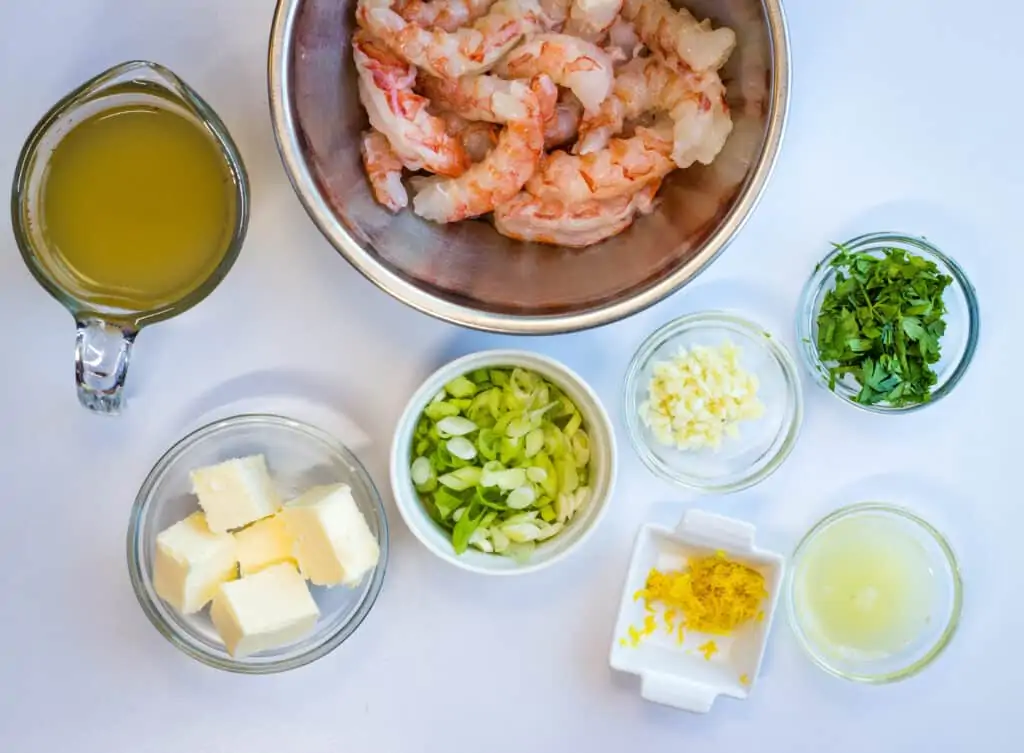 Shrimp Scampi Pizza
Sweet and tender shrimp are enveloped in a rich scampi sauce that's then put on top of fresh pizza dough and baked until perfect.
Ingredients
1

batch

Homemade Pizza Dough

this makes enough for 2 pizzas so divide in in half

1

pound

shrimp

peeled and deveined

2

tbsp

butter

1

tbsp

olive oil

3

cloves

garlic

minced

1/4

tsp

red pepper flakes

1/4

cup

green onion

sliced

1/4

cup

parsley

chopped

2

tbsp

lemon juice

1/4

cup

feta cheese

crumbled

1/4

cup

Parmesan cheese

shredded or grated
Instructions
Roll or stretch the pizza dough out onto a pizza pan, pizza stone, or sheet pan. Bake it in a 450-F oven for about 6 minutes or until the crust has started to set.

Meanwhile, make the shrimp. Add the butter and olive oil to a skillet and heat over medium-high heat. When the foaming subsides, add the garlic and cook for a minute until fragrant.

Add the shrimp and cook for 2-3 minutes, or until cooked. Turning as necessary.

Add the green onion and parsley, and remove from the heat. Add the red pepper flakes and lemon and season with salt if needed.

Using a spoon, spoon out some of the butter mixture and spread that over the par-baked pizza crust. Top with the shrimp mixture, making sure to evenly distribute the shrimp.

Top with crumbled feta and sprinkle on the Parmesan cheese.

Bake for an additional 6-7 minutes or until the crust is cooked through. Slice and enjoy!
Nutrition
Serving:

0.25

of the pizza

|

Calories:

427

kcal

|

Carbohydrates:

36

g

|

Protein:

33

g

|

Fat:

17

g

|

Saturated Fat:

7

g

|

Trans Fat:

1

g

|

Cholesterol:

313

mg

|

Sodium:

1654

mg

|

Potassium:

161

mg

|

Fiber:

1

g

|

Sugar:

5

g

|

Vitamin A:

679

IU

|

Vitamin C:

14

mg

|

Calcium:

301

mg

|

Iron:

5

mg

A Note on Nutritional Information

Nutritional information for this recipe is provided as a courtesy and is calculated based on available online ingredient information. It is only an approximate value. The accuracy of the nutritional information for any recipe on this site cannot be guaranteed.

By