Don't be intimidated by making pizza dough from scratch! Not only is the flavor so much more delicious, but it's also an easy fix that just takes a bit of time. Watch the magic and make your own scrumptious pizza dough today!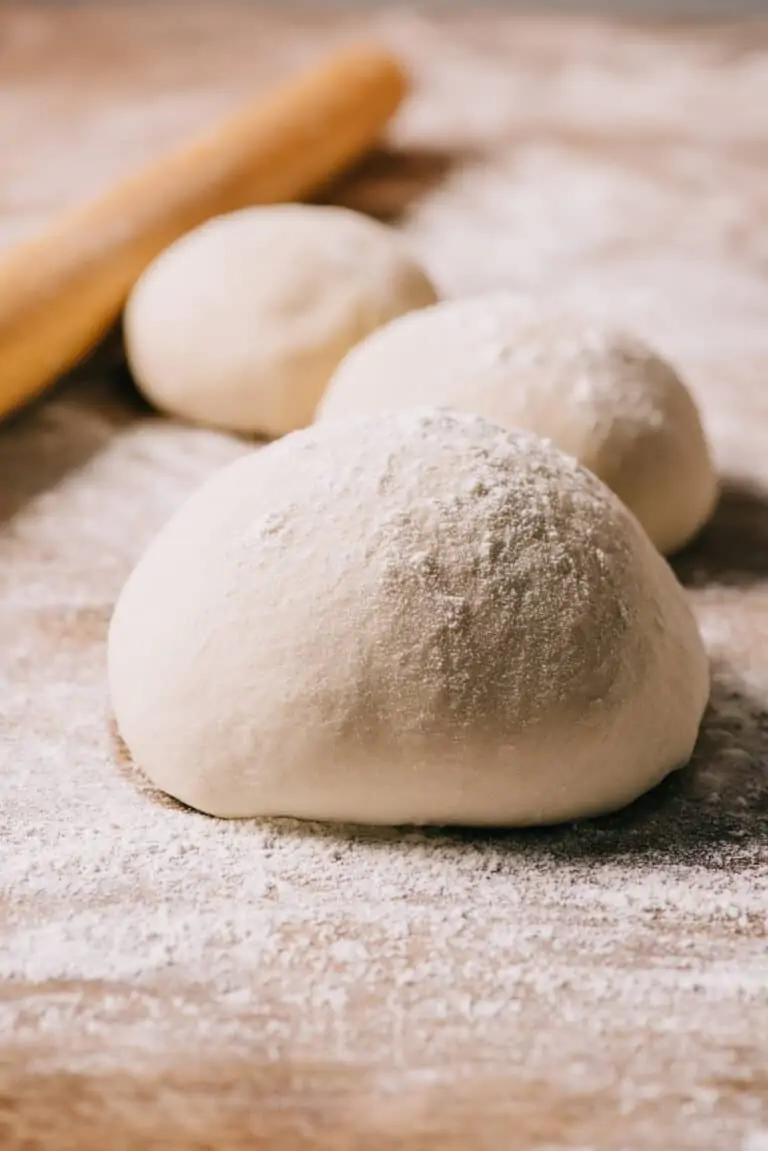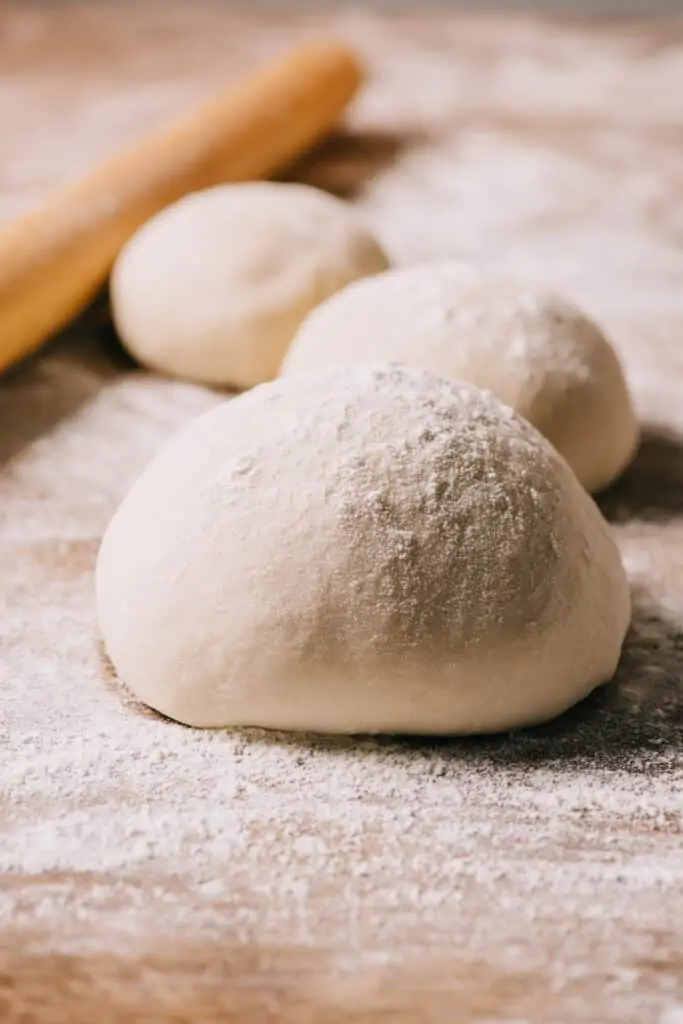 Making pizza dough from scratch isn't difficult – the hardest thing about this dough is the time it takes. It'll need time to rise properly, but the yeasty and fresh bread flavor makes it oh-so-worth it! Hungry? Read on and I, Chef Jenn, will show you all my tips and tricks to make pizza dough perfectly every time.
What You'll Need
KitchenAid or other stand mixer
Yeast – not instant yeast
All-purpose flour
Olive oil
Salt
Pinch of sugar
Recommended
How To Make This Easy Pizza Dough
I make this KitchenAid pizza dough in a few steps:
Dissolve the yeast in 1/4 cup of warm water along with a pinch of white sugar. Let it stand for 10 minutes.
Add the flour, dissolved yeast, salt and water to the bowl of your stand mixer with the dough hook. Work the dough on low for about 5 minutes, adding a bit more water, 1 tbsp at a time, if the dough doesn't pull away from the sides of the bowl and form a ball.
Pop the dough out of the bowl and lightly oil the inside of the bowl. Put the dough back in, cover the bowl with plastic wrap, and let it rise for about 90 minutes in a draft-free and warmish spot.
Divide the dough in half and roll it out or stretch it out to cover your pizza pan. Cover the pans with plastic wrap and let them rest for another 45 minutes.
Top with your favorite pizza sauce and toppings, bake and enjoy!
What Kinds of Pizzas Can You Make With Homemade Pizza Dough
You can make all your favorite pizzas, including: Birria Pizza, Shrimp Scampi Pizza, Calabrese Pizza, and more!
Chef Jenn's Tips
Salt kills yeast so make sure you're only adding sugar to the water in which you're dissolving your yeast.
If your yeast doesn't get quite foamy looking, it's not very fresh and your dough won't rise.
Make sure you're not using expired yeast – it has a limited shelf life.
This Italian pizza dough recipe is very forgiving so don't be afraid you're over-mixing.
Can You Freeze Pizza Dough?
Yes! You can! Freeze portions of the dough in a plastic bag that's been oiled up on the inside to keep the dough from sticking. Simply drizzle a few drops of oil into the bottom of a plastic bag and moosh the bag around with your hands to distribute the oil.
Pop the dough into the bag and squish out as much air as you can.
Freeze the dough for up to three months.
Thaw the dough overnight in the fridge. You don't want to thaw it on the counter or it'll continue rising once it warms up.
Frequently Asked Questions
How long does pizza dough last in the fridge?
The dough will keep for 2-3 days in the fridge if it's been tightly covered with little air around it to dry it out. I'd put the dough into an oiled plastic bag or plastic wrap and wrap it tightly.
What else can I do with pizza dough?
Cut it into strips and deep fry it and then toss it in cinnamon sugar.
Make flatbread.
Make calzones.
Top it with garlic butter and grill it.
Make garlic knots.
It's such a versatile dough that doesn't just have to be made into pizza crust!
What do I do if my pizza dough doesn't stretch out?
If it is still springy and pulls back when you try to stretch it out, it isn't fully rested. Give it another 20 minutes in a warm spot while covered with plastic wrap.
Step By Step Process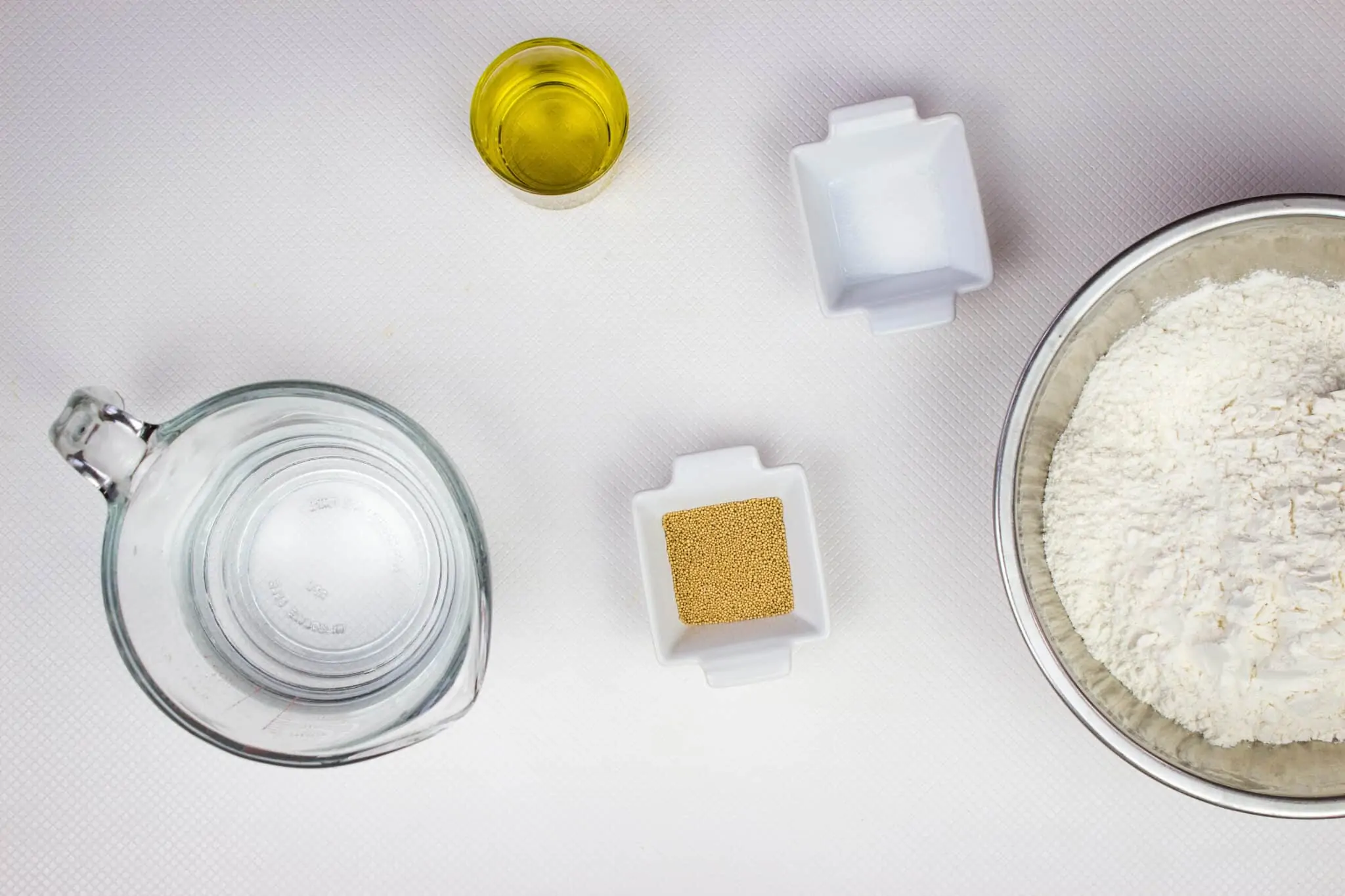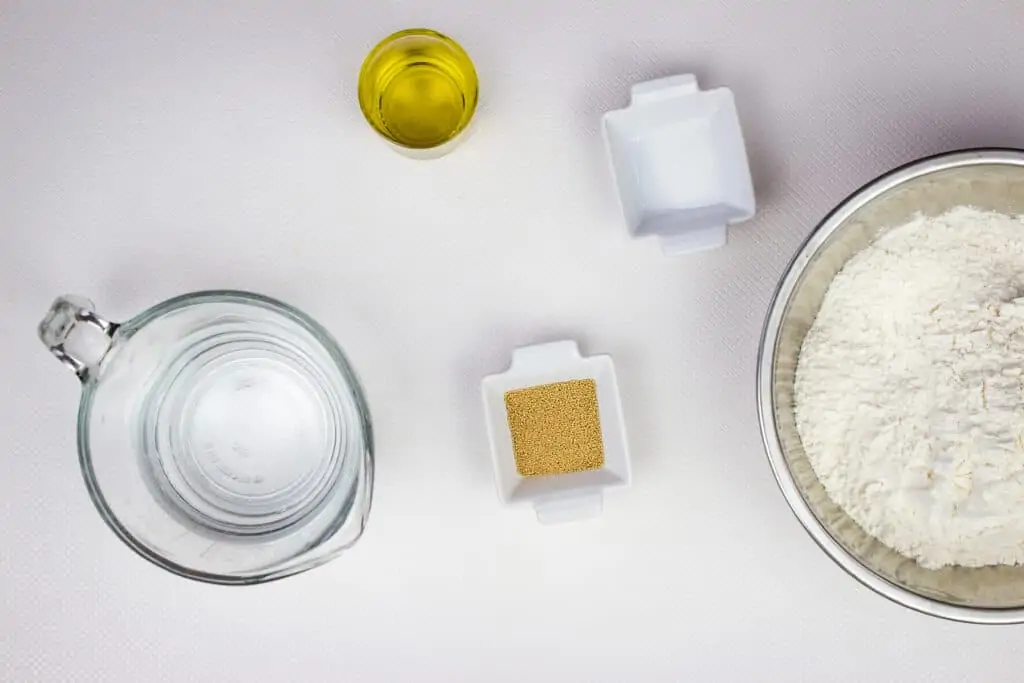 Easy Pizza Dough
This no knead pizza dough is a cinch to make with the help of your stand mixer and it has soo much amazing flavor!
Ingredients
2

tsp

dry yeast

regular, not instant rise yeast

1/4

cup

warm water

1

pinch

sugar

3

cups

all purpose flour

2

tbps

olive oil

3/4

cup

warm water

1

tsp

salt
Instructions
Dissolve 2 tsp of regular yeast in 1/4 cup of very warm water. Add a pinch of sugar and stir to dissolve. Set aside for 10 minutes.

Meanwhile, measure the flour and salt into the bowl of a stand mixer fitted with teh dough hook.

When the yeast is nice and foamy on top, add it to the bowl with the flour along with 3/4 cups of warm water and 2 tbsp of olive oil.

Mix on low for about 5 minutes or until the dough has pulled away from the sides and formed a smooth and glossy ball. Add 1 tbsp of water at a time if your dough is too dry and not coming together into a ball.

Remove the dough from the bowl and lightly oil the inside of the bowl. Put the dough back into the bowl and cover it with plastic wrap and set it to rise in a warmish spot for 90 minutes.

The dough should at least have doulbed in size after 90 minutes. Remove the dough from the bowl and divide it in half. Sprinkle some flour on a very clean counter top and roll and stretch the dough out to the size of your pizza pan. Flip it onto the pan and stretch it more until the pan is covered. Cover the pans with plastic wrap and let them sit for another 45 minutes.

That's it! Top the pizzas with your favorite toppings, bake them, and dig in!
Notes
This recipe makes two thin-crust 12-inch pizzas.
Nutrition
Serving:

0.25

of a pizza

|

Calories:

214

kcal

|

Carbohydrates:

37

g

|

Protein:

6

g

|

Fat:

4

g

|

Saturated Fat:

1

g

|

Sodium:

293

mg

|

Potassium:

79

mg

|

Fiber:

2

g

|

Sugar:

1

g

|

Vitamin C:

1

mg

|

Calcium:

8

mg

|

Iron:

2

mg

A Note on Nutritional Information

Nutritional information for this recipe is provided as a courtesy and is calculated based on available online ingredient information. It is only an approximate value. The accuracy of the nutritional information for any recipe on this site cannot be guaranteed.

By