Mom deserves something special this Mother's Day, and when you want to impress, treat her to this Mother's Day Charcuterie Board. This is the perfect snack platter – loaded with sweet and savory treats, building your own board isn't hard and I've got all the info you need to wow her on her special day!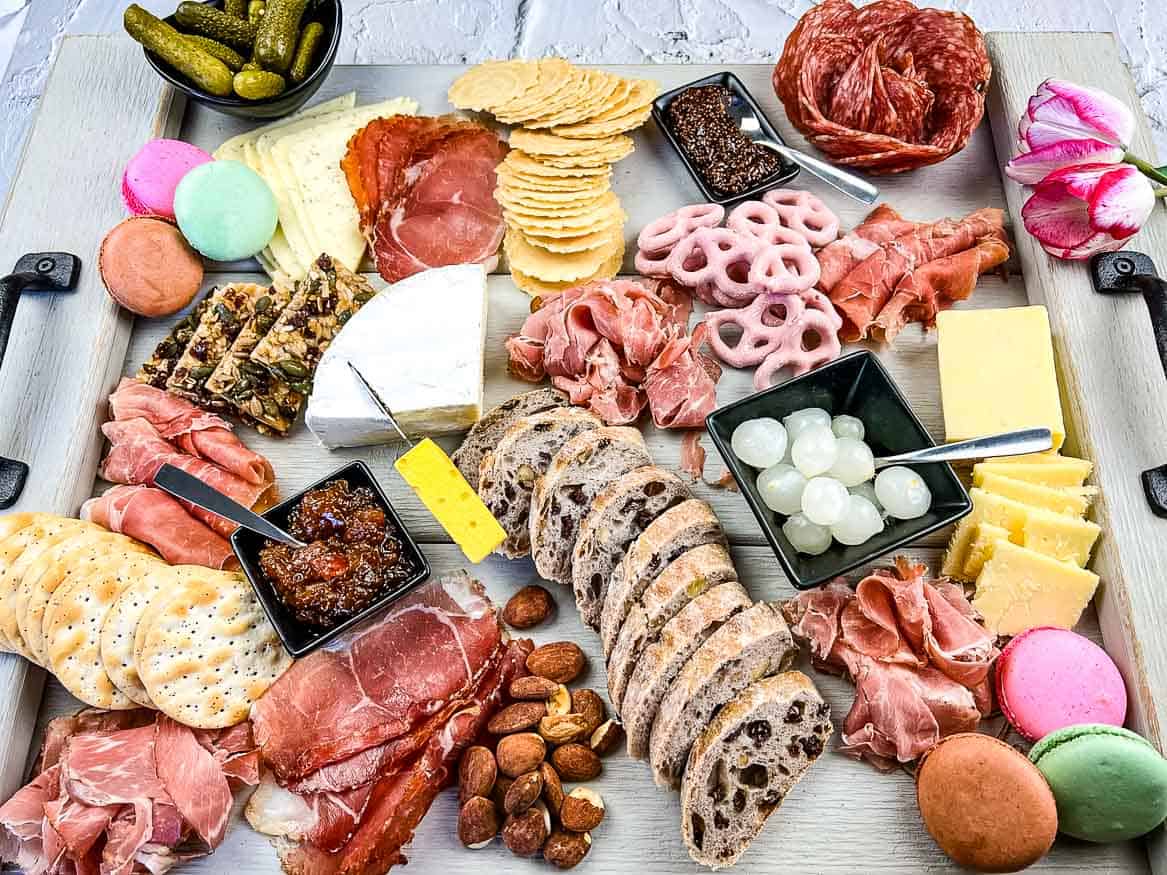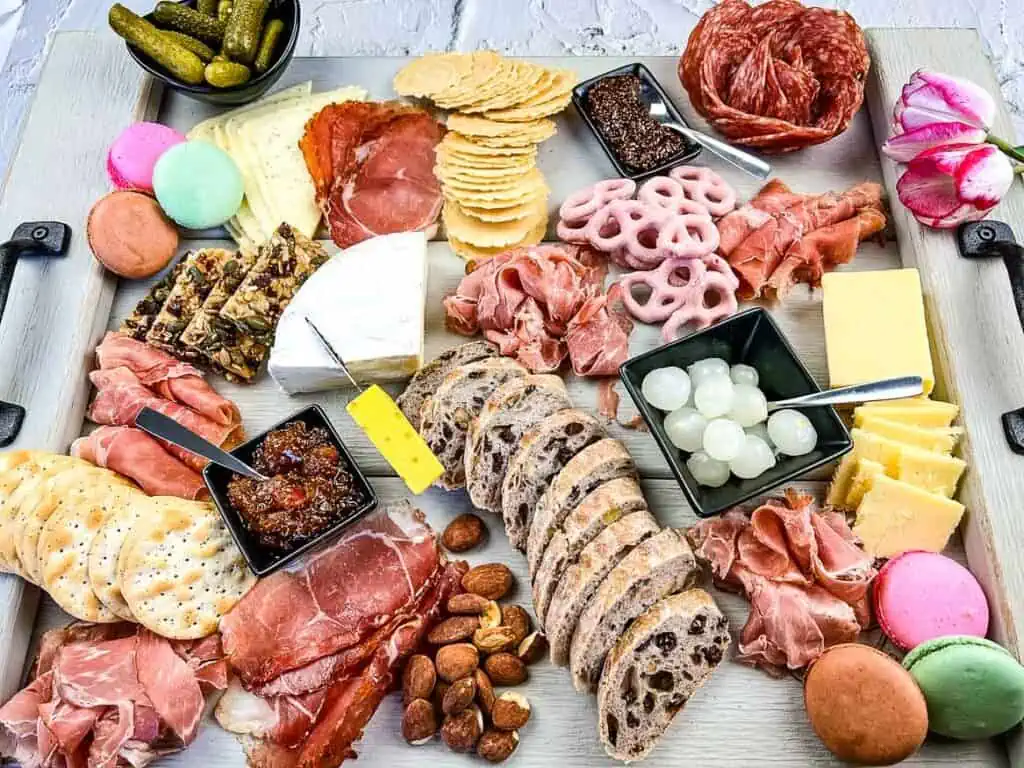 Loaded with meats, cheeses, breads, crackers, pickles, and a few special sweet treats, a Mother's Day Charcuterie Board can be as simple or as involved as you like it. No two boards are the same, and you can tailor each board to make it just how you–and the special mother in your life–like it.
What Is A Charcuterie Board?
Charcuterie boards are snack boards or grazing boards that traditionally hold a variety of smoked and cured meats, cheeses, nuts, dried fruit, and accompaniments like pickles, chutneys, and various toppings. They're meant to replace a traditional knife-and-fork meal, and they can be enjoyed with a glass of wine or a cocktail.
How To Make An Epic Charcuterie Board
How Many People?
First, figure out how many people you will be serving. This will guide you on how much you need to buy. How much charcuterie per person? You'll want 3-4 ounces of meat per person, plus 3-4 ounces of cheese per person, in addition to a variety of other nibbles.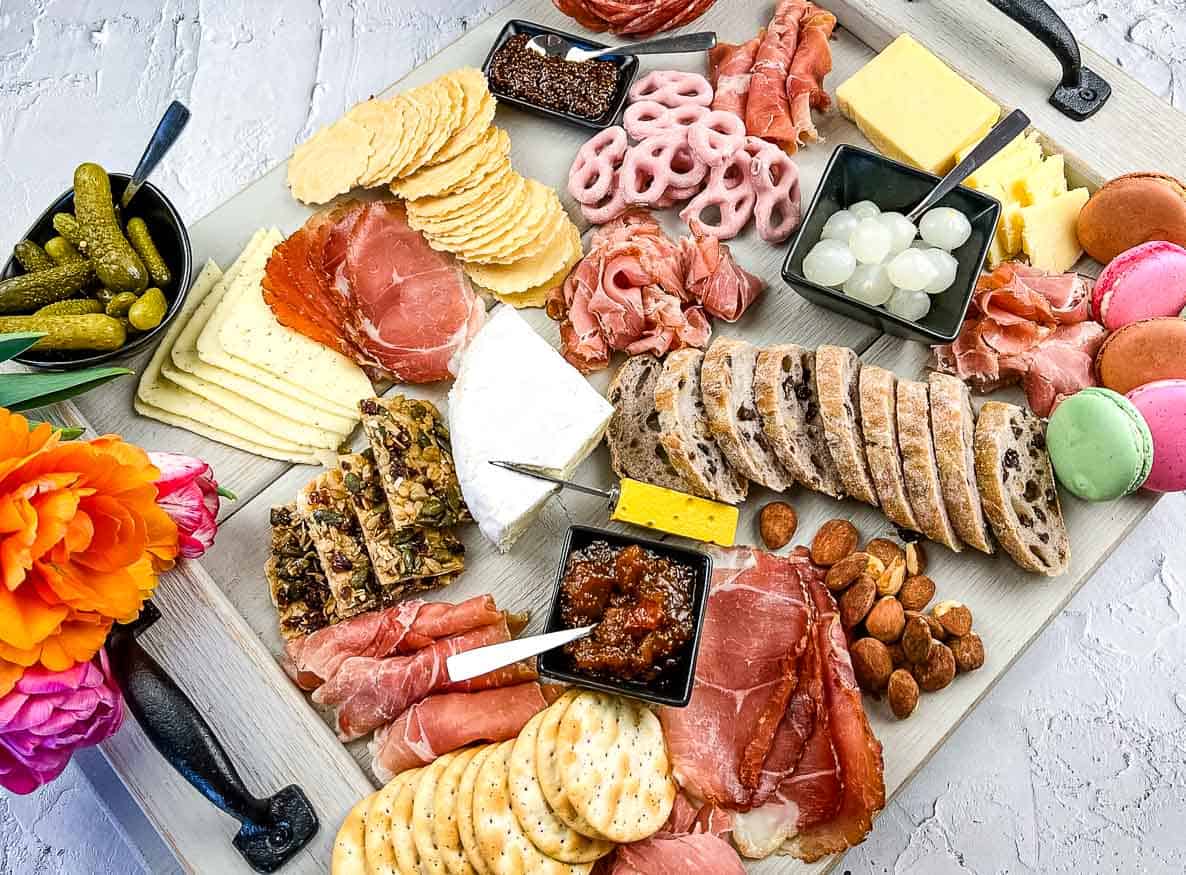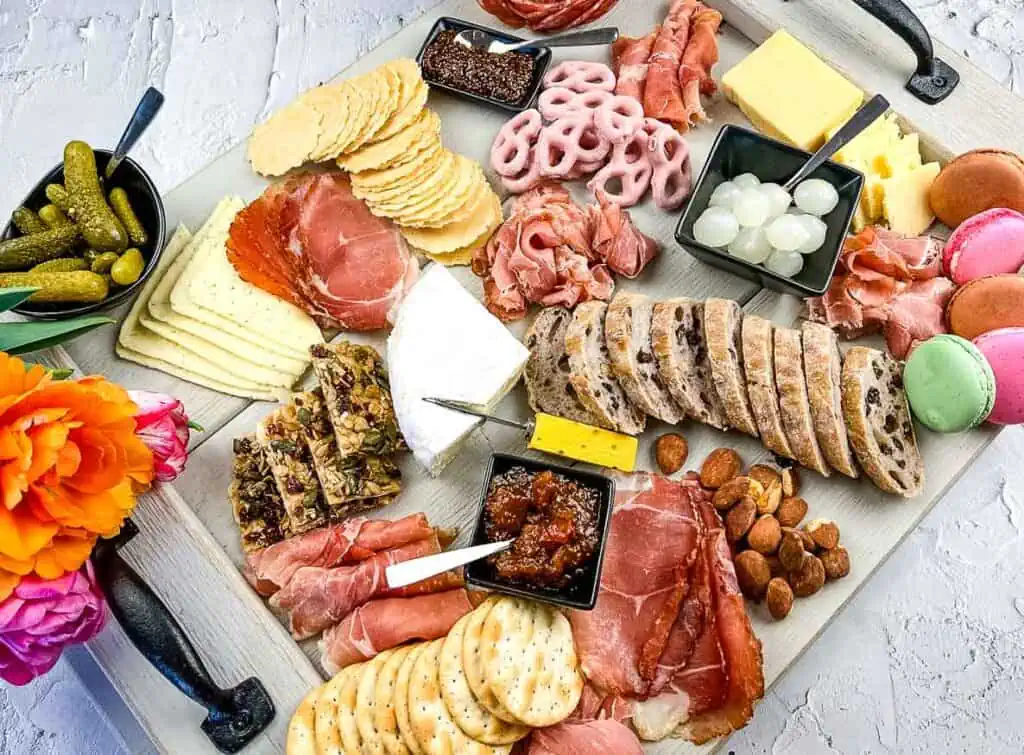 You'll Need A Board
Next, you need a board. Charcuterie boards are available in a variety of sizes. Make sure you have one large enough to hold all your goodies. I love Sandy's Big Boards. They're hand-crafted, have a lip on them so nothing falls off, and are food-safe. Plus, they'll ship right to your door!
Mother's Day Gift Idea
Treat Mom to a Mother's Day Charcuterie Board on a brand new board! Order the board a few weeks in advance, then load it up with all her favorite goodies and surprise her with a delectable gift! These Big Boards are perfect for Mother's Day grazing boards!
What Goes On A Charcuterie Board
You want a tasty combination of meats, cheeses, pickles, nuts and fruit, or dried fruit, breads and crackers, and other tasty nibblies. I'll break it down for you.
Meats: For fancier charcuterie, visit an Italian or European deli. Look for prosciutto, salami, capicola, speck, and more. I love homemade rillettes on my boards, or, stick with sliced ham, turkey, summer sausage, or all her favorites. You want 2-3 different kinds of meats on your charcuterie board.
Cheeses: Look for a soft cheese (brie, camembert, or Boursin), a hard cheese (aged cheddar, Parmesan, manchego), and a semi-soft cheese like havarti, fontina, or a milder cheddar. Aim for 3-4 kinds of cheese on your board, and it's nice to include a flavored cheese, too, like applewood smoked cheddar, dill havarti, or look for a flavored English cheese.
Breads: Crackers are the staple of any good board, but I love to include baguette slices, too. I aim for 2 kinds of crackers and one baguette; often, I'll grab a flavored baguette like olive or roasted garlic.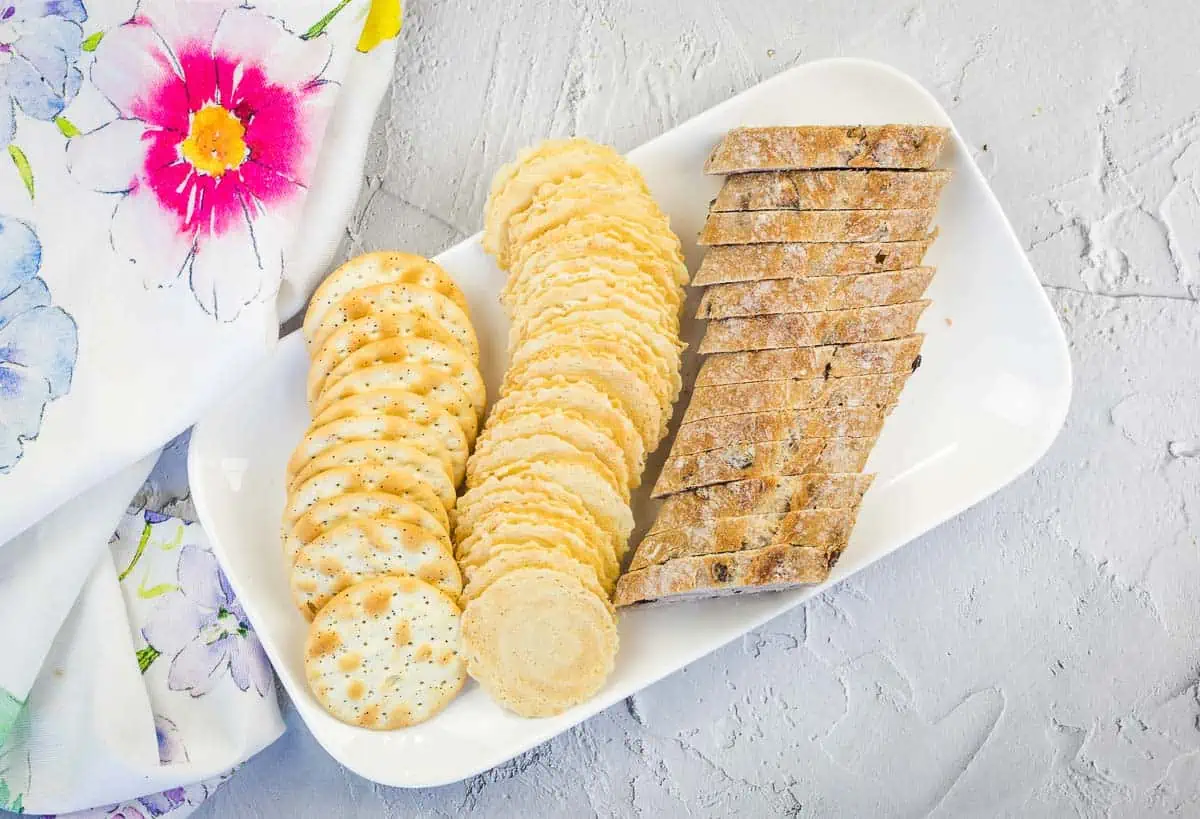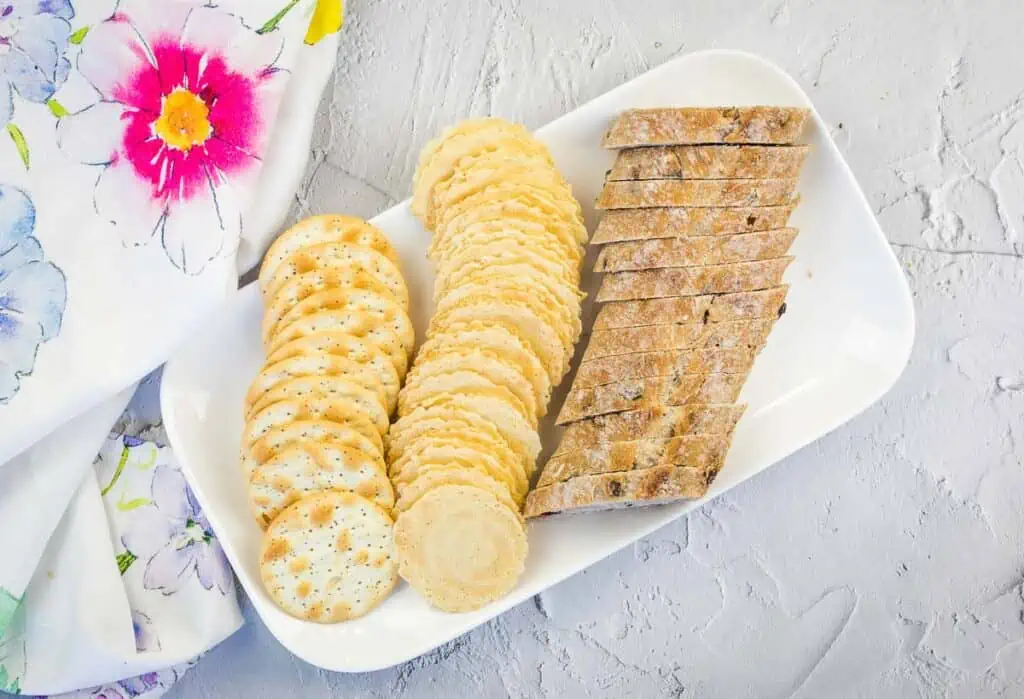 Pickles, olives & condiments: You want to have something on the board to cut the richness. Gherkins, pickled onions, pickled beans or asparagus, or even pickled beets will cut the richness. Don't forget your favorite olives! I like 2 kinds of pickles, plus a variety of toppings like honey, chutney, fig jam, or anything else with a bit of sweetness. Grainy mustards and caramelized onions also work nicely on a board.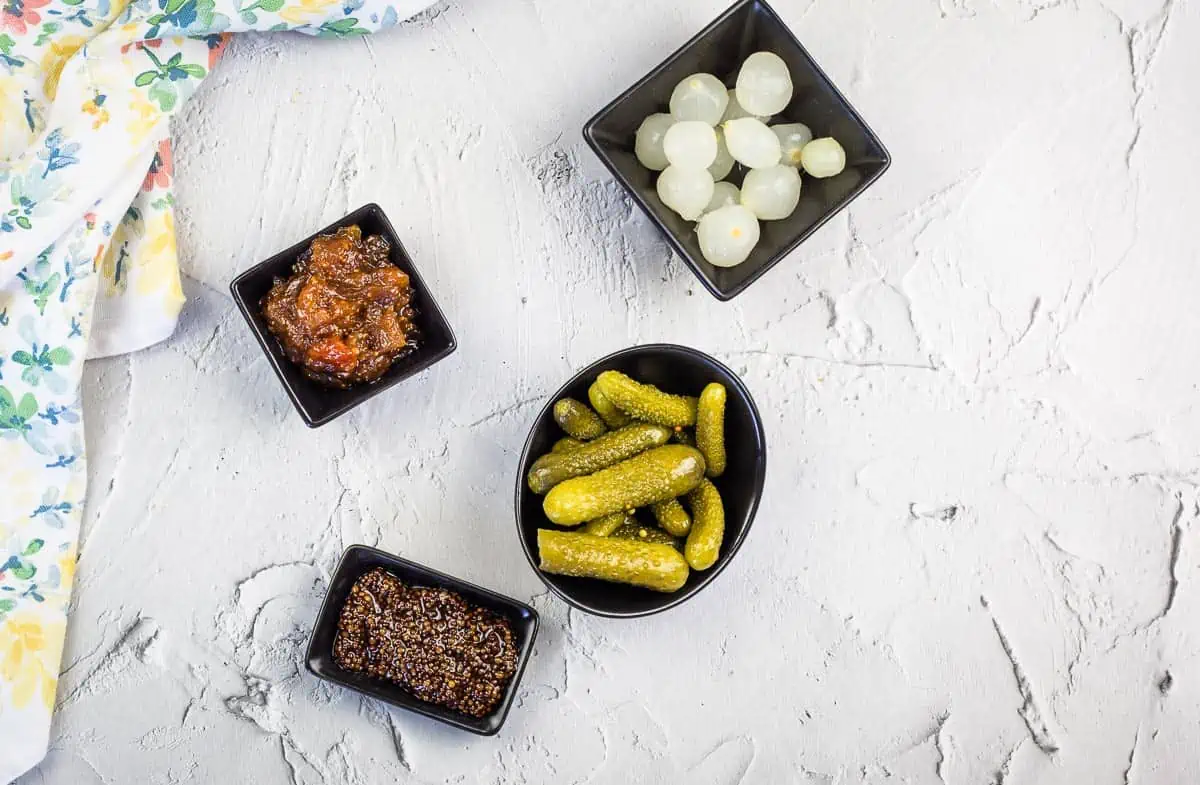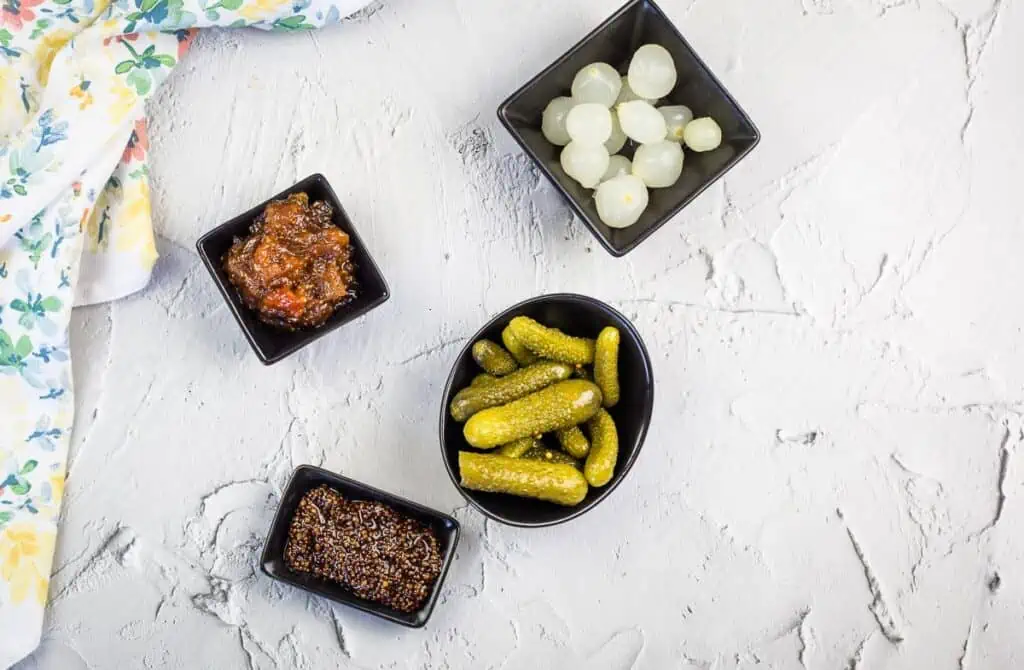 Extras: I like to include something sweet on my boards. Candy-coated pretzels, macarons, chocolates, chocolate-covered strawberries or your favorite candies will all work.
Fill in the gaps: Fill in the gaps on your board with dried nuts or fruit, fresh fruit, or even cut veggies.
How To Assemble A Charcuterie Board
Start with the largest items and add them to the board. This might be a wheel of brie or a long log of cheese.
Fill in the board with small grouping of the meats and cheeses, breaking them apart so no two kinds are next to each other.
Add little bowls with the pickles and condiments, then fill in the gaps with the remaining items.
Chef Jenn's Tips
There's no right or wrong way to make a charcuterie board. Have fun with it, and the kids can help you arrange it, too!
You can get most of what you need from a good deli, so there's no need to shop around.
Prepare the board up to an hour in advance of eating.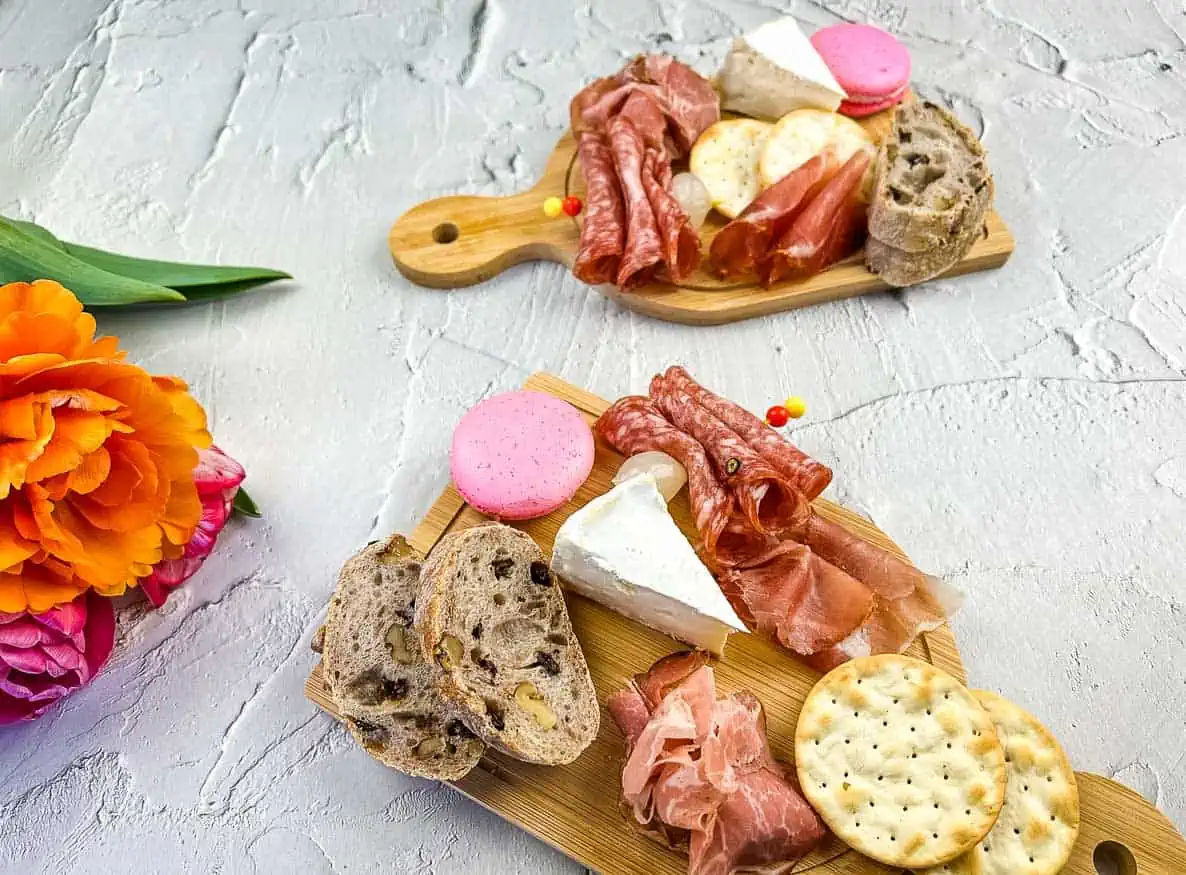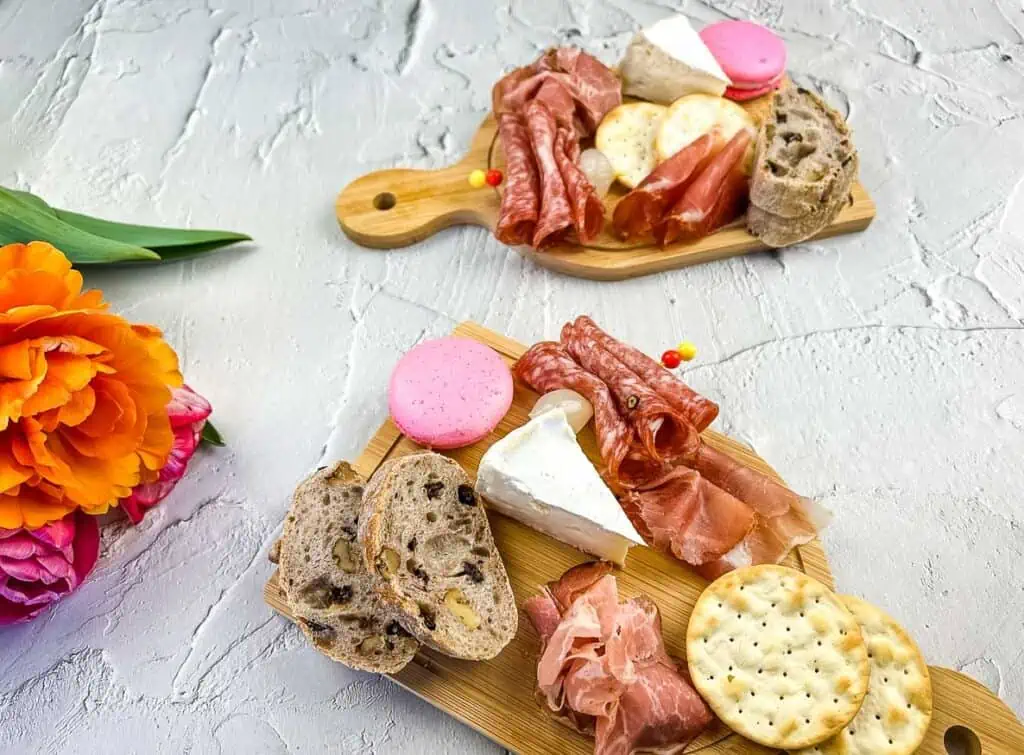 What To Serve With A Charcuterie Board
You don't need much besides a glass of wine when serving charcuterie. It's meant to be nibbled slowly, mixing and matching the flavors and enjoying your company while nibbling.
Charcuterie Shopping List for 4-6 Diners
The following is a suggested shopping list to build a charcuterie board for 4-6 diners.
| | |
| --- | --- |
| Salami – 3 ounces | Fancy crackers – keep the flavors neutral |
| Proscuitto – 3 ounces | Nuts and dried fruit |
| Capicola – 3 ounces | Condiments – Grainy mustard, chutney or honey |
| Brie – 4 ounce wheel or wedge | Sweet treats – Macarons, chocolates, etc. |
| Aged cheddar – 4 ounces | Olives – 4 ounces |
| Gouda – 4 ounces | |
| Flavored cheese – 3-4 ounces | |
| Assorted pickles | |
| 1 small baguette; sliced | |
| Plain crackers, like water crackers | |
By