Brown butter makes EVERYTHING better! Simple and delicious salty butter gets a flavor overhaul when you brown it, turning it into a luscious, rich, and slightly nutty flavor that makes this Brussels Sprouts with Almonds & Brown Butter recipe such a hit!
This post may contain affiliate link(s). As an Amazon Associate, I earn from qualifying purchases. See Disclosure.
This is an easy dish to make, once you've mastered the trick of browning the butter. Ready to make it? Read on!
WHAT IS BROWN BUTTER
When you've melted butter, have you ever noticed that there's the milk solids that settle to the bottom?
When you brown the butter, you're essentially cooking those milk solids, and as long as you don't burn it, they'll become a rich brown color and lend unbelievable flavor to the butter.
WHAT DOES BROWN BUTTER TASTE LIKE?
Brown butter has a slightly nutty, almost caramel flavor. I've even used it in icing with these luscious cupcakes.
Once you've mastered the trick of making brown butter – and it's not hard – you'll never go back!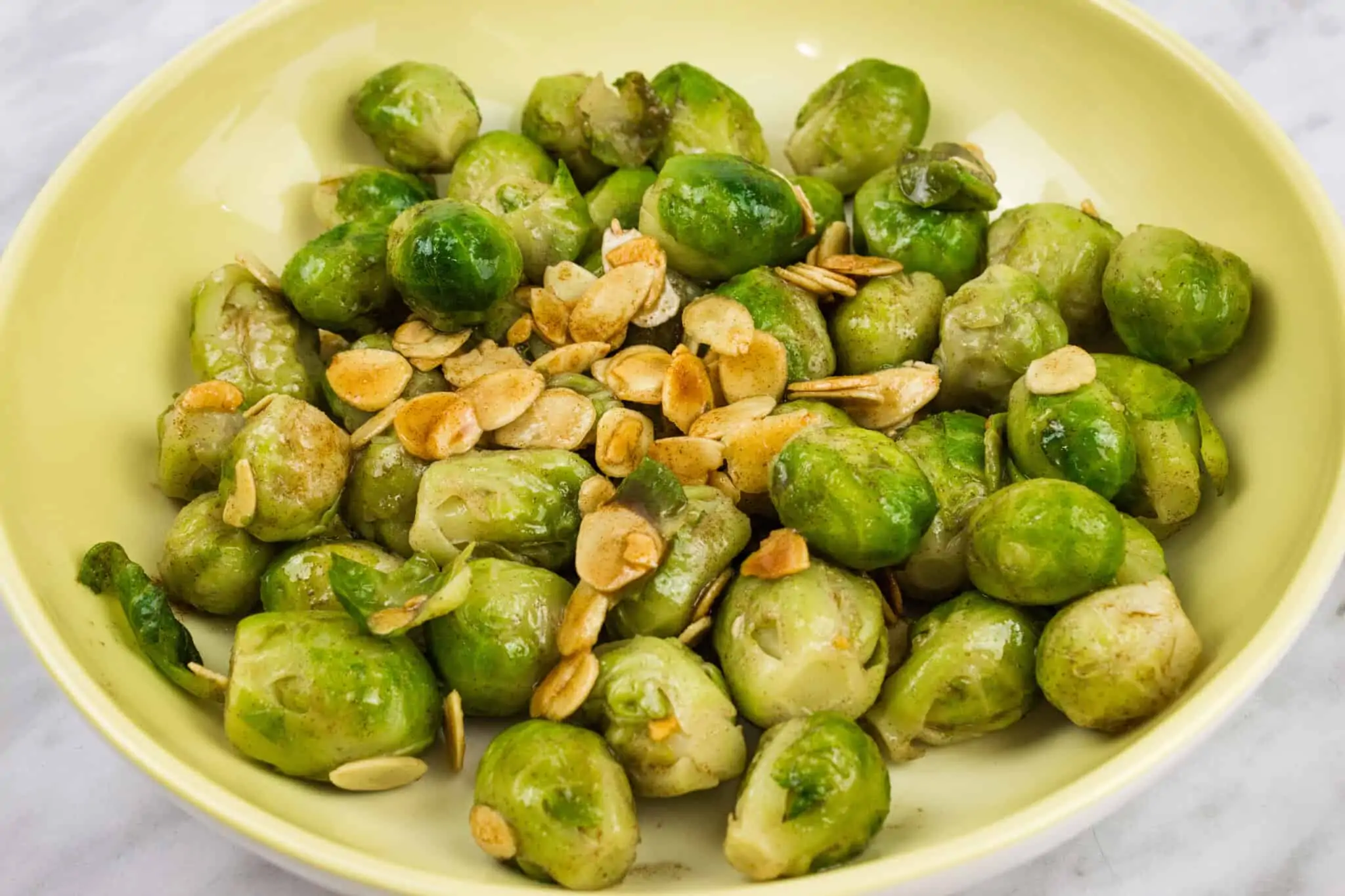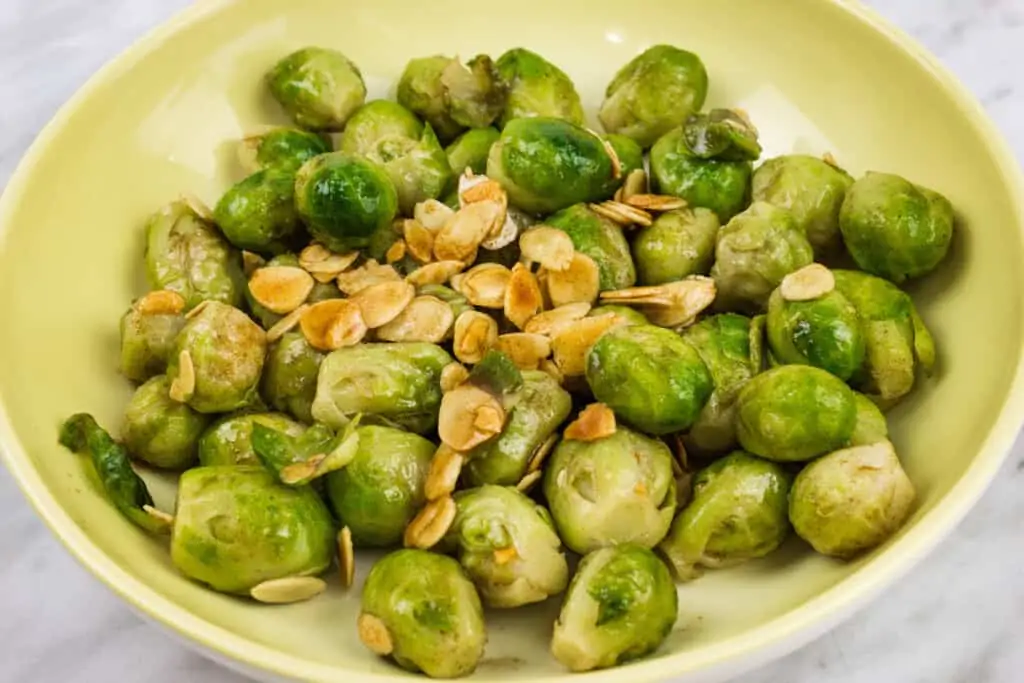 WHAT YOU NEED TO MAKE BRUSSELS SPROUTS WITH ALMONDS & BROWN BUTTER
A good, sharp knife – I always recommend Henckels for durability, value, and quality
Pot large enough to hold the sprouts
INGREDIENTS TO MAKE THESE BUTTER BRUSSEL SPROUTS
Fresh, not frozen, Brussels sprouts – see my comment in Chef Jenn's Tips below about frozen sprouts
Slivered or sliced almonds
Salted butter
HOW TO MAKE THESE BROWN BUTTER BRUSSELS SPROUTS
Clean the Brussels sprouts by cutting small bit off the bottom (the flat side) of the sprout, then pulling off some outer leaves. Watch for buggies!
Give the sprouts a quick boil in salted water – 2-3 minutes at a boil will work fine. Drain them.
In the same hot pot, toast the almonds – watch they don't burn! Set the almonds aside.
Brown the butter – add the butter to the hot pot and cook the butter over medium heat until the butter solids turn brown. See my images below.
Add the almonds and hot sprouts back to the pot, toss and serve your Brussels sprouts recipe!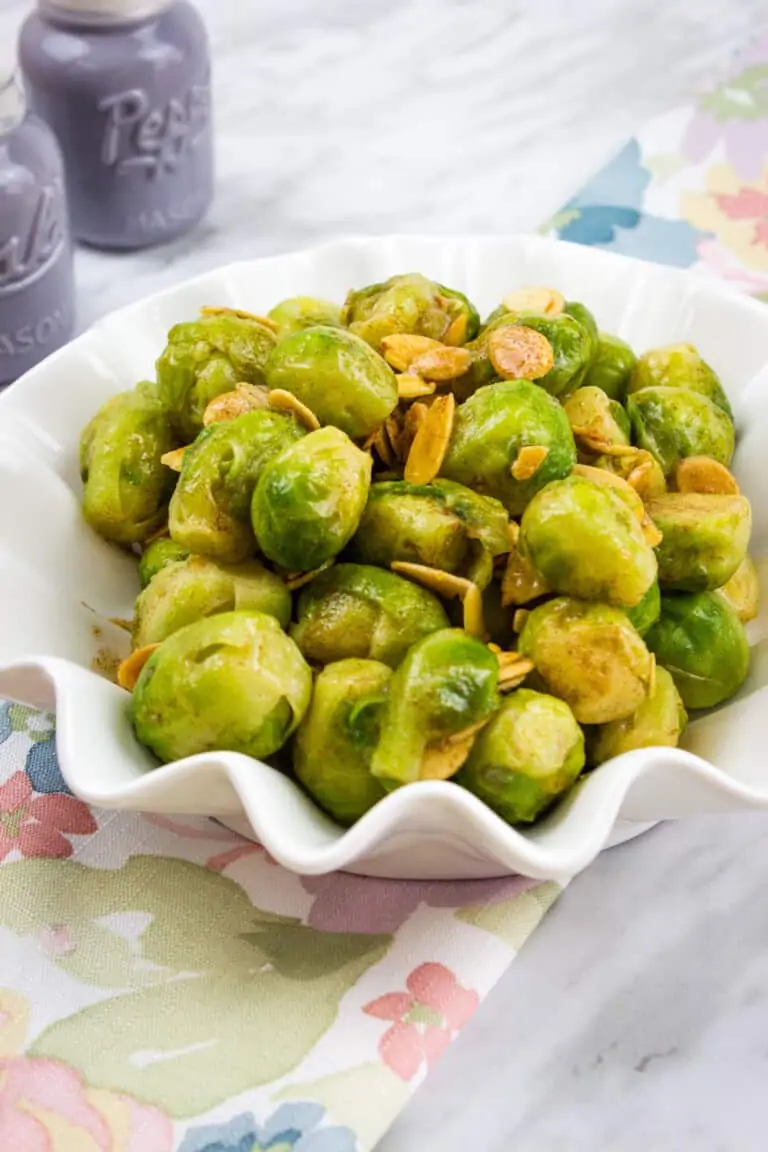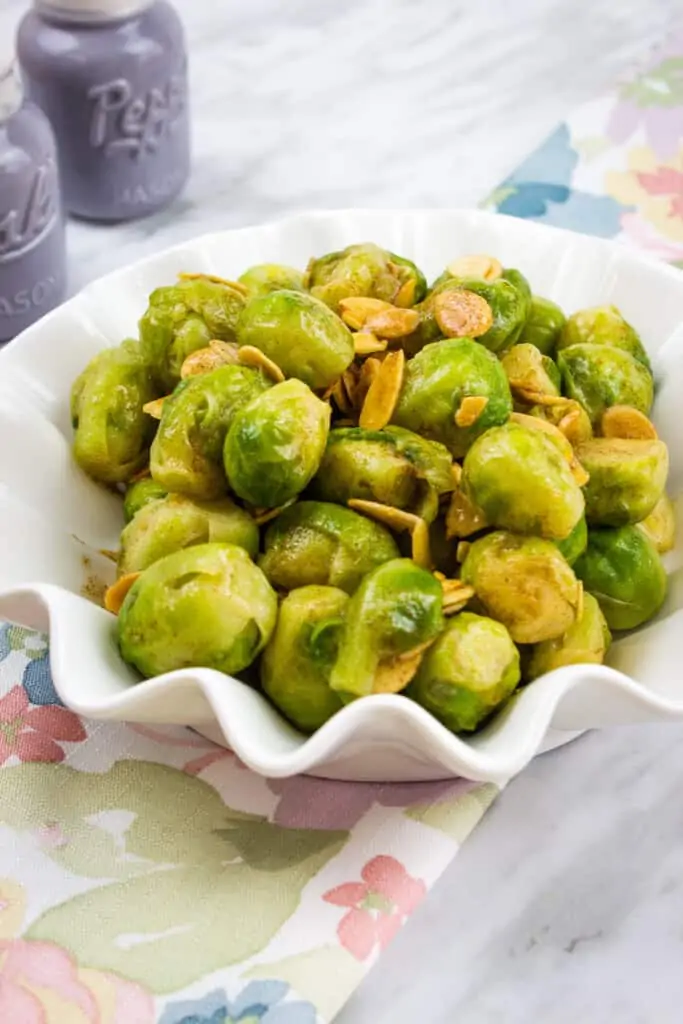 CHEF JENN'S TIPS
Use fresh sprouts for this dish! Frozen brussels sprouts are an affront to taste buds. They're nasty in flavor and in texture. Treat yourself to them fresh – they're MILES better!
Add a clove of garlic to the butter as you're browning it to turn these into garlic butter Brussels sprouts.
This Brussels sprouts dish can totally be made ahead of time. Just keep the brown butter separate from the toasted almonds and cooked sprouts. Toss it all together just before serving, and heat it up.
Brussels sprouts should be cooked to the point where they've still got a bit of crunch. Overcooked sprouts are the stuff of nightmares and the smell will funk up your kitchen. Keep them crunchy!
WHAT TO SERVE WITH BRUSSELS SPROUTS WITH ALMONDS & BROWN BUTTER
Anything, really! I love this as a side dish to a hearty roast, or even something off the smoker. It also pairs well with heartier fare like Instant Pot Chili Mac, but this dish is also perfect as part of a Thanksgiving feast with turkey gravy and stuffing.
ARE BROWN BUTTER BRUSSELS SPROUTS FREEZER FRIENDLY?
Well, you can freeze sprouts, but if you've read anything else in this post, you might have noticed how much I hate frozen sprouts. They're nasty in flavor and texture.
Freeze these Brussels Sprouts with Almonds & Brown Butter if you must, but be warned, they won't be nearly as good as they are fresh.
Are Brussels sprouts Good for You?
Absolutely! Not only are they a great source of nutrition, but they're also high in fiber.
How do you cook Brussels sprouts?
Sprouts can be boiled, pan fried, roasted, grilled, shredded and eaten raw…no matter how you prepare them, make sure they still have some crunch in the middle and they won't taste nasty!
How do you clean Brussels sprouts?
Cut a wee bit off the bottom of the sprout and then pull off the outer leaves. Watch for bugs, and discard any sprouts that have tiny grey or black bugs in them.
Like This? Also Try:
Step By Step Process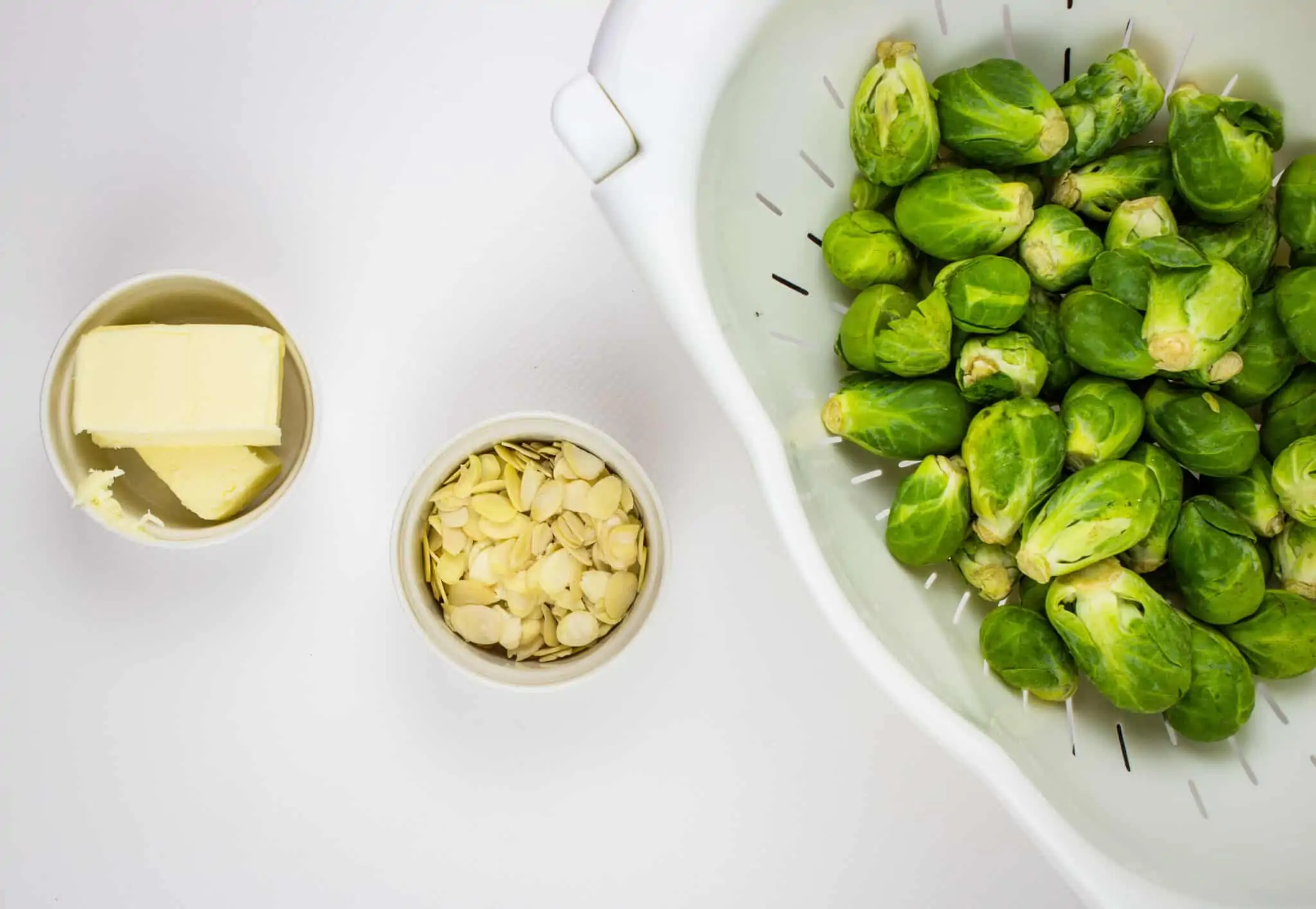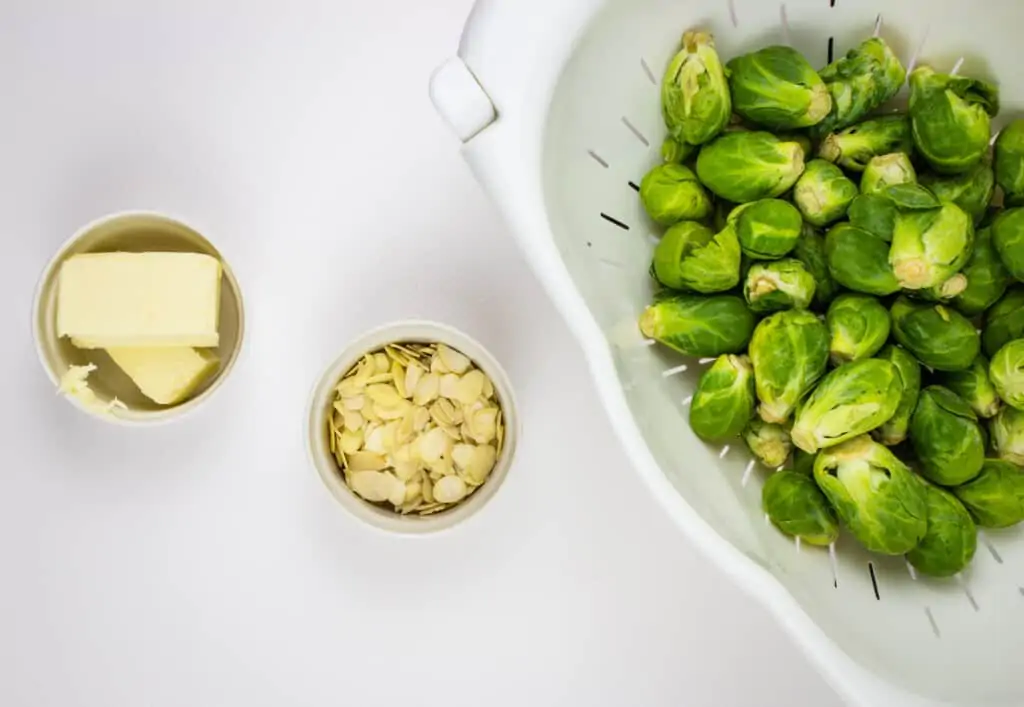 Brussels Sprouts with Almonds & Brown Butter
Nutty and with plenty of crunch, these Brussels Sprouts with Almonds & Brown Butter are an easy and tasty side dish!
Ingredients
1.5

pounds

brussels sprouts

1/2

cup

almonds

1/4

cup

salted butter
Instructions
1. Clean the Brussels sprouts and cut the larger ones in half so that they're all about the same size.

2. Bring a pot of salted water to a boil. Cook the Brussels sprouts for 2-3 minutes or until they're still tender crisp with some crunch. Drain and set aside.

3. In the same pan or a skillet, toast the almonds. Set aside.

4. Add the butter to the pan or pot and cook the butter on medium heat until the butter solids turn brown. Stir it continuously. This will take 3-4 minutes.

5. Toss the butter with the almonds and Brussels sprouts and serve!
Nutrition
Serving:

0.5

cup

|

Calories:

278

kcal

|

Carbohydrates:

19

g

|

Protein:

10

g

|

Fat:

21

g

|

Saturated Fat:

8

g

|

Trans Fat:

1

g

|

Cholesterol:

31

mg

|

Sodium:

144

mg

|

Potassium:

791

mg

|

Fiber:

9

g

|

Sugar:

4

g

|

Vitamin A:

1637

IU

|

Vitamin C:

145

mg

|

Calcium:

122

mg

|

Iron:

3

mg

A Note on Nutritional Information

Nutritional information for this recipe is provided as a courtesy and is calculated based on available online ingredient information. It is only an approximate value. The accuracy of the nutritional information for any recipe on this site cannot be guaranteed.

This recipe was originally posted on our other site, Keto Cooking Wins. You can view that post here.

By