There are few things tastier than homemade Corned Beef. Tender, juicy, flavorful, and not too salty, you can cure your own corned beef at home and enjoy the scratch-made flavor of perfectly cured, seasoned, and cooked corned beef on sandwiches, in casseroles, or just on the end of your fork.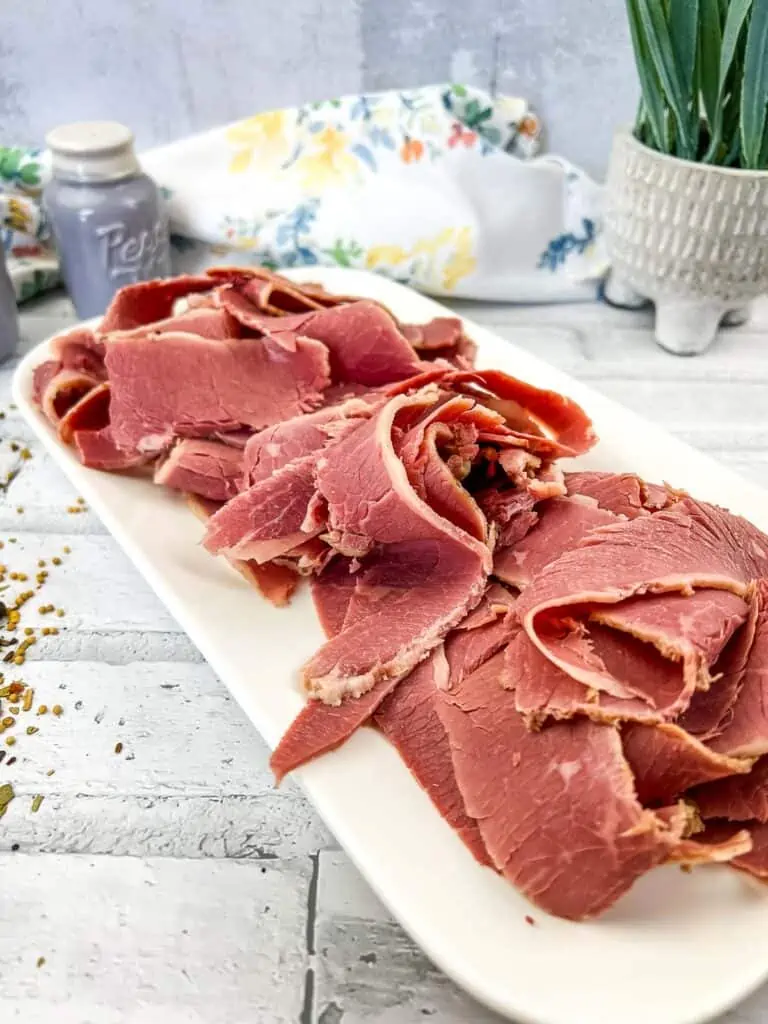 This post may contain affiliate link(s). As an Amazon Associate, I earn from qualifying purchases. See Disclosure.
Making your own corned beef from scratch isn't hard! It just takes some specialty ingredients and a bit of time. In fact, curing corned beef is easy, and the results are so much more delicious than store-bought!
Have you seen the price of corned beef? Yikes – you pay a small fortune for such a small piece of over-salted and over-brined meat. When you make it yourself, you control the ingredients, and it is so much tastier and better for you without all the chemicals and processed stuff.
If you've got a fridge and a big bin, then you can make your own corned beef! No matter how you cook your corned beef, be it in a slow cooker, sous vide, in the Instant Pot, or simmered on the stove top, nothing beats homemade!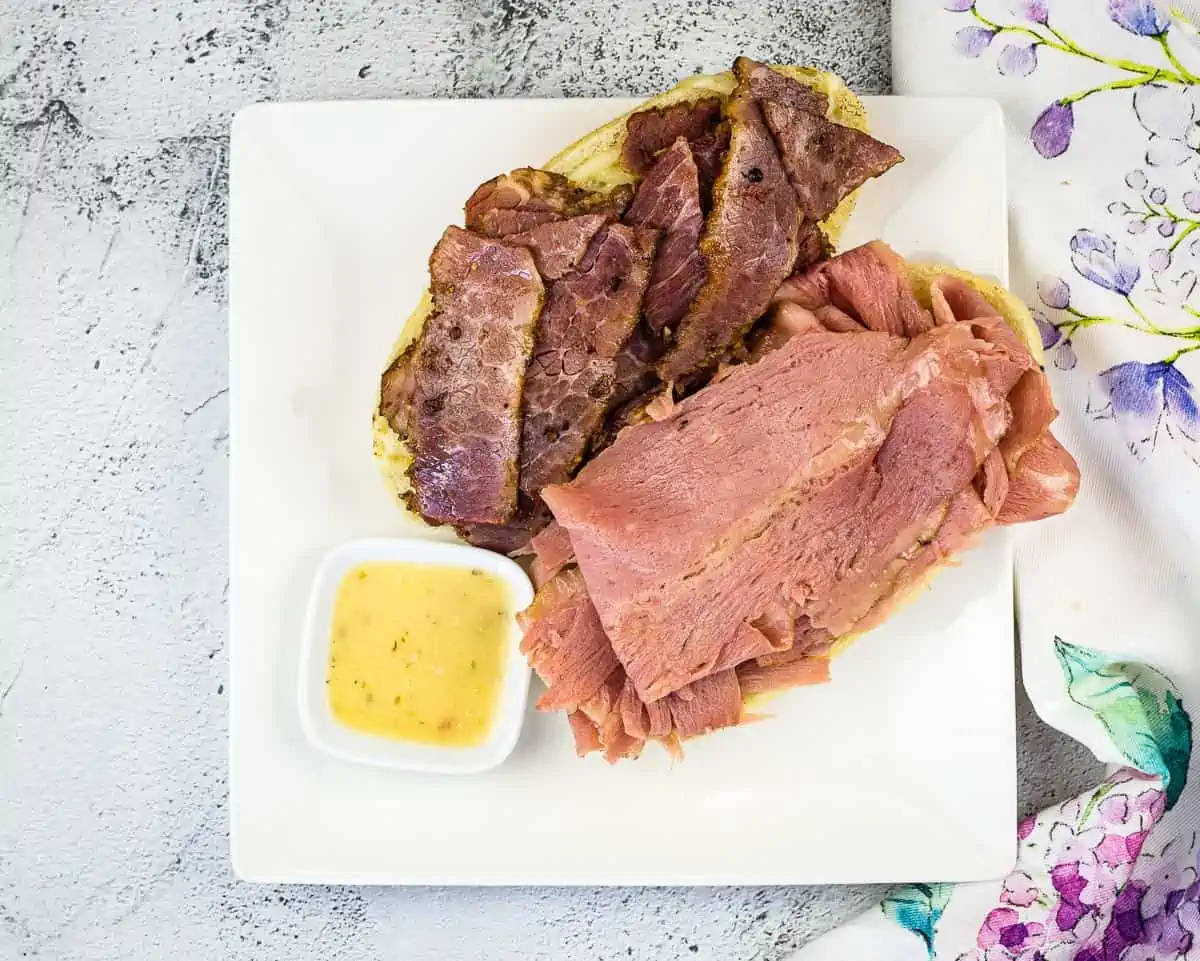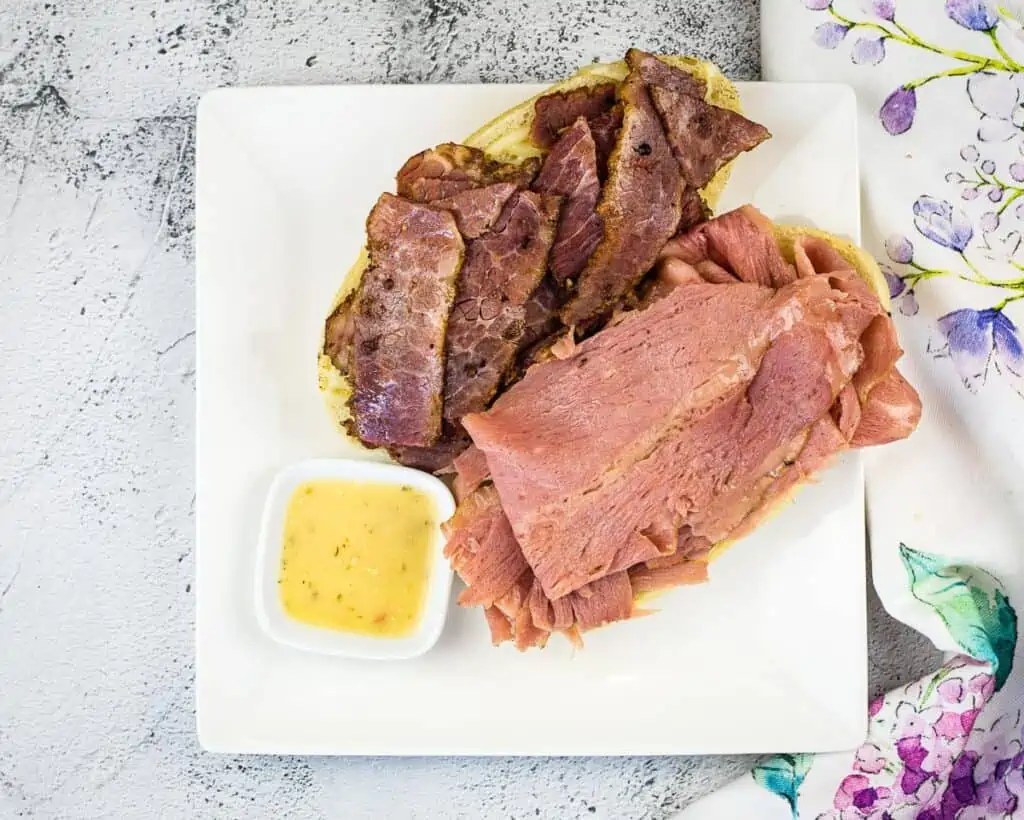 What you'll love about Homemade Corned Beef
---
It's way cheaper than store-bought.
Homemade Corned Beef is so easy to make!
Make a big slab and have plenty of leftovers!
Ingredients
Beef brisket – see my notes below.
Prague powder #1 – see my comments below. Don't mess around with this stuff. Measure accurately and make sure it is Prague Powder #1, NOT #2.
Morton's kosher salt – only use kosher salt as it is purer and less metallic in flavor.
Distilled water – tap water also works, but distilled water allows for a purer flavor.
Pickling spices – Any blend will do, just make sure they're super-fresh!
What Kind of Beef Do You Need For Corned Beef
Corned beef is traditionally made from brisket – a tough and inexpensive cut of beef. You can use the point, which is fatty, the flat, which is lean, or both. For corned beef, I prefer to use the flat (I save the point for fattier pastrami) with a thin layer of fat on top.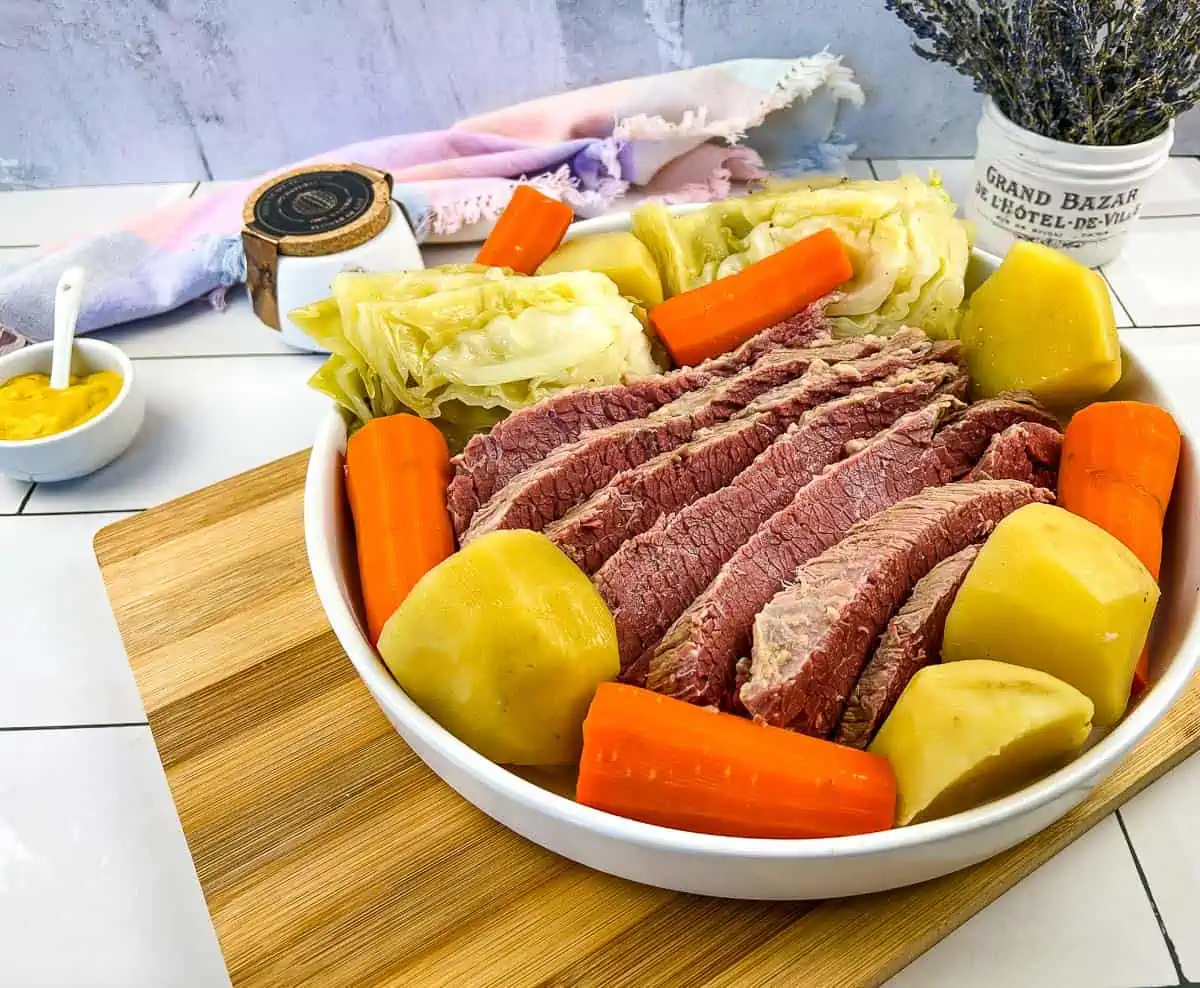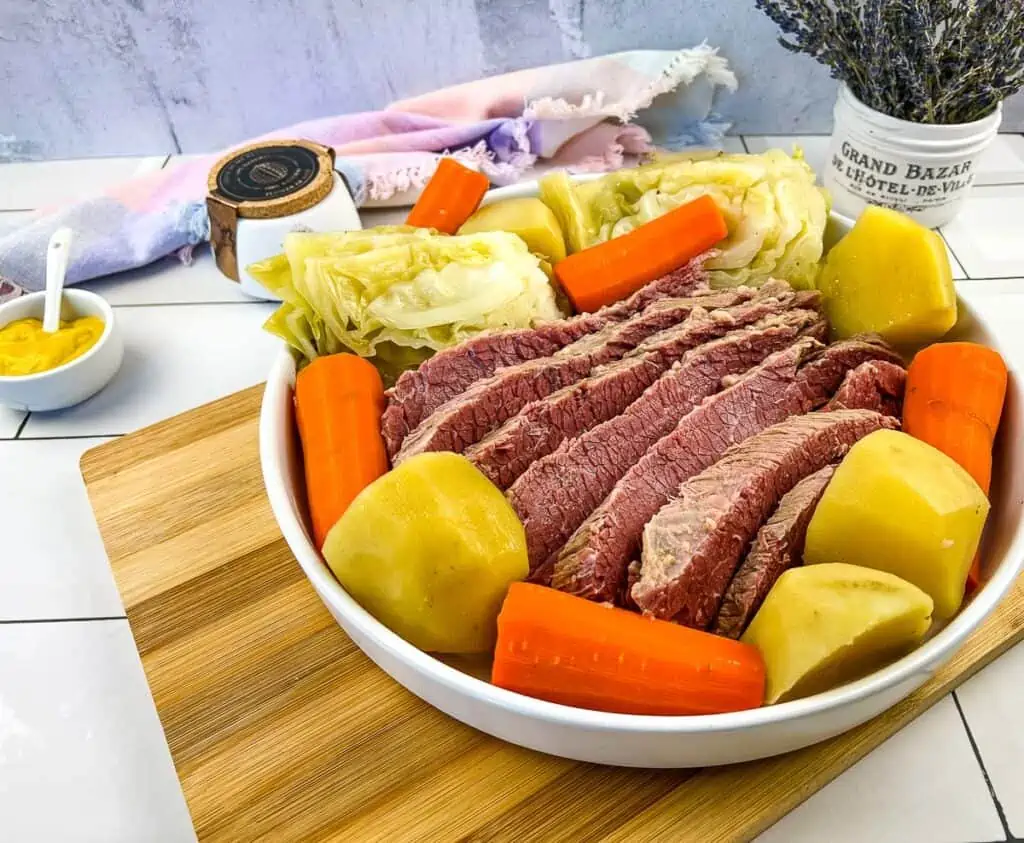 What is Prague Powder #1?
Years and years ago, I tried to wet cure corned beef without Prague Powder #1, and it was, uh, a disaster. Prague Powder #1 is the secret ingredient that adds the cure to cured meat. It is a combination of sodium chloride (salt) and sodium nitrite, which acts as a preservative and prevents the growth of bacteria. Combined, this powerful pink salt (it's dyed pink, so you don't confuse it with table salt) is what adds the pink color to your corned beef and acts as a powerful preservative.
Using the right amount of Prague Powder #1 (NOT to be confused with Prague Powder #2, which is made with nitrates) is important. The water to meat to Prague Powder #1 formula needs to be pretty specific, so your corned beef turns out perfectly.
Corned Beef Vs. Pastrami – What's the Difference?
These days, pastrami and corned beef are both often made from brisket, so what's the difference? Pastrami starts out similarly to corned beef, spending time curing in brine. After curing, the brisket is heavily seasoned and smoked before becoming pastrami, whereas corned beef is braised, or cooked in liquid, to tenderize it. The flavors are remarkably different, and each is delicious! Layer your corned beef or pastrami on a freshly baked challah bun!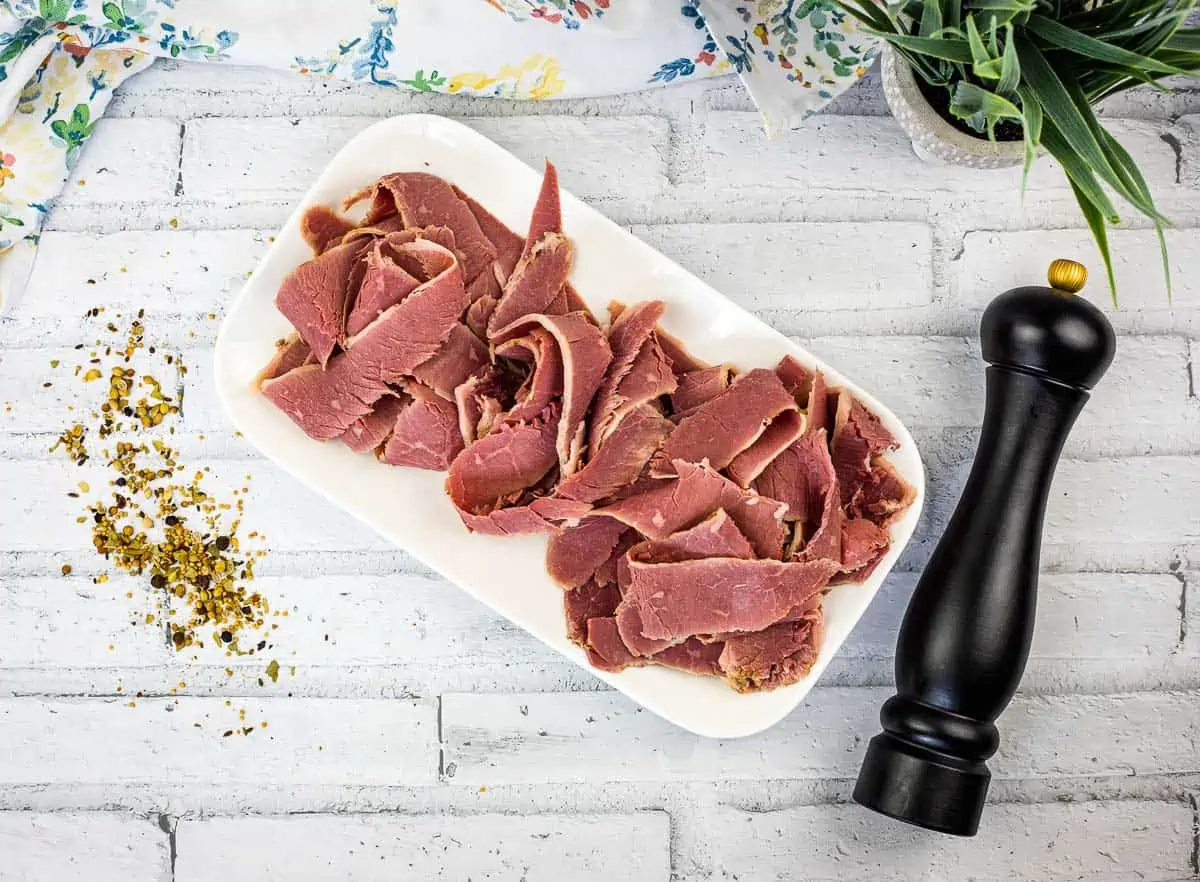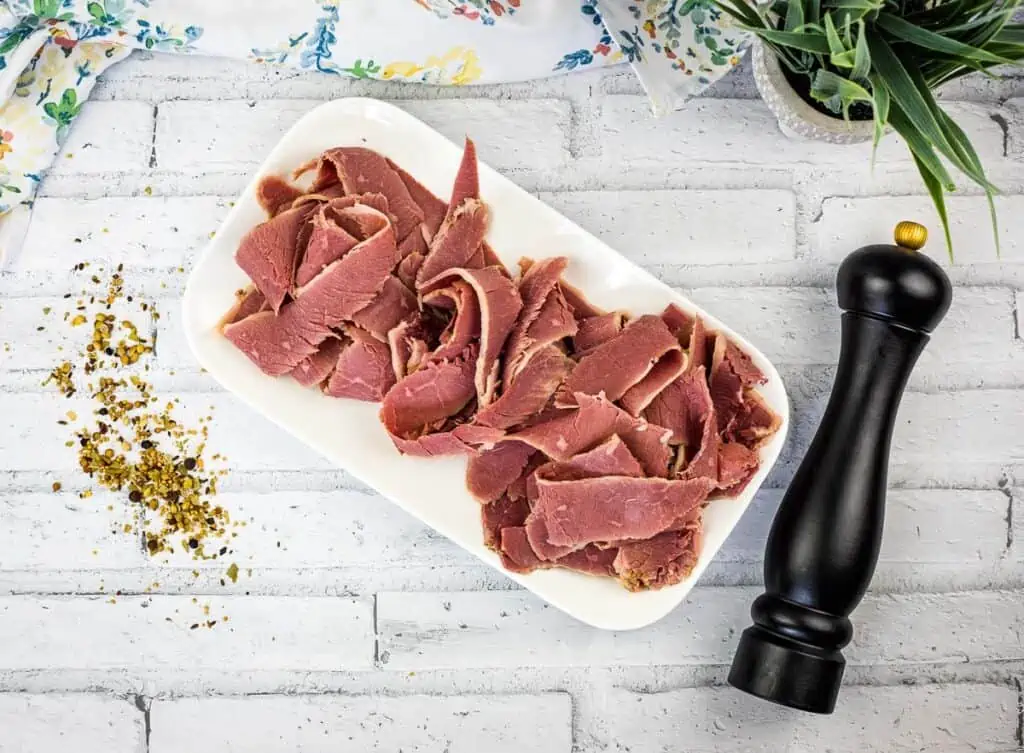 How To Make Homemade Corned Beef From Scratch
To make the process easier, I've broken it down into what you need to do for each of the 6 days that it takes to make corned beef. This process works for a 4-5 pound slab of brisket.
Day 1 – Trim the brisket but leave about 1/4-1/2 inch of fat on the top, especially if using the flat. Some fat on corned beef is delicious, but boiled fat is blech so don't leave too much. Make your brine by mixing the distilled water with Prague Powder #1 and salt. Mix it well until dissolved. Submerge your brisket into the brine and refrigerate it. Weigh the brisket down if it isn't submerged. Add the pickling spices to the water.
Day 2 – Flip the brisket over and give the liquid a good stir.
Day 3 – Flip the brisket over and give the liquid a good stir.
Day 4 – Flip and stir.
Day 5 – At the end of Day 5 – the evening is a great time – drain the water from the brisket, rinse it off, and replace the brine with fresh tap water. Before you go to bed (or at least once in the next 8-10 hours) change the water and replace it with fresh tap water. You need to desalinate the corned beef. If you skip this step, it'll be inedible. DO NOT SKIP this process!
Day 6 – Cook your corned beef and enjoy!
Recommended
How To Cook Corned Beef
Corned beef can be cooked in various ways as long as it is braised. That means cooking it in liquid. It can be cooked in the slow cooker, in the Instant Pot, on the stovetop or in a Dutch oven, or cooked low and slow sous vide. Corned beef MUST be cooked. It is still raw after being brined.
Homemade Corned Beef
Tender, delicious, and made entirely from scratch, making corned beef isn't hard! Grab some brisket and a few other things, and in 6 days you can be feasting on homemade corned beef!
Equipment
Large container

that can hold the brisket and brine and fit into your fridge
Ingredients
5

pounds

brisket

flat, point, or both

1

gallon

distilled water

1

cup

kosher salt

2

teaspoons

Prague Powder #1

1/4

cup

pickling spice
Instructions
Mix the distilled water with the Prague Powder #1, and salt until dissolved in a large, non-reactive container that can hold the brisket and water and still fit in the fridge.

Add the brisket and pickling spice to the liquid and pop the container into the fridge.

Flip the brisket over once a day for 5 days, and give the water a good stir.

Add the end of the 5th day, drain the wet cure and rinse the brisket. Refill the container and refrigerate the brisket for another 8-10 hours, draining and replacing the water at least once during that time.

Cook your corned beef however you like!
Notes
Please note – the salt content is not calculated because I have no way of knowing how much salt is absorbed by the brisket.
For reference, a 3-ounce serving of store-bought corned beef has about 827 g of sodium.
Nutrition
Serving:
8
ounces
|
Calories:
359
kcal
|
Carbohydrates:
2
g
|
Protein:
47
g
|
Fat:
17
g
|
Saturated Fat:
6
g
|
Polyunsaturated Fat:
1
g
|
Monounsaturated Fat:
8
g
|
Cholesterol:
141
mg
|
Sodium:
200
mg
|
Potassium:
777
mg
|
Fiber:
1
g
|
Vitamin A:
15
IU
|
Vitamin C:
1
mg
|
Calcium:
41
mg
|
Iron:
5
mg
A Note on Nutritional Information
Nutritional information for this recipe is provided as a courtesy and is calculated based on available online ingredient information. It is only an approximate value. The accuracy of the nutritional information for any recipe on this site cannot be guaranteed.
Want More Delicious and Easy Recipes?
By